This post contains affiliate links. Affiliate disclosure: As an Amazon Associate, we may earn commissions from qualifying purchases from Amazon.com and other Amazon websites.
This article showcases our top picks for the
Best Cycling Insoles
. We reached out to industry leaders and experts who have contributed the suggestions within this article (they have been credited for their contributions below). We are keen to hear your feedback on all of our content and our comment section is a moderated space to express your thoughts and feelings related (or not) to this article 
This list is in no particular order.
This product was recommended by Fred Hoffman from The True Wilderness
Shimano is a trusted name in the cycling world, and their products are usually of high quality. The Shimano Dual Density Extra-Cushion Cycling Shoe Insole is a versatile insole that can be used for a variety of different activities. The insole is made with two different densities of foam, which makes it more comfortable and supportive than other brands of cycling insoles. The insole also has an extra layer of cushioning in the heel area, which makes it ideal for long days in the saddle. The insole is also sweat-resistant and has an anti-bacterial treatment to keep your feet feeling fresh.
---
This product was recommended by Steven Walker from Spylix
Because of the research and development that went into these simple fiberglass and plastic insoles, SoleStar's Ergon IP3 cycling insoles are our favorite. SoleStar manufactures insoles for various uses, while Ergon focuses on bicycle ergonomics. These insoles are ideal for cycling shoes because they are hard enough to stay in place while also transforming even the most basic shoe into something a touch racier by boosting stiffness and offering a modified foot posture that pulls your knee into optimal alignment.
---
This product was recommended by Steven Walker from Spylix
These insoles are the most basic group, but they're jam-packed with technology. The inForm BioDynamics Insoles from Bontrager were developed with Superfeet and come in three arch heights: high, low, and mid-arch. As you make your way up the ascent, the 3D Arch Pillar stabilizes your arches for better knee alignment, and the heel cup keeps your foot from sliding side to side.
---
This product was recommended by Steven Walker from Spylix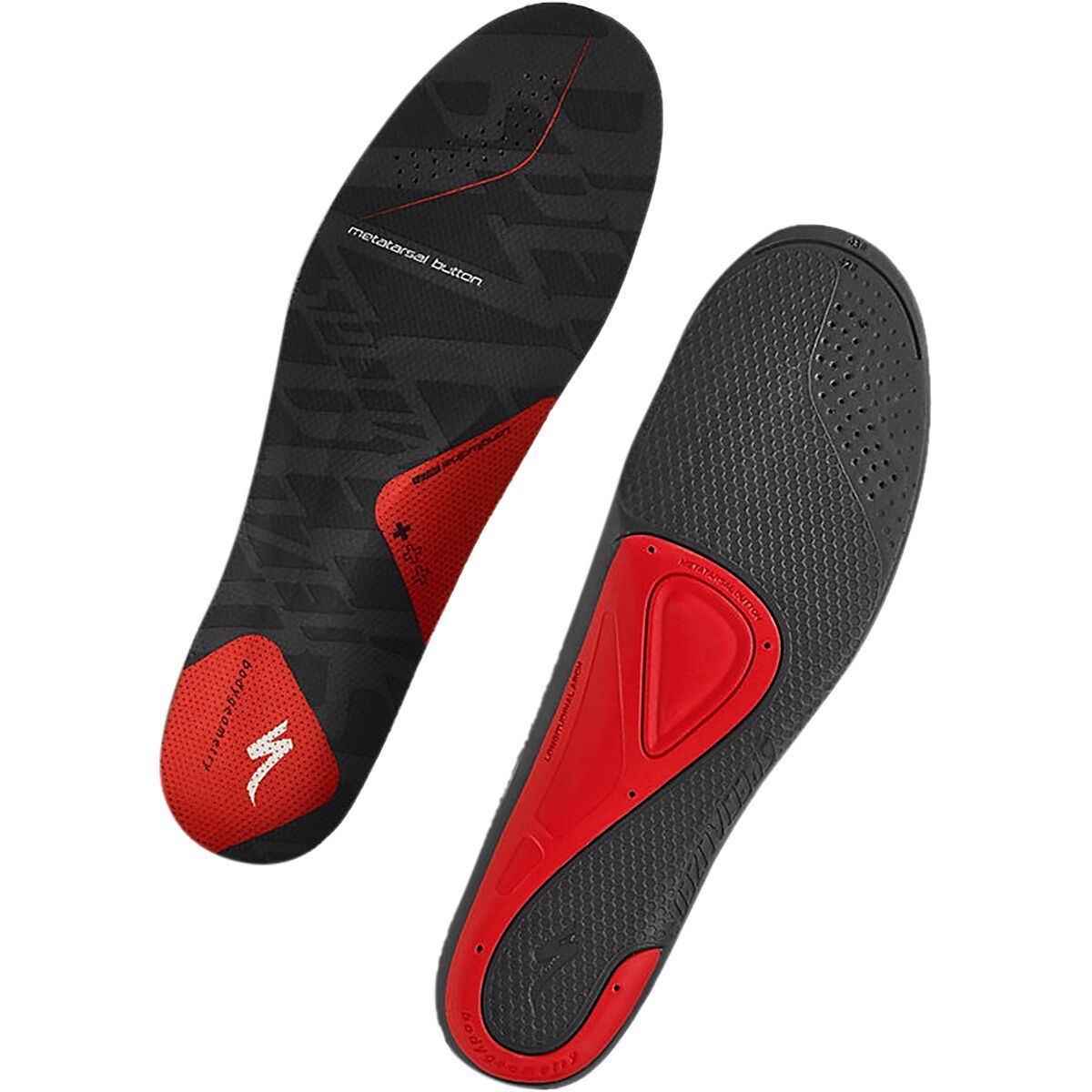 Specialized's Body Geometry components are another example of the company's commitment to making every ride as efficiently as possible. Depending on how much arch support you need, you can choose from Red, Blue, or Green options. The insoles are made to align your entire leg from toe to hip and make your ride so efficient that you conserve energy.
---
This product was recommended by Lucia Jensen from WeLoans
The cadence of original orange insoles has been used long ago by cyclists due to its simplicity. It offers shock-absorbing comfort for the heels and the forefoot and provides semi-rigid support, thus increasing comfort on the bike. It is mostly suitable for cyclists who go hiking with their bikes since it allows them to be comfortable enough. Also, unlike other insoles, the cadence original orange insoles have a huge range of sizes, starting from as small as a men's 3.5 and a women's 4.5 making them much more inclusive.
---
This product was recommended by Tracy Acker from GetPaydayLoan
Trek's Bontrager has teamed with Superfeet for its footbed solution. It also has three unique arch-support levels, similar to Specialized. The navicular is a medial bone near the ankle that can be physically stabilized, preventing knee collapse by obstructing the inward roll of the ankle. Superfeet has been using this approach for nearly two decades. The medial and lateral arch supports of the inForm insoles are well-defined. However, metatarsal support is lacking. A 3D arch support, including a metatarsal arch support, is claimed by Bontrager.
---
This product was recommended by Kevin from NANBF
I have found that the best insole to use when cycling is the active range from footwear company Sole, in particular, I like their medium thickness insole, as it is just the right depth to be comfortable without being stifling. Cleats can be notoriously stiff and uncomfortable, so adding an insole is a must to maintain foot and arch health. The stand-out features of this insole are its heel supports, which are built up more than similar competitor items, and the heat moldability, improving fit and comfort. Overall, these insoles sit well in my cycling shoes, whilst still conforming to the shape of my foot, so they provide support and comfort.
---
This product was recommended by Stella Cooper from PaydayLoansUK
Super feet provide a high-quality orthograde insole for the sports enthusiast. It is designed to fill the length and width of the shoe for maximum support and comfort. It is made of a high-density foam layer to support and cushion the foot. It features a base layer stabilizer cap designed to aid the rear foot. Trim the arch support insert to fit your shoes. This insole is equipped with the widest heel cup for healing pain. It provides natural shock absorption for feet.
---
This product was recommended by Madilyn Hill from TruePersonFinder Inc.
Spenco cross trainer, arch support shoe insole offers extra cushioning and shock absorption in the heel. The insole absorbs shock and impact to provide comfort and heel support. This insole is effective for all types of sports, including running, cycling, hiking, etc. Its 4-way stretch fabric helps prevent blisters and controls odor. EVA forefoot cushion gives cushioning support and energy return for high-impact sports. Its lightweight polysorbate polyurethane foam provides arch and heel cushioning.
---
This product was recommended by Maria Saenz from FastTitleLoans
ICE BUG cushion support insole is a perfect solution for foot pain during sports activities. It is a thin version of the insole with a non-removable footbed. It does not have any extra layer of comfort foam while providing the same level of support. The whole body weight rests on the foot. And the insole provides support to the front foot arch, thereby promoting its natural movement pattern. This shoe insole provides flexible arch support and absorbs shock. Icebug cushion is perfect for cycling, jogging, running, hiking, and other sports activities.
---
This product was recommended by Mike Baldicana from Kostex Garage Repair
It is designed to fit in moderate to slim-fitting athletic footwear. This cycling insoles combines the strength of carbon fiber with ultralight foam to provide premium performance
---
This product was recommended by Phillip Villegas from Three Pedal Mafia
Insoles for men and women to improve speed, response time, postural awareness, and balance during athletic motions. Improves running and cycling performance by lowering foot fatigue. For running, cycling, and other sports, the best sensory insoles are recommended. The insole with the lowest level of stimulation has a gently rounded texture that optimises sensory input while minimising friction so you may run, jump, and train with just the appropriate amount of stimulation.
---
This product was recommended by Emma Gordon from USSalvageYards
Currex Bikepro Insoles are known to be the perfect fit, they are one of the most commonly used Insoles, even on Amazon they are almost sold out. The foot is bound to remain comfortable throughout the cycling period. These insoles are made of breathable and sweat absorbing material it also improves the circulation of blood. They were constructed to avoid common pain such as bruises and ankle aches. The effectiveness of the sole makes cycling even easier, it enables the pressing of the bicycle's pedal more stress free. The Currex Bikepro Insoles are available in six different sizes that suit all adults in idle situations. The insole consists of features such as the Dynamic Arch Technology that helps to reduce fatigue and generates arch support. Also shoes are commonly known to smell terrible after a while so they develop a moisture wicking fabric that prevents odor. The insoles consists of a special heel Cup that makes the feet feel comfortable inside the shoes. They are perfect for both young and elderly because they keep the knees stable and prevent hazards. These insoles can be used by professional cyclers and people that cycle for leisure. This Insole company has a website that provides detailed information about their products, you could also have a chat with them via their website.
---