BMX Helicopter Drop and Interview [Bike Setup] – Kriss Kyle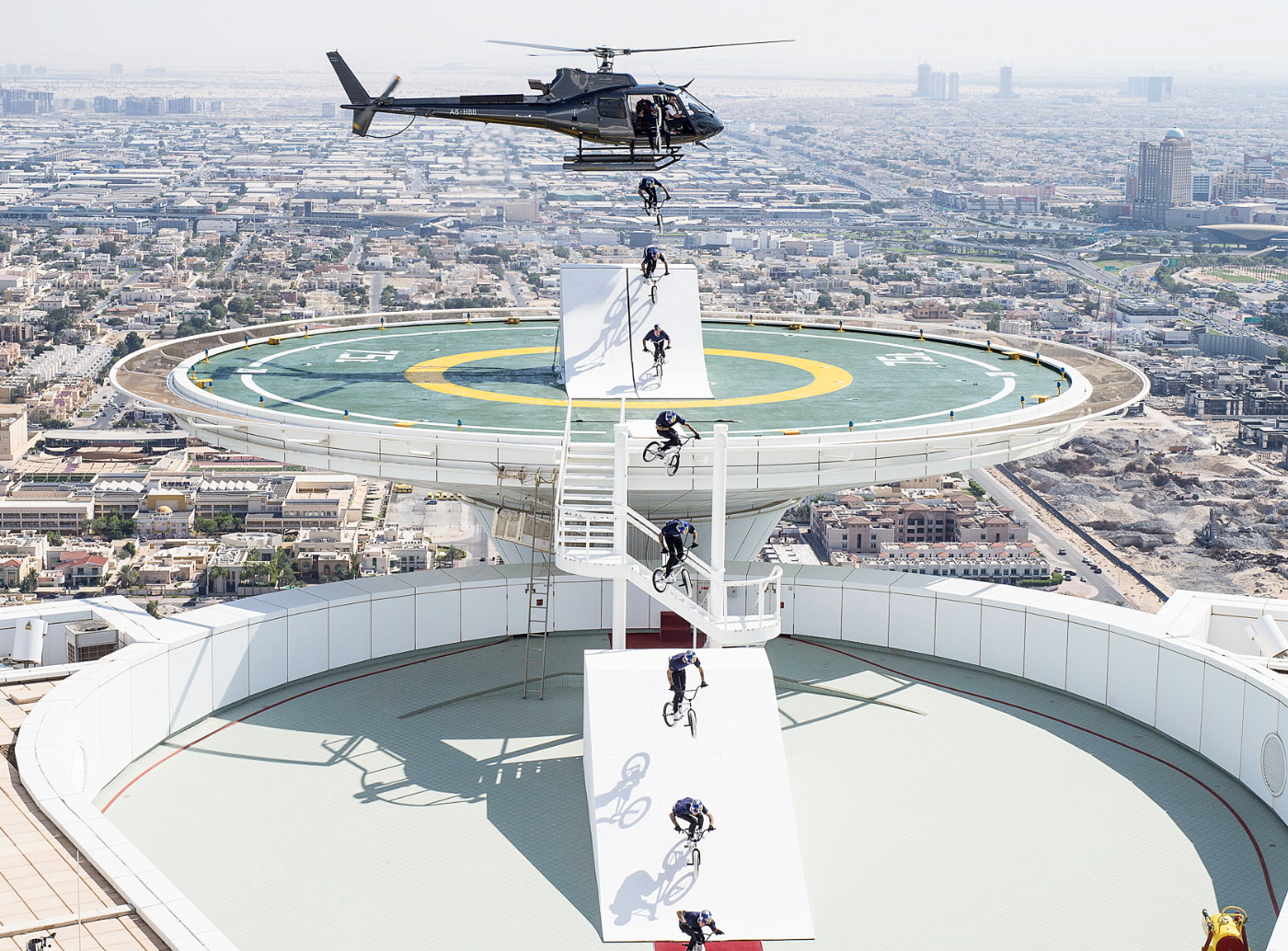 BMX HELICOPTER DROP: KRISS KYLE IN DUBAI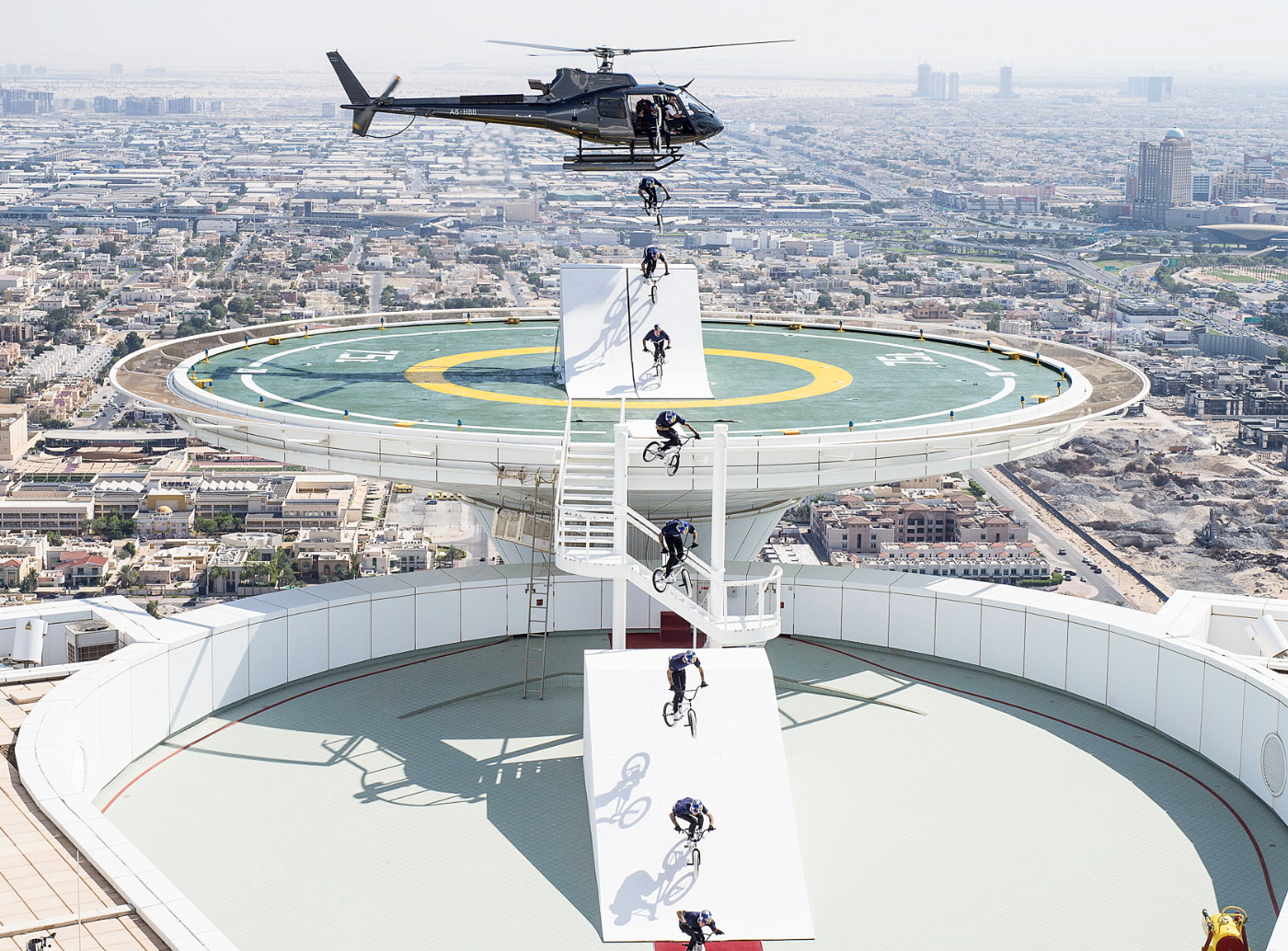 One Shot, One Opportunity – Kriss Kyle shows off his lack of fear in new video edit, starting with an incredible helicopter jump
28 January 2019 – What's the best way to conquer a lifelong fear of heights? For Scottish BMX star Kriss Kyle, throwing yourself out of a helicopter is one way of doing it. The unique attempt is the first in riders' latest edit which sees him turn the unique architecture of Dubai into a giant BMX park.
Opening with a huge cityscape shot, we see Kriss leaning out of a helicopter as he approaches the iconic Burj Al Arab Jumeirah hotel, one of the world's tallest hotels and most unique buildings. We then see him jumping 14 feet from the helicopter – 720 feet up – and onto a helipad on top of the hotel, before immediately tackling a second equally daring drop and heading into the building itself.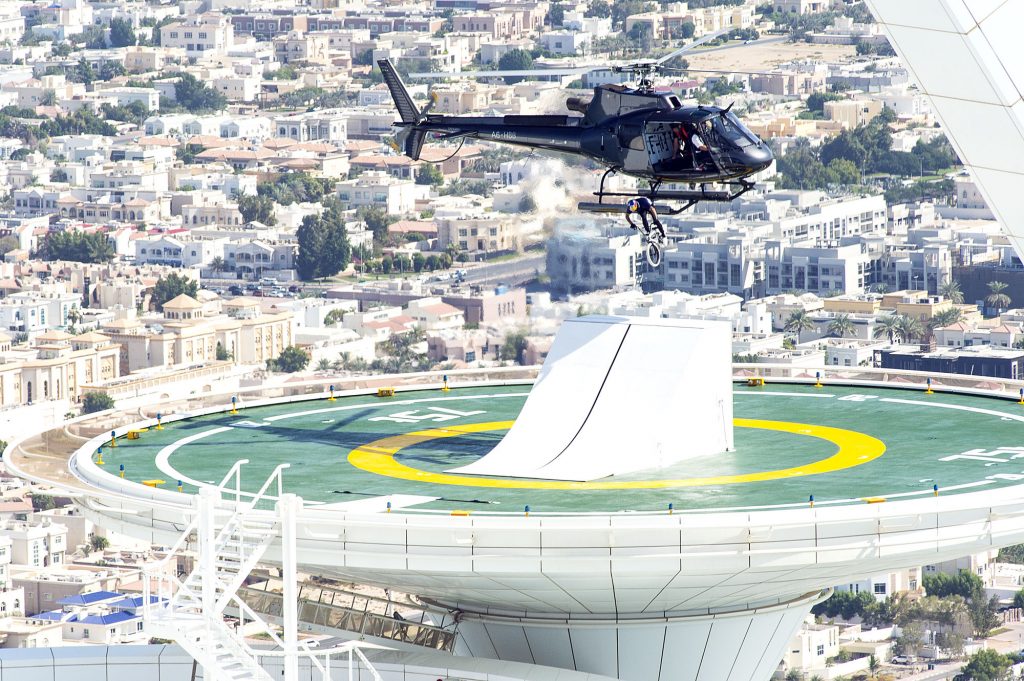 Kriss then makes his way throughout Dubai, which sees him flying down the twisting slides of the Wild Wadi Waterpark, flipping through the grounds of the Burj Khalifa before finally hopping onto a moving boat as he leaves the city behind.
Due to the extreme nature of the stunt, Kriss only had one shot at making the helicopter jump work. Despite practising for months on smaller jumps, factors including wind, thermals and Kriss' crippling fear of heights meant that it was literally down to one take to make it work.
On completing the jump, Kriss said: "We actually planned to film the jump the day before. But due a rare weather system at the time we planned the jump, we were forced to reschedule the attempt to the following day. Sadly that meant for another sleepless night for me! Working on a Red Bull edit always means you get to challenge what's possible and this was no different. I can't thank Dubai Tourism enough for opening their doors and helping us make this film possible."
Click HERE to watch Kriss' latest edit.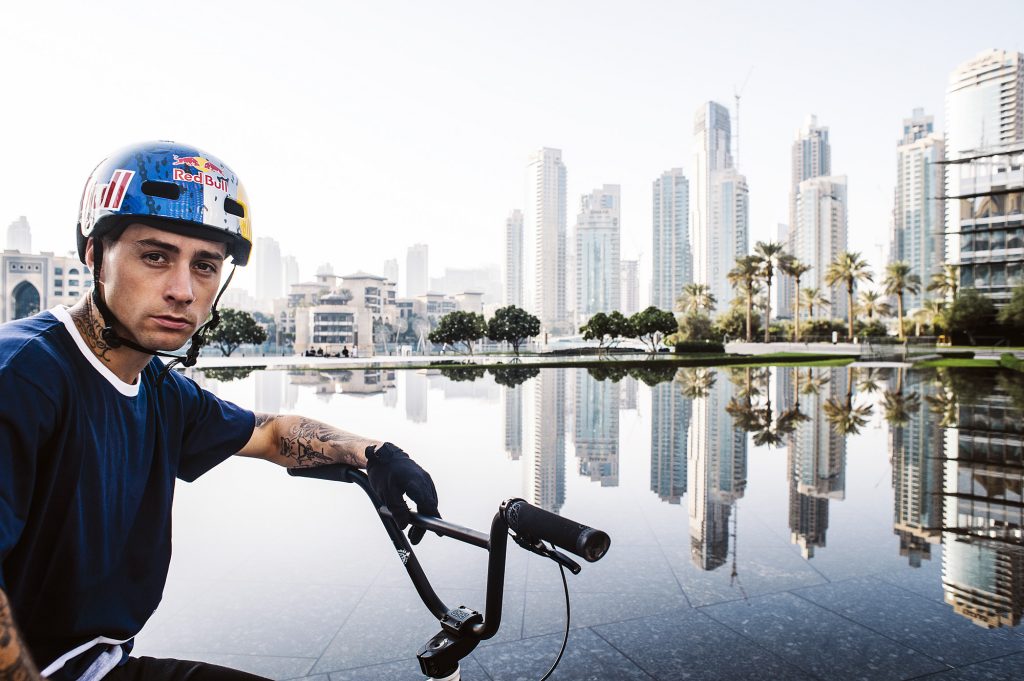 Bike Setup for Dubai Video (Interview Exerpt)
I think I've got nine, nine bikes, but they're all different bikes. A road bike, three mountain bikes, four mountain bikes actually, and then a few BMX's. But, my favorite one's obviously my BMX, and it's my new second shift frame, the freedom frame. And, it's called freedom, BSD freedom. But, I think for me the meaning behind that just means you can do anything you want, you can ride anything you want, there's no rules, there's no nothing. You can just go where you want, you have the freedom to do it.
I've always had no brakes on my bikes since I was maybe 14, because I could never fix them. I would snap the brake cables and I could never put any on it because I didn't know what I was doing. I was so heavy handed as well, so I just decided to rip them off, and I didn't have brakes from then right up until the Dubai video. When I put them on it was really weird, I was like this feels so weird on the BMX. I needed it for the heli-jump because if I mucked up the line I could have broken my legs or died. And then, also I needed it for the water park stuff as well because the speed that you get going down those flems is absolutely insane. It doesn't look steep on the video, but I was shooting down it!
The bikes are just a lot lighter and a lot stronger than what they used to be, I remember especially being a small kid trying to throw a 40 pound bike it was absolutely hellish. But, now the bikes are a lot lighter and a lot stronger. So, everything just keeps developing better and better each time. It's crazy to think where BMX will be in a couple of years, because it's mad.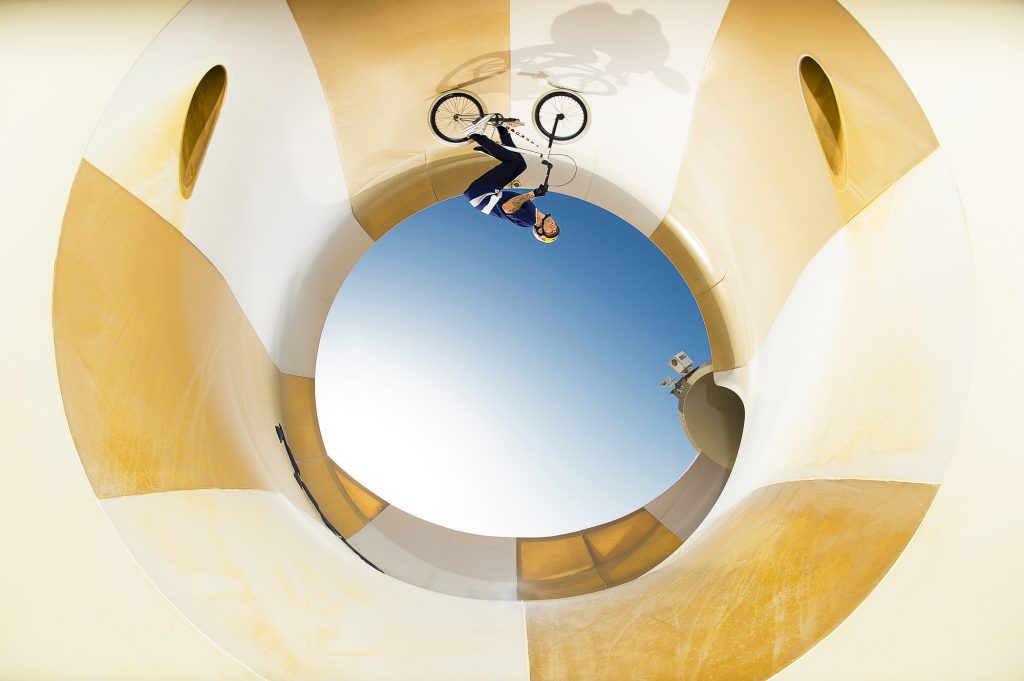 Preperation for Dubai and the Heli Drop
How do you prepare physically for events? Do you split your training between the different riding disciplines?
Not really. I just ride all types of bikes, and do quite a lot of running and stuff, and just make sure I'm pretty fit and healthy, to be honest. But, I don't have a proper training program or anything like that. I run almost every day, but I only do like 5km or something like that, or whatever. And also start doing a wee bit of weight training, and then I ride long distance road bike sometimes with my friends. But then also a lot of mountain biking. I really love mountain biking actually. And then also ride my BMX, of course, all the time.
How do you prepare mentally for tracks / features you aren't sure if you'll be able to land? How do you decide whether you're ready to attempt a trick?
Before I try anything I'll always try and visualize it in my head, like picture it in my head. This could be if I'm street riding or something, or if I'm jumping out of a helicopter, or anything, if I can't picture what I'm going to do in my head, and picture myself doing it, and how it's all going to go, then I won't try it because I'll get hurt. But, if I can picture it and see it that clearly I know for a fact I'll do it. So, it's just about getting the balls and then sending it.
In terms of nutrition do you have tightly regulated diet or something far more relaxed?
Pretty relaxed, but I eat pretty good. I'm not that strict on myself. You can take it as serious as you want it. But, I just try and eat a well balanced diet, and try to eat all the right things, really.
What music do you listen to?
Loads of stuff. Absolutely loads of stuff. 80s. Yeah, I like the 80s quite a lot. But yeah, Stone Roses. But I even like Post Malone. Everything. Literally pretty much everything.

Kriss Kyle – From Getting Started in BMX to Today
How did you first get into riding?
I first got into riding through my older brother. My mum and dad used to take me to the skate park and I'd watch my brother ride, him and all his friends. To me it just looked as if they were having so much fun. And then, I wanted to be a part of that. So, for my tenth birthday I begged my mum and dad for a small BMX, a real small one. And then I got it and I couldn't believe it. And then, I'd go out riding every day with my brother and all his friends, and I was part of his crew. And then, I just loved it, I just got hooked since then. And then, ever since then I just haven't really lost the feeling that I get from doing it.
Is there anyone who really helped you or inspired you to get where you are today?
Just a lot of riders I look up to from when I first started riding. Like Chase Hawk and Dave Mirra I always looked up to those dudes. And now it's crazy because I'm riding the same contest with them.
What changes can you see in BMX in the future?
BMX is in the Olympics for 2020, which I think is amazing because that's going to get shown to a lot more people outside of BMX that don't know really what we do, and I think when they see it along with millions of other people I think it's going to blow up. Quite a lot of the public haven't seen anyone doing a back-flip double tail whip yet, and I feel like when someone does that, or a double back-flip on a bike, I think they're going to be like oh my God, what is this sport? And I think it's just going to blow up again. So, I think for the years to come I reckon it's going to just keep growing stronger and stronger, and I think better and better.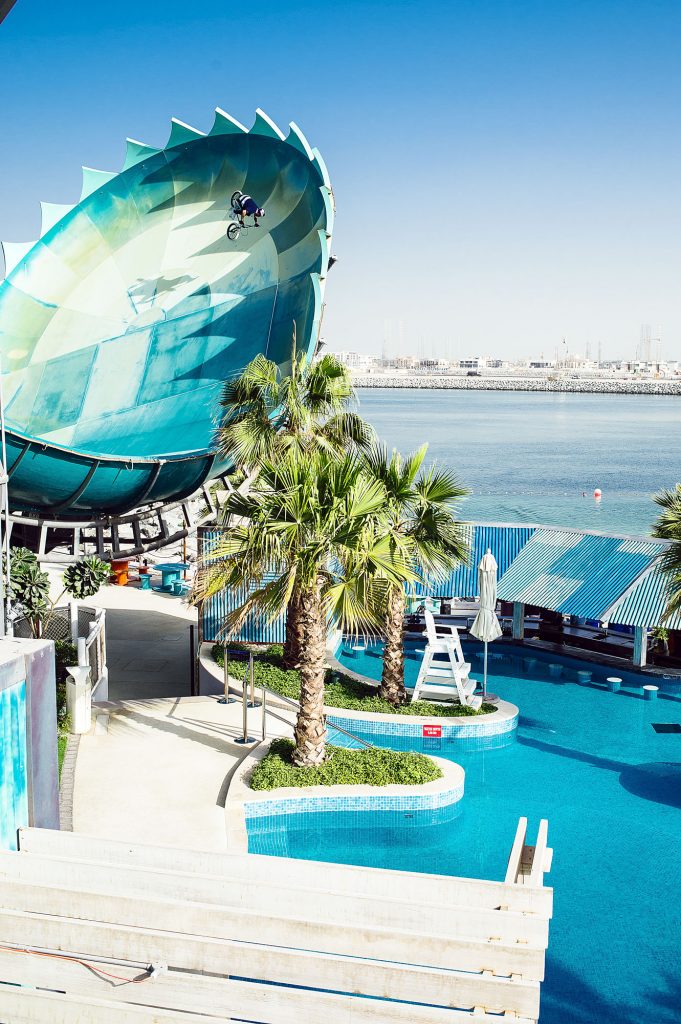 RNT Setup Commentary
With one of the best riders in the world using a 300$ bike frame, it would seem very difficult for anyone to justify getting a frame at over $500. This is a major bonus to us, as the lower the cost entry bar into biking the more people that can join and the bigger and better the community will (hopefully) become. This shift towards more being avaliable for less is something we've seen mirrored in mountain biking (though the entry cost is still higher than BMX). For mountain bikers, especially those new to the sport we think riding BMX with no brakes is hugely beneficial – as it forces complete commitment to your choice of line. For more experienced riders the manauoverability and freedom that a BMX bike brings can allow you to practice tricks and techniques you would struggle far more with on a larger, heavier bike – allowing for smaller and more manageable steps towards a goal. It's unsurprising that many of the most well known Red Bull mountain bike riders (Danny Macaskill, Fabio Wiber, Josh Bryceland) also have roots in and spend a notable amount of time on BMX bikes.
Red Bull's "Trails of Fortitude": Richie's 'Rude Awakening'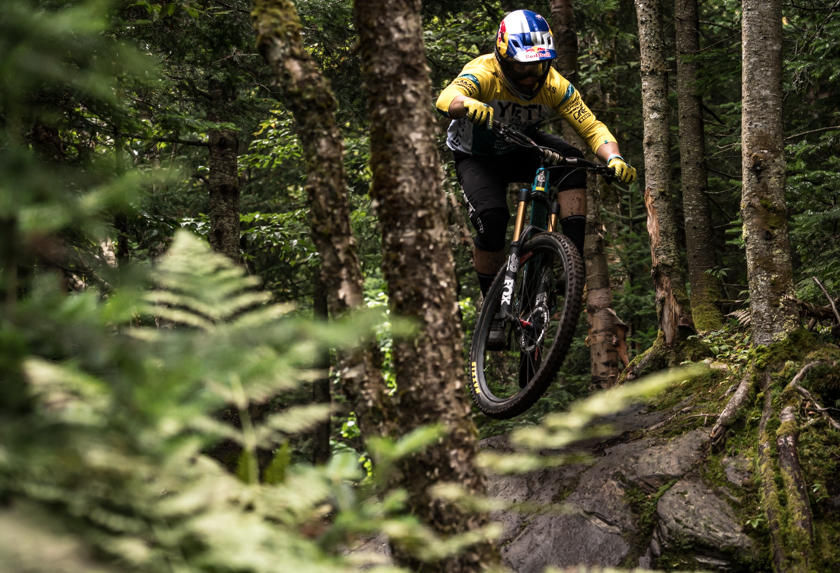 Standing at the base of Burke Mountain staring up the line of the Mid-Mountain Express lift, fog blows across the top bringing an early morning chill to the valley below. There is a silence only broken every so often by the chirp of morning birds off to a busy day. Living on the east coast it's not often to find your self in the grandeur of big mountains but Burke is deceptively big. The paved road that takes you to the peak winds through the trees, switching back on steep pitches. Moss grows on the surface of the road where tires are rare to touch, the higher the road stretches the signs of harsh winters show in the angle of tree trunks and the strange almost alpine vegetation.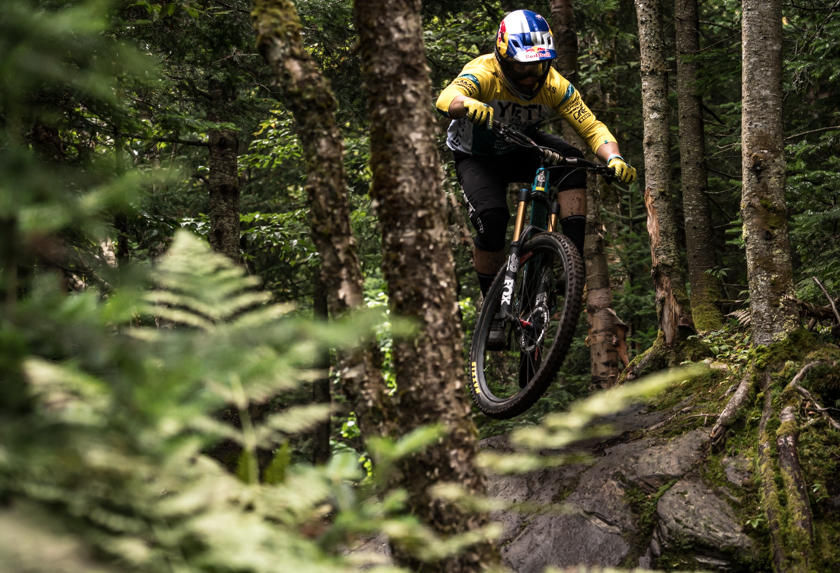 The summit of Burke Mountain sits at a mere 3,267ft, but amongst the fog and early morning mist, its steep pitches seem to rival the granite peaks of its White Mountains neighbors. A pathway opens amongst the evergreen trees to summon riders into the dark forest and down the double black diamond designated trail. A flat and grassy section opens up to the muted morning light before dipping back into a forest, dank from the overnight rain, there is a sudden drop to the trail, down a rocky, slippery path, dappled in roots and moss. A familiar rumble breaks the hush of the damp air and blur of teal and yellow flash through the trail.

A rider comes to screeching halt just after floating over a drop that surely would end in disaster for even the most enthusiastic mountain bikers. Adorned in the recognizable colorways of Yeti and the Red Bull motif on his full-face helmet, the rider is no ordinary trail enthusiast it is Richie Rude. Rude, a native of Connecticut took the Enduro World Series by storm, winning the title in consecutive years before he was old enough to order a beer. A world champion three times over (twice as a junior once as a pro) Rude has accomplished more at the age of 23 than most will in an entire career.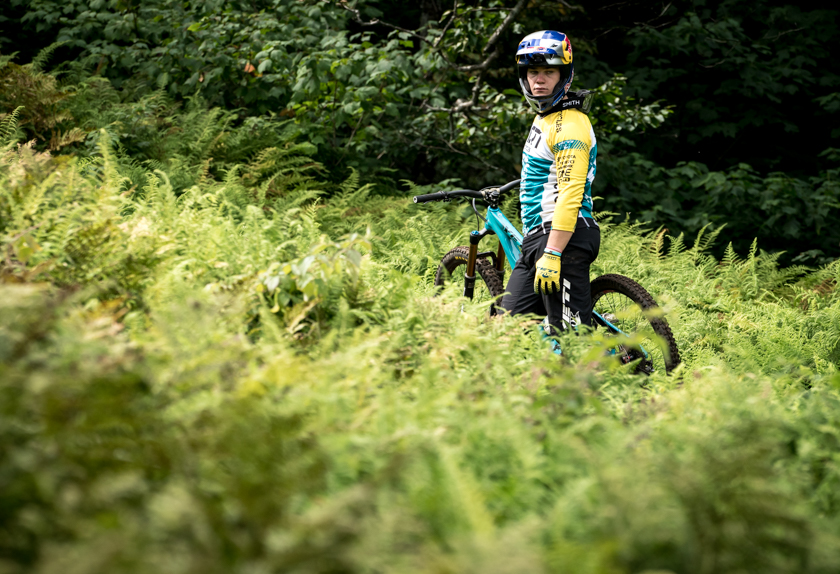 Pushing his bike back up the trail, our jaws still dropped from the piece of riding that we just witnessed, pail blue eyes peek through clear goggles, Rude nods as he inspects the pathway down the steep pitch. Rude's body resembles that of a fullback in the NFL more than it does a mountain biker. Standing at about 5'11' and every bit of 200 lbs. Rude tears at the terrain like a bear breaking into a bakery more than he rides it. Smashing technical sections or just bypassing them entirely by launching over them, Rude takes on the track with a 'death or glory' approach. With speed and a brash approach to self-preservation it's not hard to understand why this kid is one of the best riders in the world. The best don't necessarily ride bikes as much the bike becomes an extension of the body. As Rude surfed the slick rock and moss it was if he could feel what the tires could feel teetering just on the point of them breaking free while maintaining maximum speed.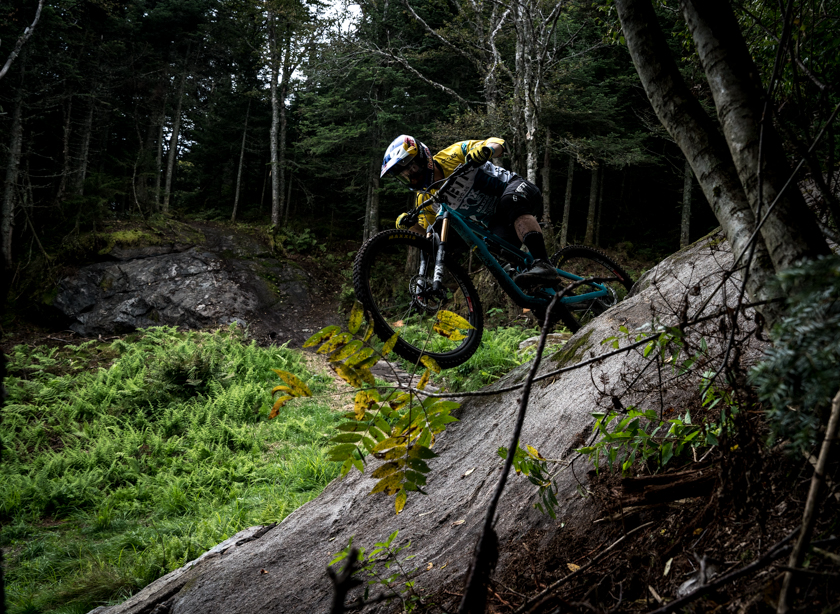 Standing on the final steep pitches, Knight Ide hands me a can of locally brewed beer as the sun drops and lights the horizon pink and orange. Knight has been putting shovel to earth for over a decade on Burke Mountain and was responsible for putting the finishing touches on what is now aptly named 'Rude Awakening'. While the Kingdom Trails are still what most mountain bikers think of when East Burke, VT is brought up, Burke Mountain is quickly becoming a destination all on its own. The hotel and conference center offers secure indoor bike storage, a bike wash and is adding new trails every year. A new flow trail and lift access give riders the opportunity to ride pro level trails day long, including the 'Rude Awakening'. While Rude blasted down the final challenging stretches of the trail Knights eyes lit up in the evening light witnessing his newly finished creation getting shredded by one of the best.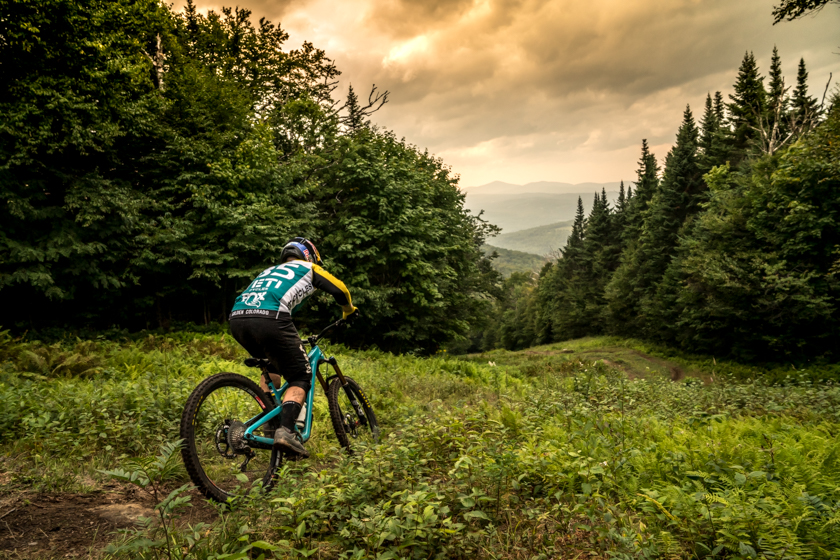 This coming weekend, September 15-16 Burke Mountain along with Victory Hills will host the North American Continental Enduro Series. It is safe to say that Richie Rude will have some home court advantage while also showcasing the trails to the rest of the North American Enduro community.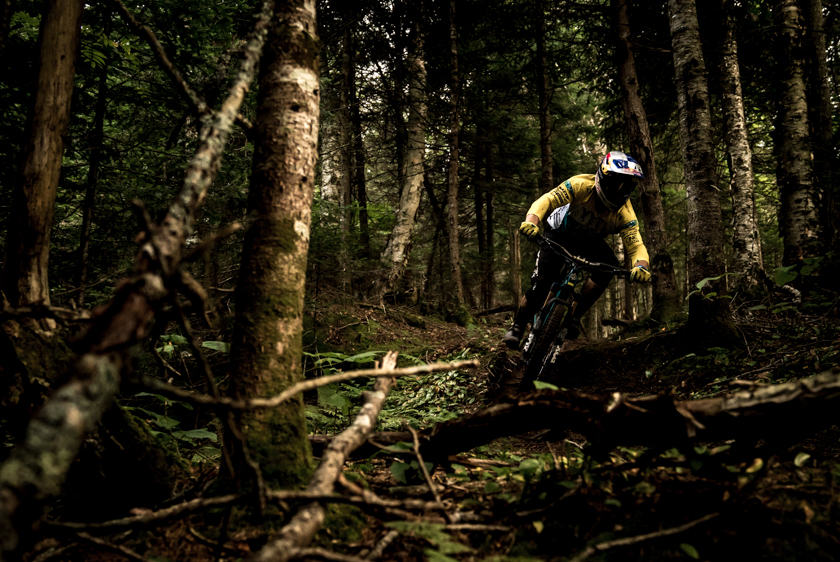 If you find yourself heading to East Burke, VT to ride the Kingdom Trails pack some extra time and hit the slopes of Burke and get a taste of the 'Rude Awakening'
——————–
Like what you see? Please support independent publishing by
Subscribing To Dirt Rag Magazine
today.
Go to Source
Author: Brett Rothmeyer
GoPro: Insane Loosefest Mountain Bike Train