The Best Enduro Mountain Bike Grips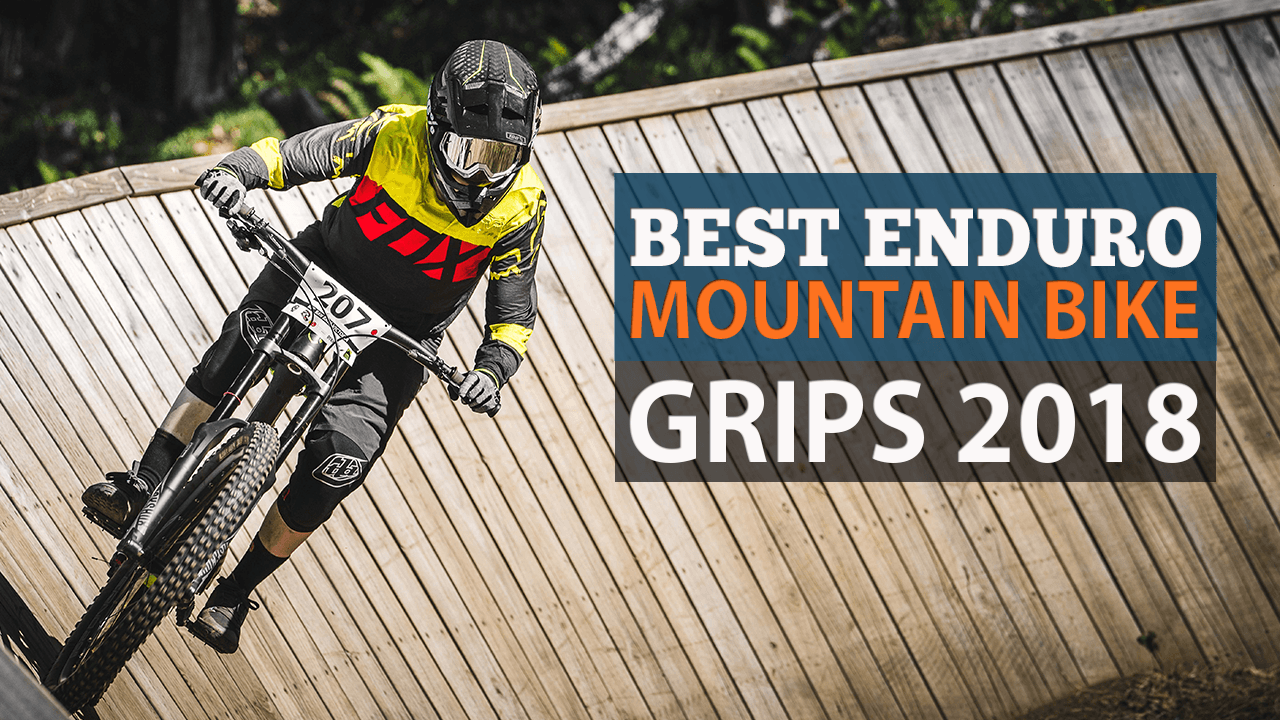 It's easy to get too caught up in how many carbon parts you have and what tires you bought not so long ago (and probably need replacing). But we tend to forget that we interact with the grip throughout 99% of mountain bike riding. A set of good grips will keep your hands in their place, reduce the effects of vibrations and make your ride all the more comfortable. Here are our top 5 choices of the year, which do just that!
Note – We have excluded foam grips from this list as while they are lightweight and can feel comfortable in the dry, they become dangerously slippy in the wet and break apart much more easily with time and crashes.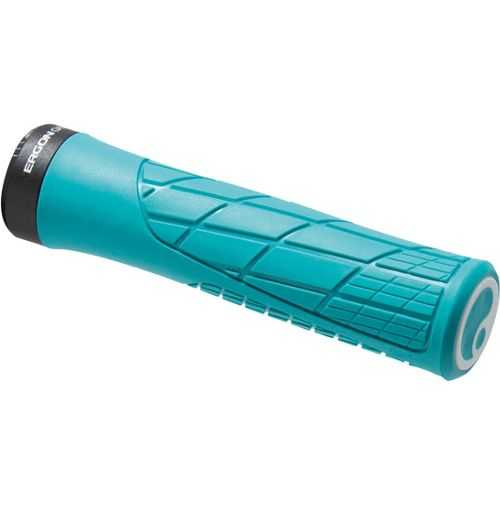 A solid ergonomic grip without any funky or oddly shaped patterns. The Ergon GA2 allows your hands nestle into just the right spot as soon as you touch it. The grip is soft (and quite smooth) without gloves on. However, this smoothness isn't as advantageous when your hands are sweaty as it can get a bit slippery when exposed to moisture. With that in mind, it's still a great ergonomic fit that effectively minimizes hand fatigue on most trails. The compound they have chosen also gives a lot of damping comfort (bearing in mind the thickness), which allows you to feel more in control through less strain on your forearms. It is also worth noting that as well as being avaliable from chainreaction and wiggle, these grips are also avaliable with next day delivery from Amazon and were voted 'Amazon's Choice' through the number of positive reviews.
Buy on amazon [US] Buy on amazon [UK]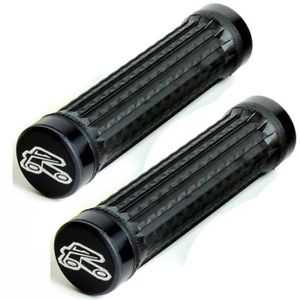 The Renthal is slick, simple and coated with the stickiest rubber in the industry. Built with the primary intention of being as grippy as a grip can possibly be it also damps vibrations very well. These grips use stainless steel bolts and end caps and have forward-facing finger ridges, along with back-facing palm ridges. Additionally, these were a top choice for 4x riders who wanted to have a maximum pull grip in gate starts. The Renthal Traction UltraTacky serves this purpose perfectly, with its unbeatable (but fast wearing) rubber compound and bidirectional ridges, which  makes it one of the go to race day grips for many riders. Buy on wiggle [US]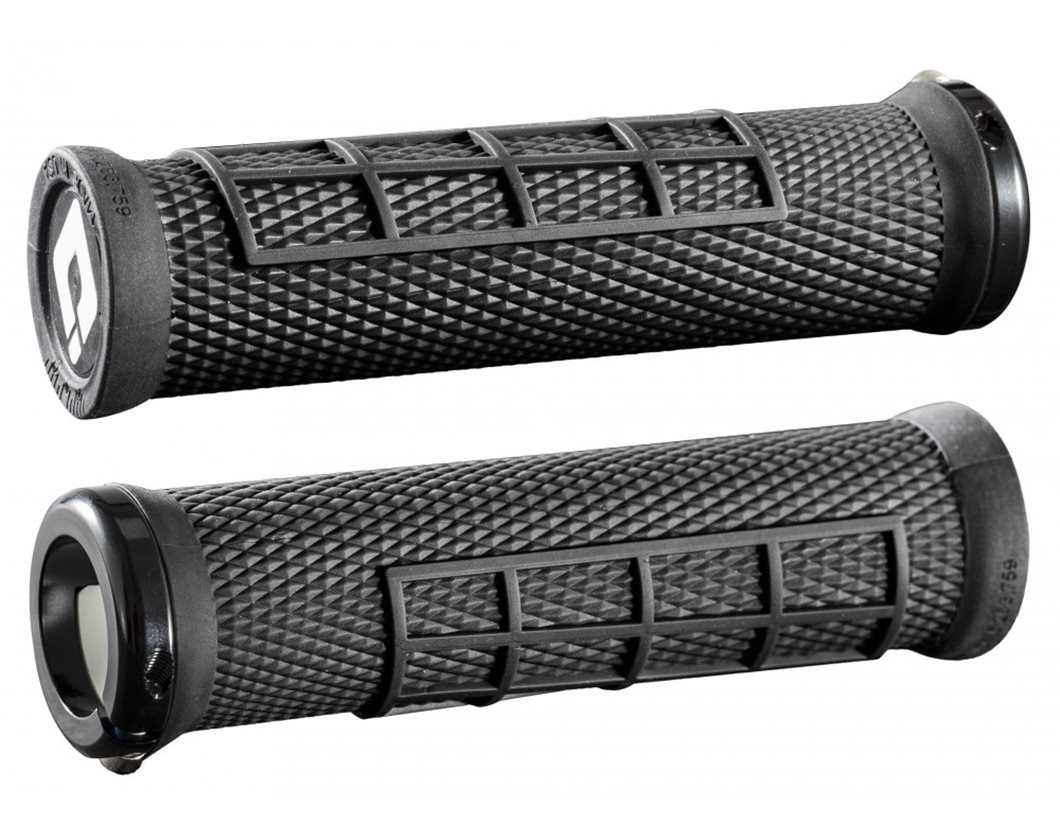 The most instantly noticeable (and probably the best) thing about the Elite Flow is the defined waffle pattern with anchors on the underside. This seems to be the best done of all the waffle pattern grips we've tried – and certainly adds an extra dose of confidence to your grip, making it feel much more reassuring. Furthermore, the internal strips of sticky rubber create more friction on the bar. This will stop it from twisting and will keep the grips in place in spite of the end cap only being tensioned by a machine screw at one end. At each end, there is a small (but barely noticeable at a glance) flange surrounding durable plastic caps that allow you to lean against it a lot more comfortably than you would against a hard aluminum ring, preventing blisters and creating a more comfortable all round grip. The user of plastic furthermore makes this grip the lightest on here (if small savings make a difference to you). Buy on Chainreactioncycles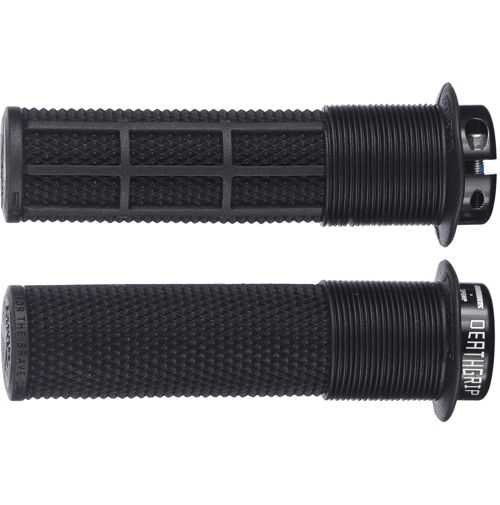 The aim of the DeathGrip's design was to create a grip that goes well with just about any bike. The 'Kraton' compound combined with 'Classic Knurl' pattern makes it the perfect all-weather grip. Your hands will keep reliably stuck to it no matter how wet they are. This thick waffle is   great to pull back on big gaps and helps offer rest for fatigued hands, suiting a slightly looser grip. The grip fits your thumb in comfortably and the mushroom pattern is soft and malleable. Beyond the (debatably) slightly ugly flanges, we couldn't find any downsides to this well developed and refined grip. Buy on Chainreactioncycles

The Chromag Palmskin is easily the best grip for gloveless riders. The soft and ribbed full mushroom surface adds extra comfort by deforming around your hand as you grab the grip. Its ridges channel moisture away, eliminating one of the greatest enemies that all grips face. If you're looking to use these with a pair of gloves, use the thinnest you can find. Additionally, the ribbing will allow your hand to float above the handlebar a touch better than with any other grips out there. So if you're looking to go for some pleasant, precise but cushioned gloveless trail riding, look no further than the Chromag Palmskins. Buy on Chainreactioncycles

Best Mountain Biking Flat Pedals | Tested and Reviewed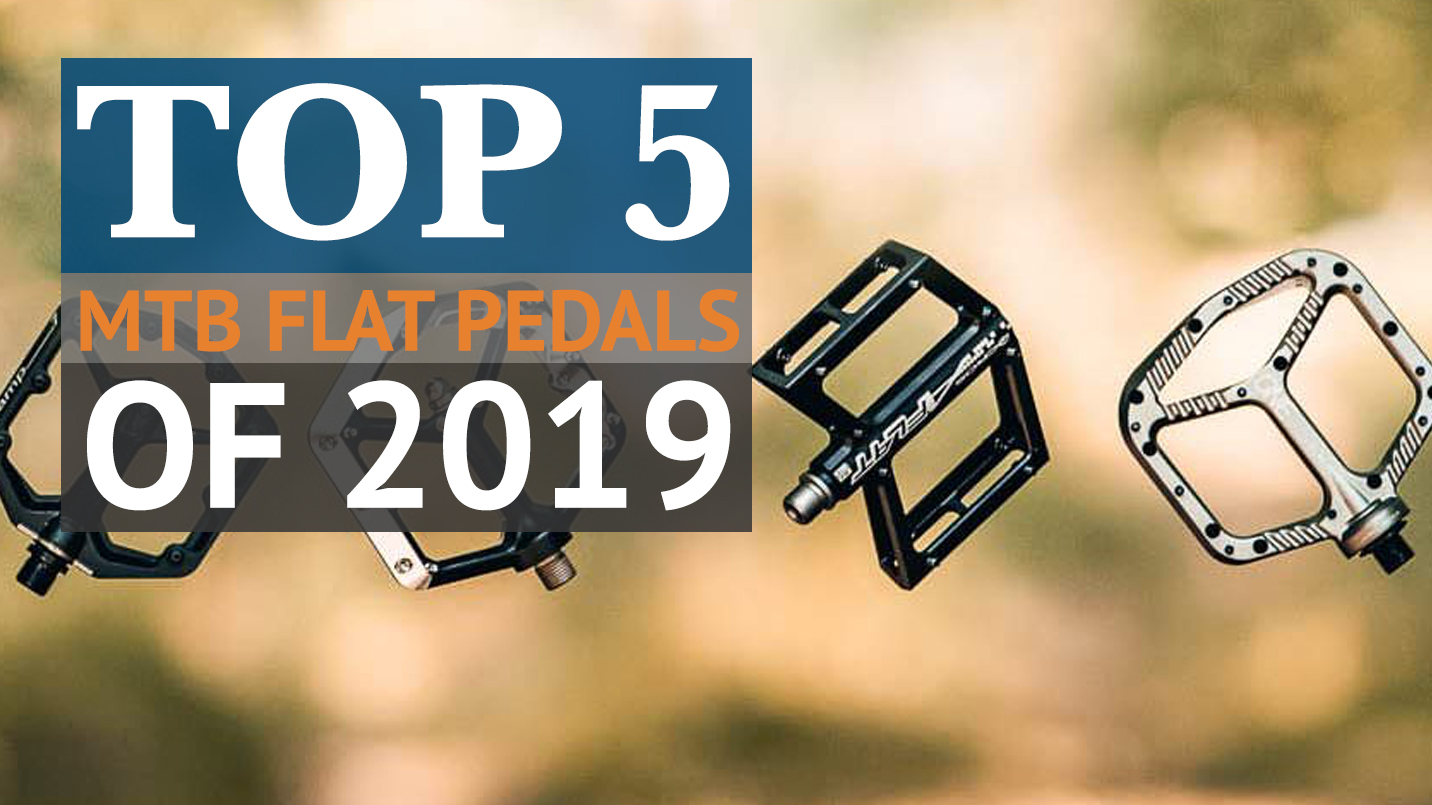 The Best Mountain Biking Flat Pedals | Tested and Reviewed
Pedals are the primary point of contact between the rider and the bike and one of the most key parts for retaining confidence both in the air and over gnarly sections. Different bikes have varying pedals for different uses, here we'll focus on the pedals most suited to hard trail, downhill and enduro.
There are generally two different types of pedals: flats and cleats/clip ins.
The primary advantage of cleats is you can power the bike on the upwards movement of the leg as well as the downwards movement, allowing your legs to go for longer without tiring (due to more muscles being used) and giving faster acceleration as a result. They also offer more firm control of the bike due to more even application of power (no bouncing).
The primary advantage of flats is that they allow you to put a foot down if things get sketchy and give confidence as you can remove your feet in the event of a crash. This means that the confidence inspiring flats are often better for the novice rider as well as the more gravity focussed and give more scope for tricks. From the perspective of a notice they also will force a better riding technique – whereas clips give more of a potential to build up bad habits.
There are a number of considerations you need to make when buying pedals, we've summarized the ones we took into account here:
Weight – For the racers or more cross country orientated riders.
Durability – Key on the trail and is the main advantage of metal pedals over super light plastic compounds.
Maintenance – How much you need to do to prevent them from falling apart.
Platform Size – Will should match your shoe size for an optimal fit and so reduce the chance that they will strike the ground during a turn, larger platforms are not necessarily grippier – this is more down to the pins.
Pins – The main factor determining the grip of the pedals – also the most likely pieces to be lost as a result of being smashed out.
If you are looking to buy a new set of flat pedals here are our top picks.

Grip – The pins of these pedals can be altered in height, allowing for a fully personalized setup, as the choice pedals of Brandon Semenuk it's safe to assume the chromag scarabs will deliver all the grip and support you could want. The pins have also been designed with undercuts to give better grip than their counterparts.
Weight – 430 grams per pair.
Durability – These pedals are known for being able to withstand serious abuse and are shipped with 12 additional pins both for customization and replacement should any be lost. The frame has a slim design bearing in mind the large platform size which definitely makes it a better choice for people with larger feet.
Read more reviews, or buy this mountain biking flat pedal here: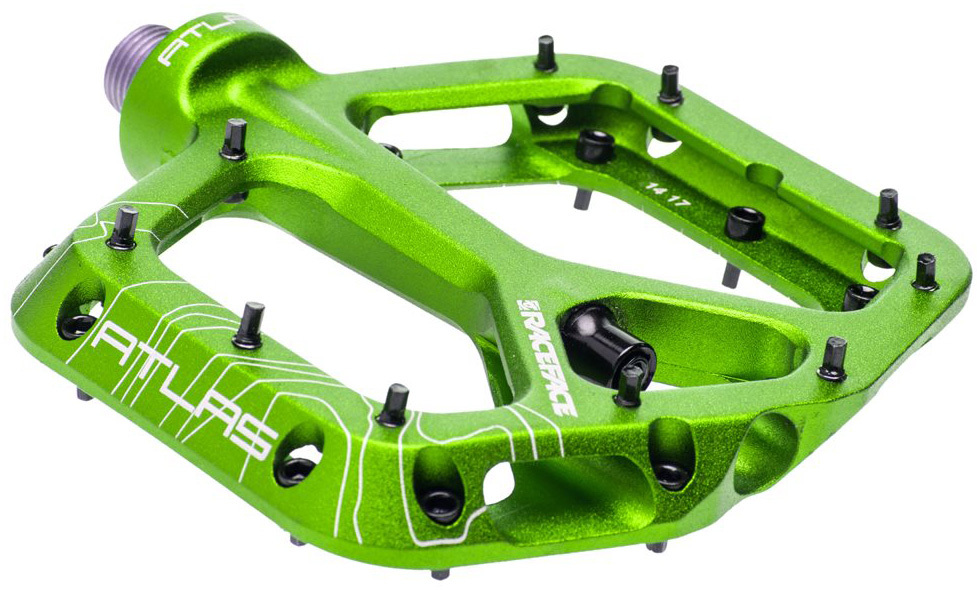 Grip – the pins are shorter than those on some of the other pedals on this list, however this is compensated for with the superb and widely appreciated design of the concave platform, which also seems to clear of mud miraculously quickly. The pins are screwed in from the underside and are easy to add and remove as needed, with the only point of care being sourcing the exact pins themselves (these cannot be replaced with regular machine screws). Overall though the pins are a positive point for these pedals as if they are damaged you won't need new pedals and new pins are cheaply available.
Weight – 365g
Durability – Some people seem to complain about the sealed bearings wearing quite fast, meaning lateral play in the pedals could develop sooner than you might expect – which would result in a less controlled, less stiff and ultimately less efficient ride.
This is not a huge issue as 1) the play that develops should not be noticeable and 2) RaceFace offer a great warranty system so spares or replacements will always be at your fingertips. Be sure to keep the bearings topped up with grease if you want to try and avoid this.
Read more reviews, or buy this mountain biking flat pedal here:
Discount code: Spend and Save on Autumn Essentials (Parts, Accessories & Clothing excluding Bikes, Garmin, GPS and Cameras) – Coupon: SAVE30 (enter at checkout)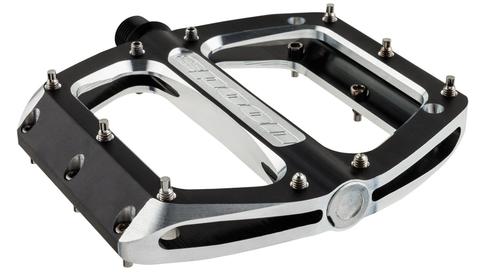 Grip – The slim, concave body of the swank spoon has 10 replaceable pins on each side. Longer 14mm pins at the front and back of the pedal with the four 12mm ones in the middle.
Durability – No complaints here from us or anyone else it seems, these pedals are reliable enough to withstand a full season of aggressive riding with no maintenance whatsoever.
Weight – 420 grams
Even at the highest level you can expect pedals to come in one shoe size, which, if you are lucky will broadly match your shoe. Spank have created the Spoon in three sizes to eliminate the luck involved and allow you to get a pedal better suited to you.
At an intermediate weight of 420 grams and a very reasonable price, the Spoons are one of the cheaper metal frame flat pedals available, which was quite surprising considering the overall quality. We would suggest the Swank Spoon's are the best flat MTB pedal you can get for under $100 and an excellent choice for someone getting into the sport – the price making the customization with the size even more surprising.
Read more reviews, or buy this mountain biking flat pedal here: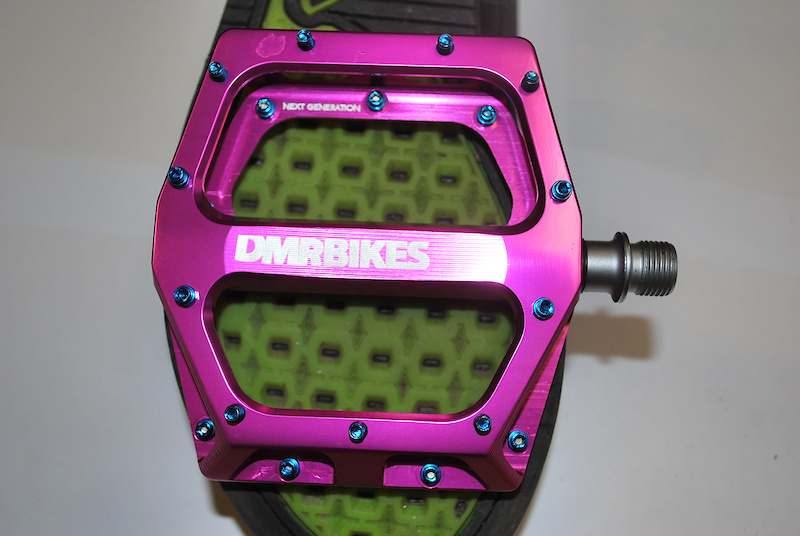 DMR have been making pedals since 1999, and their experience in the industry is clearly shown in the pedals they are producing to this day. Reliable, top end performance machines that have never been critically flawed (or indeed flawed to much of an extent at all) and would have made this list had it been written one, three or four years ago.
Durability – Their latest DMR Vault has made the rear of the platform slightly narrower than the front. The chamfered ends deflect impacts and allow the pedal to more easily slide between narrow gaps. As with the other entries on this list – you can expect these pedals not to attract or retain mud. There have been some complaints about the durability in terms of the anodizing on the pins and a couple of more serious localized issues (we're taking about 1/100 at most) – however this is all covered by warranty so there is nothing to worry about there. In terms of the pins that is really not an issue to us (unless you really do care about blue pins) as this wear was always going to happen and is only noticeable due to the color.
Grip – The combination of a broad platform with concentrated pins means the pedal will grip your foot well even if you don't get it perfectly on first time. The body is concave in shape, (in a similar way to the spank spoon) so you'll have maximum grip and contact with your shoe. The Vault uses 11 pins, 7 of which are reversible, with one end a few millimeters longer than the other. The idea here being that you adjust the aggression of the grip in accordance with your shoes. This does seem to have contributed to one of the flaws of this pedal – being that the addition of this means that pins are more likely to become loose and be lost.
Weight – 420g (less with the titanium axels and magnesium body)
Read more reviews, or buy this mountain biking flat pedal here:
Discount code: Spend and Save on Autumn Essentials (Parts, Accessories & Clothing excluding Bikes, Garmin, GPS and Cameras) – Coupon: SAVE30 (enter at checkout)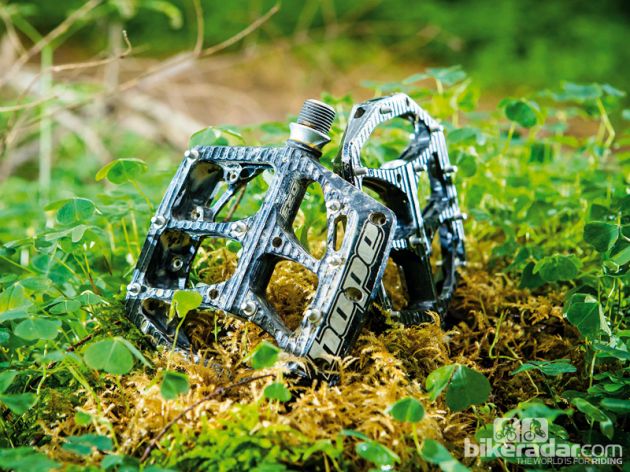 Hope design, test and build their pedals in the wild, wet and muddy north of England, which creates an almost unique set of worst case conditions for parts like the pedals – which need to be as reliable and resistant to the weather as possible. Through this Hope have created some of the most reliable parts in the industry that for many users will never be tested to their real limits of durability.
Grip – This has been the biggest gripe most people seem to have with these pedals, the question you may find yourself asking would be whether the strongest, best looking grips are worth this shortfall. It can be increased by using the central pins at the expense of a less concave platform.
Durability – The grim northern conditions are counteracted by sealed cartridge bearings that should keep spinning smoothly for many years. The body is beautifully designed and has the slightly concave shape that you can expect from a top end pedal in this day and age. The F20s are certainly a great looking pair of pedals that seem to go especially well with bikes that have more 'matt' frames.
Weight – 416g
If you want to enjoy reliable class leading grip and performance for tame to aggressive trail riding at a fair price then these pedals are the place to go – as one of their class leaders that not only excel at their function but look good while doing it.
Read more reviews, or buy this mountain biking flat pedal here:
10 Pieces Of Essential Mountain Bike Gear to Bring on a Ride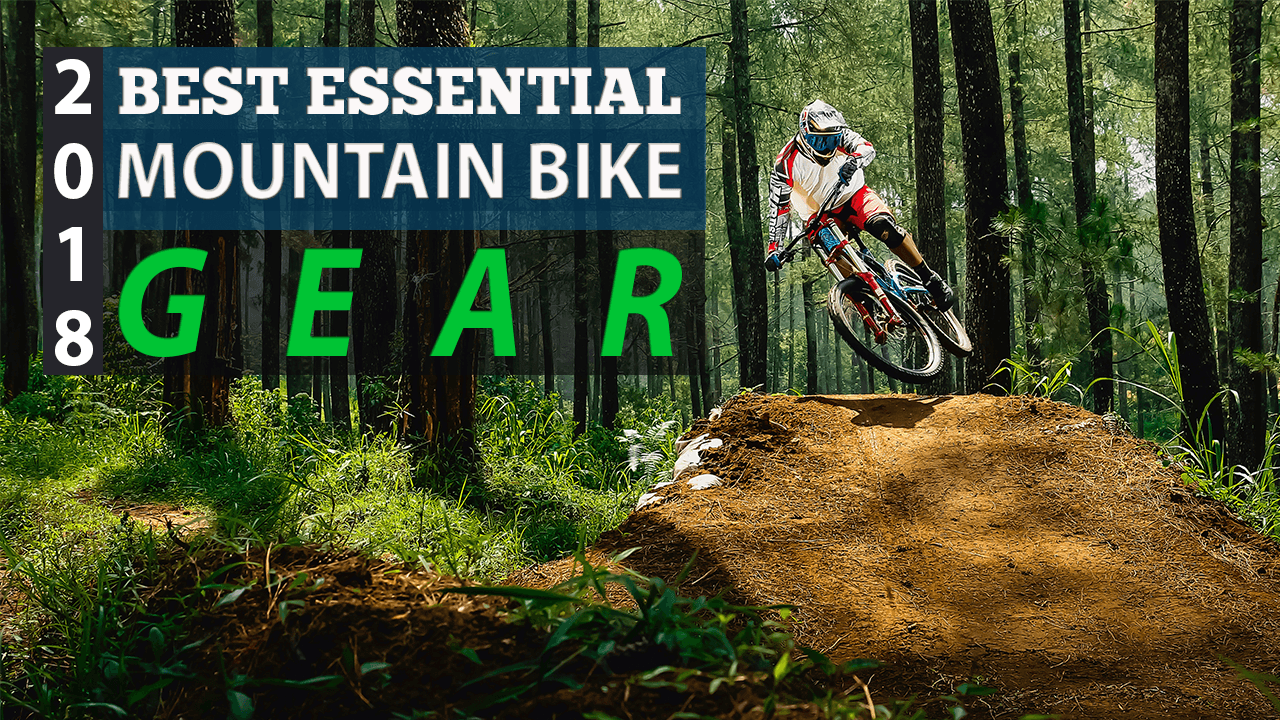 So you've bought a new mountain bike and you're ready to shred. That's awesome! But before you hop on your bike and head out, you should prepare yourself (a little at least). You'll be faced with Mother Nature and the worst she'll have to throw at you.. probably at the worst possible time. This can be the difference between a comfortable and enjoyable ride (in spite of any 'circumstances'), or in some cases far more serious. The knowledge that you've got everything  you need inspires confidence to explore new places and push harder lines. With that said, here are the most essential items to take with you to the trails.
As all mountain bikers will know, riding (especially in summer) will be synonymous with sweating buckets, things can get a little intense at times but thanks to this backpack, you can push yourself to the limits without having to worry about it. If you're looking to go on a quick ride after a long day, the Osprey Viper 3 Hydration Pack will not only carry your water and protect your back (to some degree at least), but is also big enough to fit all the tools you might need without going overboard.
It offers the suspension that is designed to help you be fast and light as you roll through the trails. Furthermore, its weight is spread across a ventilated mesh back panel, with a foam frame sheet, ensuring you have comfort and stability. It also has purpose built mtb features like the innovative LidLock helmet attachment system and the LT 2.5-litre reservoir, among others. It's the best pack we've found for the money and our confident choice that will last you for years.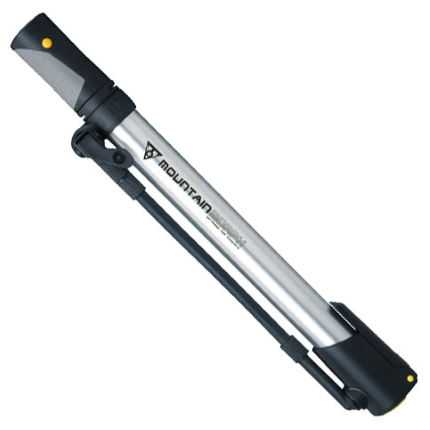 You will need a pump at some point for certain, whether you're tubed or tubless or have 'puncture proof' tyres (we've heard that one before), there will come a time when you're in desperate need of one. Probably at your furthest possible point from home – just as it's started raining. Our first choice would have to be the Topeak Mountain Morph Pump. It's large volume and reliable valves make it like having a small, unconventional track pump in your bag. The high-volume barrel will fill your fat tires incredibly fast while inflation is a snap, thanks to the fold-out foot pad and the flexible hose. This also can make all the difference when trying to snap  tubeless tyres back onto the rim with the sudden increase of pressure required. For such an essential piece of kit that you probably won't ever be replacing (unless you leave it somewhere) – getting the Topeak or an equivalent should be a primary consideration.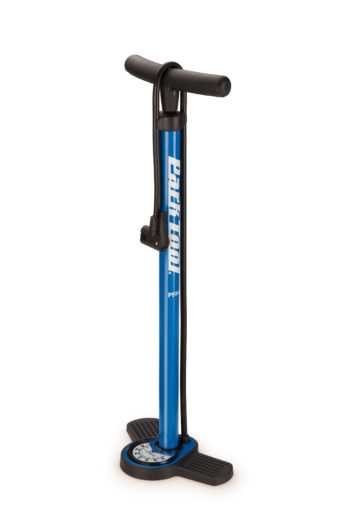 For lifelong workshop tools, Park Tool is the standard choice for the vast majority of bike shops and serious riders. This company sets the industry standard and the PFP8 Floor Pump definitely maintains it. You can smoothly fit Dunlop, Presta and Schrader valves, without even thinking about switching any internal parts. A simple composite head makes sure of that. Also, with an incredibly stable steel base and huge foot pads, you can pump your tires in absolute comfort.
Additional Items to Bring Along
Other bits we'd recommend
Essential Gear to Bring with you on every Mountain Bike Ride
Thoughts From Our Contributers
The most important things to take mountain biking with me are:
Water – depending on the length of the ride I will take water bottles (preferred) or on longer rides I wear my camel back.
Tool kit – I had a really good idea to put my tools in an old water bottle and carry it in the 2nd water bottle cage! I figured that someone else had that idea, and a product to go with it, so I searched amazon and sure enough, here is the little gem I bought! Keeps my tools off my back.
Food – I keep it simple and throw beef jerky and almonds in my riding shorts pocket.
Spare tube and air – It only takes one ride getting a flat to prompt you to take these two items! both are in my tool bottle because I carry C02 cartridges for inflating the spare tube.
Comfortable gear – everyone is different, so find the gear that you love. My favorite shorts to date are Troy Lee Designs. I wear a cross country jersey because I like the pockets in the back for misc things. Full finger gloves are essential!
Contributor: Nick Glassett
Organization: Origin Leadership Group
Website: Originleadership.com
Less is more when riding. The more you ride the less you will take with
you.
What I Take With Me On My Rides
 1. A backpack with a hydration system and lots of pockets. For long rides
you need a good backpack that allows you bring all the goodies that make
the ride Fun and safe. My fave is POC alone vpd air. It has the extra
benefit of having a built in back protector.
2. You never know when you you'll get a flat, specially if you are riding
enduro. So never leave home without a Spare tube, a pump or air cartridge
(I carry both) and tire levers.
3. A multitool is also a must. From a loose seat lost to fixing twisted
handle bars after a fall, a good multitool can save your ride. I've had
many, but my favorite is the Silka. It's the Swiss Army knife of tools.
4. Once you have the mechanical covered you need to have snacks. Having
snacks regularly will replenish your energy and will keep you from bunking.
This is a personal choice: gels, chews, bars, granola, they all work. I
personally prefer chews because they taste good and get digested quickly.
Clif shot blocks are my fave.
5. Depending on where you are riding and the time of year, a spare layer
can be clutch. Weather can change fast in the trail, the right layer can
make riding more comfortable. POC resistance enduro is comfy and has great
ventilation.
6. The right sunglasses are key in the trail. They not only help with the
sun, but also protect you eyes from branches and bugs. I found the Oakley
Half jackets with Prizm lenses work best. You can see the trail well and
they dong fog.
Contributor: Jacob Perez
Organization: Peirmont Bike
Website: https://piermontbike.com