Top 5 Best MTB Shoes for Enduro and Downhill Riding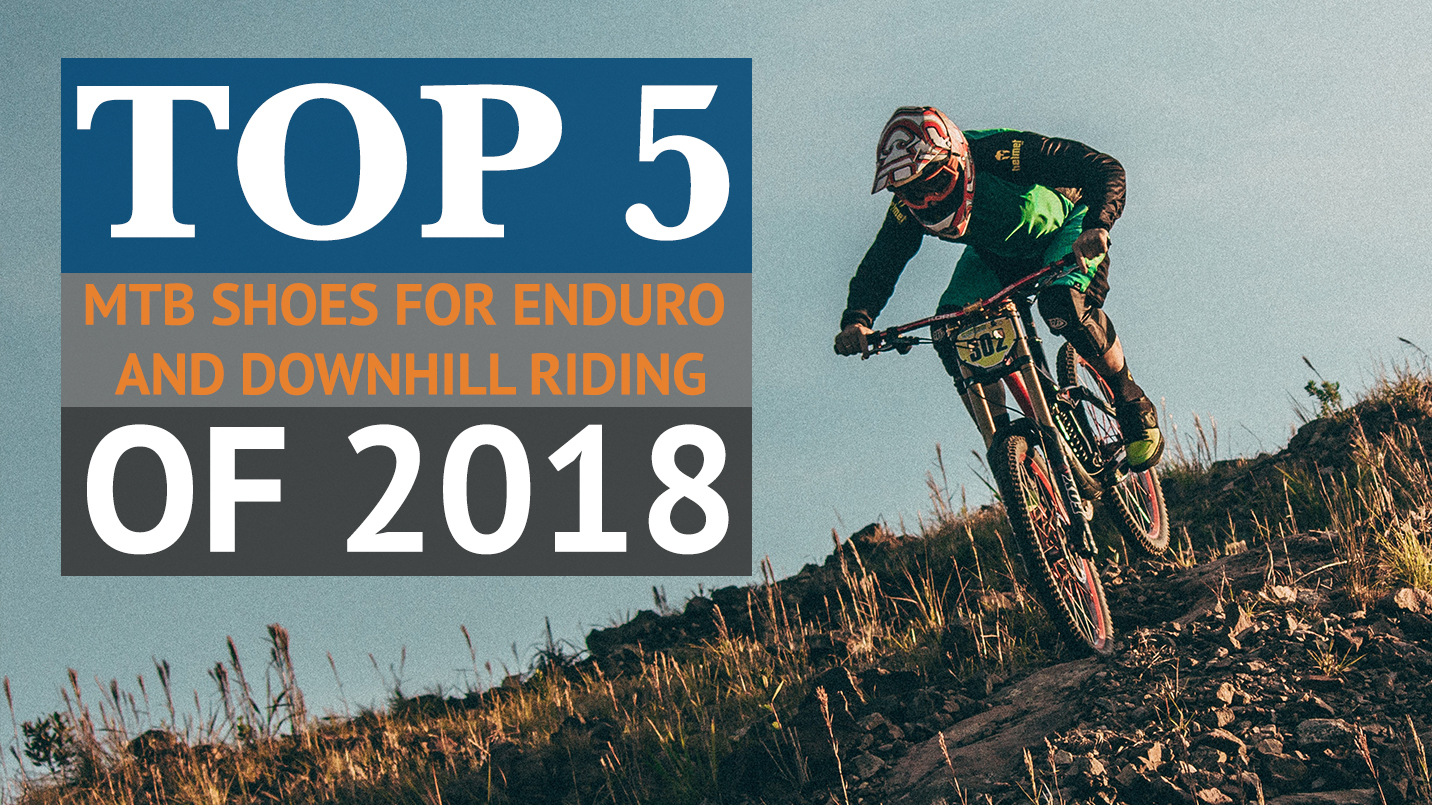 Here are our picks for the best Enduro and Downhill riding shoes.
Our ratings and reviews will reflect and depend on the following
Pedaling Efficiency – The force exerted on pedals directly influences the speed of the bike. Higher pedaling efficiency gives a better transfer of power while applying minimum pressure. It results in faster speeds while reducing muscle fatigue.
Support and Fit – Shoe support and fit are essential for a comfortable and safe ride. While the fit depends on personal foot dimensions, maximum support is imperative for reduced injury risk and better performance.
Durability – Your shoes should be able to take on rough trails and survive.
Flexibility and Stiffness – The flexibility of a shoe is vital for a comfortable fit. Stiffness is also required for better power transfer. The flex dampens power transfer and increases mobility while stiffness discourages movement and increases power transfer. The delicate balance between rigidity and flexibility is an essential aspect of a quality shoe, as it can shape the performance and experience of your rides.
Our top recommendations
The ME7 has heralded one of the best attempts to combine cross-country power transfer levels with the armor and protection needed by aggressive (enduro and downhill) riders. With its carbon fiber midsole and reinforced upper, the ME7 provides the right amount of stiffness that increases pedaling efficiency while allowing flexibility. Providing enough ventilation with its tactile mesh, the reinforced toe guards and ankle cuffs protect against impacts. The ME7 enables an easily customizable and comfortable fit with its quick-draw lace system secured by ratchet straps. As an added bonus, the solid rubber sole also provides plenty of grip for when you get off the bike.
Its carbon-reinforced midsole offers the right mix of stiffness and flexibility.
The shoe feels tough while retaining proper ventilation.
The toe guard and ankle cuff protect against impact.
Riders with low-volume feet might struggle to get a snug fit.
The ME7 allows a comfortable riding and hiking experience for riders using clipless pedals. The designers appear to have judged the rigidity very well, as the ME7 efficiently transfers power from foot to pedal. Overall, the ME7 is an impressive blend of engineered comfort and functionality – being the favorite not only with us but more or less across the board wherever it has been reviewed.
Find out more about, or buy these shoes here.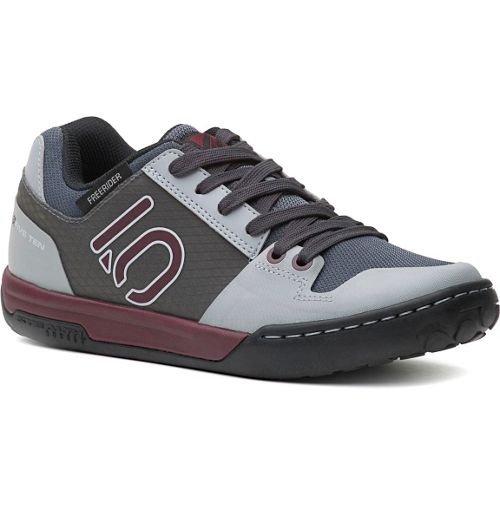 Despite a partly treaded sole, the Freerider Contact provides immense grip. The synthetic uppers keep the shoe lightweight and significantly reduces drying time. Its stiff midsole ensures maximum pedaling efficiency while the wide rubber outer layer gives vast pedal contact and effective ride feedback.
As this shoe is only suitable for hiking and riding in dry conditions, it can get slippery when the trail is wet. Flexible near the forefoot, this shoe allows for rapid foot mobility. With its sturdy and robust build quality, the shoe is made of abrasion-resistant textiles and comes with toe-cap protection.
The robust construction ensures a durable and comfortable fit.
Due to its stiff midsole, it provides ample support and optimum pedalling efficiency.
The partly treaded soles offer ideal pedal contact, ride feedback, and grip.
The Freerider Contact is not suitable for damp or wet conditions.
Due to the bare mid-section of the sole, you can make small foot adjustments on the go. Lightweight, durable and grippy, the Freerider Contact is ideal for downhill and enduro riding.
Find out more or buy these shoes here.
FiveTen Impact VXi Clipless or Flat Pedal Shoe (840g)
With its broad sole, the grip offered by the Impact VXi is firm. Stiff, comfortable and lightweight, the shoe provides plenty of support and improves pedaling efficiency. While it is not exceptionally breathable, the shoe is water-resilient and features toe-cap protection.
Cushioning feet against shocks, it has a robust build with a sizable rubber sole. While the ride feedback does suffer, it aids better power transfer due to increased levels of stiffness. Durable and hardy, the fit is spacious while providing adequate arch support.
The sizable sole offers firm grip while cushioning against shocks.
Due to increased stiffness, the power transfer is efficient.
With its synthetic uppers, it is lightweight and comfortable.
The shoe does not have proper ventilation.
With a roomy fit and stiff midsole, the shoe is comfortable and lightweight. With solid build quality and a secure grip, the Impact VXi is a suitable shoe for downhill riding.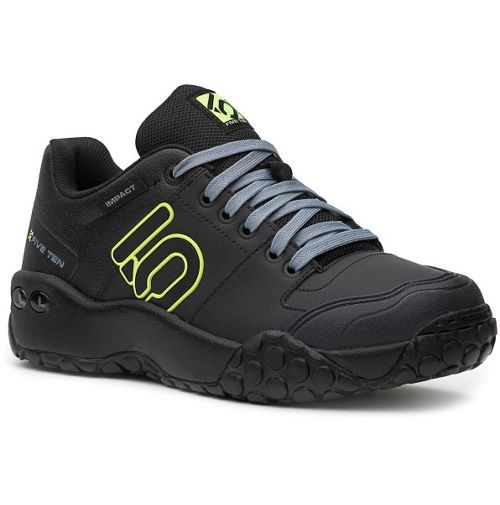 With its grip and stability, the snug shoe supports the foot despite weighing more. While flexibility suffers due to its rigid construction, the power transfer remains efficient. The reinforced toe-box and cushioned sole offer protection and shock absorption.
With the traditional lace system in place, it allows adjustability and ventilation. The arch support and slingshot heel are robust while its durability ensures all-terrain traction and use.
It provides grip and stability for all terrains.
The cushioned soles and reinforced toe-boxes protect and absorb shock.
It has an excellent fit and arch support.
Flexibility and ride feedback suffers due to stiffness.
The shoe provides high pedaling efficiency with a sturdy build. Due to synthetic uppers, it is water-resistant and dries quickly. Providing a firm grip and suitable protection, it is ideal for downhill riding
Find out more or buy these shoes here.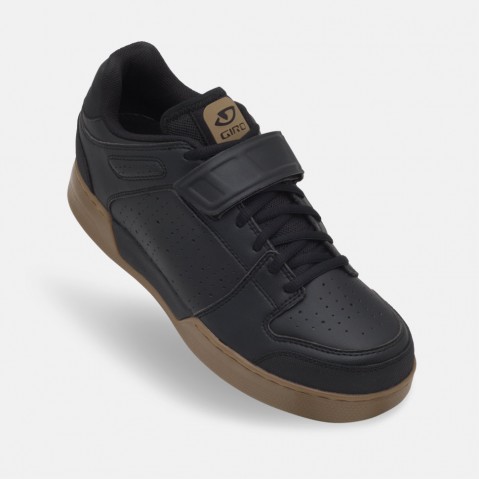 The build quality is robust, with lace straps, cushioned heels, and appropriate arch support. For protection, it features padded ankle straps and rubber toe caps. While retaining sufficient flex, the stiff midsole offers ample pedaling efficiency.
While it weighs more, the shoe is durable, water-resistant, breathable and has an excellent fit. The secure grip is impressive despite little tread. The cleats are long enough and easy to use. The shoe also comes with an anti-bacterial lining.
Durable and sturdy, it provides optimal protection against debris.
The shoes consist of synthetic uppers, making it water-resistant.
It comes with an anti-bacterial lining.
Weighing at 536g, it is quite heavy.
Comfortable for hiking and riding, it offers both flexibility and stiffness in the right mix. It is grippy and provides a snug fit. Water-resistant and breathable, the Chamber Mid is a sturdy shoe that is apt for aggressive riding.

Best Gifts For A Mountain Biker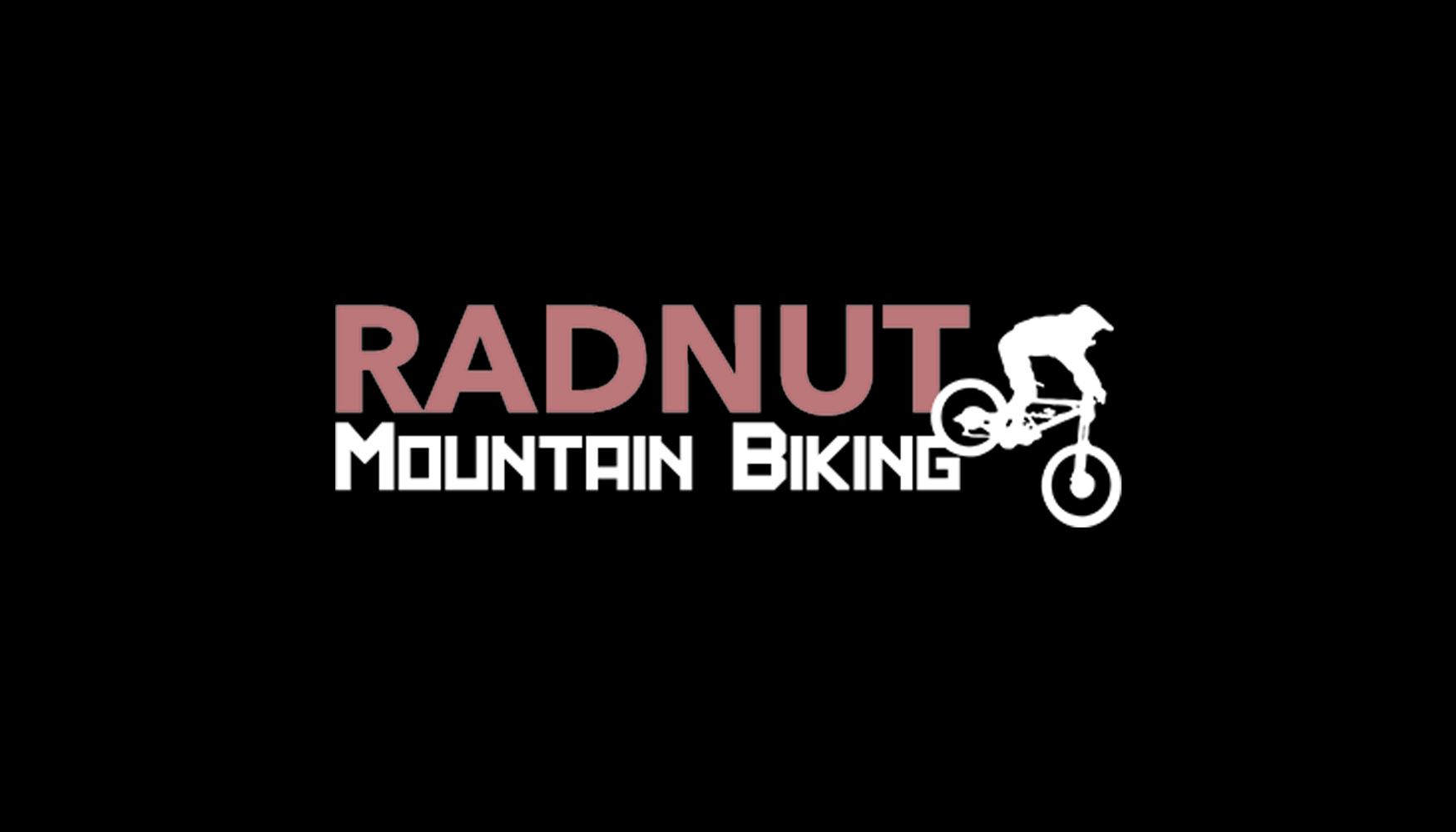 What gifts to pick for mountain bikers?
As mountain bikers are notoriously difficult to buy gifts for, we thought we'd put together a helpful piece on what we'd suggest as mountain bikers would be the best and most failsafe options. From performance socks to action cameras, there's bound to be something just right for a mountain biker you know.
Mountain Biking Gloves
The Fox Racing Ranger Mountain Bike Gloves boast features perfect for mountain-biking:
A polyester, nylon construction for durability

Double layer Clarino palm and low profile wrist tab to boost flexibility and comfort
This simple yet effect gift is excellent for beginners and more experienced bikers.
Contributor: Ollie Smith from ExpertSure
Mountain Biking Distress Beacons
As we bike our way into spring, we can enjoy more peace of mind with Silent Beacon. 
This panic button is lightweight, water-resistant and wireless. It seamlessly connects to smartphones or any other bluetooth-compatible device.
Here are some stand-out features:
The Beacon can place a call to first responders and anyone else in an emergency 

Includes GPS tracking for emergency services — all with one button push.

Two-way communication device thoughtfully designed for easy activation and avoidance of false alerts

Multiple customized direct contact options (911/EMS)

Customizable contact list
No other wearable safety device does so much for so little — and so simply.
Silent Beacon offers features not available on other wearable devices, at a  very fair price. Thankfully there aren't monthly payments or hidden fees. 
Contributor: Kenny Kelley from Silent Beacon
Run angel is an alternative innovative safety wrist wearable that emits a very loud siren from its patent pending acoustic chamber design to attract attention in an emergency such as an injury or attack.
It connects to smartphone devices to send emergency alerts to loved ones by SMS & email, showing the date, time and location of the wearer.
Contributor: David Caren from Run Angel
Extra Strength CBD Muscle Salve 
It's no secret that enjoying the outdoors can take its toll on your body, but there's no reason to let pain and discomfort win. The Glacier Wellness Muscle Salve offers the following:
 Tremendous, effective relief where you need it most

Won't leave you oily or smelling like an old-age home! 
In addition to its truly remarkable and effective pain relief, the CBD body butter is great for calming the stress of everyday life thanks to its mix of essential oils and soothing scents.
As an added bonus, our salve is made from the finest American grown hemp. This product is also ethical, GMO-, and paraben-free.
Contributor: Samantha Morrison from Glacier Wellness 
No amazon link, product page is: https://glacierwellness.co/products/extra-strength-hemp-muscle-salve
Horizon 1 Sunglasses
Everyone loves sunglasses that make them look cool, and all three versions of Horizon 1 sport sunglasses (Slope, Wave, and Mesa) are styled with an edge. They're a perfect gift for anyone that enjoys the great outdoors, or just wants to look good. 
Each pair includes:
3 pairs of interchangeable lenses (grey, rose, and clear) for

varying weather conditions (instructions included

A carrying case with belt loops and clip

A warranty
A polarized version of their grey tint lenses is also available. Other attractive frame colors that will be available soon are: white, purple, and tortoise shell.
Contributor: Andrew Cochran from Next Horizon Eyewear LLC
The Original Worm is the portable, full body massage roller that combines the benefits of therapy balls with a foam roller. 
The Worm's specially designed, neoprene encased, solid rubber massage balls target 4 times the body's surface area. 
These massage roller balls will provide trigger point release to combat stiffness, pain and stress in muscles and joints. It can be something you realise you need once it's too late. 
Contributor's site: http://www.theoriginalworm.com
Developed by Paul Swift, 8-time US National cycling champion who competed with the US National Cycling Team from 1983 to 1997, the Cleat WedgeR is designed to provide a solution to a problem most all cyclists face.
Studies have shown that 96% of all cyclists (mountain, road, gym) deal with one of two foot issues. Their feet either tilt in or out when coming into contact with the pedals. This creates a lack of alignment with the knee which can lead to pain and injury while also reducing efficiency and power.
The very affordable Cleat Wedge (MSRP: $25) solves this by creating an even pressure point across the foot to align the point of contact. The result is a vertical path between the knee and pedal which increases efficiency and power while also eliminating knee and foot pain.
The Cleat Wedge is available in two, three and four hole designs.
Contributor: Paul Swift from BikeFit
The Seventy2 Hour Survival Kit is a perfect gift for the avid Mountain Biker because it is a backpack comprised of supplies and tools that will help you be prepared for any type of situation that a mountain biker may face when ripping down a trail.
The Seventy2 is ideal because it is all encompassed in one lightweight, mobile backpack that will not negatively impact performance, but rather it will allow you to be confident in your biking because if anything may happen you will be prepared.
Contributor: Christian Schauf from Uncharted Supply Co
Feetures socks are great for cycling, and are one of those small details that can transform your riding experience.
These are the picks of the range:
1) Feetures' new Merino 10 is blended with a luxurious combination of TENCEL and Merino wool for all-weather performance in any season. Designed with patented Sock Lock technology, the Merino 10 line provides targeted compression in the arch to provide all-day support and eliminate blisters.
2) Constructed with moisture-wicking fibers to keep feet dry, Feetures' Elite line is designed with the same Sock Lock technology like the Merino 10 line in order to provide an anatomical fit for targeted compression in the arch which provides all-day support and eliminates blisters.
Contributor's site:  feetures
Tailwind Nutrition's Rebuild is the first recovery drink based on a patent-pending complete protein – a groundbreaking organic rice and coconut milk-based formula, specially designed to restore your energy and recover your muscles after exercise.
It combines:
Carbohydrates

Electrolytes

Amino acids
So it's formulated with essential building blocks your body needs to replace depleted glycogen stores, balance metabolism, and rebuild broken-down muscle fibers.
Other excellent features include:
– All-Natural Ingredients: non-GMO, gluten-free, soy-free, and dairy-free. 
– 100% Complete Protein. Rebuild contains twice the amount of complete protein found in chocolate milk, and nearly three times as much complete protein as in competing products, without additives or excess proteins that put undue strain on the liver.
All in all, rebuild easily mixes with water for a smooth, delicious drink – without the whey, dairy, or excess protein waste common in many alternatives.
Contributor: Dan Arnett from Darby communications 
Mobile Warming Heated Apparel clothing is a great gift for mountain bikers. This Bluetooth heated clothing makes mountain biking accessible during any season.
The clothing can be heated through a specialized app and the Bluetooth capability of your smartphone. Turn it up when you get cold, turn it down when it gets warmer. Simple!
For mountain bikers, the base layers are terrific, especially when they are biking in colder locations or even in early morning when it's a bit colder. They can start with the base layer on high, then turn it down as the sun comes up and they get warmer.
Art Sesnovich from Bulldog communications
Vena's 6Netic Magnetic Bike smartphone mount is perfect for cyclists who want to stay connected for:
Hands-free phone calls

Music playback

Navigation
It is one of the first magnetic mounts in the market to offer the option to mount an action camera or a compatible light. The Vena mount is lightweight yet sturdy in design to ensure security for devices while bicycling on rough terrain.
Excellent aspects of the mount include:
Powerful N45 magnets to safely and securely mount oyur smartphone to the bike.
GoPro compatible. It is almost universal.
Simple installation thanks to the magnets.
Nylon impregnated plastic for durability

2 straps provide

increased security

A mount arm allows space for cable management

and easy installation of your accessories.

360-degree rotatable mount for perfect device viewing
Contributor's site: Venaproducts
This GPS is the best of the best. Its features speak for themselves:
Includes Strava Summit and Garmin Connect integration.

Approx. 15 hours of battery life – plenty for the trails!

More signal options available off the beaten path. 
Contributor: Haley Kieser from VOORMI
This light is a bit of a beast.
Super bright

Light-weight – only weighs 130g with the mount. 
A helmet mount is available separately, but it's perfect for mounting onto handle-bars as well. A must for those peaceful night-time rides!
Contributor: Haley Kieser from VOORMI
Website: https://www.niterider.com/product/lumina-micro-750/

While not a gadget, the technology within this long sleeve should be considered one.
It works wonders in the summer time by keeping me cool through a long ride in the desert and also protected from the sun. 
Made with precision blended wool,

Looks brand new even after my hydration pack has done its fair share of wearing.
Contributor: Haley Kieser from VOORMI
This is the more affordable version of a GoPro that's waterproof and remote
control operated.
Records 30 frames per second and takes 12MP photos to

give you professional quality footage every time.
Battery life should

last 90 minutes and it even has a 170-degree wide angle.
Share your footage in minutes thanks to built-in WiFi and HDMI.
Contributor Sam Maizlech from glacier wellness
No Sweat helmet liners 
NoSweat's thin, disposable liners stick to the inside of helmets to
Instantly wick away sweat 

Prevent stains, odors, acne

End stopping to wipe your face.
Depending on the person and the activities being performed, each liner can last up to two weeks.
Contributor: NoSweat from NoSweat
Best Mountain Bike Gloves | Buyer's Guide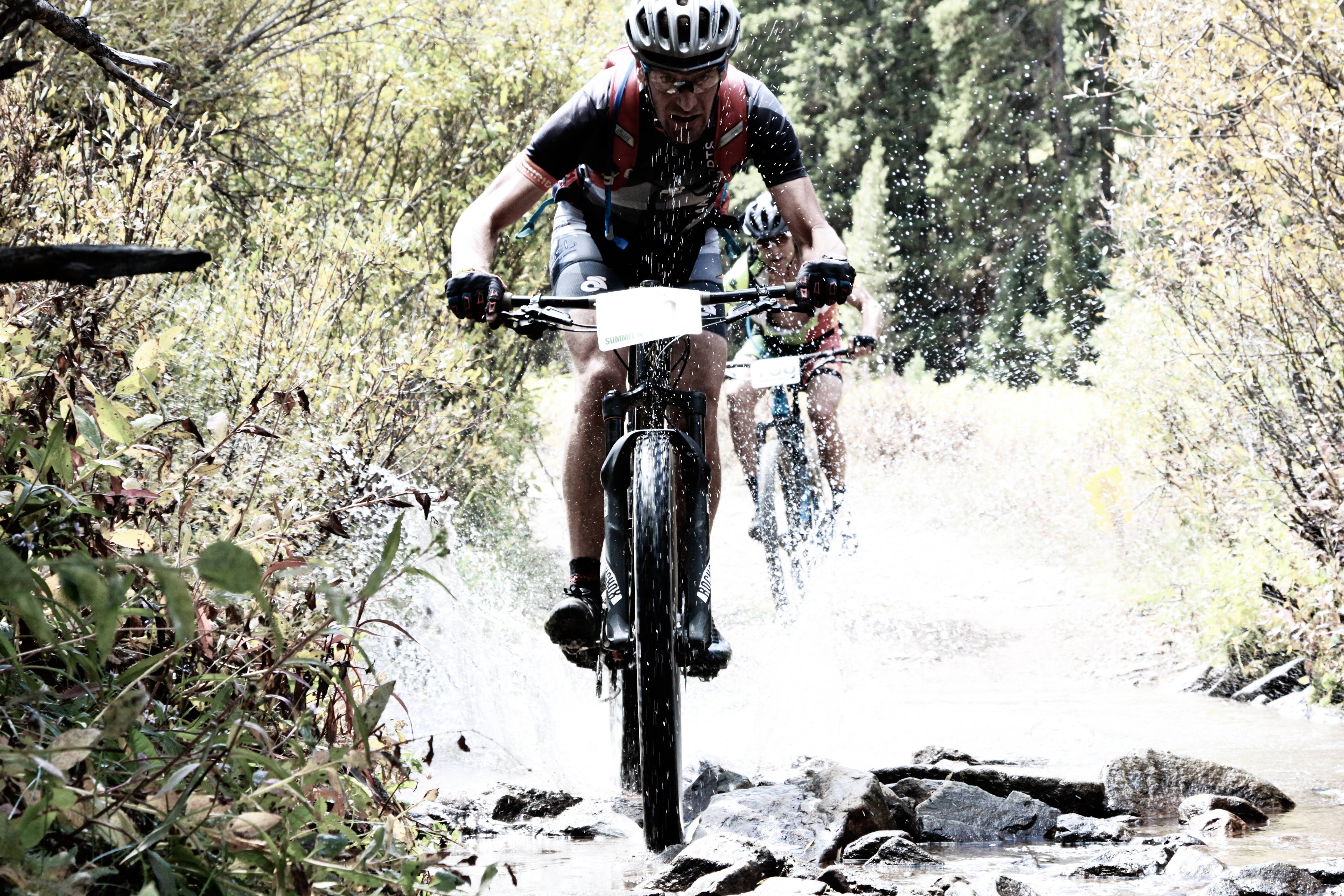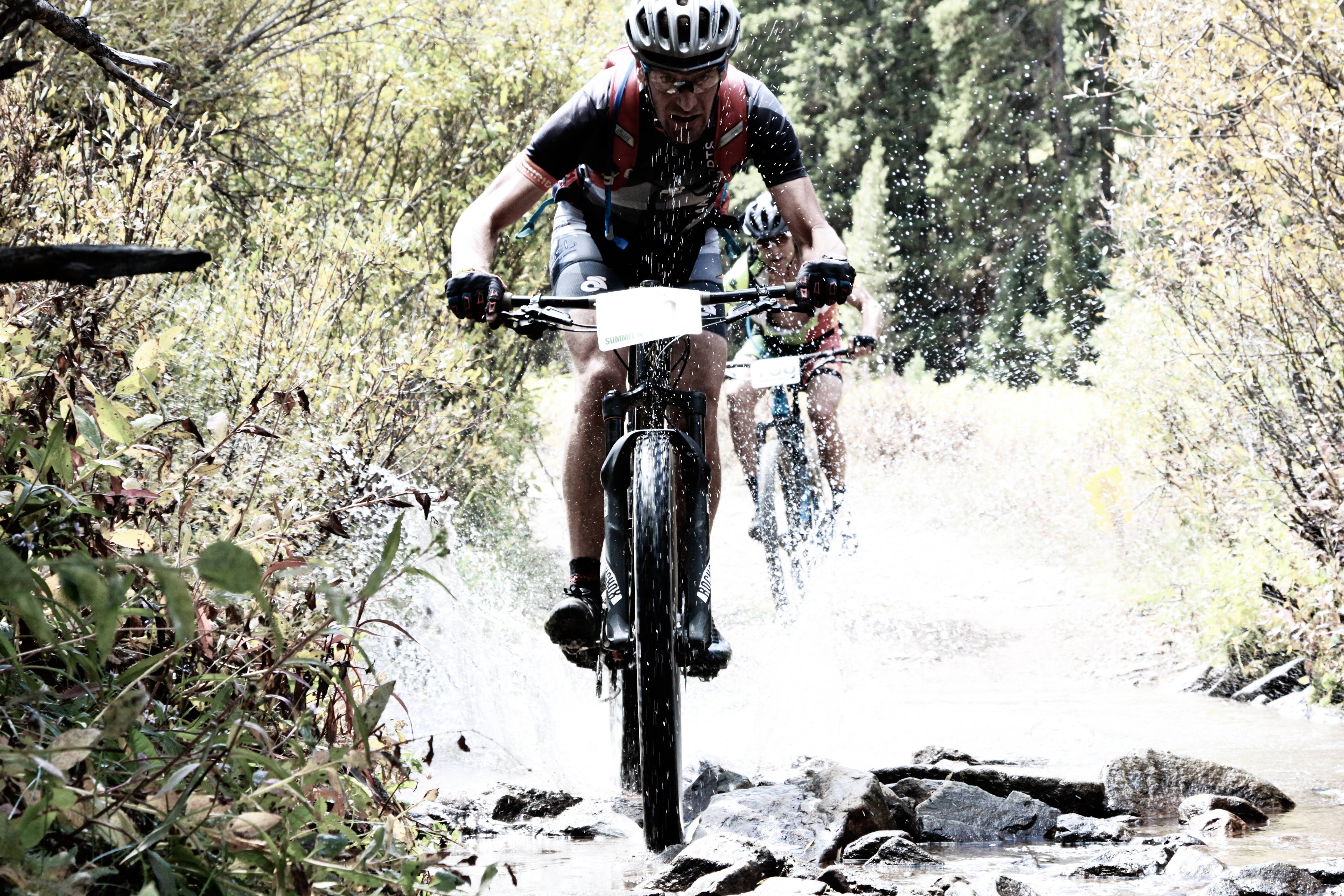 One of the best (and least expensive) pieces of equipment you can buy as an enthusiast, amateur or pro is a good quality set of gloves. As it is unlikey you'd be reading this if you weren't already sold on the idea of getting a decent set of gloves; we won't linger on this point beyond highlighting how far they've come in style, comfort and protection.
A couple of points to note. For mountain biking, full-length gloves are definitely where you should be. Beyond the obvious point that having fingers is better than not, the higher quality gloves around these days are very well ventilated so there isn't really any good reason to sacrifice the extra length.
Best Summer Mountain Biking Glove
It seems almost second nature that you would automatically think of FOX when you think Mountain bike. They have been around for years and offer some of the best, highest quality and most affordable outdoor sports gear in the world.
The Fox Racing Ranger gloves are the perfect summer glove. They don't offer padding but are quite a strong glove. Full fingered in length protects you from any stone chips or scratches. The fingers are touch screen sensitive you can use your apps on the go.
It becomes quite clear why this is touted as FOX's best-selling glove.
It features;
Compression molded cuff
Conductive thread on the thumb and index finger for touch screen usability
4-way stretch polyester construction
Absorbent micro-suede thumb
Silicone grip fingertip
What does this mean to you? Well if you're looking for a comfortable summer glove, which will allow you to use your phone and riding apps, silicone tipped fingers so you won't lose grip on your breaks with a light breathable construction, then this is the best summer mountain bike gloves 2019.
Cons;
Limited padding, these gloves aren't really designed for free riding close contact forest trails or extremely bumpy rides.
No knuckle protection. Not suitable for winter riding.
Best Entry level Mountain Bike Glove
Ok, it may seem like we're nut hugging FOX a little much, but can you blame us? The FOX Racing Dirt paw gloves are similar to the Ranger gloves but with more padding. You will probably feel a little safer if you're going to be doing more downhill or all mountain riding.
They offer protection around the knuckles, padded palm and flex points around the glove to make sure your hands aren't restricted whilst riding.
It features;
Compression molded neoprene cuff for a secure fit
Padded, single layer Clarino palm
Stretch mesh finger gussets for mobility
Padded knuckles
Silicone print on finger tips for brake lever grip
Touch screen compatible
Hook and loop wrist closure
If you're into a little more trailing or downhill Mountain biking this is probably a better choice for you. It offers greater protection around the palms and knuckles so longer or bumpier rides will not fatigue the hands as bad.
You will be protected from any scratches getting to close to mountain sides or through a forest and they are touch screen compatible. Using your apps or camera isn't going to be an issue. These gloves cover what any entry-level ride would want or need.
Cons;
Not suitable for cold weather. May not stand up to the wear and tear of more experienced riders after a couple of months.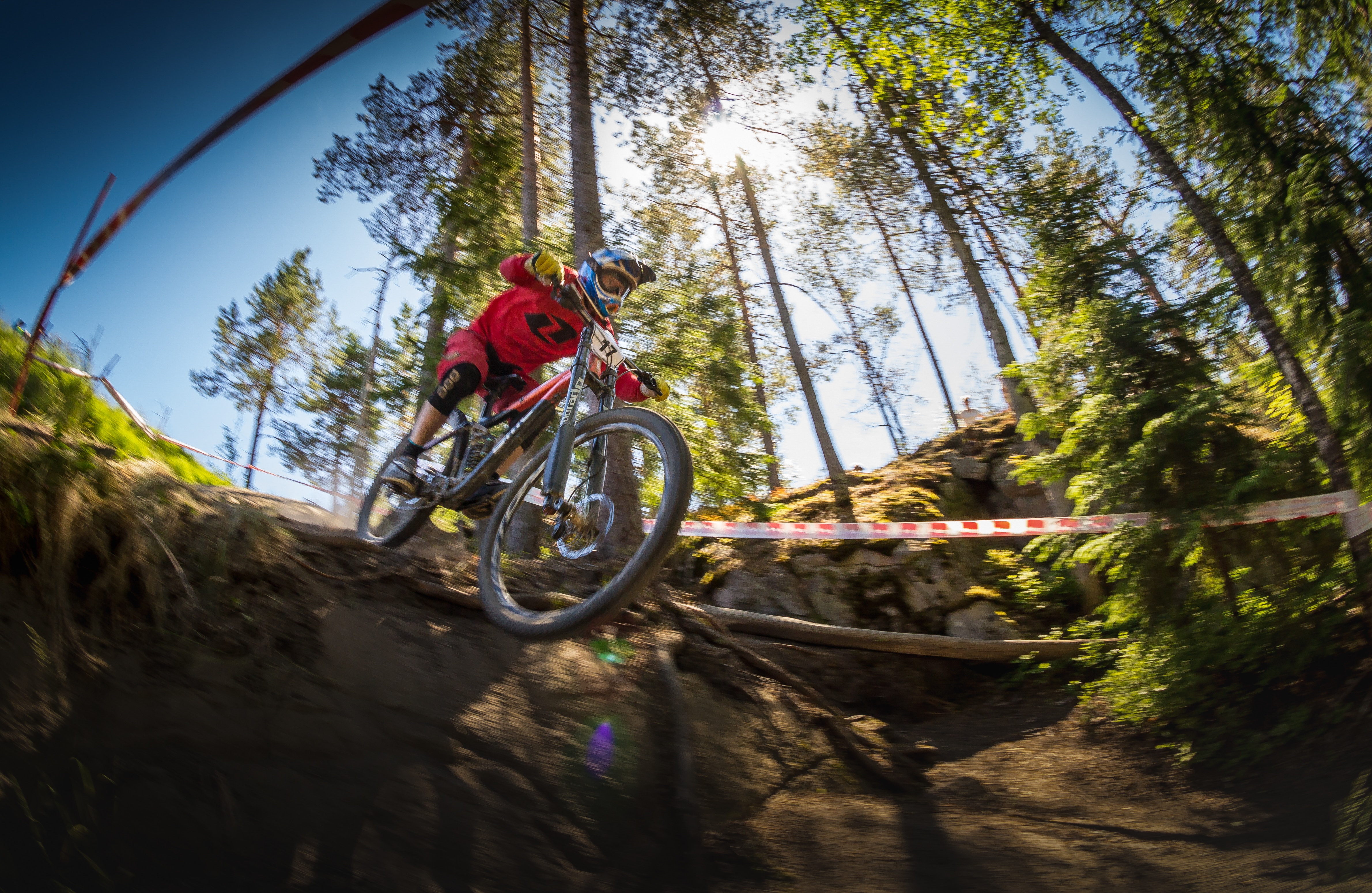 Best Winter Mountain Biking Glove
Seibertron isn't exactly what we'd call a mainstream brand, but they are certainly making waves all across the USA.
They are designed for use with Mountain biking as well as MX and ATV riding. They seem to offer superior protection whilst being very comfortable and taking beatings on dirt trails just as well as much higher priced gloves.
They feature;
Direct rubber injected protection on the back of hands and knuckles
Lycra finger gussets for comfort
Lightly padded with silicone grippers on all fingers
Touch screen compatible
TPR hook & loop wrist closure
30 Day full money refund and a one-year warranty for manufacturing defects
These gloves are great. They offer protection and durability at an extremely affordable price. They look great and suit a variety of motor sports. The Seibertron Dirt paw was designed with versatility in mind and protections.
A great fall / winter glove, all mountain or cross country these gloves will keep you covered for any slips, trips or falls. They are touch screen compatible so using your favorite cycling app will not be an issue.
Cons;
May get hot and sweaty in the summer time. Not suitable for – Temps in winter but are ok for cold days (not freezing)
Best Budget Mountain Biking Glove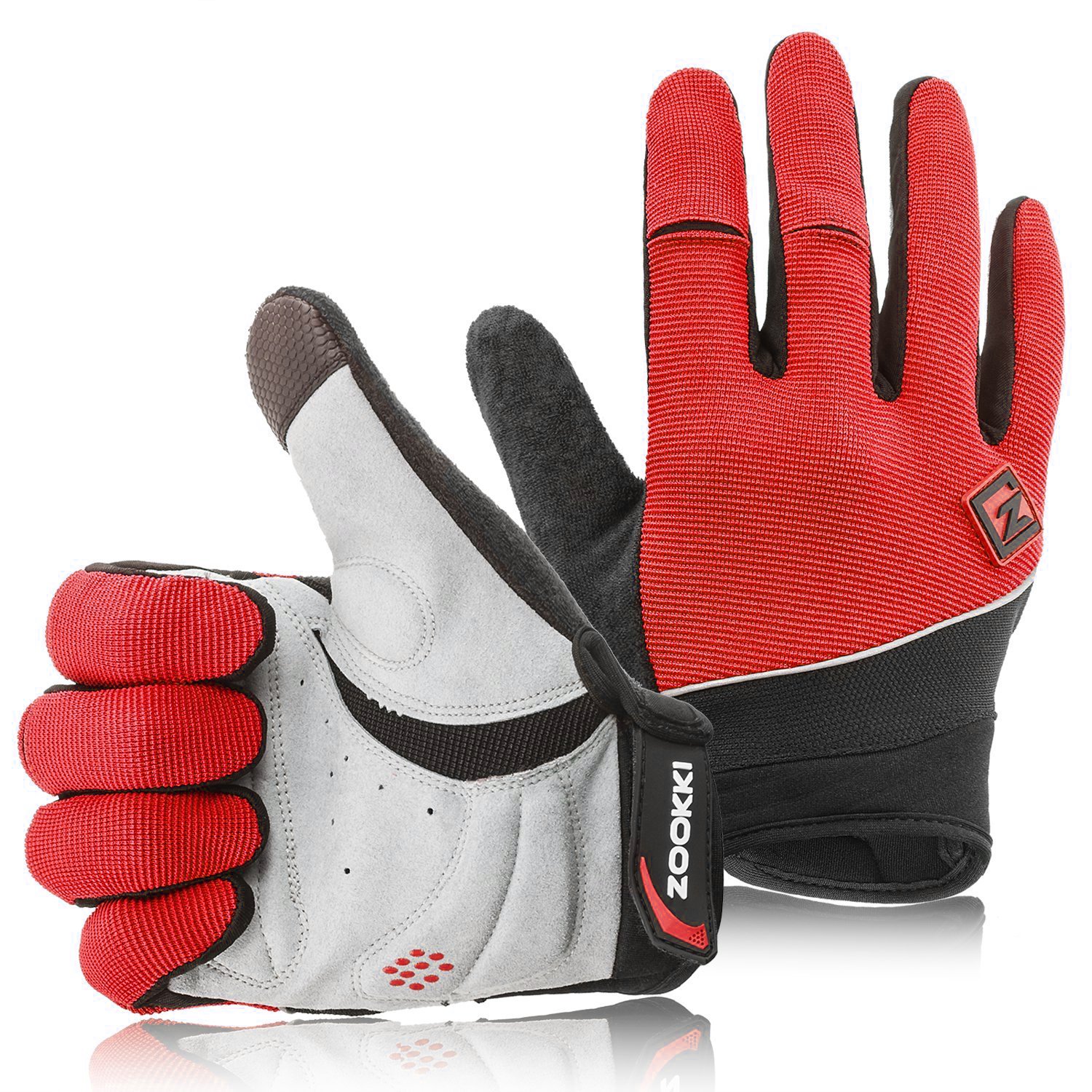 ZOOKKI is another brand taking the internet world by storm. They are producing great mountain biking gloves at a really strong price point. They represent an example of a cheap chinese brand that has actually managed to produce a good quality, reliable product, with reasonable customer service too.
Although they don't offer the greatest knuckle protection, the hand padding should be enough for most novice – intermediate XC and trail riders.
They feature;
100% Cotton towel on the back of the thumb to wipe away sweat
Thick palm with silica gel to help absorb drops and shocks
Touch screen usability
Velcro wrist closure
Moisture-wicking and breathable
The ZOOKKI Mountain biking glove is a pretty strong contender when it comes to the best mountain biking gloves. It offers breathability, comfort and an intermediate level of protection. If you're struggling with sweat, they have a cotton towel strip on the back of the thumb to wipe it away.
We were surprised to find using your phone with these gloves wasn't an issue.
Cons;
Limited protection for knuckles. Not suitable for cold weather riding. Not suitable for higher risk trails.
Best Armoured Mountain Bike Glove
The Fox Bomber gloves offer amazing protection, manoeuvrability (you can tie your shoe laces with these) and comfort to any trail blazing, high speed rider from all mountain to downhill and freeride.
Suitable for pro's these are serious gloves for riding serious lines.
They feature;
Extended wrist guard
Molded plastic knuckle and finger
Double layer Clarino palm
Leather gusset on the pinky
Long neoprene cuff
Overall the FOX Bomber glove will allow you to attack any trail with the comfort of knowing you will be protected from a fall, and from any branches or over hanging rocks.
Cons;
Not touch screen compatible. Slightly heavier gloves.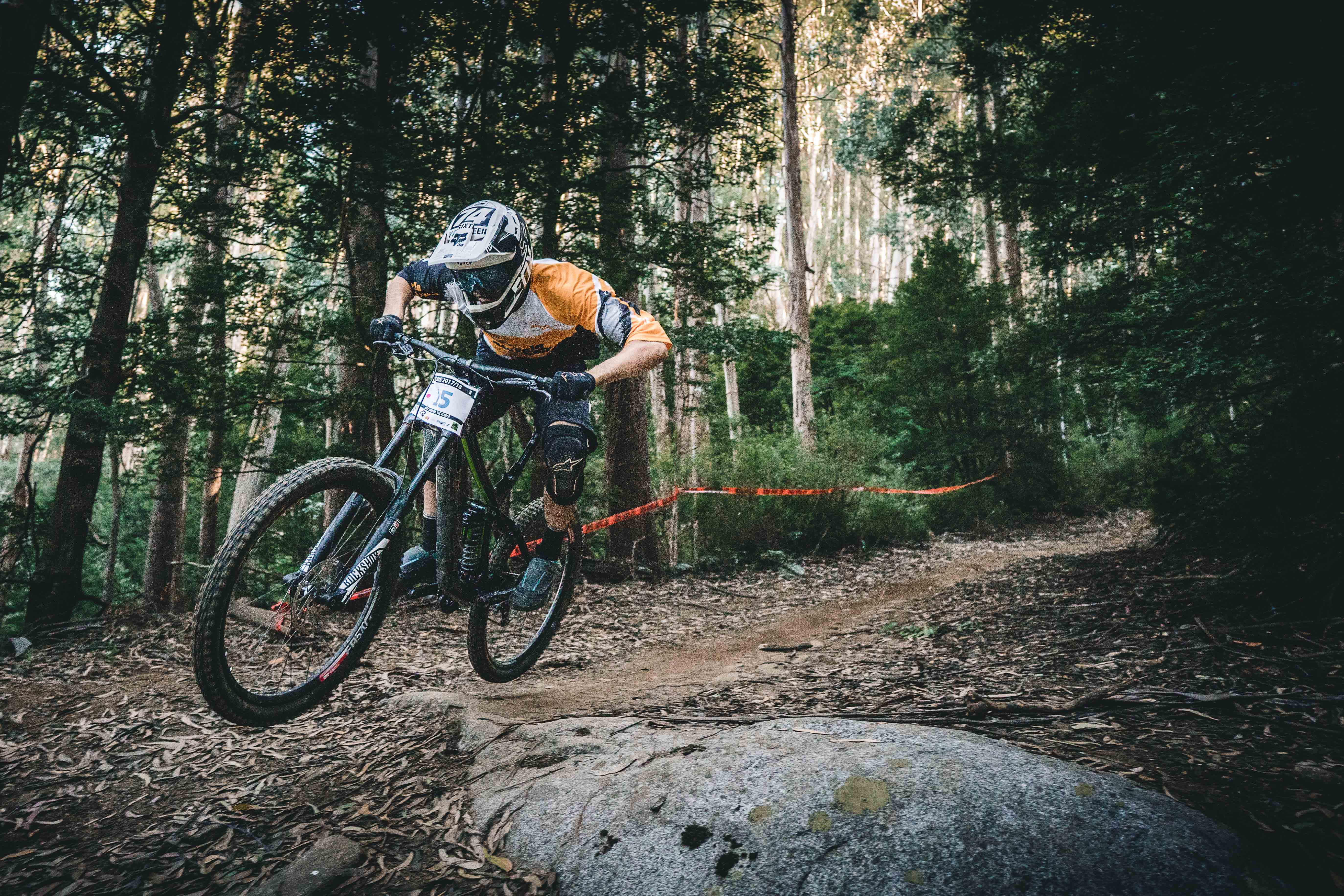 Mountain Bike Gloves – Buyers Guide
You have seen our contenders for the five best mountain biking gloves on the market right now. But not everyone agrees and sometimes you want to have a look for yourself. So, read through this guide to make sure you understand what makes a great mountain biking glove.
Time of year
Are you riding in summer or winter? If you ride through summer you will need a glove with good ventilation. Even better if it has sweat wicking material. Just because it is hot though doesn't mean you should be tempted to skip protection (at least not in your hands).
Winter riders will need a thicker glove to offer more warmth. The issue is though sometimes thickness can reduce mobility. Try them on if you can. Working your gloves like a baseball mitt is one way to soften them up a little.
Environment
Are you riding downhill or cross country? Riding all mountain may mean you need something more durable with thicker palm padding. Hitting bumps and rocks all day long can put pressure on your palms and fatigue your hand muscles rather quickly.
Someone who rides freestyle may prefer something a little lighter as they don't want to be constricted by movement when having to react fast to the environment.
Fitting
Your gloves should fit snug, not tight. Tight gloves may cause your hands to chafe, they reduce mobility and will cause blisters. Snug gloves should offer protection to your hands with little movement of the material over your skin. When your riding your hands shouldn't be sliding around inside your gloves.
Protection
Knuckle protection and back of hand injection molded rubber or plastic is a must if you ride more aggressively or on any track which has protruding branches or rocks. They will keep the back of your hands from getting snagged and even pierced.
Best Beers for Mountain Biking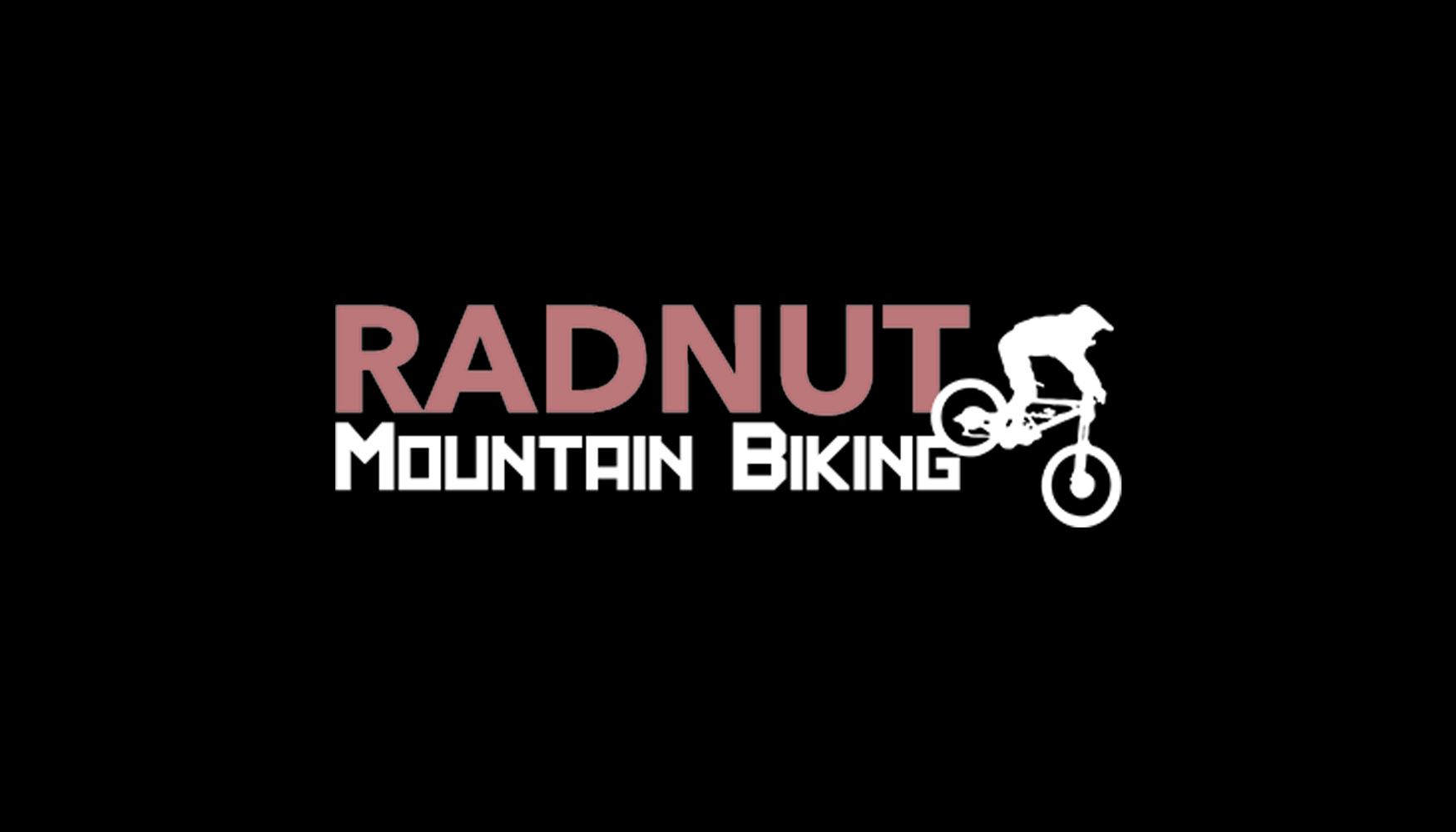 Off the back of a somewhat amusing trend of bike and beer content appearing (and a completely unscientific survey of the reddit /r/MTB community) we decided to put together a curated list of beers summarising the outcome.
If you want a beer to be included then post on the thread and we'll get to it shortly, in addition, if the beer here isn't poorly rated enough – you could always try and brew your own.
The list will be updated periodically.
Mountain Biking Beers | The List
Roughly in order from most popular to least popular: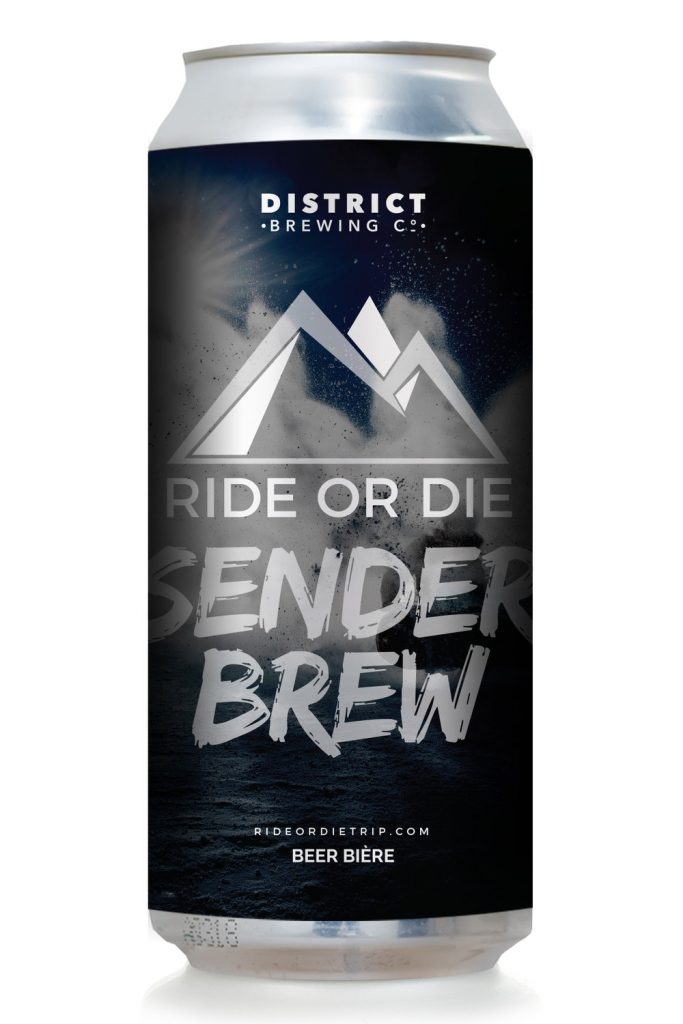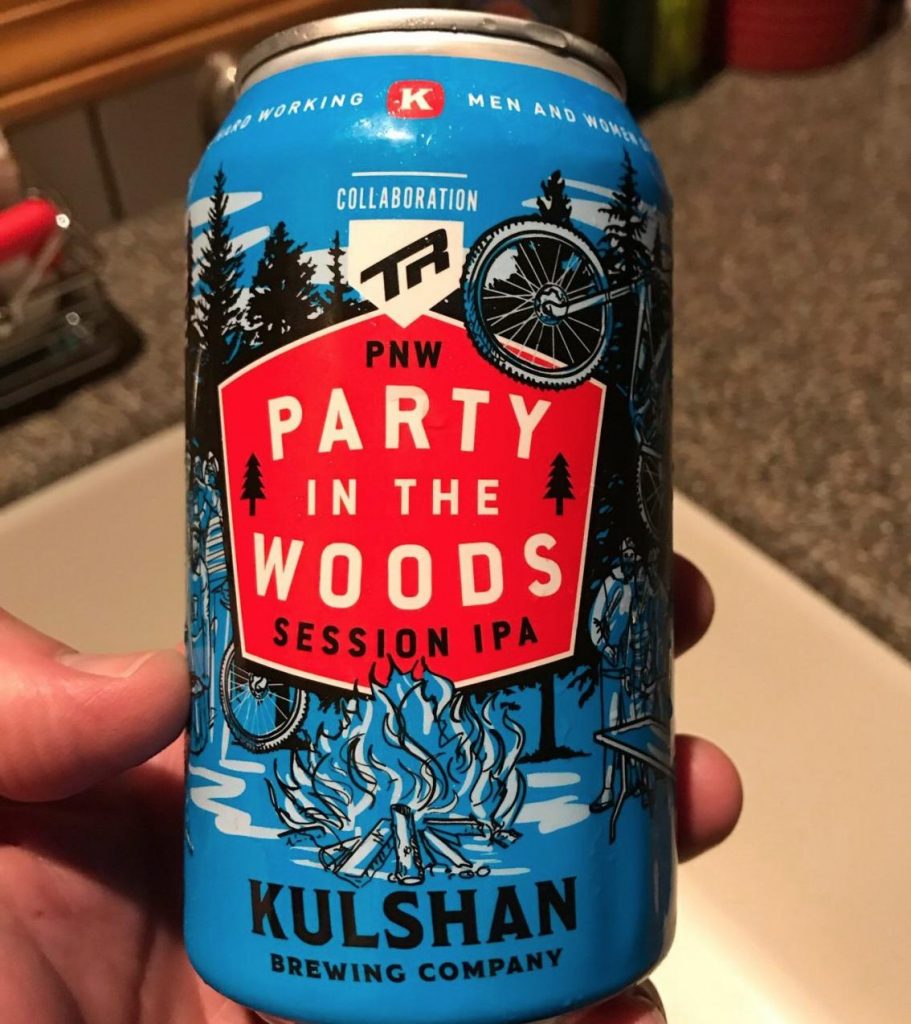 Bikes and Beer Videos | Reddit Collection –
This will also be maintained.