This post contains affiliate links. Affiliate disclosure: As an Amazon Associate, we may earn commissions from qualifying purchases from Amazon.com and other Amazon websites.
The Best Plane Gadgets and
Inventions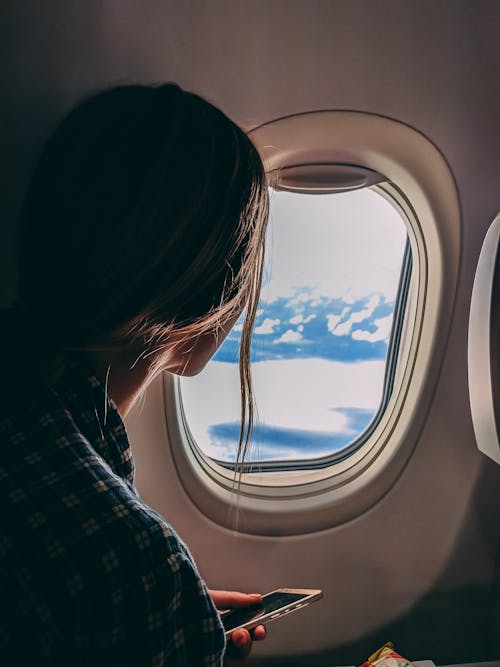 Flying is something that I believe you should always prepare for, whether you are going on a five-hour flight or a ten-hour flight. Sitting on a plane for a prolonged period of time can get tedious and boring. Most of the time you just need a distraction or something to help you go to sleep to allow to plane journey to just fly by. This article is full of recommendations that will do just that.
Essential Plane Gadgets
FlyTunes are a tiny device that connects your Bluetooth headphones to an airplane's in-flight entertainment system. It can even connect two devices together so you can share music and movies with your travel partner.
Contributor: Megan Harris
Organisation: Max Borges Agency
Website: https://www.maxborgesagency.com
Staying hydrated (especially while airborne) makes travel way more comfortable as it reduces jet lag, prevents cramps and headaches, and improves your immune system to better resist germs. But buying single-use plastic water bottles at the airport is expensive and bad for the planet.
The uniquely portable Nomader® Collapsible Water Bottle makes travel hydration easy and sustainable by taking up minimal bag space, and eliminating the need for wasteful single-use bottles. Designed with a flexible BPA-free silicone body, the reusable Nomader® bottle can be rolled-up and stashed away when not in use, yet it's as comfortable to drink from as a hard-sided bottle. This innovative travel water bottle features a patented leakproof cap, an ergonomic carry strap, and a wide mouth for easy cleaning. Additionally, the 22oz capacity (tops off at 25oz) bottle is freezable, heat resistant, and backed by a lifetime warranty.
Contributor: Bryan Sarlitt
Organisation: Nomader
Website: http://www.nomader.com
The Airhook 2.0
This is an in-flight and in-vehicle travel device that supports any tablet or cell phone plus a can, cup or bottle, hands-free, on an in-flight tray table, vehicle headrest, or luggage handlebars. The Airhook 2.0 can now be used in first-class or exit rows by folding flat and using standalone. Plus, with the addition of The Crossbar, The Airhook 2.0 now attaches to a vehicle's headrest or luggage handlebars. Making it perfect for all forms of travel – especially with the little ones!
Contributor: Craig Rabin
Organisation: Mr CER Tech Corporation
Website: http://www.theairhook.com
DecaTxt One-Handed Bluetooth Keyboard
This keyboard is the compact way to type in close quarters like on an airline. DecaTxt fits in one hand, left or right, and provides a way to touch type on iPads, phones, and tablets, without looking. It is great for when you need to type but don't have room to move or want to be poking at a touchscreen.
Contributor: Wayne Rasanen
Plane Gadgets for Comfort
One way to keep babies and toddlers comfy while traveling is warmth and staying cozy. This hooded blanket ponchos are just that, plus kids can take them off and put them on with one hand! On the airplane or in the car, kids can snuggle up with them to feel safe and warm. Kids can easily take them off and on with one hand, stay snuggly and comfy, and move around freely while staying happy.
Contibutor: Joanna Serra
Organisation: Birdy Boutique
Website: https://birdyboutique.com
Travelrest Ultimate Travel & Neck Pillow
This is an inflatable pillow that allows you to rest your head while sleeping upright. Getting any sort of meaningful sleep on a plane is so difficult and this pillow makes it so much easier. It's great because when it's not inflated you can store it in any bag and it takes up virtually no room.
Contributor: Hunter Van Ry
Organisation: Frenchplanations
Website: https://www.frenchplanations.com
Flyaway Kids Bed
This is the ultimate travel pillow for kids and a must for families flying long-haul. This cool product sits on top of the child's seat and extends over the legroom to create a comfy area for them to sleep
and play. Its wipe-clean surface protects little-ones from nasty germs on plane seats. And its side bumpers stop toys and colouring pencils from rolling onto the floor mid-flight. Flyaway Kids Bed isn't just great for kids, parents love it too as it frees up space under their child's seat for mum or dad to stretch-out their legs as well!
Contributor: Debra Pally
Organisation: Flyaway Designs
Website: http://www.flyawaydesigns.com
The Cori Traveller
This travel pillow adjusts to your personal sleeping style, letting you get the rest you crave. Modular memory foam pillows that attach with velcro to a soft strap let you create the support that's perfect for you. When you wake up, just roll it into a tiny bundle that fits in your palm. There's even a loop to connect it to straps or carabiners.
Contributor: Martin Stein
Organisation: Orca Communications
Website: https://coritraveller.com