Most long-time bike nerds have that bike. The Frankenstein Monster, built up maybe over a long time or maybe just put together in one frustrated afternoon, to hopefully satisfy that need. The road bike is too aero but the mountain bike is too slow. There has to be a bike that can get to work but take a detour, find the long way home, stop for a beer but not at the pub. Niner Bikes, being a company of bike nerds, had that same thought. In their 2019 lineup, the RLT 'cross bike has a burly, playful little sister, the RLT  9 Apex. This is, of course, what happens when mountain bikers design dropped bar bikes and may be also why it's so relatable. Plus, check out this adorable video!
RLT 9 Flat Bar from Niner Bikes on Vimeo.
Other Niner Bikes rides in 2019 are getting modest upgrades like paint jobs and upgraded componentry, so they're worth checking out at your local bike shop. If you stop in and see something you like, your local wrenches will have your size bike ready for you in less time, thanks to Niner changing their in-house assembly by about 50%, making it easier for bike shops to make the final touches and send you out the door if you purchase a complete bike with the advertised componentry. This won't add any added cost to the bike shop or to the MSRP of the bikes, but will hopefully help with those lag times that sometimes happen when New Bike Season hits.
——————–
Like what you see? Please support independent publishing by
Subscribing To Dirt Rag Magazine
today.
Go to Source
Author: Carolyne Whelan

Endura Updates the MT500 Line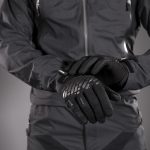 Endura adds some updates to its award-winning MT500 line. Watch the video with Dan Atherton and check out the goods.
——————–
Like what you see? Please support independent publishing by
Subscribing To Dirt Rag Magazine
today.
Go to Source
Author: Brett Rothmeyer
Interbike Day 1: Neon Fog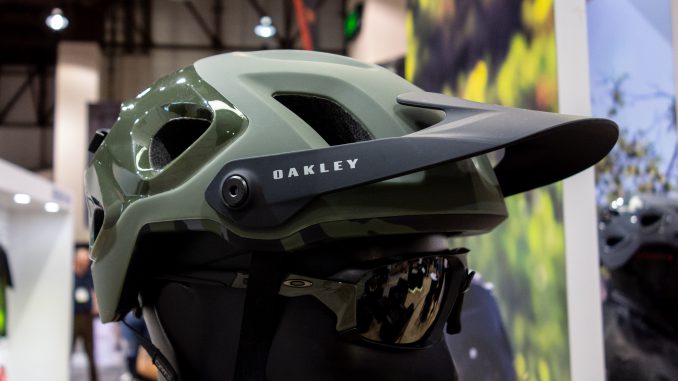 The overwhelming challenge of sifting your way through the first day of Interbike can be an exhausting task. What's new, what's hot, where are the sample snacks? There are a lot of important questions to be answered. After hours of swimming upstream through the current of attendees and vendors, A few things stood out today amongst the neon fog.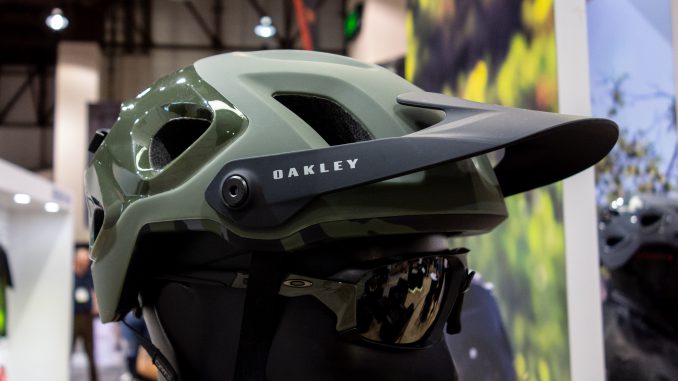 Oakley has entered the realm of mountain bike helmets and apparel. After dropping their road line earlier this year Oakley is hitting the trails with the DRT5. Based around Mips construction and subtle colorways it has a little bonus optics lock on the top of the helmet. Tested by Greg Minnaar I'm sure the DRT5 got healthy workout testing all of the features. Along with the DRT% helmet, Oakley will also have a line of apparel featuring some nice looking baggies and jerseys, look for the DRT5 in early 2019.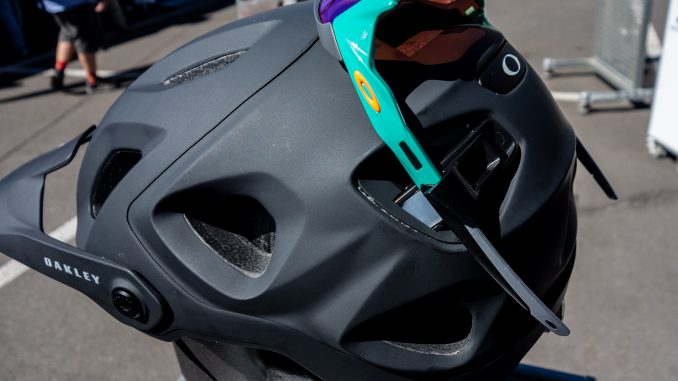 Ritchey Ultra caught my eye with its minimal booth display and being exceptionally dirty. The Ultra splits the difference between the Timberwolf and the P series bikes from Ritchey. There will always be a soft spot in our hearts for steel hardtails.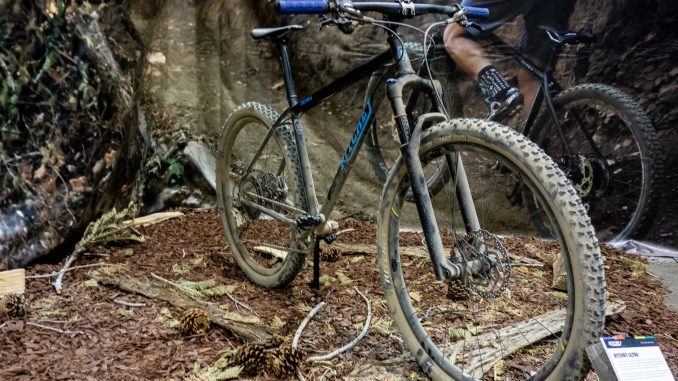 We recently tested the Burley Coho XC trailer (you can read more about that here) but we did so without the cool little add-on rack for bonus panniers. Burley got you with both trailers and waterproof storage.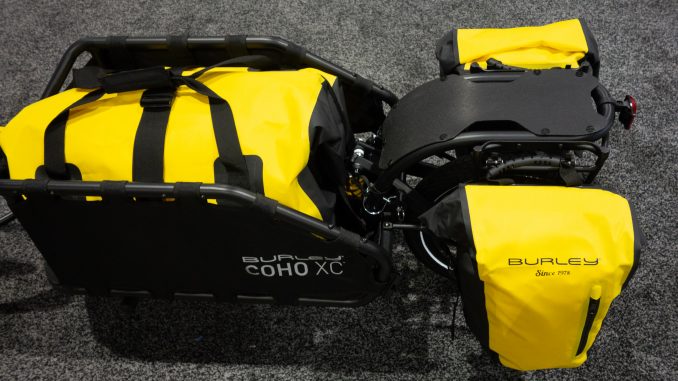 Leatt is getting ready to drop a pile of new product in their new colors. Helmets outerwear and riding apparel will have an interchangeable matte color pallet. I'm a fan of matte finishes and of this line of good looking gear.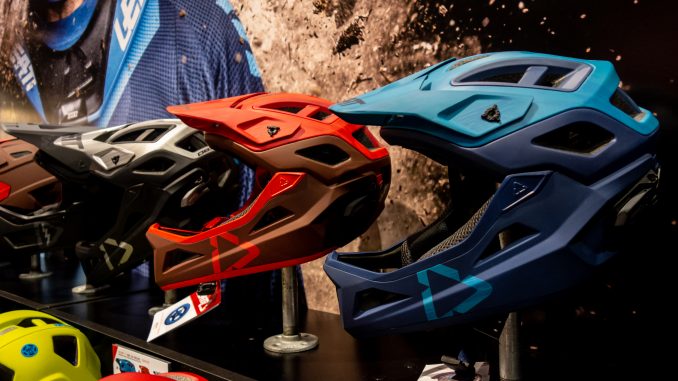 ——————–
Like what you see? Please support independent publishing by
Subscribing To Dirt Rag Magazine
today.
Go to Source
Author: Brett Rothmeyer
Electric Slide into Interbike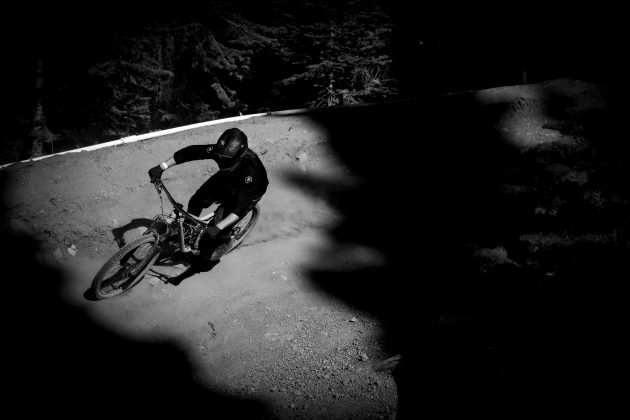 Dirt Rag is officially in the throes of Interbike, the annual expo of the bike industry where companies show off their latest developments and newcomers have a chance to put their product in front of the eyes of purchasers and reviewers. Monday was Dirt Demo, the day to check out some of the latest mountain bikes. The herd was admittedly thin this year, with many consumers waiting in line for a long time waiting for a bike to come back for them to try. So as to not take bikes out of the hands of people who don't have as much access to them as we do, we took the chairlift up as far as we could, then hiked to the top of the mountain. The trails were dusty, almost pillowy, as we hiked up through the pines, searching for a good spot to catch some riders shredding past us. Not many cyclists were venturing that high up the mountain, but we did catch a good view of the surrounding mountains and Lake Tahoe before heading back down. Of the bikes that did pass us, all but one was an e-bike. One guy in his 60s stopped and chatted for a moment at a fork in the trail.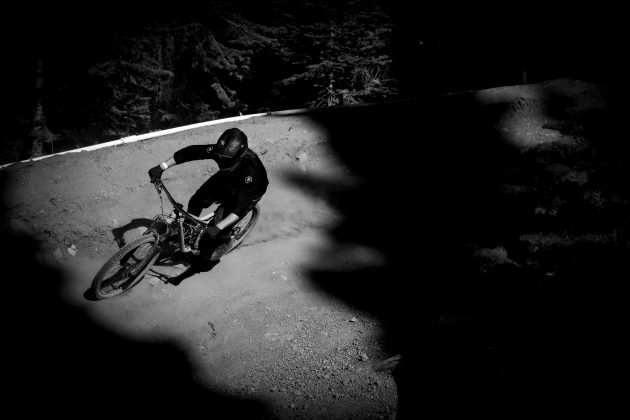 "How's that feel?" I asked.
"I feel like I'm 28 again," he said. "It's incredible." I'm still sorting out my own feelings about ebikes and their place on our trails. It's complicated, to say the least. As a 36-year-old, the youth of my former body isn't far behind me, but I'm reminded of my younger years in the moments I bend down to tie my shoes and pinch a nerve in my back, or when it rains and I can't lift up my arm to put on a sweatshirt. It must be exhilarating to be decades away from that feeling, only to have it brought back in a pedal-stroke's time. But how much of the muscle memory is there, how much of the skill and fast-twitch reaction? I certainly can't say, but it's something I think about when people who haven't climbed a mountain in years are suddenly at almost 9K elevation and about to shoot down a fast, loose, dusty downhill track on their new brapmobile.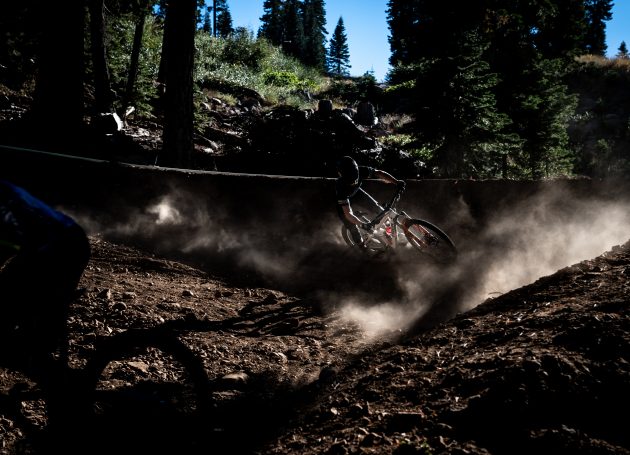 A woman passed us, the lone analog bike to venture above the chair lift, cheerful in tennis sneakers as she huffed past us on the way up, then zoomed through the loose rocks as she charged back down. In a world where every sector of our lives is centered around going faster and being most efficient, even in thing like meditation (find clarity in five minutes a day!) and mindfulness

, it was nice to see someone choose to take the slow road, and take it slowly.
Back down the mountain a ways, the riders showed up. Some still on ebikes, others on analog bikes. The trails snaked under my chairlift as I headed back, and I was jealous. As soon as my wrist is healed, I'll be back at Northstar with a full-face helmet, trying to convince my fingers to let go of the brakes as I point the front wheel downward.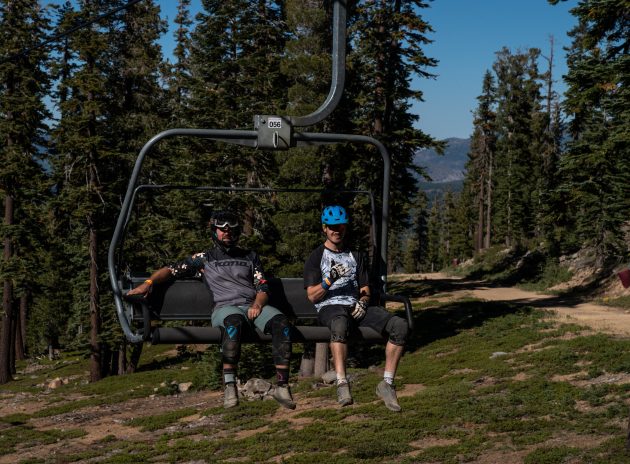 ——————–
Like what you see? Please support independent publishing by
Subscribing To Dirt Rag Magazine
today.
Go to Source
Author: Carolyne Whelan