This post contains affiliate links. Affiliate disclosure: As an Amazon Associate, we may earn commissions from qualifying purchases from Amazon.com and other Amazon websites.
This article showcases our top picks for the best MTB action cameras. We reached out to industry leaders and experts who have contributed the suggestions within this article (they have been credited for their contributions below).
We are keen to hear your feedback on all of our content and our comment section is a moderated space to express your thoughts and feelings related (or not) to this article This list is in no particular order.
This product was recommended by Muhammad Mateen Khan from PureVPN
In the world of consumer electronics, we have all come to accept that not all Chinese products are awful. Yi is an enormous Chinese camera manufacturer, and its named 4K is a terrific value offering. As the naming convention indicates, you'll be recording your ride in broadcast quality 4K footage, and to ensure it looks even more professional, there is electronic image stabilization to make those rooty trail sections watchable. Other standard features include excellent audio (to ensure rider commentary or hub noises are accurately rendered) and voice control. Everything you'd get in a GoPro Hero 7, for nearly half the price. The only caveat is an absence of weather sealing, which means you'll have to buy a waterproof casing.
---
This product was recommended by Brandon Ballweg from ComposeClick
In my opinion, the best mountain biking action camera is the GoPro Hero9 Black. GoPro is really good at what they do. There are other action camera manufacturers giving them a run for their money but GoPro still holds the lead. This camera has excellent image quality for both its videos and stills photos, courtesy of its 20 megapixel sensor. It has a very rugged build quality so it can take plenty of abuse without you having to worry about breaking it while you're out on your rides. It's also a nice touch that it has a front-facing screen so you can see what's in your frame.
---
This product was recommended by David Welch from Rugged Sports Blog
The GoPro HD Hero is a great choice for a mountain bike action camera. GoPro sells several camera models but the HD Hero is one of the best deals for the younger crowd in this price range. The camera is made for extreme sports, from biking to snowboarding, from surfing to sky diving, and from skateboarding to fishing on the lake, the HD Hero can record it all. The camera is even water proof up to 10 meters. It records video in 1080p video at 30fps for $130.
---
This product was recommended by Catriona Jasica from Top Vouchers Code
With WonVon Helmet Action DVR F9 Camera, you'll be recording your ride in the broadcast quality. It stays pretty well on the helmet so you won't be struggling in fixing it all the time. Besides, built-in ½ inch photosensitive element, lithium battery, and shooting video capture those rooty trail sections clearly. Other extended features include aluminium alloy waterproof design and work time is 2.5 hours.
---
This product was recommended by Jim Costa from Jim Costa Films
While GoPro might be the gold standard for action cameras, DJI is a close second. The camera sports a 16:9 rear touchscreen display. The screen is dimmer that the screen on a GoPro, but it's still visible. This camera was the first to include a small front display as well. it doesn't have a lot of real estate at just 1.4 square inches (3.56 CM), but it's good enough for selfie style shooting. The camera shoots video at a resolution of 4K, 60FPS or HD at 240 FPS and still images at 12 megapixels in either RAW or JPEG formats. The OSMO is waterproof to 36 feet (10.97 meters) should you want to use it for surfing, diving or swimming and a detachable front lens cover which can be switched for ND filters or polarizers. One disadvantage compared to GoPro a is a lack of a GPS. It's not the end of the world, but it would be a nice addition in the next upgrade. A huge feature of this camera is the electronic image stabilization known as RockSteady that works great, especially in bumpy environments such as mountain biking. However, the drawback is that in order to achieve the effect, DJI crops the image field of view fairly noticeably. You'll need to be careful when shooting with the feature enabled to allow for this cropping. The OSMO action offers HRD video yielding slightly better dynamic range but doing so sacrifices the RockSteady feature. Despite the tradeoff, I think it's worth it in most cases provided you're not planning on broadcasting the footage you shoot. For on-line, it's just fine. Low light shooting adds noise to the image so shoot in daylight. The OSMO Action cameras includes a handy menu feature allowing for custom modes which essentially enables you to store profiles of settings and then quickly switch between them.
---
This product was recommended by Jim Costa from Jim Costa Films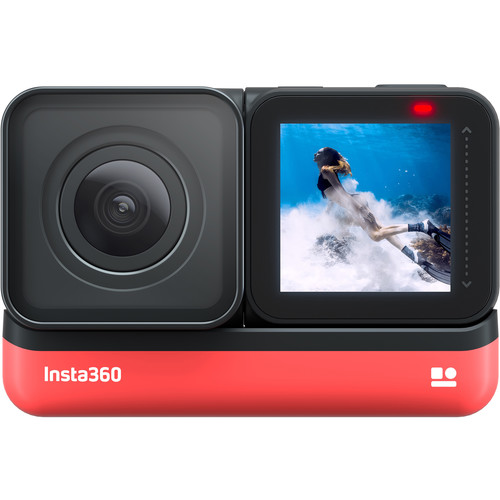 The Insta360 One R is a unique addition to this list as it offers a modular design and gives you the flexibility of adding further modules. It's not as good as the other cameras on my list, but it's worth taking a look at for personal applications. The One R is a truly modular action cam – one third is battery, another block is home to the controls and screen, while the last part is the lens and sensor brick. This style lets you choose one of three cameras to slot into the Insta360 One R: A 4K action camera, a 360-degree camera and a camera with a one-inch sensor. With the 360 lens, the Insta360 One R is about the same size as a GoPro. However, with the one sensor attachment it is larger. There's no locking mechanism to keep the control block and camera lens part together, but the One R is rigid enough when you clip the battery base in at the bottom as the attachments attached to it. When you want to switch lenses, you simply unclip the battery, pull the lens off and slot in your other module. The unit is water resistant to 15.4 feet (5 meters) and does offer an optional diving case. The one rear touchscreen is useful, but a bit small at just 1.3 square inches (3.3 cm). Other cameras I've mentioned have similar sized front screens, but larger rear screens. The Insta360 shoots in 4K in good lighting like most other action cameras but suffers in low lighting as other do as well. It offers image stabilization it calls FlowState. The Insta360 shoots with significantly lifted shadows, bringing more detail out of the darker areas of the image making the video brighter looking overall. It also shoots in HDR as well. That's all fine, but the Insta360 One R is more susceptible to blurred frames and to shimmering textures even in decent lighting when there's significant motion and the shimmering effect occurs even when the camera is still and not moving. This happens because the shutter speed is too low to deal with the camera's motion and that shimmering effect is likely down to noise reduction algorithms that largely treat frames as single images, rather than analyzing how they appear in motion. I'm hoping that this is address in subsequent rollouts and is the main reason I think this unit is best for home/personal use and not for pro level applications. Still frames are very good and I'm happy with them. When shooting 360 video via the 360-degree module, the results are similar. The 360-degree module shoots at up to 5760×2880 (5.7K) resolution, 30 frames per second. Stabilization and stitching are excellent. If your crop of a 360-degree video jumps over the border between the two lenses' views, you'll see a slight flutter pass over the image. Not desirable, but not unacceptable. Image sharpness drops off significantly towards the edge of each lens, but this is common pin 360-degree cameras generally. Stabilization in 360 is great, but it can't get rid of the unsettling "jitter" caused by those blurred frames. They are caused by the motion of whatever you're shooting, such as trees blowing in the wind. Files need to be exported from the control module through the mobile app (iOS available, Android incoming) or the Insta360 Studio app. You can take HDR and non-HDR photos and capture a Time Lapse-style video as well. Audio quality is a bit better on this camera than it is on other action cameras in certain tones.
---
This product was recommended by Jim Costa from Jim Costa Films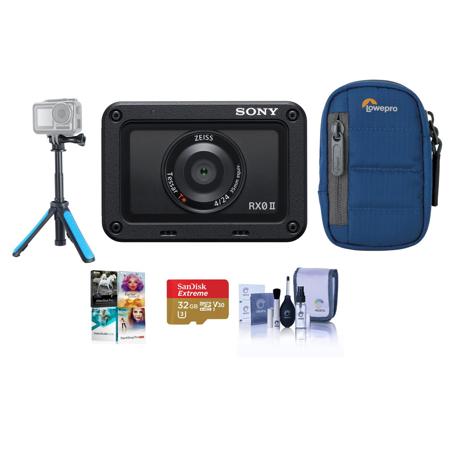 Not to be left out, Sony has the Cyber-shot DSC-RX0 II. This camera is great for either still or video. The camera has a 15.3MP 1 Exmor RS stacked CMOS sensor that shoots video in UHD 4K at 30FPS. A unique feature of this camera over the others I've listed is the a 1.5 (12.7 cm) 230k dot 180° tilting LCD. The unit is extremely sturdy for sports applications. It is waterproof to 33′ (10.08 meters), dust proof, crushproof to 440 lbs. (199.58 Kg), and shockproof to 6.5′ 91.98 meters) and has an aluminum body for rugged applications. Being a Sony, this camera benefits from Sony's camera manufacturing. The Cyber-shot DSC-RX0 II has a 1" sensor from a pro in the field. One of the benefits is low light sensitivity that's better than many other action cameras with sensitivities up to ISO 12800 as well as continuous shooting at 16 fps. Electronic image stabilization for steady handheld footage is included. HD footage cam also be shot up to 120 FPS. Super slow-motion capture at up to 960 fps in NTSC or 1000 fps in PAL is also available. Built-in Wi-Fi and Bluetooth connectivity can be used to support remote control of the camera and can even control multiple RX0 cameras via the Image Edge Mobile app. Also, a wide variety of accessories including mounts make this unit a great action camera choice.
---