This post contains affiliate links. Affiliate disclosure: As an Amazon Associate, we may earn commissions from qualifying purchases from Amazon.com and other Amazon websites.
The Best Places to go on a Mountain Biking Holiday
In response to demand from our users, we've put together a list of the best mountain biking holiday destinations in the world. In this list we've attempted to capture both the obvious choices (whistler, bikepark chatel) and the less obvious choices with a mixture of "pure" mountain biking locations and those with more to do for a range of people. 
Best Mountain Biking Locations in Scandinavia
Mountain Biking Iceland – Ferðafélag Íslands
It's safe to say that Iceland is one of the most remarkable places on the planet and the same goes for their mountain biking trails. There aren't many places you can ride that'll take you through breathtaking mountains, across active volcanoes, and between immeasurable glaciers. 
While the 50+ mile Laugavegur Route is certainly not meant for beginners, it is a trip that is definitely worth every penny. For accomodation, check out Ferðafélag Íslands which has huts spread across the trail that you can rent for the night, but be sure to book a few months in advance. While they're no 5-star hotels, the simple huts do offer beds, heating, electricity, clean bathrooms, and kitchens.
In addition to the great mountain biking, there are black sand beaches, glacial valleys, and natural hot springs in Landmannalaugar.
Contributor: Sam Maizlech – An Outdoors & Travel expert for Glacier Wellness
Mountain Biking in Åre, Sweden
Åre is located in Northern Sweden. It is located on the border with Norway. Traditionally it has been Sweden's most famous Ski resort, and in recent years has developed to Scandinavia's mountainbike Mecca. What else to see and do?
Plenty of downhill trails in Scandinavia's best bike park

Lifts that run all year multiple mountain biking rentals and providers of guided courses and plenty of accommodation for tourists.

Skiing and snowboarding

Fishing
So, Are and it's surroundings are considered Sweden's adventure capital it really has become a lifestyle village which makes it a perfect destination not only for mountainbike nerds but also for active families! If you feature one Scandinavian destination, make sure it's Åre! 
Contributor: Moritz Witter from  NordicAdventours 
Best Mountain Bike Holiday Locations in Scotland
The Hebrides Trail, Scotland
This location offers additional activities apart from mountain biking.
Over 7 days, you can hop between 7 islands and ride on all types of terrain, from village roads to single trails. Use your mountain biking skills to explore the Outer Hebrides.  
The island chain has a long and unique cultural history and spectacular scenery as well as abundant wildlife. 
This holiday is suitable for all levels of skill but will greatly improve your abilities by the time you finish.
Contributor: Glenn Murray-Prior from ACTION CULTURE
Mountain Biking Strathearn, Scotland
Comrie Croft is an award-winning eco-farm on the southern edge of the Scottish Highlands. 
It's just an hour from Glasgow or Edinburgh airports, or you catch the sleeper train with your bike from London.
The mountain biking trails are rated number 1 in Scotland (from ibikeride), perhaps because of the natural feel and awesome scenery, or perhaps because Comrie Croft offers the whole shabang, from accommodation in a converted old farmstead or Nordic tipi tents, to a café and farm shop refuelling you with tasty, healthy food grown in their own market garden. Families are made very welcome, with an extensive bike skills park and pump track that makes children grin from ear to ear (and a few adults too).
The Croft is at the heart of Strathearn, an area with hundreds of kilometres of natural trails. The onsite bike shop means friendly route advice is always on hand and you could easily spend a week and never ride the same trail twice.
Contributor: Andrew Donaldson from Comrie Croft.
Where To Mountain Bike In The US?
Mountain Biking in Washington Valley, US
What makes Washington Valley ideal? The varied terrain (for all levels), the amazing scenery offered by the White Mountain National Forest, and the plethora of places to enjoy eating, staying and more. Perhaps that's why North Conway was named among the top ten small towns for adventure in 2018 by readers of USA Today and 10Best.
Terrain in Washington Valley
Starting with the terrain: Mt Washington Valley, NH, with North Conway, NH in the center of it, is surrounded by 770,000 acres of White Mountain National Forest offering fabulous on and off-trail opportunities for mountain bikers. From very easy terrain to steep and long century rides, you'll find amazing riding in Mt Washington Valley. In addition, Attitash Mountain Resort offers lift-assisted mountain biking in the summer and Great Glen Trails Outdoor Center's trails and rental shop offer one-stop shopping for those who want to ride, but not bring their bikes along. Speaking of rental and bike shops, Mt Washington Valley is filled with great bike shops. From Stan & Dan's to Bob & Terry's, great bike shops bare the names of great bikers too. Mountain Bikers will have many choices when it comes to finding parts, rentals, new bikes and apparel in Washington Valley.
Trails in Washington Valley
Just within North Conway alone, consider riding the trails around Pudding Pond or Whitaker Woods – both easily accessible with parking and easy gentle terrain. The Moat Mountain area of Echo Lake and all of the Echo Lake State Park trails are fun – although much harder.
Rob Brook Road: A trail used by hikers and bikers alike. Some good loops, relatively easy terrain with some intermediate and challenging terrain. Directions: From Conway, go 9 miles east on the Kancamagus Hwy. Turn right onto Bear Notch Rd. Rob Brook Rd is 0.8 miles on the left.

Conway Town Trail: Marked with yellow markers, this is a designated recreation trail for mountain biking and hiking. It runs for about 4 miles along the river. Directions: From the East Conway Road, off Route 302 in Redstone, turn right immediately after Conway Police Station onto Meeting House Hill Rd. The trail begins near the parking lot by the old bridge abutments.

Sawyer River Rd. Area: Somewhat of a back-country route and not an established bike trail, you can explore other easy and more challenging routes off this 4 mile gravel road. Directions: Sawyer River Rd is left off Rt 302 about 2 miles west of Bartlett Village.

Cherry Mountain Road: This route is definitely worth the trip through scenic Crawford Notch to Bretton Woods where Cherry Road begins. You'll want to be in good shape for this ride. If you make the entire loop over Cherry Mountain and Jefferson Notch, you'll ride about 27 miles over terrain that includes some long and steep climbs. Or, if you're looking for something a little less strenuous, you can just explore Cherry Mountain Road, a good gravel road with nice views. Directions: Park at Lower Falls, about a half mile west of Fabyans Store on Route 302 in Bretton Woods. Cherry Mountain Road goes north from there.
Accommodation
You'll find more than 150 lodging properties in Mt Washington Valley. Choose from larger resorts and hotels to small inns and B&Bs or more affordable motels, hostels and even yurts and campgrounds. There's something for every budget here. Because biking is so popular, it's not unusual to get on a hotel elevator and see someone taking their bike to the room, and/or offering bike storage areas. Be sure to ask at the front desk if your lodging property has a bicycle storage area. Click here for a complete list of all the lodging offerings in Mt Washington Valley. The AMC lodges in the region are great choices for bikers. 
The Highland Lodge, located in Bretton Woods, is right in the center of great trails, plus offers affordable accommodations and homestyle meals that attract outdoor lovers. Stay there and visit the gear room to borrow things like back packs and other gear for free. 
Joe Dodge Lodge, located in Pinkham Notch is another great option, also right in the center of the White Mountain National Forest. For those who want a more upscale experience, consider the brand new Glen House Hotel, built at the base of Great Glen Trails and the Mt Washington Auto Road. Trails are right outside the door, as are spectacular views, offering the ideal watering hole to end a great day of biking.
Contributor: Marti Mayne, PR Manager at the Mt Washington Valley Chamber of Commerce
Mountain Biking Richmond, Virginia – US
Richmond, Virginia, is a great location for a mountain bike holiday in the U.S. Located 100 miles south of Washington, D.C., it is easily accessible by car, train, or plane. The James River Park System features over 550 acres of recreational areas and trails along the James River in downtown Richmond, and Pocahontas State Park has approximately 25 miles of trails that cater to beginner, intermediate, and expert riders. These trail systems helped earn 'IMBA Regional Ride Center' status for the Richmond area.
A specific time to visit would be May 17-19 for the annual Dominion Energy Riverrock festival. It is one of the nation's premier outdoor sports and music festivals and features three days of outdoor adventure competitions and free concerts. There are three mountain bike events, including a Friday evening time trial and Saturday afternoon single-track race with a 10-mile course and 20-mile course. 
In addition to the festival, Richmond has nearly 40 breweries, hundreds of restaurants, and a variety of museums and cultural destinations to help round out a mountain bike holiday. 
Contributor: Pete Woody from Sports Backers 
Mountain Biking Redding 
Considered the hub city of Shasta Cascade, Redding is centrally located and offers an abundance of lodging and dining options with convenient access to everything the great Shasta Cascade Region has to offer. It's the ideal place for travelers to use as a home base when visiting. The Sheraton Redding is a four-star hotel in Redding that is located right next to the iconic Sundial Bridge. The average daily rate for a hotel in Redding is around $100 but you won't find a hotel above $180 a night. 
Scattered throughout the region are 50 waterfalls, dozens of lakes, rivers, mountains, historic mining towns, two national monuments, six national forests, seven state parks and active volcanoes. An outdoor lover's paradise, there are about 225 miles of trails within a 15-mile radius of downtown Redding – perfect for biking, hiking and more. They cater to all skill levels and feature everything from flat paved paths along the riverbank, to rugged terrain designed for the ultimate adventurers. Visitors can expect to see spectacular panoramic views of Mt. Shasta, Shasta Dam, Shasta Lake, Sacramento River, Trinity Alps, and Lassen Peak.
Redding is such an ideal location for a mountain biking holiday, they even host their own two-month long mountain bike challenge. From April 1 to May 31, Redding will host the third annual Mayor's Mountain Bike Challenge (MMBC), providing riders with a chance to experience 200-plus miles of trails in one of the country's most naturally beautiful regions. Set amidst a stunning backdrop of Northern California wilderness dotted with lakes, rivers, volcanoes and waterfalls, this friendly competition is free and caters to all ages and skill levels. Anyone who completes all rides in their category (beginner, intermediate or advanced) and turns in their passport by the end of the challenge will receive an official Mayors Mountain bike Challenge hat or socks and be entered in the challenge raffle of their category for a gift certificate to a local bike shop. 
Contributor: T.J. Holmes from Visit Redding
Mountain biking in Delaware Ohio, US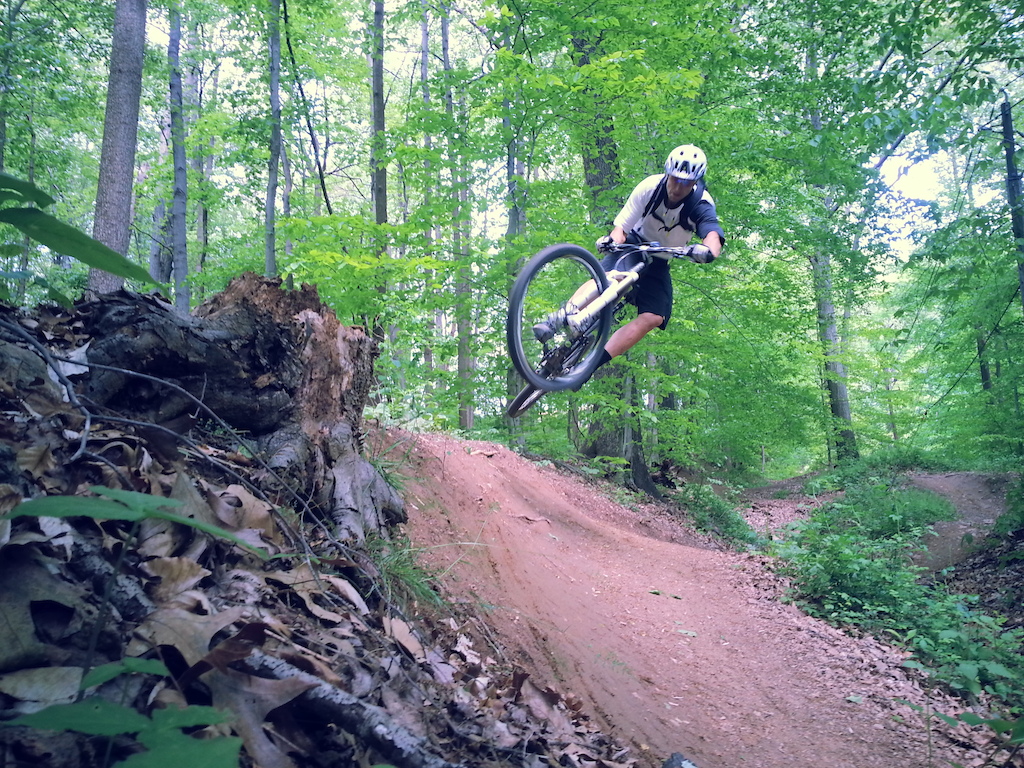 An outdoor oasis located only 20 miles from the 15th largest city in the United States and capital city of Ohio, Delaware, Ohio is the perfect destination for those looking to be close to a major city. Boasting more shoreline than anywhere else in Ohio, Delaware is home to waterways like Alum Creek Lake and Delaware Lake.
Both are havens for boaters, kayakers, paddleboarders, jet skiers and fisherman looking to get out on the water and enjoy the summer. Alum Creek also has the largest inland beach in the state, attracting visitors who want to bath in the sun or take a dip in the lake during hot summer days.
Alum Creek State Park, where Alum Creek Lake is located, has quiet coves nestled among shale cliffs, hiking, horseback riding and mountain biking with spectacular views of the lake. While in Delaware, make sure you also stop by Olentangy Caverns, formed millions of years ago and formerly used by the Wyandotte and Delaware Indians.
Today the caverns offer tours, flashlight tours at night, goat yoga and gem mining. Also, stop by some of downtown Delaware's unique breweries, restaurants and shops. Offering everything from craft breweries to gourmet cheeses to artesian olive oils and vinegars and unique arts and crafts, downtown Delaware is a cultural hotspot.
Top tip: before you complete your trip to Delaware, make sure you take a walk around the 200-acre campus of Ohio Wesleyan University, located in downtown Delaware.
Contributor: Amanda Ensinger from Inspire PR Group 
Mountain Biking in Idaho
Idaho is among world's best mountain-biking destinations.  9 out of  their 18 member resorts offer world-class mountain biking, including:
THE ROUTE OF THE HIAWATHA — The crown jewel of the nation's rails-to-trails initiative is operated by Lookout Pass in North Idaho. The 16-mile Route of the Hiawatha is a gentle 2-percent, all-downhill ride that delves 10 tunnels, crosses seven sky-high train trestles, and sports shuttle service. It opens Memorial Day weekend and is accessible daily through late September. Visit RideTheHiawatha.com for more details.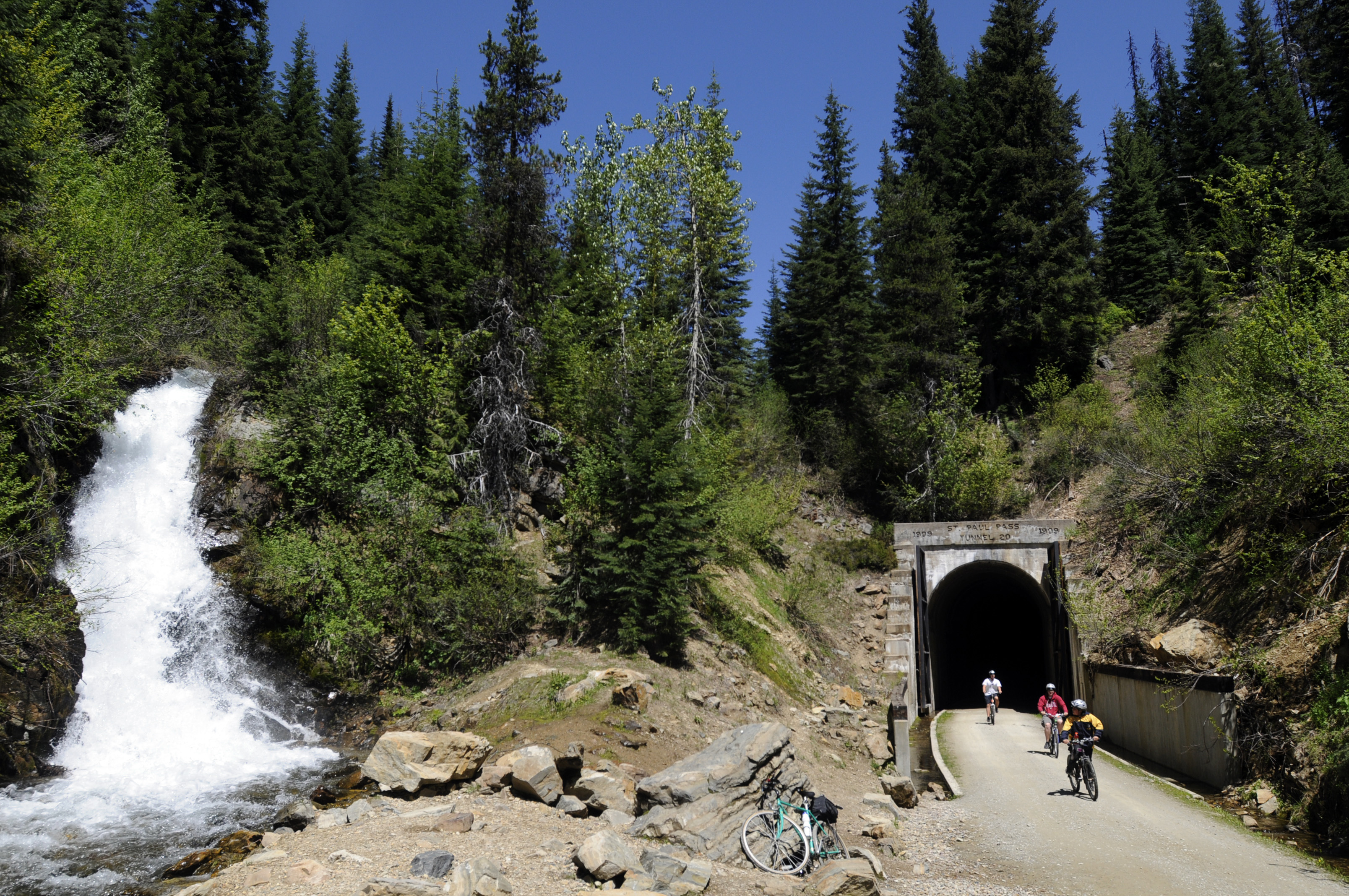 SILVER MOUNTAIN RESORT — Named the number-one bike park in the Northwest for three consecutive years on MTBparks.com, Silver Mountain in North Idaho maintains almost 40 single-track trails that span 3,300 vertical feet. The resort also boasts the state's largest indoor waterpark, scenic rides on North America's longest gondola, trail hiking and running, and the exquisite nine-hole Galena Ridge Golf Course tucked away in the mountains of the Silver Valley. 
GRAND TARGHEE — Voted the Northwest's number-two bike park the last three years on MTBparks.com, Grand Targhee affiliates with Ski Idaho because it's only accessible via Driggs, Idaho. It offers 2,200 vertical feet of lift-serviced downhill and more than 60 miles of multi-use trails. Other activities include kids' summer camps, bungee trampolines, a climbing wall, gold panning, a nature center, horseback riding, trail hiking and running, scenic chairlift rides, and an 8,000-feet-long, 18-hole disc golf course.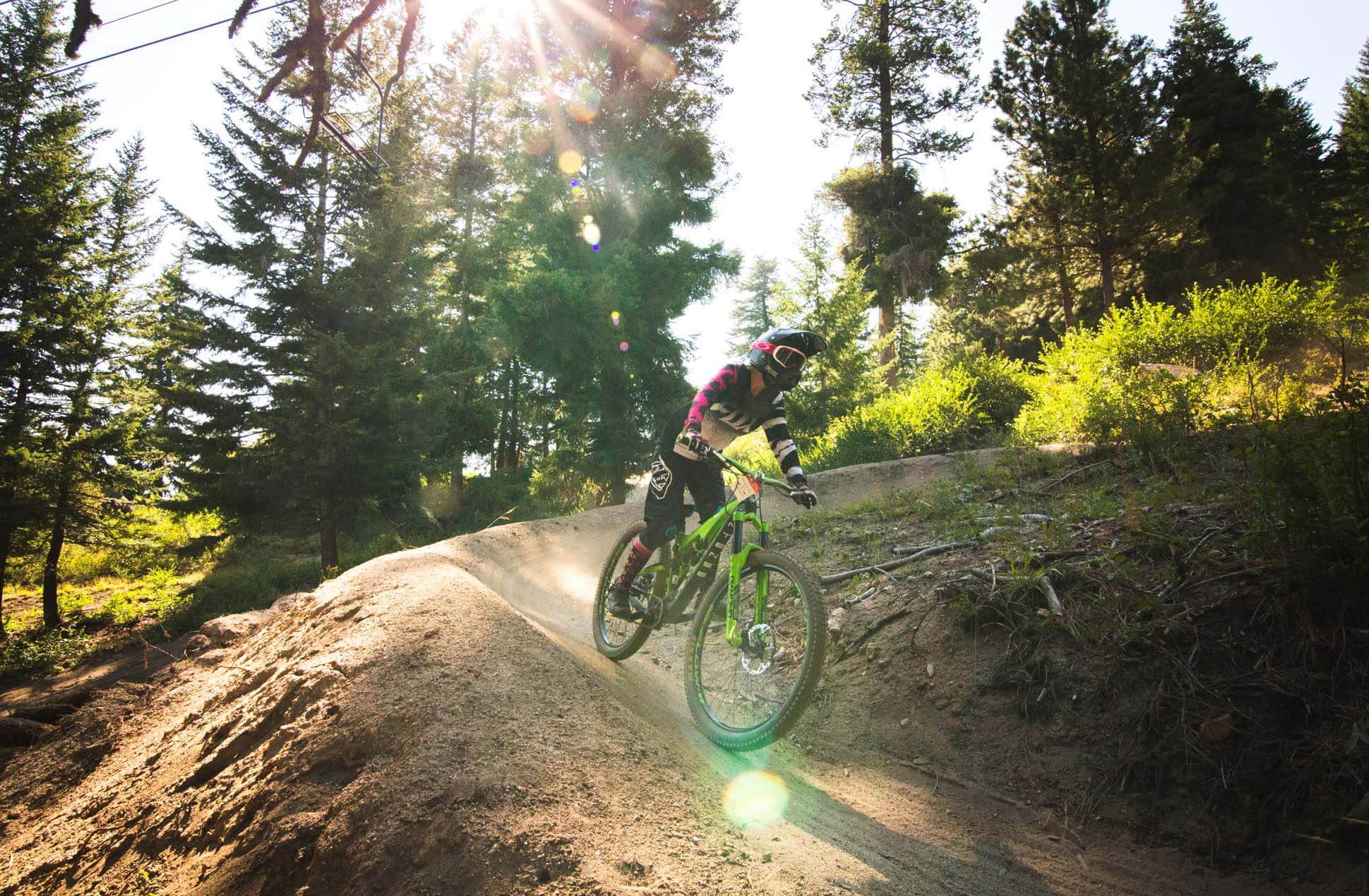 BOGUS BASIN — MTBproject.com ranks Around the Mountain at Bogus Basin as the top trail in Idaho. The Southwest Idaho resort, which is about 45 minutes outside of Boise, also serves as the main access point to the Mahalo and Dry Creek trails, collectively ranked number two in the state. Beyond biking, Bogus Basin opened the Pacific Northwest's first mountain coaster, dubbed the Glade Runner, in 2017 and operates it year round. It also offers summer tubing, bungee trampolines, a climbing wall, gold panning, horseback riding, trail hiking and running, and scenic chairlift rides.
More mountain biking trails in Idaho
BRUNDAGE MOUNTAIN — The Southwest Idaho resort's Brundage Bike Park boasts 20+ miles of hand-built single-track trails. The mountain also offers scenic chairlift rides, trail hiking and running, and a 2,500-feet-long, nine-hole disc golf course.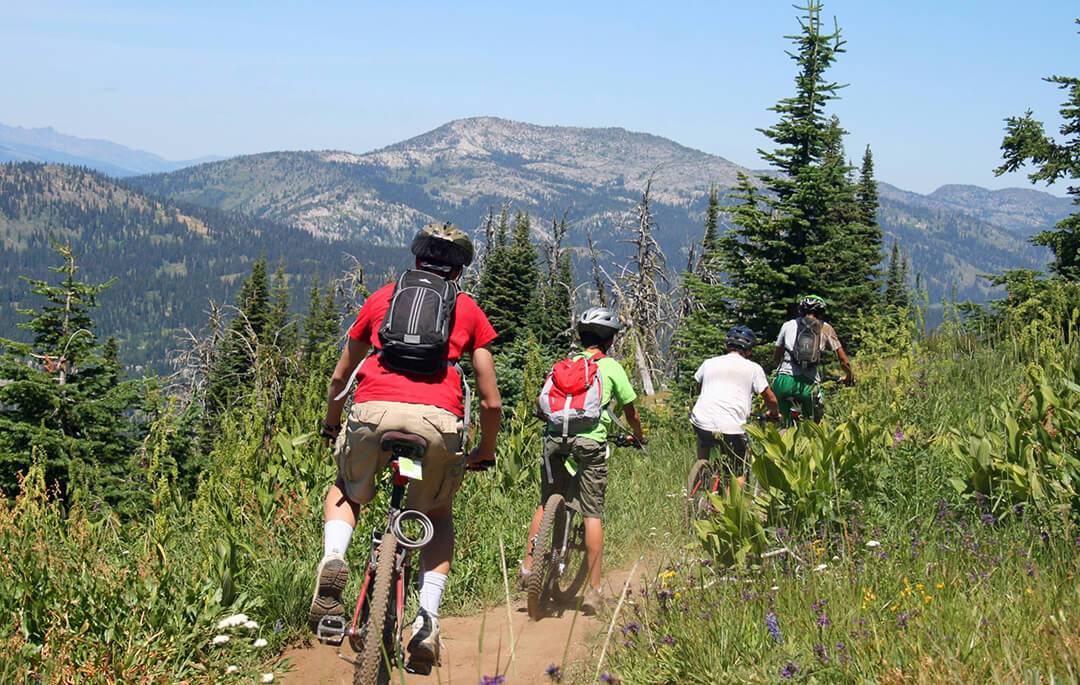 KELLY CANYON — The resort, 27 miles northeast of Idaho Falls on the eastern side of the state, obtained the necessary USFS permits and cut trails last summer. It will open its inaugural mountain biking season this spring. 
SCHWEITZER MOUNTAIN — Schweitzer maintains more than 20 miles of mountain bike trails. The North Idaho resort's summer visitors also can take side-by-side rides on the resort's dual, 700-feet zip lines, play disc golf, geocache, jump on bungee trampolines, scale a 25-feet climbing wall, hike and run trails, pan for gold, pick huckleberries, and go horseback riding.
SUN VALLEY — World-famous Sun Valley in Central Idaho added nearly 10 miles and more than 3,000 vertical feet of descent on Bald Mountain last season to its hundreds of miles of trails. The nation's first ski destination ski resort and global birthplace of the chairlift offers an array of activities, including golf at three championship courses, scenic gondola rides, a spa, a shooting range, bowling, fly fishing, hiking and trail running, ice shows, ice skating, a kid's adventure camp, paddleboats and beach volleyball on Sun Valley Lake, and swimming at three pools.
TAMARACK RESORT — The International Mountain Bicycling Association designed and built Tamarack's 25-mile trail system. The Southwest Idaho resort also boasts Idaho's best zipline network, which explores 3,500 feet of canopy via eight different ziplines, two suspension bridges, and a 105-feet-high tree house. Visitors also can book whitewater rafting trips, hike and run trails, take scenic chairlift rides, and enjoy a day at the spa. 
Slopeside accommodations are available at six of those resorts — Bogus Basin, Grand Targhee, Schweitzer, Silver Mountain, Sun Valley, and Tamarack — and the rest are close to lodging and other nice amenities. For instance, the trailhead for the Route of the Hiawatha is only 22 miles from the historic mining town of Wallace, Brundage Mountain is only 9 miles from the four-season mountain-lake resort community of McCall, and Kelly Canyon is only 10 miles from the town of Ririe. Many of their ski resorts have embraced fatbiking in the winter too. 
Contributor: Tony Harrison from Ski Idaho  
Mountain Biking in Lake Tahoe 
The South Shore of Lake Tahoe (Tahoe South) boasts 200+ miles of bike trails for all ability levels, both paved and off-road.
The Angora Lake Climb is an eight-mile paved and dirt trail offering stunning view of Fallen Leaf Lake, Lake Tahoe, and Mt. Tallac. The trail starts about one mile east of Fallen Leaf Lake. At trail's end, cyclists can sip lemonade at Angora Lakes Resort or cool off with a dip in the lake.
Van Sickle Bi-State Park stretches across both California and Nevada, providing access to the Tahoe Rim Trail. With stunning panoramic views of the lake near the beginning of the trail, Van Sickle is a popular area for mountain bikers.
The Kingsbury Stinger trail offers five miles of singletrack connecting from the Tahoe Rim Trail near Castle Rock down to the neighborhoods of Stateline, Nev. The new section was completed in October 2016.
The Flume Trail has been called one of Western America's Top Ten Routes. The off-road trail begins at Spooner Lake and finishes near the Ponderosa Ranch at Incline Village. Shuttle service, guided tours, and mountain bike rentals are available at Spooner Lake.
Mr. Toad's Wild Ride on the South Shore is one of the most popular for avid road cyclists. Five high mountain passes within 100 miles offer an ultimate endurance challenge.
Several paved bike paths offer a leisurely ride well suited to families. The Pope-Baldwin Bike Path is relatively smooth and flat and meanders around Historic Camp Richardson, the Tallac Historic Site, and Fallen Leaf Lake. The South Lake Tahoe Bike Path beginning near the tourist corridor (Hwy 50 and Pioneer Trail) runs South through town, passing through Lake View Commons/El Dorado Beach and crossing both Trout Creek and the Upper Truckee River.
A 1.2-mile shared-use bike path on the Nevada side at South Tahoe provides access to Rabe Meadow with Nevada Beach and Round Hill Pines Resort. Eventually the goal is to build new sections and connect with existing paths to circumnavigate the lake as part of America's Most Beautiful Bikeway.
Additional attractions include Emerald Bay, a breathtaking view of Lake Tahoe's only island – Fannette Island; a tour of local breweries including South Lake Brewing Company, Tahoe AleWorX, Cold Water Brewery & Grill, and South of North Brewing; hikes aplenty at Van Sickle Bi-State Park, Eagle Lake, Angora.
Contributor: Jennifer Boyd from Tahoe South