The Best Places to go on a Mountain Biking Holiday
In response to demand from our users, we've put together a list of the best mountain biking holiday destinations in the world. In this list we've attempted to capture both the obvious choices (whistler, bikepark chatel) and the less obvious choices with a mixture of "pure" mountain biking locations and those with more to do for a range of people. 
Best Mountain Biking Locations in Scandinavia
Mountain Biking Iceland – Ferðafélag Íslands
It's safe to say that Iceland is one of the most remarkable places on the planet and the same goes for their mountain biking trails. There aren't many places you can ride that'll take you through breathtaking mountains, across active volcanoes, and between immeasurable glaciers. 
While the 50+ mile Laugavegur Route is certainly not meant for beginners, it is a trip that is definitely worth every penny. For accomodation, check out Ferðafélag Íslands which has huts spread across the trail that you can rent for the night, but be sure to book a few months in advance. While they're no 5-star hotels, the simple huts do offer beds, heating, electricity, clean bathrooms, and kitchens.
In addition to the great mountain biking, there are black sand beaches, glacial valleys, and natural hot springs in Landmannalaugar.
Contributor: Sam Maizlech – An Outdoors & Travel expert for Glacier Wellness
Mountain Biking in Åre, Sweden
Åre is located in Northern Sweden. It is located on the border with Norway. Traditionally it has been Sweden's most famous Ski resort, and in recent years has developed to Scandinavia's mountainbike Mecca. What else to see and do?
Plenty of downhill trails in Scandinavia's best bike park

Lifts that run all year multiple mountain biking rentals and providers of guided courses and plenty of accommodation for tourists.

Skiing and snowboarding

Fishing
So, Are and it's surroundings are considered Sweden's adventure capital it really has become a lifestyle village which makes it a perfect destination not only for mountainbike nerds but also for active families! If you feature one Scandinavian destination, make sure it's Åre! 
Contributor: Moritz Witter from  NordicAdventours 
Best Mountain Bike Holiday Locations in Scotland
The Hebrides Trail, Scotland
This location offers additional activities apart from mountain biking.
Over 7 days, you can hop between 7 islands and ride on all types of terrain, from village roads to single trails. Use your mountain biking skills to explore the Outer Hebrides.  
The island chain has a long and unique cultural history and spectacular scenery as well as abundant wildlife. 
This holiday is suitable for all levels of skill but will greatly improve your abilities by the time you finish.
Contributor: Glenn Murray-Prior from ACTION CULTURE
Mountain Biking Strathearn, Scotland
Comrie Croft is an award-winning eco-farm on the southern edge of the Scottish Highlands. 
It's just an hour from Glasgow or Edinburgh airports, or you catch the sleeper train with your bike from London.
The mountain biking trails are rated number 1 in Scotland (from ibikeride), perhaps because of the natural feel and awesome scenery, or perhaps because Comrie Croft offers the whole shabang, from accommodation in a converted old farmstead or Nordic tipi tents, to a café and farm shop refuelling you with tasty, healthy food grown in their own market garden. Families are made very welcome, with an extensive bike skills park and pump track that makes children grin from ear to ear (and a few adults too).
The Croft is at the heart of Strathearn, an area with hundreds of kilometres of natural trails. The onsite bike shop means friendly route advice is always on hand and you could easily spend a week and never ride the same trail twice.
Contributor: Andrew Donaldson from Comrie Croft.
Where To Mountain Bike In The US?
Mountain Biking in Washington Valley, US
What makes Washington Valley ideal? The varied terrain (for all levels), the amazing scenery offered by the White Mountain National Forest, and the plethora of places to enjoy eating, staying and more. Perhaps that's why North Conway was named among the top ten small towns for adventure in 2018 by readers of USA Today and 10Best.
Terrain in Washington Valley
Starting with the terrain: Mt Washington Valley, NH, with North Conway, NH in the center of it, is surrounded by 770,000 acres of White Mountain National Forest offering fabulous on and off-trail opportunities for mountain bikers. From very easy terrain to steep and long century rides, you'll find amazing riding in Mt Washington Valley. In addition, Attitash Mountain Resort offers lift-assisted mountain biking in the summer and Great Glen Trails Outdoor Center's trails and rental shop offer one-stop shopping for those who want to ride, but not bring their bikes along. Speaking of rental and bike shops, Mt Washington Valley is filled with great bike shops. From Stan & Dan's to Bob & Terry's, great bike shops bare the names of great bikers too. Mountain Bikers will have many choices when it comes to finding parts, rentals, new bikes and apparel in Washington Valley.
Trails in Washington Valley
Just within North Conway alone, consider riding the trails around Pudding Pond or Whitaker Woods – both easily accessible with parking and easy gentle terrain. The Moat Mountain area of Echo Lake and all of the Echo Lake State Park trails are fun – although much harder.
Rob Brook Road: A trail used by hikers and bikers alike. Some good loops, relatively easy terrain with some intermediate and challenging terrain. Directions: From Conway, go 9 miles east on the Kancamagus Hwy. Turn right onto Bear Notch Rd. Rob Brook Rd is 0.8 miles on the left.

Conway Town Trail: Marked with yellow markers, this is a designated recreation trail for mountain biking and hiking. It runs for about 4 miles along the river. Directions: From the East Conway Road, off Route 302 in Redstone, turn right immediately after Conway Police Station onto Meeting House Hill Rd. The trail begins near the parking lot by the old bridge abutments.

Sawyer River Rd. Area: Somewhat of a back-country route and not an established bike trail, you can explore other easy and more challenging routes off this 4 mile gravel road. Directions: Sawyer River Rd is left off Rt 302 about 2 miles west of Bartlett Village.

Cherry Mountain Road: This route is definitely worth the trip through scenic Crawford Notch to Bretton Woods where Cherry Road begins. You'll want to be in good shape for this ride. If you make the entire loop over Cherry Mountain and Jefferson Notch, you'll ride about 27 miles over terrain that includes some long and steep climbs. Or, if you're looking for something a little less strenuous, you can just explore Cherry Mountain Road, a good gravel road with nice views. Directions: Park at Lower Falls, about a half mile west of Fabyans Store on Route 302 in Bretton Woods. Cherry Mountain Road goes north from there.
Accommodation
You'll find more than 150 lodging properties in Mt Washington Valley. Choose from larger resorts and hotels to small inns and B&Bs or more affordable motels, hostels and even yurts and campgrounds. There's something for every budget here. Because biking is so popular, it's not unusual to get on a hotel elevator and see someone taking their bike to the room, and/or offering bike storage areas. Be sure to ask at the front desk if your lodging property has a bicycle storage area. Click here for a complete list of all the lodging offerings in Mt Washington Valley. The AMC lodges in the region are great choices for bikers. 
The Highland Lodge, located in Bretton Woods, is right in the center of great trails, plus offers affordable accommodations and homestyle meals that attract outdoor lovers. Stay there and visit the gear room to borrow things like back packs and other gear for free. 
Joe Dodge Lodge, located in Pinkham Notch is another great option, also right in the center of the White Mountain National Forest. For those who want a more upscale experience, consider the brand new Glen House Hotel, built at the base of Great Glen Trails and the Mt Washington Auto Road. Trails are right outside the door, as are spectacular views, offering the ideal watering hole to end a great day of biking.
Contributor: Marti Mayne, PR Manager at the Mt Washington Valley Chamber of Commerce
Mountain Biking Richmond, Virginia – US
Richmond, Virginia, is a great location for a mountain bike holiday in the U.S. Located 100 miles south of Washington, D.C., it is easily accessible by car, train, or plane. The James River Park System features over 550 acres of recreational areas and trails along the James River in downtown Richmond, and Pocahontas State Park has approximately 25 miles of trails that cater to beginner, intermediate, and expert riders. These trail systems helped earn 'IMBA Regional Ride Center' status for the Richmond area.
A specific time to visit would be May 17-19 for the annual Dominion Energy Riverrock festival. It is one of the nation's premier outdoor sports and music festivals and features three days of outdoor adventure competitions and free concerts. There are three mountain bike events, including a Friday evening time trial and Saturday afternoon single-track race with a 10-mile course and 20-mile course. 
In addition to the festival, Richmond has nearly 40 breweries, hundreds of restaurants, and a variety of museums and cultural destinations to help round out a mountain bike holiday. 
Contributor: Pete Woody from Sports Backers 
Mountain Biking Redding 
Considered the hub city of Shasta Cascade, Redding is centrally located and offers an abundance of lodging and dining options with convenient access to everything the great Shasta Cascade Region has to offer. It's the ideal place for travelers to use as a home base when visiting. The Sheraton Redding is a four-star hotel in Redding that is located right next to the iconic Sundial Bridge. The average daily rate for a hotel in Redding is around $100 but you won't find a hotel above $180 a night. 
Scattered throughout the region are 50 waterfalls, dozens of lakes, rivers, mountains, historic mining towns, two national monuments, six national forests, seven state parks and active volcanoes. An outdoor lover's paradise, there are about 225 miles of trails within a 15-mile radius of downtown Redding – perfect for biking, hiking and more. They cater to all skill levels and feature everything from flat paved paths along the riverbank, to rugged terrain designed for the ultimate adventurers. Visitors can expect to see spectacular panoramic views of Mt. Shasta, Shasta Dam, Shasta Lake, Sacramento River, Trinity Alps, and Lassen Peak.
Redding is such an ideal location for a mountain biking holiday, they even host their own two-month long mountain bike challenge. From April 1 to May 31, Redding will host the third annual Mayor's Mountain Bike Challenge (MMBC), providing riders with a chance to experience 200-plus miles of trails in one of the country's most naturally beautiful regions. Set amidst a stunning backdrop of Northern California wilderness dotted with lakes, rivers, volcanoes and waterfalls, this friendly competition is free and caters to all ages and skill levels. Anyone who completes all rides in their category (beginner, intermediate or advanced) and turns in their passport by the end of the challenge will receive an official Mayors Mountain bike Challenge hat or socks and be entered in the challenge raffle of their category for a gift certificate to a local bike shop. 
Contributor: T.J. Holmes from Visit Redding
Mountain biking in Delaware Ohio, US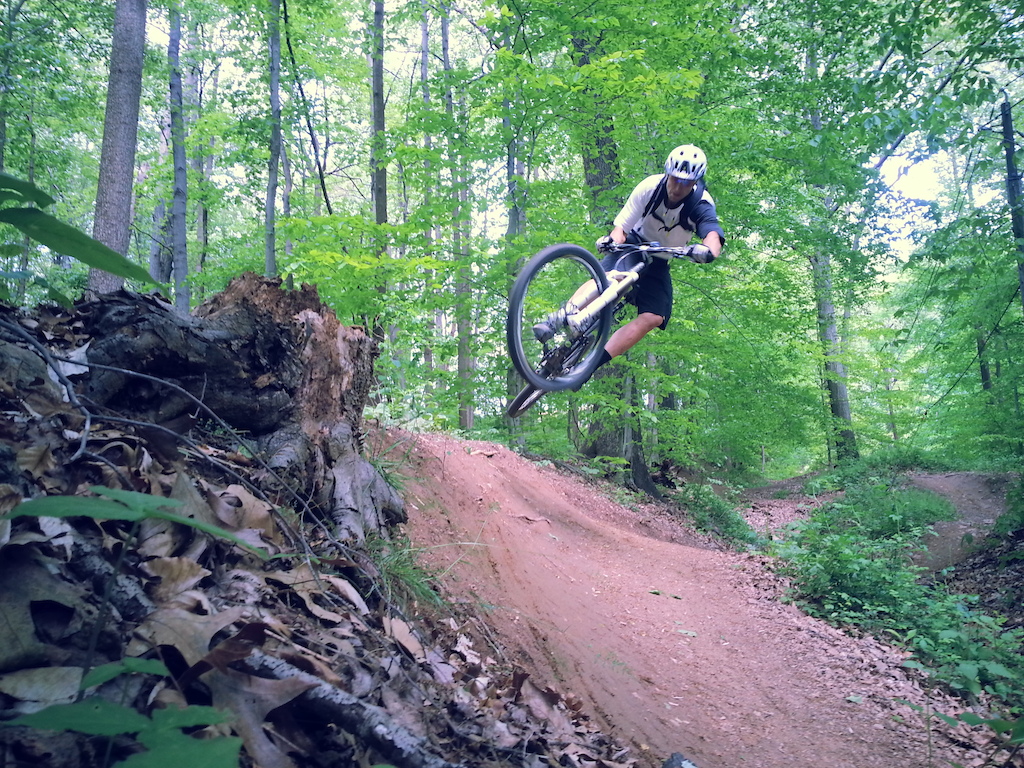 An outdoor oasis located only 20 miles from the 15th largest city in the United States and capital city of Ohio, Delaware, Ohio is the perfect destination for those looking to be close to a major city. Boasting more shoreline than anywhere else in Ohio, Delaware is home to waterways like Alum Creek Lake and Delaware Lake.
Both are havens for boaters, kayakers, paddleboarders, jet skiers and fisherman looking to get out on the water and enjoy the summer. Alum Creek also has the largest inland beach in the state, attracting visitors who want to bath in the sun or take a dip in the lake during hot summer days.
Alum Creek State Park, where Alum Creek Lake is located, has quiet coves nestled among shale cliffs, hiking, horseback riding and mountain biking with spectacular views of the lake. While in Delaware, make sure you also stop by Olentangy Caverns, formed millions of years ago and formerly used by the Wyandotte and Delaware Indians.
Today the caverns offer tours, flashlight tours at night, goat yoga and gem mining. Also, stop by some of downtown Delaware's unique breweries, restaurants and shops. Offering everything from craft breweries to gourmet cheeses to artesian olive oils and vinegars and unique arts and crafts, downtown Delaware is a cultural hotspot.
Top tip: before you complete your trip to Delaware, make sure you take a walk around the 200-acre campus of Ohio Wesleyan University, located in downtown Delaware.
Contributor: Amanda Ensinger from Inspire PR Group 
Mountain Biking in Idaho
Idaho is among world's best mountain-biking destinations.  9 out of  their 18 member resorts offer world-class mountain biking, including:
THE ROUTE OF THE HIAWATHA — The crown jewel of the nation's rails-to-trails initiative is operated by Lookout Pass in North Idaho. The 16-mile Route of the Hiawatha is a gentle 2-percent, all-downhill ride that delves 10 tunnels, crosses seven sky-high train trestles, and sports shuttle service. It opens Memorial Day weekend and is accessible daily through late September. Visit RideTheHiawatha.com for more details.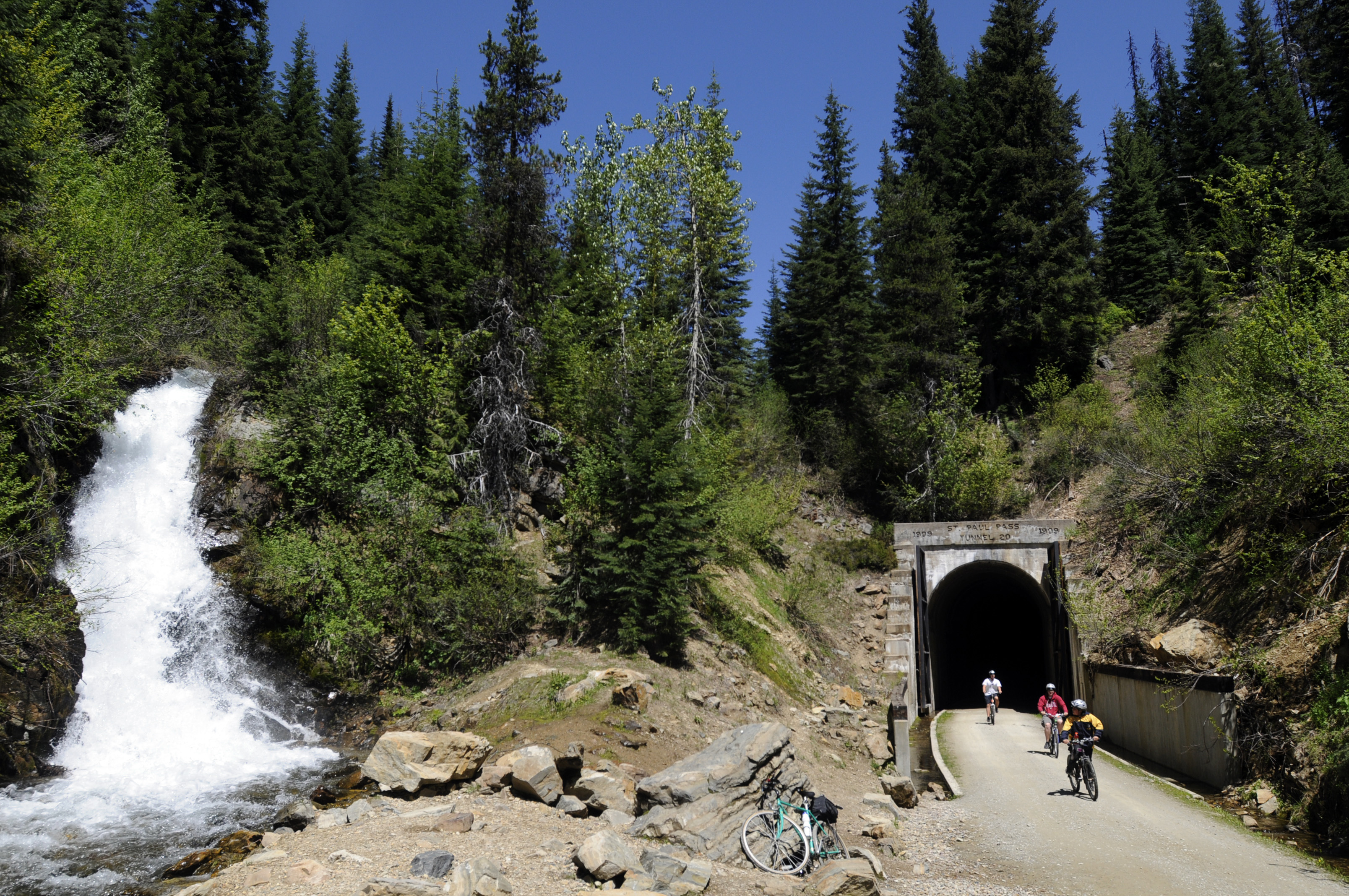 SILVER MOUNTAIN RESORT — Named the number-one bike park in the Northwest for three consecutive years on MTBparks.com, Silver Mountain in North Idaho maintains almost 40 single-track trails that span 3,300 vertical feet. The resort also boasts the state's largest indoor waterpark, scenic rides on North America's longest gondola, trail hiking and running, and the exquisite nine-hole Galena Ridge Golf Course tucked away in the mountains of the Silver Valley. 
GRAND TARGHEE — Voted the Northwest's number-two bike park the last three years on MTBparks.com, Grand Targhee affiliates with Ski Idaho because it's only accessible via Driggs, Idaho. It offers 2,200 vertical feet of lift-serviced downhill and more than 60 miles of multi-use trails. Other activities include kids' summer camps, bungee trampolines, a climbing wall, gold panning, a nature center, horseback riding, trail hiking and running, scenic chairlift rides, and an 8,000-feet-long, 18-hole disc golf course.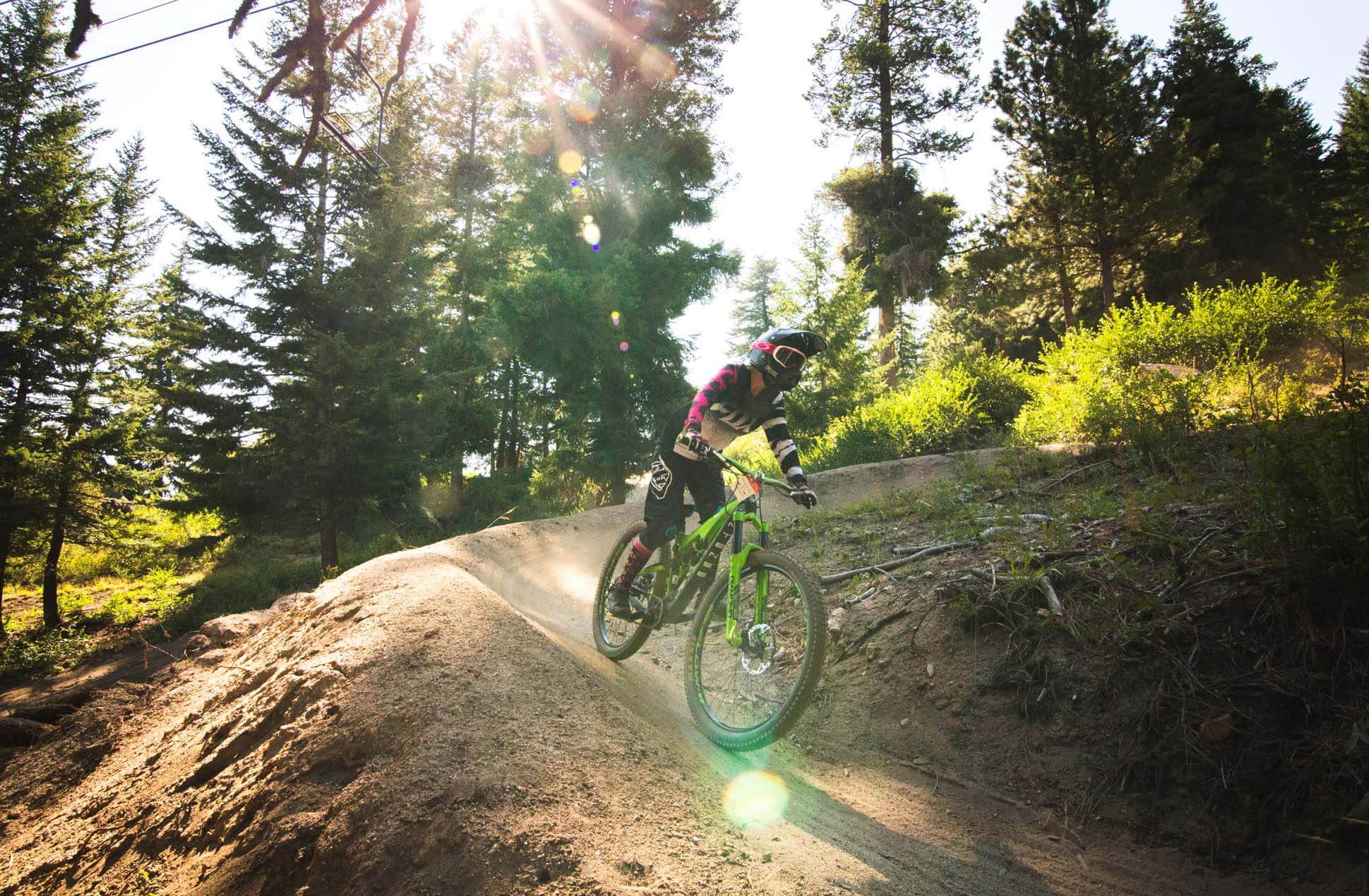 BOGUS BASIN — MTBproject.com ranks Around the Mountain at Bogus Basin as the top trail in Idaho. The Southwest Idaho resort, which is about 45 minutes outside of Boise, also serves as the main access point to the Mahalo and Dry Creek trails, collectively ranked number two in the state. Beyond biking, Bogus Basin opened the Pacific Northwest's first mountain coaster, dubbed the Glade Runner, in 2017 and operates it year round. It also offers summer tubing, bungee trampolines, a climbing wall, gold panning, horseback riding, trail hiking and running, and scenic chairlift rides.
More mountain biking trails in Idaho
BRUNDAGE MOUNTAIN — The Southwest Idaho resort's Brundage Bike Park boasts 20+ miles of hand-built single-track trails. The mountain also offers scenic chairlift rides, trail hiking and running, and a 2,500-feet-long, nine-hole disc golf course.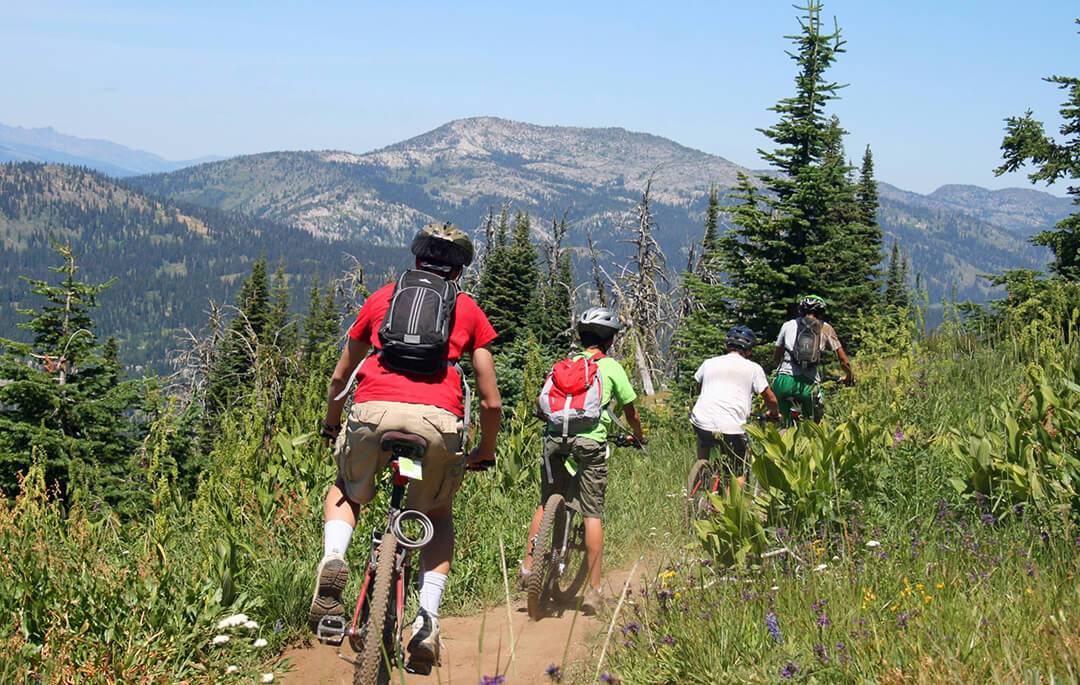 KELLY CANYON — The resort, 27 miles northeast of Idaho Falls on the eastern side of the state, obtained the necessary USFS permits and cut trails last summer. It will open its inaugural mountain biking season this spring. 
SCHWEITZER MOUNTAIN — Schweitzer maintains more than 20 miles of mountain bike trails. The North Idaho resort's summer visitors also can take side-by-side rides on the resort's dual, 700-feet zip lines, play disc golf, geocache, jump on bungee trampolines, scale a 25-feet climbing wall, hike and run trails, pan for gold, pick huckleberries, and go horseback riding.
SUN VALLEY — World-famous Sun Valley in Central Idaho added nearly 10 miles and more than 3,000 vertical feet of descent on Bald Mountain last season to its hundreds of miles of trails. The nation's first ski destination ski resort and global birthplace of the chairlift offers an array of activities, including golf at three championship courses, scenic gondola rides, a spa, a shooting range, bowling, fly fishing, hiking and trail running, ice shows, ice skating, a kid's adventure camp, paddleboats and beach volleyball on Sun Valley Lake, and swimming at three pools.
TAMARACK RESORT — The International Mountain Bicycling Association designed and built Tamarack's 25-mile trail system. The Southwest Idaho resort also boasts Idaho's best zipline network, which explores 3,500 feet of canopy via eight different ziplines, two suspension bridges, and a 105-feet-high tree house. Visitors also can book whitewater rafting trips, hike and run trails, take scenic chairlift rides, and enjoy a day at the spa. 
Slopeside accommodations are available at six of those resorts — Bogus Basin, Grand Targhee, Schweitzer, Silver Mountain, Sun Valley, and Tamarack — and the rest are close to lodging and other nice amenities. For instance, the trailhead for the Route of the Hiawatha is only 22 miles from the historic mining town of Wallace, Brundage Mountain is only 9 miles from the four-season mountain-lake resort community of McCall, and Kelly Canyon is only 10 miles from the town of Ririe. Many of their ski resorts have embraced fatbiking in the winter too. 
Contributor: Tony Harrison from Ski Idaho  
Mountain Biking in Lake Tahoe 
The South Shore of Lake Tahoe (Tahoe South) boasts 200+ miles of bike trails for all ability levels, both paved and off-road.
The Angora Lake Climb is an eight-mile paved and dirt trail offering stunning view of Fallen Leaf Lake, Lake Tahoe, and Mt. Tallac. The trail starts about one mile east of Fallen Leaf Lake. At trail's end, cyclists can sip lemonade at Angora Lakes Resort or cool off with a dip in the lake.
Van Sickle Bi-State Park stretches across both California and Nevada, providing access to the Tahoe Rim Trail. With stunning panoramic views of the lake near the beginning of the trail, Van Sickle is a popular area for mountain bikers.
The Kingsbury Stinger trail offers five miles of singletrack connecting from the Tahoe Rim Trail near Castle Rock down to the neighborhoods of Stateline, Nev. The new section was completed in October 2016.
The Flume Trail has been called one of Western America's Top Ten Routes. The off-road trail begins at Spooner Lake and finishes near the Ponderosa Ranch at Incline Village. Shuttle service, guided tours, and mountain bike rentals are available at Spooner Lake.
Mr. Toad's Wild Ride on the South Shore is one of the most popular for avid road cyclists. Five high mountain passes within 100 miles offer an ultimate endurance challenge.
Several paved bike paths offer a leisurely ride well suited to families. The Pope-Baldwin Bike Path is relatively smooth and flat and meanders around Historic Camp Richardson, the Tallac Historic Site, and Fallen Leaf Lake. The South Lake Tahoe Bike Path beginning near the tourist corridor (Hwy 50 and Pioneer Trail) runs South through town, passing through Lake View Commons/El Dorado Beach and crossing both Trout Creek and the Upper Truckee River.
A 1.2-mile shared-use bike path on the Nevada side at South Tahoe provides access to Rabe Meadow with Nevada Beach and Round Hill Pines Resort. Eventually the goal is to build new sections and connect with existing paths to circumnavigate the lake as part of America's Most Beautiful Bikeway.
Additional attractions include Emerald Bay, a breathtaking view of Lake Tahoe's only island – Fannette Island; a tour of local breweries including South Lake Brewing Company, Tahoe AleWorX, Cold Water Brewery & Grill, and South of North Brewing; hikes aplenty at Van Sickle Bi-State Park, Eagle Lake, Angora.
Contributor: Jennifer Boyd from Tahoe South 

Best Gifts For A Mountain Biker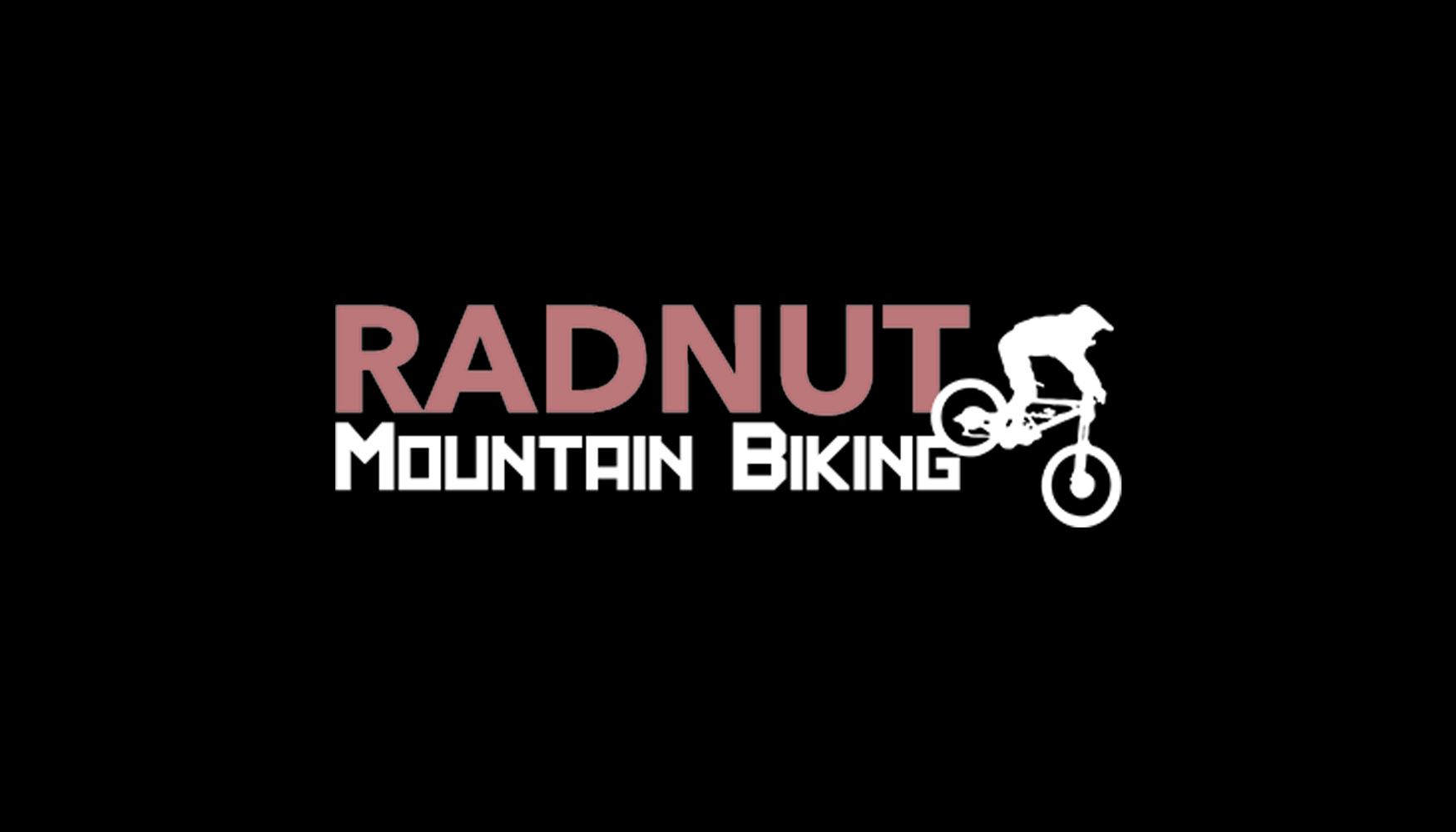 What gifts to pick for mountain bikers?
As mountain bikers are notoriously difficult to buy gifts for, we thought we'd put together a helpful piece on what we'd suggest as mountain bikers would be the best and most failsafe options. From performance socks to action cameras, there's bound to be something just right for a mountain biker you know.
Mountain Biking Gloves
The Fox Racing Ranger Mountain Bike Gloves boast features perfect for mountain-biking:
A polyester, nylon construction for durability

Double layer Clarino palm and low profile wrist tab to boost flexibility and comfort
This simple yet effect gift is excellent for beginners and more experienced bikers.
Contributor: Ollie Smith from ExpertSure
Mountain Biking Distress Beacons
As we bike our way into spring, we can enjoy more peace of mind with Silent Beacon. 
This panic button is lightweight, water-resistant and wireless. It seamlessly connects to smartphones or any other bluetooth-compatible device.
Here are some stand-out features:
The Beacon can place a call to first responders and anyone else in an emergency 

Includes GPS tracking for emergency services — all with one button push.

Two-way communication device thoughtfully designed for easy activation and avoidance of false alerts

Multiple customized direct contact options (911/EMS)

Customizable contact list
No other wearable safety device does so much for so little — and so simply.
Silent Beacon offers features not available on other wearable devices, at a  very fair price. Thankfully there aren't monthly payments or hidden fees. 
Contributor: Kenny Kelley from Silent Beacon
Run angel is an alternative innovative safety wrist wearable that emits a very loud siren from its patent pending acoustic chamber design to attract attention in an emergency such as an injury or attack.
It connects to smartphone devices to send emergency alerts to loved ones by SMS & email, showing the date, time and location of the wearer.
Contributor: David Caren from Run Angel
Extra Strength CBD Muscle Salve 
It's no secret that enjoying the outdoors can take its toll on your body, but there's no reason to let pain and discomfort win. The Glacier Wellness Muscle Salve offers the following:
 Tremendous, effective relief where you need it most

Won't leave you oily or smelling like an old-age home! 
In addition to its truly remarkable and effective pain relief, the CBD body butter is great for calming the stress of everyday life thanks to its mix of essential oils and soothing scents.
As an added bonus, our salve is made from the finest American grown hemp. This product is also ethical, GMO-, and paraben-free.
Contributor: Samantha Morrison from Glacier Wellness 
No amazon link, product page is: https://glacierwellness.co/products/extra-strength-hemp-muscle-salve
Horizon 1 Sunglasses
Everyone loves sunglasses that make them look cool, and all three versions of Horizon 1 sport sunglasses (Slope, Wave, and Mesa) are styled with an edge. They're a perfect gift for anyone that enjoys the great outdoors, or just wants to look good. 
Each pair includes:
3 pairs of interchangeable lenses (grey, rose, and clear) for

varying weather conditions (instructions included

A carrying case with belt loops and clip

A warranty
A polarized version of their grey tint lenses is also available. Other attractive frame colors that will be available soon are: white, purple, and tortoise shell.
Contributor: Andrew Cochran from Next Horizon Eyewear LLC
The Original Worm is the portable, full body massage roller that combines the benefits of therapy balls with a foam roller. 
The Worm's specially designed, neoprene encased, solid rubber massage balls target 4 times the body's surface area. 
These massage roller balls will provide trigger point release to combat stiffness, pain and stress in muscles and joints. It can be something you realise you need once it's too late. 
Contributor's site: http://www.theoriginalworm.com
Developed by Paul Swift, 8-time US National cycling champion who competed with the US National Cycling Team from 1983 to 1997, the Cleat WedgeR is designed to provide a solution to a problem most all cyclists face.
Studies have shown that 96% of all cyclists (mountain, road, gym) deal with one of two foot issues. Their feet either tilt in or out when coming into contact with the pedals. This creates a lack of alignment with the knee which can lead to pain and injury while also reducing efficiency and power.
The very affordable Cleat Wedge (MSRP: $25) solves this by creating an even pressure point across the foot to align the point of contact. The result is a vertical path between the knee and pedal which increases efficiency and power while also eliminating knee and foot pain.
The Cleat Wedge is available in two, three and four hole designs.
Contributor: Paul Swift from BikeFit
The Seventy2 Hour Survival Kit is a perfect gift for the avid Mountain Biker because it is a backpack comprised of supplies and tools that will help you be prepared for any type of situation that a mountain biker may face when ripping down a trail.
The Seventy2 is ideal because it is all encompassed in one lightweight, mobile backpack that will not negatively impact performance, but rather it will allow you to be confident in your biking because if anything may happen you will be prepared.
Contributor: Christian Schauf from Uncharted Supply Co
Feetures socks are great for cycling, and are one of those small details that can transform your riding experience.
These are the picks of the range:
1) Feetures' new Merino 10 is blended with a luxurious combination of TENCEL and Merino wool for all-weather performance in any season. Designed with patented Sock Lock technology, the Merino 10 line provides targeted compression in the arch to provide all-day support and eliminate blisters.
2) Constructed with moisture-wicking fibers to keep feet dry, Feetures' Elite line is designed with the same Sock Lock technology like the Merino 10 line in order to provide an anatomical fit for targeted compression in the arch which provides all-day support and eliminates blisters.
Contributor's site:  feetures
Tailwind Nutrition's Rebuild is the first recovery drink based on a patent-pending complete protein – a groundbreaking organic rice and coconut milk-based formula, specially designed to restore your energy and recover your muscles after exercise.
It combines:
Carbohydrates

Electrolytes

Amino acids
So it's formulated with essential building blocks your body needs to replace depleted glycogen stores, balance metabolism, and rebuild broken-down muscle fibers.
Other excellent features include:
– All-Natural Ingredients: non-GMO, gluten-free, soy-free, and dairy-free. 
– 100% Complete Protein. Rebuild contains twice the amount of complete protein found in chocolate milk, and nearly three times as much complete protein as in competing products, without additives or excess proteins that put undue strain on the liver.
All in all, rebuild easily mixes with water for a smooth, delicious drink – without the whey, dairy, or excess protein waste common in many alternatives.
Contributor: Dan Arnett from Darby communications 
Mobile Warming Heated Apparel clothing is a great gift for mountain bikers. This Bluetooth heated clothing makes mountain biking accessible during any season.
The clothing can be heated through a specialized app and the Bluetooth capability of your smartphone. Turn it up when you get cold, turn it down when it gets warmer. Simple!
For mountain bikers, the base layers are terrific, especially when they are biking in colder locations or even in early morning when it's a bit colder. They can start with the base layer on high, then turn it down as the sun comes up and they get warmer.
Art Sesnovich from Bulldog communications
Vena's 6Netic Magnetic Bike smartphone mount is perfect for cyclists who want to stay connected for:
Hands-free phone calls

Music playback

Navigation
It is one of the first magnetic mounts in the market to offer the option to mount an action camera or a compatible light. The Vena mount is lightweight yet sturdy in design to ensure security for devices while bicycling on rough terrain.
Excellent aspects of the mount include:
Powerful N45 magnets to safely and securely mount oyur smartphone to the bike.
GoPro compatible. It is almost universal.
Simple installation thanks to the magnets.
Nylon impregnated plastic for durability

2 straps provide

increased security

A mount arm allows space for cable management

and easy installation of your accessories.

360-degree rotatable mount for perfect device viewing
Contributor's site: Venaproducts
This GPS is the best of the best. Its features speak for themselves:
Includes Strava Summit and Garmin Connect integration.

Approx. 15 hours of battery life – plenty for the trails!

More signal options available off the beaten path. 
Contributor: Haley Kieser from VOORMI
This light is a bit of a beast.
Super bright

Light-weight – only weighs 130g with the mount. 
A helmet mount is available separately, but it's perfect for mounting onto handle-bars as well. A must for those peaceful night-time rides!
Contributor: Haley Kieser from VOORMI
Website: https://www.niterider.com/product/lumina-micro-750/

While not a gadget, the technology within this long sleeve should be considered one.
It works wonders in the summer time by keeping me cool through a long ride in the desert and also protected from the sun. 
Made with precision blended wool,

Looks brand new even after my hydration pack has done its fair share of wearing.
Contributor: Haley Kieser from VOORMI
This is the more affordable version of a GoPro that's waterproof and remote
control operated.
Records 30 frames per second and takes 12MP photos to

give you professional quality footage every time.
Battery life should

last 90 minutes and it even has a 170-degree wide angle.
Share your footage in minutes thanks to built-in WiFi and HDMI.
Contributor Sam Maizlech from glacier wellness
No Sweat helmet liners 
NoSweat's thin, disposable liners stick to the inside of helmets to
Instantly wick away sweat 

Prevent stains, odors, acne

End stopping to wipe your face.
Depending on the person and the activities being performed, each liner can last up to two weeks.
Contributor: NoSweat from NoSweat
The Best Drones For Mountain Biking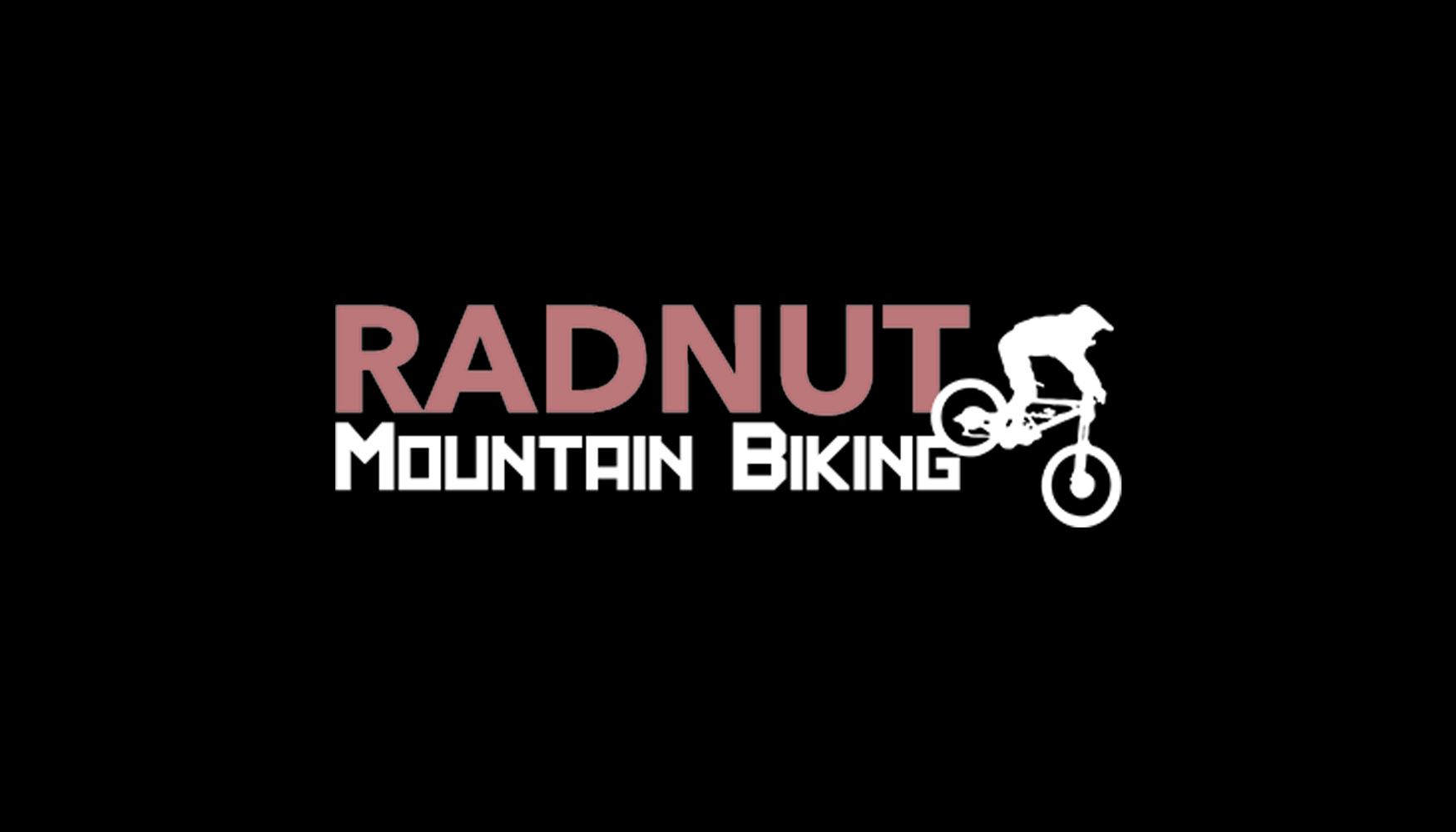 How to Choose a Mountain Biking Drone?
You've got your mountain bike equipped specifically for your needs. You have your route planned. You have your action camera mounted on your bike or yourself. How do you take it to the next level?
One way is to capture some drone footage.
Drone footage can add an entirely different perspective to your footage and give you a film-grade footage of your ride if done right.
Don't worry – we will help you with that!
The Best Mountain Biking Drone
The best drone for nature that features a standard RGB visual light camera is the Mavic 2 Pro. This aircraft includes:
A 20-megapixel sensor that creates a still image size of 5472 x 3648. It can also shoot video in 4K, which makes it one of the best cameras on the drone market.

 

Temperature operation is between 14deg F to 104deg F.
But what makes this an ideal mountain biking drone?
It has an Omnidirectional Obstacle Sensing system, which allows it to swiftly avoid the many obstacles along the trail. Whether it is forward, backward, up, down, left or right, this system makes the Mavic 2 Pro perfect for forests.
Currently, no other drone on the market avoids obstacles in every direction while taking stills with a 20-megapixel sensor.
It is lightweight, just under 2lbs, and foldable so that it can fit in your cargo pocket or a small hard case.
TIP: Add the DJI Goggles to get a first person view of what your drone sees, and you will have a solid system for filming nature. What ties it all together is that having these features don't bump up the price considerably.
Contributor: Army Lt. Col. Jeremy Latchaw from Macatawa Unmanned Systems 
The Best Cheap Mountain Biking Drone

The DJI Mavic Air aims to give you a similar, high quality experience found on the Mavic Pro 2, with a more affordable pricetag.
So what can it offer in terms of video?
Like the Pro 2, the drone:

Shoots in 4K,

capturing detailed, smooth video thanks to its 3-Axis Gimbal Stabilization.
Has additional features like slow motion at 120 fps 1080p, to give a dramatic effect that will remind your audience of an intense, high-speed chase film.
Very important for mountain biking is that this drone retains the tracking feature and the Omnidirectional Obstacle Sensing system, which allows you to ride and film at the same time, allowing you to ditch your camera-man.
The sacrifices you make for choosing this lower price option are few such as the slower flying speeds;

18 mph in auto mode 

42 mph in sport mode,

Lower transmission range

Less sturdy but lighter frame.

It is also controlled with a smartphone, through an app, instead of a dedicated controller.

But you might prefer that.
Other benefits over the Mavic Pro 2 are that it is smaller and lighter, allowing it to be transported easily in a case, which is a must when you don't have extra space to spare on your bike or in your pack.
I have used this compact drone for many videos of walks and rides. All in all, the imagery is stunning, the operation is simple, and the drone and remote control can fit into a large pocket.
For those who understand you don't necessarily need a flagship product, and Mavic Air is a perfect example of a drone that hits the sweet-spot between value and quality.
Contributor: Ron Humes from Post Modern Marketing
The Best Mountain Biking Cameras
If you're after a high-quality first person video capturing your trail, look no further.
The Best Mountain Biking Action Camera

GoPro's latest camera takes hyperstabilization to the next level. When you're riding rough tough trails, getting airbourne or  this feature will smooth out the shot without the hassle of using gimbal.
This action camera offers:

4K/60. Previous cameras only had 4K/30 which is fine for the average GoPro user but if you're into action sports, you're going to appreciate this new feature.

Includes TimeWarp, also known as Hyperlapse, but this camera takes time-lapse video instead of photographs, ultimately creating smoother footage.
The pain point of all previous GoPro cameras has been the user experience and GoPro has finally taken care of that with their new screen design. They have simplified the options, menus, and modes which now display clearly, letting you know exactly what setting you're on.
The Best Value GoPro for Mountain Biking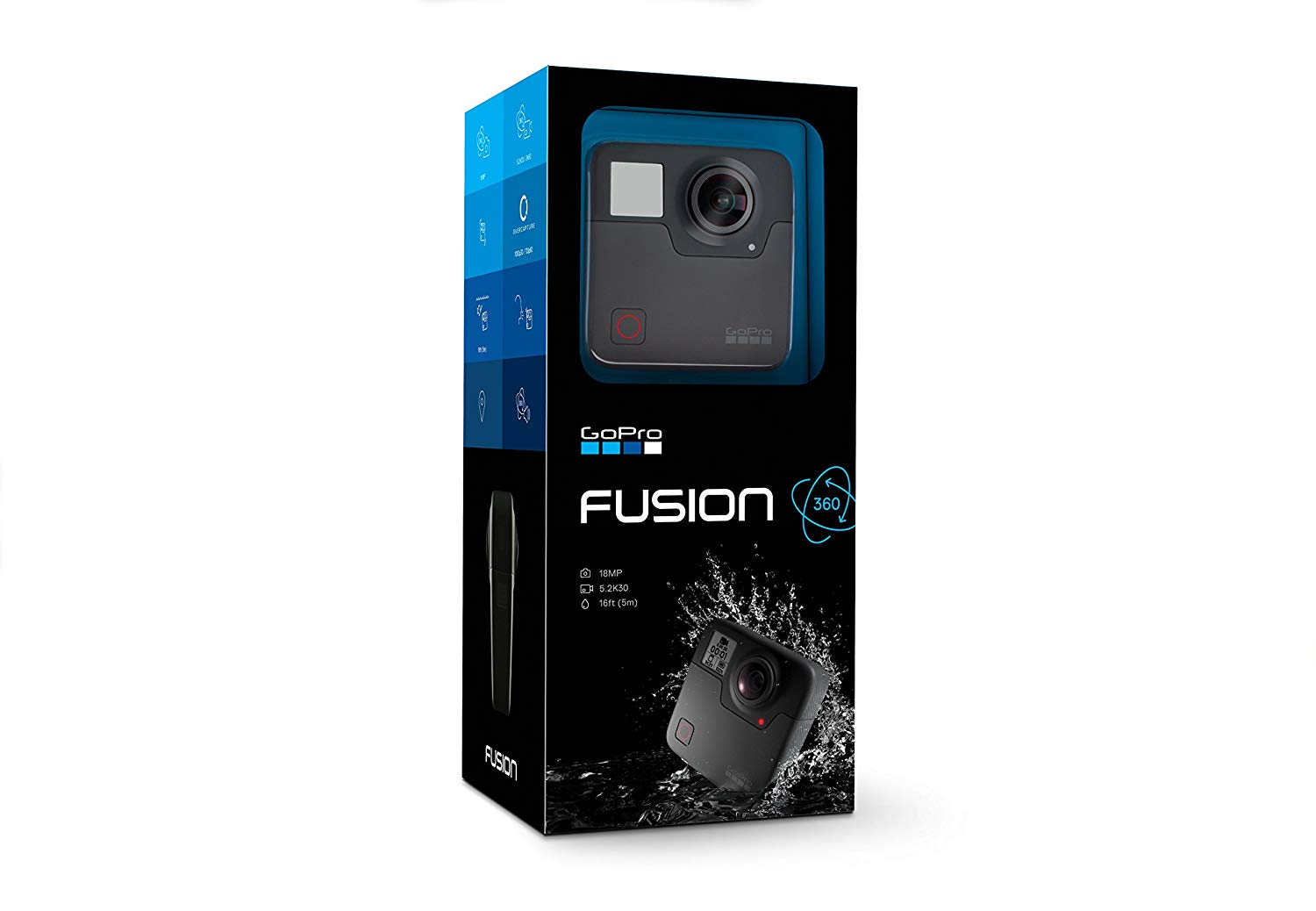 When the GoPro Fusion was released the initial reviews were less than stellar and users felt that its release was premature because the software had some catching up to do. But after a few updates and tweaks, we feel that it's fair to give this 360-degree action camera a review.
One of our favorite features of this palm-sized camera is the rubbery finish to the exterior. This finish is very durable and it will survive even the bumpiest bike rides.
Other interesting features include:
You can also change the mode settings manually and the camera face will let you know exactly what mode you're shooting in.

This camera does include time-lapse features like the Hero7 but they are not as advanced and refined.

This camera is also compatible with GoPro's accessories and you can mount it on everything from a bike to a surfboard.
The best accessory to use with this camera is the mono/tri-pod/selfie-stick and it comes with the Fusion for FREE! Lucky you!
Contributor: Ryan Tolbert from Boutique Film Lab
The Best Budget Action Cameras for Mountain Biking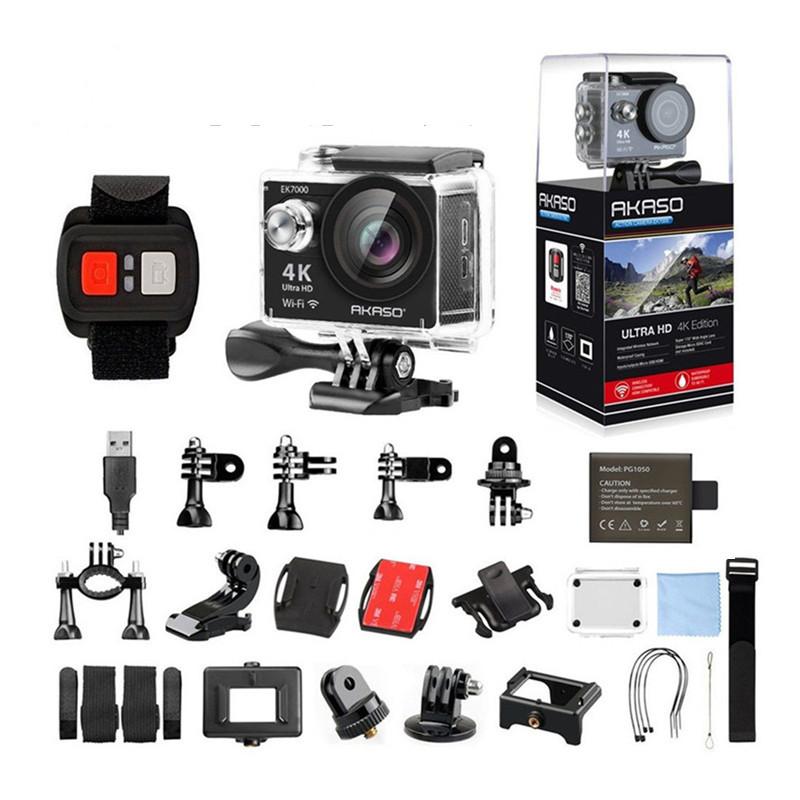 When it comes to action cameras, most like to stick with big names like GoPro. But you should know there are plenty of other more affordable options which easily give GoPro a run for their money.
The Akaso Action Sports Camera is one such example that offers the following:
Remote control operation

Built-in WIFI and HDMI

170-degree wide angle shots.

It records 30 frames per second and takes 12MP photos to give you professional quality footage every time.
Finally the 90-minute battery life and solid waterproof durable construction ensure that it can handle even your most extreme adventures.
Contributor: Sam Maizlech from Glacier Wellness
Trail Dogs – Taking Your Dog Mountain Biking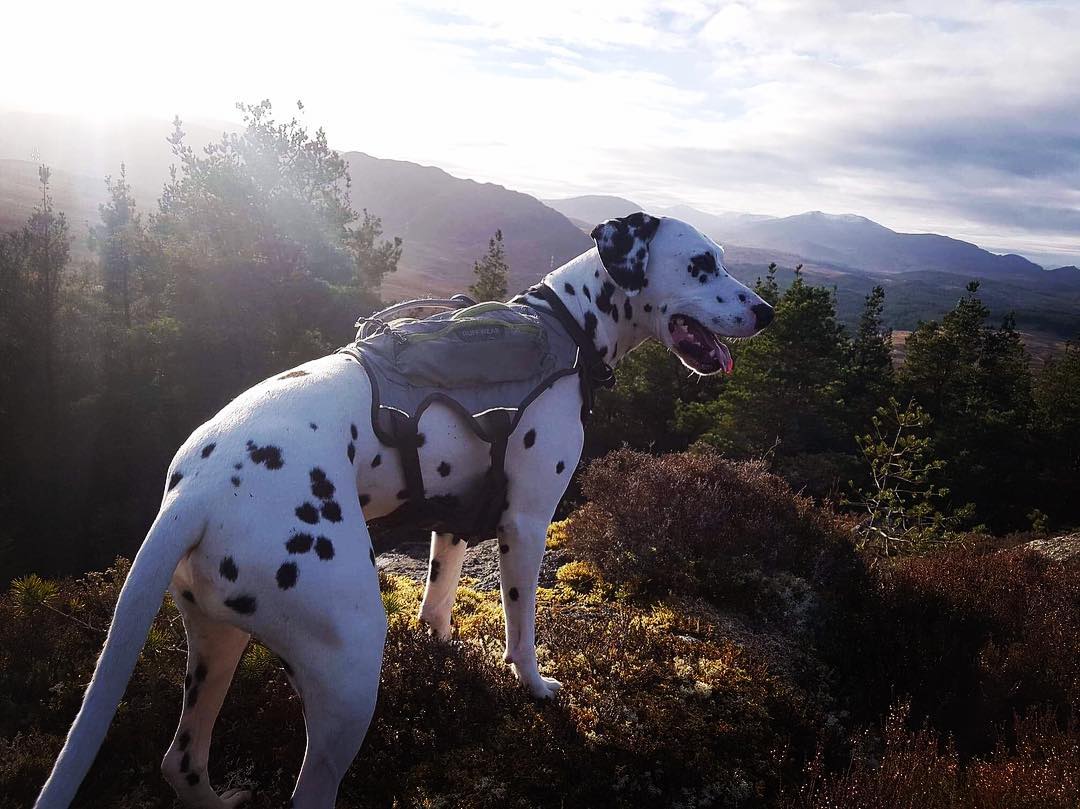 Mountain Biking Dogs
The number of people bringing their dogs with them on their mountain bike rides over the years has been rapidly increasing with the growth of the sport. With this growth however, a measure of controversy has emerged, with sacredrides.com posting and ranking an article on "4 Reasons Mountain Biking with your dog isn't a good idea". We'd like to challenge this however and have reached out to the mountain biking community to help us do this.
If you've got a mountain biking dog and want it to be added to the list feel free to send us your experiences (admin@radnut.com).
TL;DR
Mountain Biking dogs need to be very well trained.
Mountain Biking dogs need more nutrition.
It's good to have some mechanism to help them be seen e.g a harness.
Mountain biking dogs have limited energy so it's a good idea to keep track of how far they've been (strava).
Trail Dog Edits
Cross Country Mountain Bike Dogs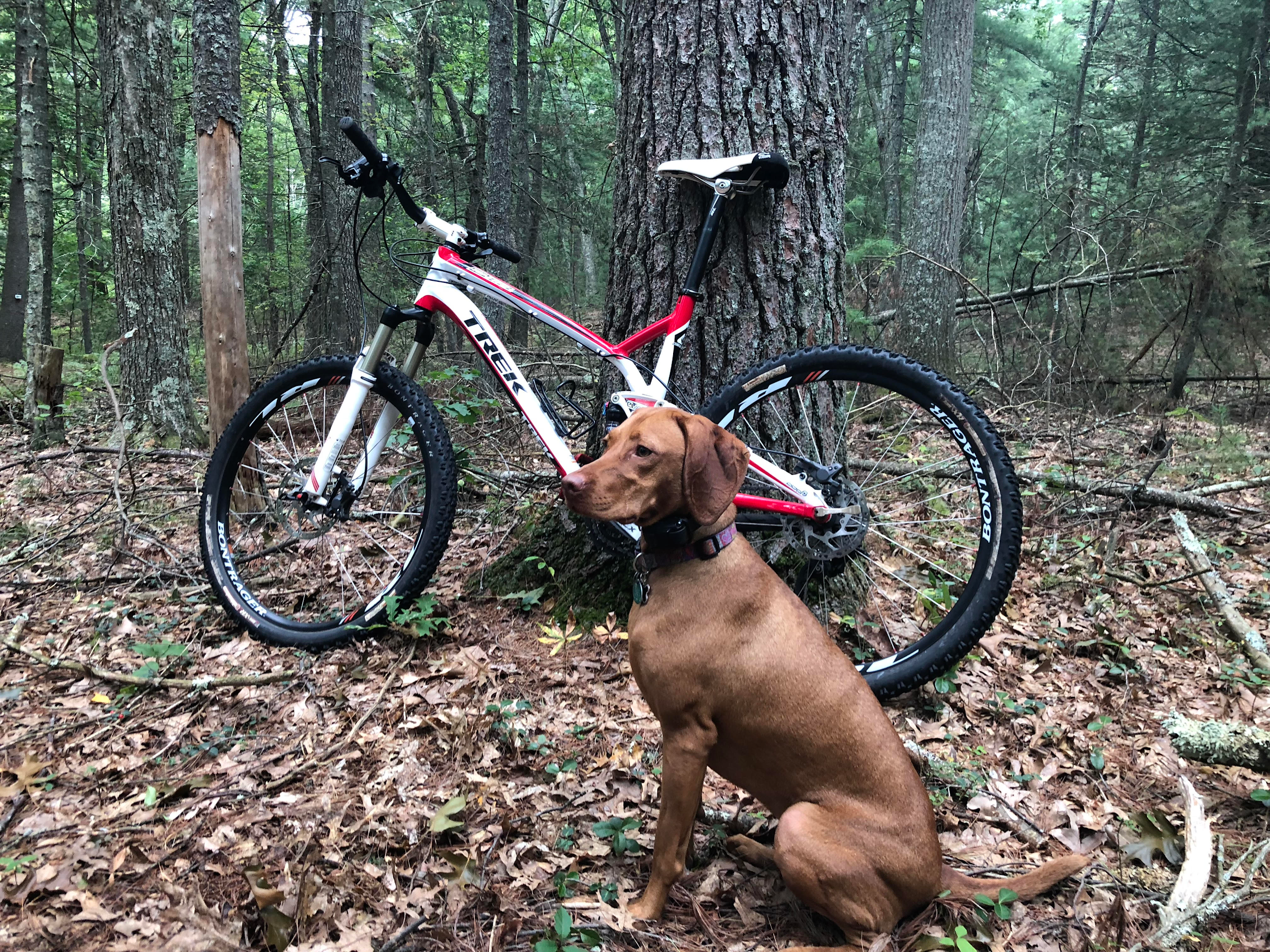 Penny is a Vizsla breed — which descends from the noble Hungarian kings (circa 1300 AD) and were bred to bird hunt alongside horses. They have a ton of energy, which makes them a great choice for running or mountain biking. But as a breed, if they don't get their 2 hours of exercise, PER DAY, oh boy will you be in trouble with a lot of mischief.
I started Penny off from a very early age to get comfortable with my mountain bike — I put the bike on the grass so she could sniff it, and then I would walk around with the bike until she lost interest. This was just a few days to get her comfortable. Note that I didn't start mountain biking with her until she was 15 months — too much running, before all the bones have stopped growing, can put stress on a dog's hips and joints causing problems such as hip dysplasia. I would urge the same caution to anyone thinking about mountain biking with their pup. Don't rush this process and risk hurting your dog.
Penny is fantastic mountain biking companion – she runs about 10 feet in front of me at all times. Which means that she gets to pick the trails! We will weave through single track trails, and I just follow her. She has impeccable radar — and never gets lost! Every time I try to override her and select the trail, we end up getting very lost deep in the woods. So, I've come to trust her navigation and just follow her. She even knows when it's time to head back to the trail head. How she does this, I have no idea.
We've only really encountered one problem to date — Penny decided to chase after some wild turkeys for about 1/2 a mile or so. Fortunately, I was able to keep up with her and got her back to the main task at hand (mountain biking). But beyond that, she's the perfect mountain biking mate.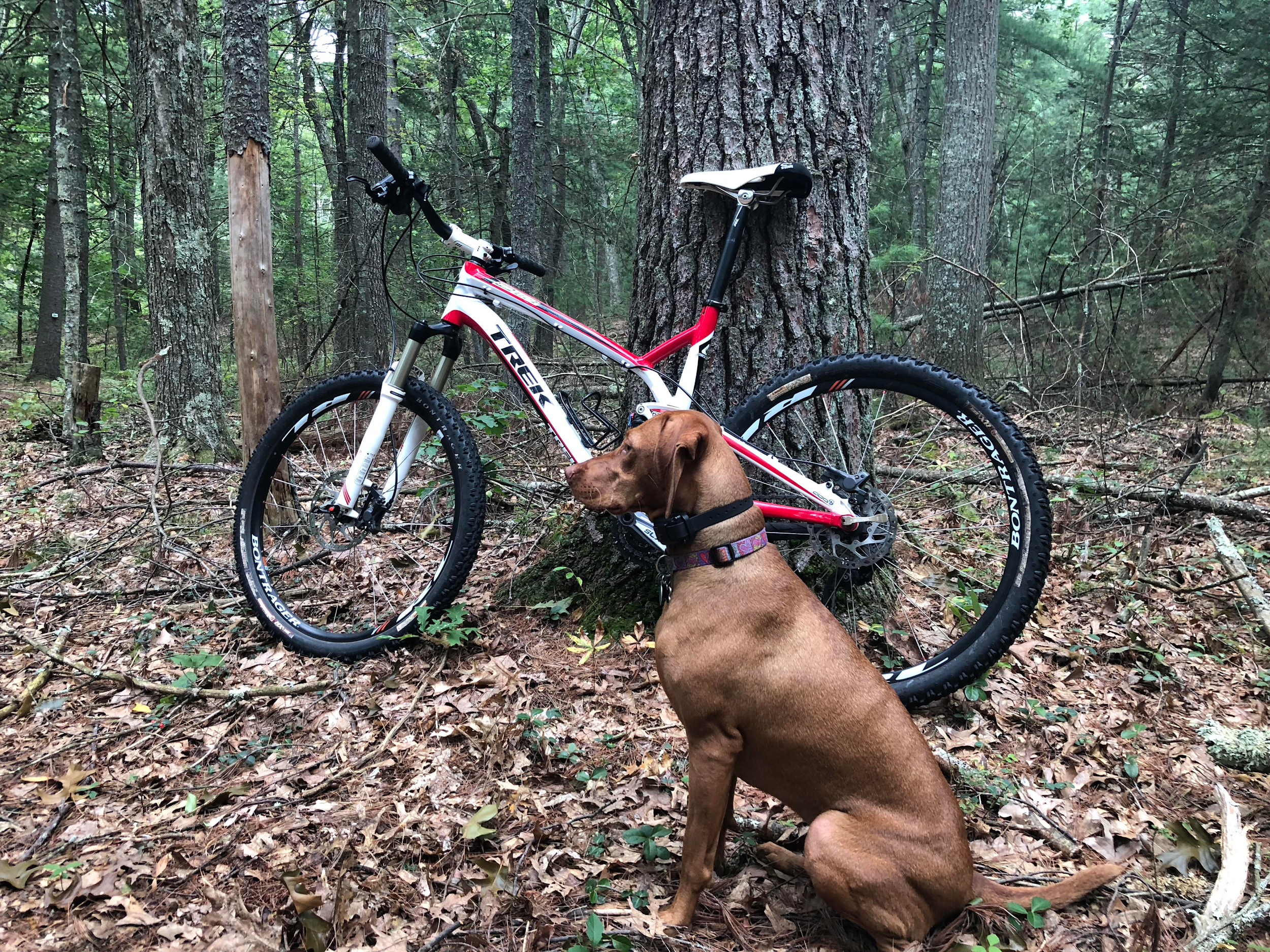 Contributor: Adam Sherman
Organisation: Viakix
Website: www.viakix.com
Enduro and Downhill Mountain Biking Dogs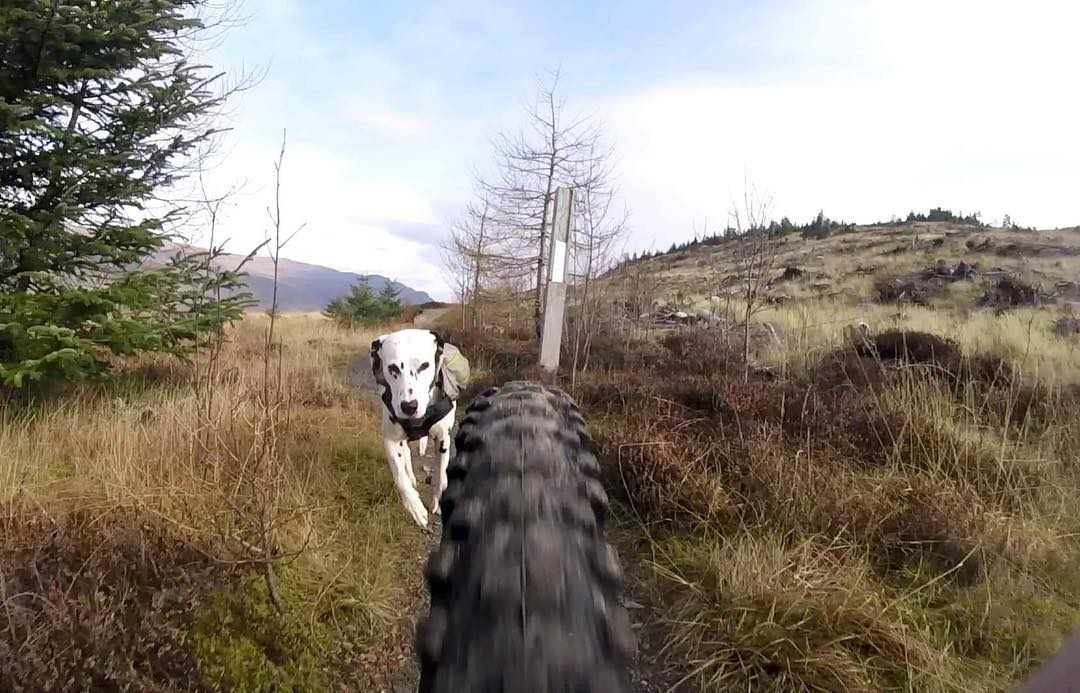 We had been mountain biking for a few years when we found out our current dog (a Springador) had mild hip dysplasia and could no longer hit the trails with us. It was then that we started looking for a new addition to the family that could be the ultimate trail dog. I grew up around pointers as my grandfather bred them. I know they have the energy and stamina and most importantly the love of running to make them the perfect trail companion.
We scoured the internet for a pointer style puppy in our area. This is where we found a dalmatian puppy.
We collected Mylo at a little over 16 weeks and from the day we collected him, he's been around bikes. Our house is full of them; Trail bikes, Downhill bikes and even road bikes. He was well used to them.
When he was small we had to work on recall as we knew this would be key to him becoming a trail dog. We worked on our local beach starting with a long rope lead and treats, gradually building up his confidence and trust. Our local trails are Nevis range, Fort William. Mylo has been about the trail centre since he was a puppy. We would walk him down the trails. When we knew it was quiet and not to disturb anyone on the trails.
Whilst Mylo was a puppy he was not on the trails. We consulted our vet about when to let him come with us. He informed us that dalmatians are not fully grown until 15-18 months. It is after this time that they can really hit the trails. So about the year mark after a lot of recall training. Mylo would come on very short trails.
He took to it like a duck to water. He immediately followed the bike, starting slow, over the months as he grew his speed (and the speed we could ride at) picked up the pace.
Now he is faster than us and knows the trails better than us. He loves nothing more than heading down the world cup track at Fort William and even doing the jumps at the bottom. Much to the many tourist's delights and my embarrassment as he is better at them than I am.
Mylo Always comes on the trails with his little backpack. This is a great way to ensure he gets seen on the trails. The little backpack carries his water and some treats to keep him going. He also has a multi-tool, small pump and tyre levers and inner tube. So he is an important member of the trail crew. if he hasn't got his bag on he has a very bright blue Ruffware harness (UK version) It is super important that he can be seen to keep him and other riders safe. It helps with Mylo being a Dalmatian, as he is very noticeable against the trails.
It is important to remember that if your dog is hitting the trails to make sure you are adjusting their food and water intake to account for this. We also have Mylo on extra joint supplements to make sure to keep him in tip-top condition. We never let Mylo overdo it. His normal days range between 8-10 miles, he even has his own Strava account so we can keep an eye on his mileage and make sure he has the right amount of rest. As a Dalmatian, he would run all day. But this is not good for them so It is important to know your dog is limited and just like a human needs recovery time.
Our dog and bikes are so important that we built a van conversion – so we can now hit the trails more often. Mylo has travelled the UK from wales to Glentress and loves to find new trails to run down.
Contributor: Laura Martin
Site: www.missljbeauty.com