This post contains affiliate links. Affiliate disclosure: As an Amazon Associate, we may earn commissions from qualifying purchases from Amazon.com and other Amazon websites.
E-Bikes and Mountain E-Bikes | Introduction

This piece has been compiled in response to demand from our users and a notable absence of E-Bike information online, especially with respect to mountain E-Bikes. This page should continue to evolve with time as more contributors add to it. If you're looking for something very specific, the contents menu above should point you in the right direction. This article contains specific E-Bike reviews for both mountain E-Bikes and 'general purpose' E-Bikes, a guide for how to build an E-bike, and a review of industry contributors.
Top Contributors:
Gee Atherton
Raleigh Bikes USA
Bosch E-Bike Engineering
RetroWheels USA
RadNut Team
Gee Atherton – E-Bike Interview
Image By Moonheadmedia
Do you own an electric bike or use electric parts on your bikes?
Not yet! But again it's in the plan for Atherton Bikes. Our mum has an electric bike and she loves it – I think it's awesome that everybody can get out more and put in more laps.
Do you think electric parts (for example drivetrains) are something we will see in 'regular' mainstream Mountain Biking in the near future?
Yes, gears, seatposts, drivetrains (SRAM's Eagle AXS) who knows what next! We (Atherton Bikes) are bringing new technologies into the sport ourselves through additive manufacturing so we are especially open to considering these new advances and we're keen to embrace the new technologies that give the rider a clear benefit.
Do you see mountain e-bikes becoming big in mountain bike racing in the future?
Definitely – it's already a thing! The UCI have announced that there will be an ebike category in this year's World Champs at Mont St Anne.
Why E-Bikes? | Bosch Engineering
E-Bikes are the fastest growing segment in the entire American cycling industry. The pedal-assist motor helps riders tackle hills, and you don't have to break a sweat commuting to work. In fact, a recent Portland University study found that people with eBikes actually doubled their usage every week compared to those with regular bikes.
From a riding perspective, an eBike flattens hills and shrinks distances by providing a boost to the rider's human effort. From a design perspective, an eBike has a motor integrated in between the pedals along with a battery and controls that adjust how much assistance the rider receives.
Bosch eBike Manufacturing
Bosch eBike Systems sells the drive unit, battery, display and charger to the manufacturer. The eBikes are assembled in Europe or Asia. The drive unit is bolted on to the frame along with a special mount for the batteries, whether it's inserted inside the frame ( PowerTube 500 ) or if it's bolted onto the frame ( PowerPack ). The display is put onto the handlebars and the cabling is routed through the frame. Once the bike is built, it's tested and shipped overseas to North America.
E-Bike products are getting more compact. The energy density is improving for batteries and motors are becoming lighter, quieter, and more seamlessly integrated into the bike frame. Display systems are getting smarter and more connected with new technology. For example, the Kiox display can connect to wearable sensors to track your heart rate.
We've seen an uptick in eBikes as a transportation tool. Five years ago, the predominant user used eBikes as a recreational device, and now we're seeing more dedicated commuters using eBikes. This has been helped by the movement of electric bike share.
Bike share companies are introducing eBikes in their fleets and they're seeing an increase in ridership. Along, with more bike dealers catering to commuters, eBikes are a new form of transportation that is here to stay.
Jonathan Weinert – Bosch eBike Systems
The Best Mountain E-Bikes
There is nothing worse, after flying down a hillside at hair raising speeds, than having to drag yourself and your bike all the way back up to the top again. We can all agree that the best part about mountain biking is going downhill, or across a trail, fast.
Tiredness and fatigue kick in, but you really aren't ready to call it a day and head home. So, what do you do? Let the battery kick in and fire you right back up to the top.
Mountain E-Bikes are the greatest thing to hit the track. They allow you to milk every last second of fun while being in the great outdoors and we think they are worth every penny.
They help you go faster, further and help you when you're fatigued. They can do everything a regular mountain bike can, just a little bit better.
I know what you are thinking though, E-bikes are generally a bit on the larger side, a bit dopey and are hardly agile enough to use for mountain biking.
You would be wrong though, very very wrong. Mountain e-bikes have come a long way in their development. The frames are stronger and lighter, the motors go quicker, and they are more durable now than ever.
Electric Mountain Bikes | Motors and Frames
Mountain E-Bike motors
E-MTB motors pack a punch, they can assist you up to and over 25KPH. Trailing has never been more fun because now you can do twice the riding in half the time. Your favourite tracks will never be the same again.
Traveling across the country, or uphill becomes a lot easier and takes less toll on you. Less achy muscles mean more fun, for longer.
There are three leading players making motors for mountain E-Bikes.
• Bosch
• Giant
• Shimano
All three are from significant players in and across different industries so you can rest your mind knowing you are investing in a solid and durable piece of equipment.
But, as more and more companies are getting involved, we are now seeing manufacturers producing their own motors with interchangeable batteries.
Mountain E-Bike Frames
When e-bikes first appeared on the scene, they were bigger and had a considerable amount of weight to them. What we love about where we are now is how much more agile and durable they have become.
As we know geometry plays a massive role in the handling, speed, and durability of a mountain bike. Mountain E-Bikes are now almost interchangeable with standard mountain bikes in this respect. In terms of weight, if you take off the battery pack there isn't too much of a difference (about 2-3kg). The battery itself sits inside or on top of an oversized downtube which keeps it safe from damage and places it in a position which has minimal impact on the handling and agility.
Looking to the future, we'll be seeing EMTBs gradually getting closer to weighing in at "normal bike" weight.
Best Electric Mountain Bike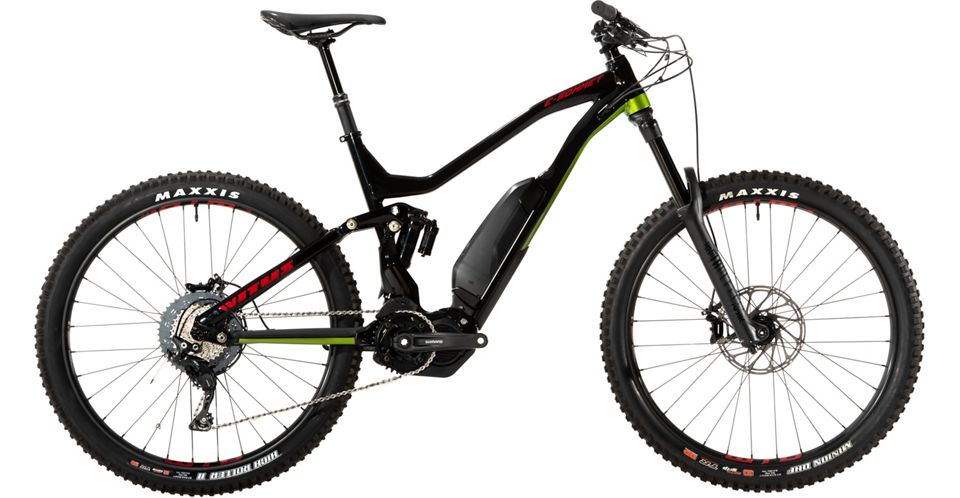 Vitus has been around since the early 1970's building and supplying bikes. What we love about Vitus as a company is their unassuming drive to keep the best possible ratio of cost to quality, in buying a Vitus you pay for the bike not the brand.
It shouldn't come as a surprise then that they have produced an outstanding E-MTB. Built upon the base of the ever popular Sommet enduro bikes the E-Sommet has proven to be just as capable as the motor less-range and just as much fun.
Vitus have created this bike with optimal geometry in mind, which means they designed it to work to its maximum potential while being suitable for everyday use by amateurs and pros alike.
It harnesses a Shimano Steps 8000 MTB pedal assisted motor and uses the suspension from the hugely successful Sommet enduro range.
The Shimano Steps motor system has three modes; eco, trail or boost and can charge to 80% in under two hours.
It sits on 27.5" x 2.5" wheels and has clearance to allow for up to 2.8" plus sized tires. The rear suspension is excellent and packs 160mm of travel.
This bike has a really commanding and domineering feel to it, eating up the descents with confidence. The extra weight added by the battery and motor has a surprisingly small effect on the nimbleness of the bike. It looks great, and we certainly think at this price point it would take something truly spectacular to beat it.
Most Powerful Mountain E-Bike
Longest Battery Mountain E-Bike
Rocky mountain was founded in Vancouver, Canada. Home to some of the most amazing and diverse trail terrain in the world. It doesn't surprise us then they not only produce hardcore mountain bikes, but they now have an electric mountain bike range which is even more hardcore!
The PowerPlay range of bikes is their range of electric mountain bikes, they have a few different models, and we are looking at the Altitude PowerPlay 70. They claim this bike has been designed for aggressive trail riding, we believe it.
The whole bike set up is based on the layout of the non-electric altitude which is a fantastic bike in itself. They set out to achieve the same suspension and geometry design but with added electric power.
This means you have an Electric mountain bike which closely replicates the ride of an amazing aggressive trail bike but with more power!
It has a PowerPlay drive 250W/48V motor which is powered by a Li-Ion 632Wh. This is one of the largest and most powerful batteries on the market. The motor is extremely quiet, and It also features an inline torque sensor to deliver power when needed most, there is currently no other system which has a sensor like this.
Rear travel is 150mm thanks to the the Fox Float DPS shock, the front forks are Fox 36 E- MTB float which gives us 160mm travel.
The brakes are powered by Shimano – who obviously needs no introduction.
The Rocky mountain swallows up trails for fun, the setup and aggressive riding nature of the bike is great for downhill trail riding. What we love about this is the powerful motor makes getting up any hill a piece of cake.
If you're looking for an E-MTB which has tonnes of power but closely mimics the ride of a standard MTB, then this is a strong contender. The whole PowerPlay range by Rocky mountain is a cut above.
They aren't the cheapest bikes around, far from it. But when you take into consideration the build quality, the ride and power then you can understand why it is priced at the top end of the market.
Most Durable Electric Mountain Bike
Trek is hardly a company that needs an introduction. This is an excellent piece of kit. It is strong and durable has some cool modern features which offer it some recognition.
It features a Bosch performance CX motor which is powered by a 500Wh battery. The great thing about this is the RIB (removable integrated battery) which has a protective cover on the side. Less dirt gets into it, and it is super simple to plug into.
In E-MTB mode the battery will switch between three modes, Turbo, Sport and Tour. It will automatically adjust depending on the level of effort you are putting in. Uphill it will get the job done, but downhill this thing really comes alive.
It has the same geometrical set up as Treks high performing trail bikes, and this is great for riding, but when it goes against the other mountain E-Bikes we have here it is a little dated in riding position design.
It sits on Fox Performance 36 forks [US Link] with 160mm front and rear travel, the rear RockShox Super Deluxe [US Link] smoothly eating up rocks and bumps. It comes standard with 27.5" x 2.8" plus sized tires.
The Trek Powerfly 9 LT is a superb bike for someone new to E-Bikes but not necessarily mountain biking on the whole. We feel for more advanced riders though there are better options about (either getting a cheaper model and modifying or a higher end base spec would be more economical). With the price in mind you do get value for money, but with mountain E-Bikes and the whole E-Bike scene evolving so quick it likely won't seem that way for long.
Best Cheap E-bikes
We have dived into the world of mountain E-Bikes and as much fun as they are, they are also costly. Not everyone wants a high-end electric mountain bike, so for the average rider or the city commuter what are your options?
When you're shopping in the sub $800 range of electric bikes, your choices are a little more limited. You won't get a lightweight frame and neither will you get brand named parts. Not too worry though, you will be able to upgrade these as your needs require higher-end equipment.
E-Bikes, on the whole, are great for getting around towns and cities, they don't pollute, save valuable time, and you won't get caught in any traffic jams what isn't there to love?
The only downfall when it comes to most e-bikes is the price. We all know with tech and gadgets the more you pay, the better the quality you usually get. Well, this is pretty much the same with electric bikes.
Although, there are some gems out there for under $800 which are well worth investing in. Just remember when buying an e-bike think safety first. Always check the batteries and wiring conforms to standards.
You want to make sure your ebike will last the test of time and that the manufacturer offers a warranty on the motor and battery. Most commuter style ebikes are meant for local riding around towns and cities.
Keep this in mind when looking for an ebike as if you want to take it off-road you will have to increase your budget a little.
Best Cheap Commuter Electric Bike
This is one of the most popular affordable e-bikes around. It is designed for the average commuter and works perfectly around towns or cities.
Ancheer is an American brand with head offices in Los Angeles, and most of the bikes are manufactured in Taiwan and China.
The Ancheer Power Plus bike has a foldable frame for secure storage, if you don't want to leave your bike outside the office, you can stick it in the store cupboard quite easily.
The bike itself is strong and sturdy although we wouldn't recommend you take it off-road.
It is powered by a 250w brushless motor which delivers smooth and consistent power. The battery is a 36v 8Ah Lithium-ion which offers a range between 15 – 30 miles.
It reaches a top speed of around 15MPH, but obviously, you would need to take into account terrain and weight.
As far as commuter style electric bikes go this is one of the better ones on the market. It will allow you to travel to town or your office and with it being foldable it is quite unique in its storage capabilities.
The charging time is between 4-6 hours, and the battery isn't removable which we found to be a little bit of a pain, but they do offer a one-year warranty on the motor and battery.
Overall the Ancheer is a great little bike and perfect for commuting, the foldable aspect of the bike is a great touch for a full-size bike and makes it easy to get on a busy train or bus.
Commuter Runner – Up
The Merax aluminum electric mountain bike is an amazing e-bike. It is quick, smart and looks like a regular town bike.
As with most e-bikes, it is manufactured in the far east, they do have their own website, but it is more based around troubleshooting than anything.
The Merax electric mountain bike is made from standard parts, which keeps the prices down for e-bikes, we do like the Shimano 7 speed shifter which is a nice touch.
It comes with a 350w high-speed motor powered by a 36.8V 8.8Ah Lithium Ion Battery. Battery charge time is around 5 – 6 hours.
On average you should get around 18 – 20 miles travel distance with a top speed of 32KMh from the Merax, but as with most smaller batteries, when the weather is cold, this will reduce its ability to hold a charge to a lesser degree.
It comes with five levels of PAS (Pedal Assist) which helps if you're going up a hill or are running late for a meeting and you need some more power. The thumb throttle for pure electric mode is fun, and the bike does have a little spark to it.
The great thing about this electric bike is the battery is removable so you can lock your bike away in the garage overnight and charge the battery safely in your home or office during the day.
Overall the Merax is a great commuter bike and does what it says on the tin. For the price point, you are getting a decent level commuter e-bike, and you can always upgrade smaller parts to make it a little more to your taste, e.g. seat, handlebar, brakes, etc.
Best power and terrain e-bike
Most of the e-bikes you will come across in the under $1000 bracket will likely be worth the money, but aren't made for more adventurous use. Which is why we have chosen to add the Ecotric Fat Tire Bike to the list.
It gives you the comfort and reliability of an electric commuter bike but also the ability to add a little more adventure to your ride. If your daily commute takes you a little off-road or you want a little more stability in the winter or the beach, then this is a strong contender.
It is powered by a 500W brushless gear motor which is fed from a 36V 12Ah removable lithium battery. The bike can hit speeds of 23MPH and cover around 19 miles on a full charge.
Charge time is around 4-6 hours, and the battery does come off so you can charge it without needing to drag your bike through the office!
It has a throttle control and has a full electric mode or pedal assist so you can decide if you want to get a little workout or just cruise into the office without breaking a sweat.
It rides on 26" x 4" Fat tires. These are great for control and at higher speeds offer greater durability. They also give you the freedom to get a little more adventurous which our other e-bikes don't. This bike can take on the beach and snow.
Overall this is a great all-rounder if you live in a town with more hills or If you have some cross country in your commute. It is a little on the heavier side at 58LBS, but for the size and weight, it does move really well. The fat tires and mountain design also give this bike much more scope for a battery upgrade in future without making it dangerous.
Two Seater E-Bikes
Blurring the lines with E-Bikes
RetroWheels USA has announced pre-sales on the Lohner Falkon electric bike. Borne of an Austrian lineage dating back to 1821, the Lohner Falkon is sleek and striking. The Lohner Falkon is the world's only design-forward, two-seater electric bike.
It features graceful body contours and precise angles with a handsome, circular headlamp, functional front suspension, passenger foot pegs, and a large, two-seater leather saddle.
The Lohner Falkon's comes equipped with a 2-gallon front glove compartment, perfect for storing extra batteries and water bottles. It's motor is powered by a 48V Lithium Ion Battery with 14 AMP hours.
Contributor: Alex Tiedtke, CEO
Organization: RetroWheels USA
Website: https://www.retrowheelsusa.com
Contributor: Phoebe Conner

I've recently purchased a pinnacle lithium ion e-bike for commuting to work. It's a hybrid electric bike so it's definitely sturdy enough to take on the (many) potholes I encounter on my ride to work. It's got 3 power assist modes (Eco, Normal and High) as well as 10 Shimano gears which means you can constantly adapt it to the conditions of your commute.
The battery has a 60km charge, although this very much depends on the mode you ride it in. There is a helpful little display on the handlebars to give you an idea of how much charge you've got left (as well as your speed and which assist mode you're in).
The battery itself detaches from the bike which I think is really handy as, if you're short on space, you only have to bring the battery in to charge rather than try and get the whole bike near a socket.
Contributor Website: www.yesihaveablog.com/category/outdoor-wellness
How to Build An E-Bike
Maximising E-Bike Battery Life for Touring
Contributor: Mark Prior
Website: prioradventures.com
I have traditionally used a non-ebike to tow my 3 year-old son on multi-day bike touring adventures.
I am an experienced and fit cyclist, but find the effort drains me of capacity to parent well and enjoy the adventure together. With that in mind, I set out to build a custom sport-oriented ebike with the capability to power us over great distances with minimal charging.
Some key design elements:
Carry 2 (or more) batteries for greater flexibility and a safety buffer. You can charge quickly in parallel, use one while the other charges, and if something goes haywire on a remote mountain, you have a backup.
Buy an aftermarket controller (like the EggRider), which will allow you to set custom pedal-assist levels. This way you can fine tune your PAS levels to find the perfect "power drip" that will get you over the mountain without draining the battery depending on how much power you are putting out. You can also setup two PAS modes – one for touring (with the above settings) and regular one for normal life.
Remove the throttle (if you have one) – too much of a temptation! Just use the PAS levels.
Purchase batteries with a low weight to power ratio. This is not just about spending more on better cells, but picking the right-size. Generally, the largest and smallest batteries are slightly less weight efficient.
Run all accessories off the main battery. Silly to carry a bunch of little other batteries (in the form of rechargeable lights, etc….) when you already have a huge, efficient power system. This will require some voltage changing usually, but that's not too complicated.
Like any bike setup, carry extra small parts for your motor/battery that could come in handy. Example: many setups use magnets to detect brake engagement. If you lose it, your toast. Bring extra.
This is obvious, but weight matters on ebikes too. There are a lot of after market ebike components that save weight and resist the urge to save money by purchasing cheap alloy parts that will weigh you and your motor down.
I use two batteries in combination – one triangle pack and one square. Specs in the batteries section below.
Together they last about 110 miles at standard power, which is about 20 mph on flats using midrange PAS. In my testing, pouring more power into it barely increases speed and eats battery.
To assist with anyone trying to build something similar to a bike like this, we've included a specification sheet kindly given by Mark below.
| | | | | | |
| --- | --- | --- | --- | --- | --- |
| Item | No. | Price | Total | Description | Retailer |
| Frame | 1 | $480.00 | $480.00 | Soma Wolverine 3.0 60cm | Soma |
| Fork | 1 | $190.00 | $190.00 | Soma Wolverine | Soma |
| Battery | 1 | $569.00 | $569.00 | 52V 20.4Ah (14S6P-35E) High-Energy Hardcase Pack, 40A Smart BMS | EM3EV |
| Battery 2 | 1 | $469.00 | $469.00 | 52V 17Ah High Energy Pack With 40A Max Smart BMS (14S5P-35E) | EM3EV |
| Charger | 1 | $100.00 | $100.00 | To suit battery | Luna |
| BBSHD | 1 | $559.00 | $559.00 | Unknown | EM3EV |
| Chainring | 1 | $90.00 | $90.00 | Bling Ring | EM3EV |
| Throttle Upgrade | 1 | $10.00 | $10.00 | Unknown | EM3EV |
| Crank Upgrade | 1 | $90.00 | $90.00 | Unknown | EM3EV |
| Seat Post | 1 | $26.00 | $26.00 | 27.2mm | Jensen |
| Seat Post Clamp | 1 | $6.00 | $6.00 | To fit seat post | Ebay |
| Seat | 1 | $24.00 | $24.00 | Pick one your comfortable on! | Ebay |
| Headset | 1 | $37.80 | $37.80 | Cane Creek EC34/28.6|EC34/30 | Ebay |
| Stem | 1 | $18.00 | $18.00 | TOSEEK Aluminum Alloy Bike Stem 31.8 70mm 6 Degree Mountain Bike Stem for Bicycle, Road Bike, MTB Matt Black 70mm | Amazon |
| Handlebar | 1 | $24.00 | $24.00 | UpanBike Urban Road | Amazon |
| Grips | 1 | $20.39 | $20.39 | Race Face Half Nelson | Amazon |
| Front Wheel | 1 | $112.00 | $112.00 | Sunlyte, Deoro Hub, Qr 9×100 | REI |
| Rear Wheel | 1 | $30.00 | $30.00 | Sunlyte Rhino | Performance sale |
| Tire | 2 | $61.10 | $122.20 | Schwalbe Marathon Almotion HS 453 Cross/Hybrid Bicycle Tire 29 x 2.00 | Amazon |
| Valves | 1 | $10.00 | $10.00 | Any standard valves | Jensen |
| Rotors | 2 | $14.00 | $28.00 | 160mm | Jensen |
| Rear Der | 1 | $20.00 | $20.00 | Personal Preference | Jensen |
| Cassette | 1 | $20.00 | $20.00 | Personal Preference | Jensen |
| Rear shifter | 1 | $30.00 | $30.00 | Personal Preference | Jensen |
| Chain | 1 | $15.00 | $15.00 | Personal Preference | Jensen |
| Brake Mount Front | 1 | $7.00 | $7.00 | Personal Preference | Jensen |
| Brake Mount Rear | 1 | $10.00 | $10.00 | Personal Preference | Jensen |
| Brakes | 2 | $90.00 | $180.00 | XT | Jensen |
| Rotor | 1 | $55.00 | $55.00 | Personal Preference | Jensen |
| Clutch | 1 | $1.00 | $1.00 | Personal Preference | Green Bike Kit |
| Extra Display | 1 | $58.00 | $58.00 | DPC 18 | Green Bike Kit |
| Lock Nut | 1 | $7.00 | $7.00 | Personal Preference | Green Bike Kit |
| Throttle Upgrade | 1 | $8.00 | $8.00 | Personal Preference | Green Bike Kit |
| Nylon Gear | 1 | $20.00 | $20.00 | Personal Preference | Luna |
| Adapter Bolts | 1 | $1.00 | $1.00 | Personal Preference | Green Bike Kit |
| Frame Bag | 1 | $165.00 | $165.00 | Relevate Ripio XL | REI |
| Buck Converter | 1 | $23.59 | $23.59 | | Amazon |
| Front light | 1 | $13.00 | $13.00 | Personal Preference | |
| Horn | | | $0.00 | Personal Preference | |
| Rear light | | | $0.00 | 4 watt | |
| Pedals | 1 | $36.00 | $36.00 | Personal Preference | |
| TOTAL | | $3,519.88 | $3,684.98 | | |
| | | Tax | $294.80 | | |
| | | Total | $3,979.78 | | |
Best E-Bike Batteries | Cost to Power Output
Arguably the most important component of any E-Bike, the battery is both the heaviest component and the one that controls how fast the bike can accelerate. On account of an abscence of much meaningful battery comparison being done online, the table below should be helpful for anyone looking to buy a battery that improves the performance of their bike.
Before reading however, there are some points that should be understood such that you can choose a battery with the right attributes to suit the performance gains you are after.
Amp Hours = How long the battery will last.
Volts = The 'horsepower' of the battery
Watts and Kilowatts (W and KW) = Amps * Volts
Watts and Kilowatts can also be represented as the total energy of the battery divided by time.
| | | | | | | | | | |
| --- | --- | --- | --- | --- | --- | --- | --- | --- | --- |
| Config | Cell | Ah | KWh | Kg | Price | $/KWh | Kg/KWh | $/Ah | Link to Product |
| 14s4p | 30q | 14.8 | 0.743 | 4.9 | 399 | $537.01 | 6.59 | $26.96 | Link |
| 14s4p | 35e | 17 | 0.857 | 4.9 | 479 | $558.93 | 5.72 | $28.18 | Link |
| 14s5p | 33g | 15.5 | 0.781 | 4.3 | 375 | $480.15 | 5.51 | $24.19 | Link |
| 14s5p | 35e | 16.8 | 0.844 | 4.3 | 469 | $555.69 | 5.09 | $27.92 | Link |
| 14s6p | 33g | 18.6 | 0.937 | 4.5 | 449 | $479.19 | 4.80 | $24.14 | Link |
| 14s6p | 35e | 20.4 | 1.028 | 4.5 | 569 | $553.50 | 4.38 | $27.89 | Link |
| 14s7p | 30q | 20.65 | 1.041 | 5.7 | 669 | $642.65 | 5.48 | $32.40 | Link |
| 14s7p | PF | 20 | 1.008 | 5.7 | 499 | $495.04 | 5.65 | $24.95 | Link |
| 14s7p | 35e | 23.8 | 1.2 | 5.7 | 629 | $524.17 | 4.75 | $26.43 | Link |
| 14S9P | PF | 25.7 | 1.295 | 6.8 | 649 | $501.16 | 5.25 | $25.25 | Link |
| 14S9P | 35e | 30.6 | 1.542 | 6.8 | 799 | $518.16 | 4.41 | $26.11 | Link |
E-Bike Research | The Future of E-Bikes
To conclude, we have performed a brief patent study based on data from the EPO and produced some statistics showing E-Bike development and research has increased in pace as the cycling industry has grown, with the trend being more inventions in this area, year after year.
The top 30 all time biggest contributors to electric bike technology
The number of E-Bike related Patents since 2007
Disclaimer: This article contains affiliate links from which Radnut may collect a share of sales revenue.