The Best Cheap Mountain Bikes You Can Buy
In this article we will provide a comprehensive guide to the best cheap mountain bikes that you can buy, along with our advice for how to improve them while saving money at every turn. There is no denying that mountain biking is an expensive hobby, and that most riders would prefer to enjoy the thrills of it without breaking the bank. Luckily, the work that has been done in the bike industry in recent times is incredible. There are some fantastic bikes out there at affordable prices.
If you're looking for something to suit a younger person or child, we've put together a list specifically for this here.
We will begin by outlining the key points of what you should look for when buying a budget mountain bike. We have tried to keep it as concise as possible without excluding anything important. At the end of this article we will round off with our views on second hand bikes in this price range.
Buying a Cheap Mountain Bike | Considerations
Frame Considerations
In terms of frame geometry, there isn't much worth considering – stick to reputable brands and if in doubt check with your local bike store. We'd strongly recommend avoiding steel and going with an aluminium alloy frame to reduce the weight as far as possible. Usually, cheaper full suspension bikes consist of inferior quality parts. So, we'd recommend buying a hardtail bike that comes with no suspension or only front suspension respectively – you'll enjoy a far better bike for the same money.
Summary – Avoid steel, go with a hardtail.
Gearing Considerations
Next comes the number of gears the bike should have. While having a large number of cogs used to be the dream 20 or so years ago, this should not be used as a measure of quality and bikes with a lesser amount of sprockets that are within the affordable price range may well be of higher quality. Some of the most expensive and sought after drivetrains today consist of only 1 cog on the front and 10 or 11 on the back. While a wide range of cogs may make a slight difference in very mountainous regions, as the mountain bike community has discovered as a whole, with 11 you can cover more or less everything.
Summary – Focus on the condition and the shifting, not the number of gears.
Brakes
Brake are a crucial piece of safety equipment, unlike the saddle, gears and grips – the brakes could be the difference between life and death. Thankfully due to the miracles of mass production, at this price point you can expect hydraulic disk brakes on any quality mountain bike build. These are preferable to rim brakes and mechanical disk brakes due to improved resistance to the weather conditions and a far sharper braking curve – you should easily be able to stop the bike with one finger (even at speed).
Summary – Go with hydraulic disk brakes.
Suspension
Suspension (or the lack thereof) influences every rider's experience in a huge way and dictates the level of comfort and control the rider has during any form of off-road riding. While individually buying a suspension fork unit can cost a small fortune, this shouldn't be necessary as for the most part the forks on the bikes listed below are very effective for the money. The quality, control, and performance of the forks that come with bikes does drastically differ between models, if you want to upgrade one of the bikes below in the future we'd suggest that a second hand suspension fork would be a great way to do this.
Summary – Don't worry too much about this, give it a try in the shop and it should feel fine.  
Weight of the bike
It is a common misconception that the weight of a bike is in direct proportion to how fast you are able to ride it, and that to see the biggest increase in speed you should buy a lighter bike. This simply is not true. While most bikes available at this price points tend to be heavier than expensive bikes, this does not make anything like as much difference as many bike stores let on. The biggest factor by far will be the fitness of the rider and we'd suggest anything under 15 kilos is an acceptable weight. The best way to think of it is as a percentage of the weight of the rider and the bike added together. If you have an 80kg rider with a 15kg bike and you take a substantial amount of weight off the bike, (say, 3kg) to make it 12kg instead, this would result in having to do 3% less work to accelerate (not very much difference at all).
Summary – If it's under/around 15kg, don't worry.
Tyre Considerations
To choose the right set of tires, you first need to think about how much time you might spend off-road and what type of trail you might be riding on. If your most frequently ridden trails consist of large rocks and roots along with steep slopes and climbs, you might need tyres with a more aggressive tread + larger volume. If you are riding on milder paths that consist of smaller obstacles, you can go for a narrower set of tires. Pretty much logic really, makes perfect sense if you think about it. We did a far more detailed guide about some great tyres to buy here.
Summary – Tyres are pretty important, use your head and choose something suitable for what you do, as this will have a far bigger impact on the feel of the bike than adding weight to the frame.
Where to Buy From?
New Mountain Bikes
Gone are the days of only being able to get quality bikes from bike shops and branded online stores – you can now have a quality bike delivered tomorrow with amazon. Bucking the trend of garbage bikes sold by large 'general goods' brands e.g walmart, amazon now work with some of the higher quality brands in mountain biking. Our recommended diamondback from amazon can be found here.
That said, the range is still pretty limited and if you want to assess the full spectrum of what is on offer you'll need to check a combination of chainreaction, wiggle and local bike stores.
Second Hand Mountain Bikes
If you know what you're doing or are prepared to try and figure it out as you go along (if the latter we'd recommend this book) then look no further than the old classics – ebay and pinkbike.
There are quite a few things to watch out for in terms of second hand bikes – we won't elaborate here but if you're uncertain then spend less and do more research before buying.
The Best Cheap Mountain Bikes | Our List
If your budget doesn't allow for expensive mountain bikes, these options are your best bet. Combining quality and affordability, here are some of the best cheap mountain bikes that you buy.
The best cheap mountain bikes – Amazon's Choice
The next step on from the Heist series by DiamondBack, the Overdrive series is the more popular twin, at around 100$ less expensive, with 20mm less travel and bigger 29″ wheels. We'd suggest that a more efficient alternative to buying one of the heist series bikes would be to take one of these and upgrade whichever parts you need.
The Cube Analog 29 boasts an impressively strong aluminium frame and slick design. The cables are internally routed for a far cleaner look. The hydraulic disk brakes provide all the stopping power that could be asked for in a bike of this price – more than enough to handle any downhill trail you are likely to come across and ride. The 100mm RockShox XC 30 fork up front reliably and predictably soaks up bumps while improving both the braking power and handling.
There are three different frame sizes to choose from—43.5cm, 48cm, and 53cm. The Shimano Deore rear derailleur makes for reliable shifting and efficient power conservation. The pedals that come with this bike aren't especially well reviewed, but it's not that big of a deal. A new set of pedals won't cost you very much, especially if you get them on eBay – we'd recommend a set of Nukeproof Evo's.
If you have this bike delivered to you, it should be noted that it is very well reviewed for being easy to put together – the same being said for Cube bikes in general.
The Durango 29 has a strong aluminium frame and offers a whopping 18 gears to choose from. It comes in 17" and 19", which may be a little disappointing for those who would otherwise need a 21" frame size. The CST Patrol tyres on this bike are 690g. They offer a lightweight, fast rolling grip – at the expense of pinch flats when pushed hard on extremely rugged terrain. If you need something more grippy for winter, we would recommend the Maxxis High Roller II (900g) At 14.74kg this bike is in the weight range you would expect for hardtail mountain bikes in this price category.
As with all the bikes we have tested under £699, the pedals aren't the most grippy – but can easily be changed out for a better pair if you take to more aggressive riding, and will perform just fine for as long as you stick to 'regular' cross country riding.
The Ghost Kato 1.6 is a solid choice for an entry level mountain bike – especially if you can get it on sale for less than 300. The 100m RST suspension forks perform well for most lightweight riders downhill and the Shimano hydraulic disc brakes offer strong, reliable braking. The seat position is ideal for most people, and the brake levers can be operated with one finger on each hand to bring the bike to a complete stop.
This bike has received mostly positive customer reviews, though some people complain about the performance of the front fork being only adequate,  (too spongy for heavier riders, and has no lockout). This is something that could be resolved by buying a stiffer spring (approx. £20) or changing out the fork entirely. Most reviews mention how comfortable this bike is and how impressive the gear shifting is.
The use of 26" wheels is a bold and surprising choice in an industry where 29" is the norm. The smaller wheels make for better handling in tight, winding turns, increased strength and more agility – something which is complemented by the slightly shorter chainstays, decreasing the wheelbase. Another benefit of having 26″ wheels is that they are far cheaper to replace and upgrade, so you won't have to worry so much about throwing this bike around.
Offering superb climbing control and descending precision, GT have put a good set of parts on a rock solid frame. Value for money wise we'd recommend buying this in a sale if you can. Some would also benefit from a more beefy front tyre to handle wet and or slippy conditions.
The aluminum alloy frame features hydroformed tubes that can be very stiff in rough situations. Luckily, the SR Suntour XCT V3 suspension fork stands out in this list for its 100mm travel and hydraulic lockout option. The level of control it offers during every dive and rebound enhances rider confidence and ride experience.
The frame provides additional steering stiffness due to the tapered head tube. Especially during steep climbs and hard drops, the hardtail frame gives the rider firm control while the suspension fork effectively softens the blows.
The drivetrain is average for this price range, but it is not as smooth as one would expect. It comes with 24-speed Shimano gears which help achieve faster cadence. The "26 wheels support the rider well, but it could be swapped for the thicker "29 tires when the need arises.
The TYAX Comp weighs 14.2 kgs, which is about the same as the other three bikes. The Tektro Draco hydraulic disc brakes provide the right amount of grip in both dry and wet conditions while the Kenda Small Block tires feel sturdy and durable.
The reviews for the TYAX Comp are generally positive, with many praising the excellent quality of the frame, suspension, and brakes. However, one repeated complaint is that the seats are too hard and uncomfortable during long rides. This can be easily mitigated by purchasing softer padded seats from Amazon and fitting them in.
The frame is built with lightweight hydroformed butted aluminum alloy, making it durable for the rougher tracks. Also, the relaxed geometry of the frame makes it suitable for longer endurance trails. The Suntour XCM suspension fork is powerful and impressive as it features 120mm of travel and a hydraulic lockout. The bike is around what you'd expect at this price at 14kgs.
Reviews generally promote the bike for its quality suspension fork and hydraulic brakes. However, there were some complaints about clunkier gear changes.
The Nevada 1.5 is an all-rounder bike that is most suited for beginner and intermediate riders. It comes with a custom-butted aluminum alloy frame that responds well and a Power Curve down tube that provides additional support. The rear triangle feature S-bend chain stays that minimizes frame vibration and increase pedaling efficiency while decreasing muscle fatigue.
You can choose between two different wheel sizes, the Vera Eos 29″ or the Vera Eos 27.5″, to allow for the best fit regarding personal preference and difficulty of the trail. This bike comes equipped with the Shimano 3×7-speed Tourney drivetrain that provides a reliable and efficient gear change. At around 14 kgs, the bike is a bit heavy and can tend to drag when riding uphill.
The SR Suntour suspension fork has a 75mm of travel on it, which is lesser than some of the other bikes on this list. The Tektro mechanical disc brakes hold up well in drier conditions but perform less efficiently in wet conditions. While the mechanical disc brakes tend to drop off power during damp or colder conditions, you can easily upgrade the disc brakes to hydraulic disc brakes for better performance.
The bike has received some criticism from customers for its unimpressive suspension fork travel. While it does affect the riding experience in harsher tracks, the 75mm of travel is enough to gobble up the miles in milder trails. Of course, if unsatisfied, you can always upgrade the fork to something that suits your needs.
Second Hand Mountain Bikes | Our Take
As a general rule, if you research the hell out of something – you're more likely to get something good at the end of it. If you can acquire the bikes listed here second hand and know what to look for in terms of the condition, before replacing worn parts from amazon (CRC or Wiggle) then we would recommend this as the best way to get good value for money. If you want a good value bike and don't feel like getting your hands a bit greasy, then buying these bikes new (with their warranty) is an equally valid option.
For second hand we'd recommend pinkbike, ebay and facebook groups.
In terms of fit – You should able to stand over the top bar with around 50mm or more if clearance on a mountain bike (less if it's more cross country, more if it's more DH).
In terms of condition, look for:
Dents or cracks
Bad bearings on the wheels and headset
Bad bearings in bottom bracket (crank shaft) or steering
Chain and gear condition
Brakes
Wheel damage and buckles
Cable wear
Polished cranks
For parts that can be easily and cheaply replaced with amazon (and no bike knowledge whatsoever), look at pedals, tyres and grips.
Best Cheap Mountain Bikes | Mountain Bikes Under 1000
As a part of our contribution to the second hand section, we thought we'd add some bikes that we'd recommend if you can get them second hand. These are some of the best entry level mountain bikes under 1000 in our view.
As if the name didn't sound amazing enough, Nukeproof bikes are tested and ridden by some of the greatest competition mountain biking greats of this generations. Sam Hill, Australian enduro champion and world champion avid lover and obviously user of Nukeproof bikes.
Not only are Nukeproof bikes used by world champions but Nukeproof has their own team of quality testers who regularly feedback and guide on what can be done to improve the bikes.
What appeals to us most about the Scout Pro 290? Raw animalistic talent and pure minimalism. That's right, Nukeproof have kept the Scout Pro simple yet deadly. It quite simply is a do all and be all bike.
The hardtail Scout is capable of attacking trails, endless single tracks and provides great comfort for long distance XC rides. Fancy hitting some downhill? No problem, the Scout Pro offers amazing handling at top speeds.
It features a low bottom bracket, slack head angle and a stiff frame, meaning – great handling.
With the 2019 edition, you will find that Nukeproof have improved the geometry a little. This bike is suitable for taller rides too! They have managed to soften the ride a little with a profiled seat stay assembly.
It now features a 'Boost 148′ rear axle spacing which provides more strength and stiffness which in turn has increased the acceleration speed. The 2019 Scout Pro can also be fitted with 29″x 2.5″.
The breaks are Shimano MT500 Resin pads.
If you're looking for a mountain bike which is more than capable, perfect for XC and can handle its own on any type of track then the Nukeproof Scout Pro 290 is a perfect choice. At less than $1000 is it any wonder why this is not only our number one choice, but one of Redbulls favourite picks for 2019?
What to love about the Nukeproof Scout Sport?
Hardcore trail bike
Improved geometry
Suitable for up to 2.8" tyres
World champion brand
All round capable bike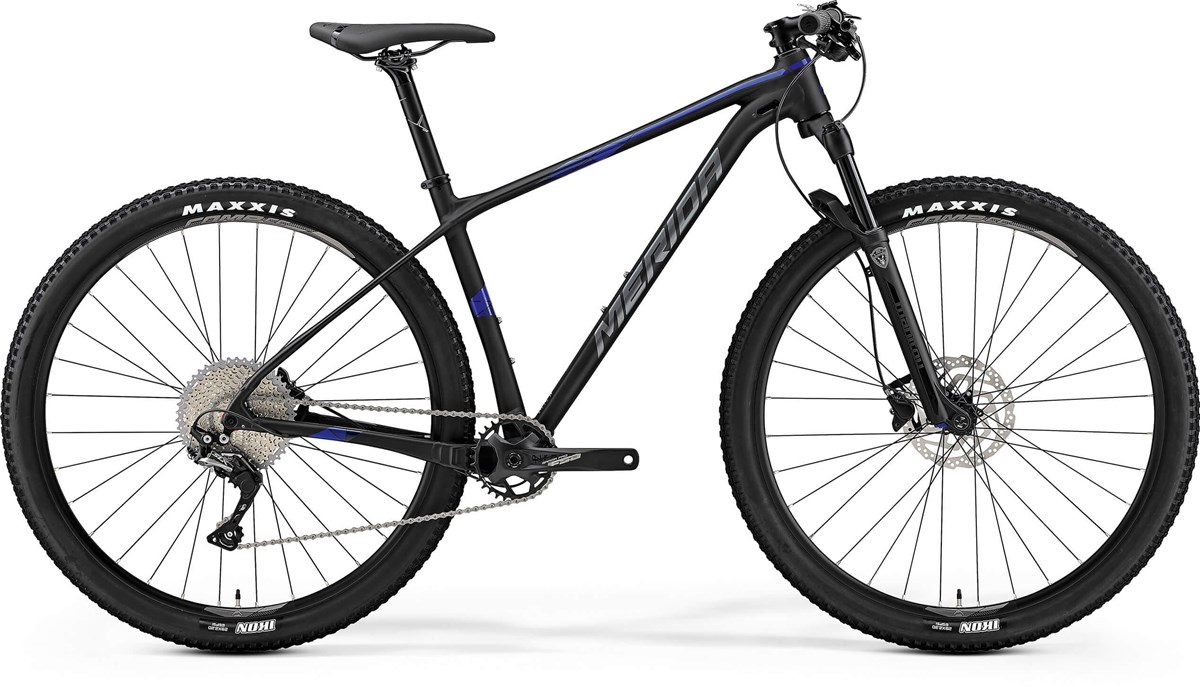 The Merida big nine is an XC focussed mountain bike. Designed to be used for cross country you can see they went the extra mile to make sure this bike is trail capable.
It is clear to see why Merida makes such fantastic bikes though. The founder, RIP Ike Tseng (1932 – 2012), was a man who lived by a core focus 'Move with passion and courage'. Merida first started in
Taiwan and it didn't take long for them to gain international recognition.
Merida celebrated their 25th anniversary in 2013 and with the combination of German R&D and Taiwanese productions they continue to build amazing bikes.
Merida also has its own champion mountain bike riders and quality testers.
The Merida isn't a flash in your face sort of XC bike. It is subtle with smooth lines, it just knows XC and isn't afraid to show off its confidence.
It features a lightweight 6066 triple-butted aluminium frame with aero profiled tubes. BB92 bottom bracket, Boost axle standard and tapered head tube for stiffness and greater steering precision.
The Merida big nine is dropper post ready and features a 30.9mm seat post. It also allows for internal cabling for the dropper post. Smart entry cable clamping allows for rattle free riding.
The big nine features Shimano MT 200-disc brakes as standard and comes in four frame sizes. The front forks allow for 100mm of travel.
The geometry of the Merida big nine limited is competition focussed with a sharp and responsive ride.
What to love about the Merida big nine limited?
Lightweight XC focussed mountain bike
High quality build with a low price
Sharp responsive ride
100mm travel suspension forks
Powerful Hydraulic Disc brakes
Named runner up in the 2018 best hardtail mountain bikes by MBR the hardtail 2 has been through an upgrade for 2019.
Norco designed this bike as part of their XC range of mountain bikes. It is quite simplistic but very capable. As an entry level or intermediate level bike with a lower price point, you can't really go wrong.
Norco is a Canadian company and has been producing amazing bikes for over 50 years. They point out on their website that their back garden is some of the toughest landscape in the world.
Overall the Norco charger does perform well on XC but if you plan to all mountain or extreme terrain you may need to upgrade the tyres at a minimum.
It features a 6061-aluminium frame, 29 x 2.25″ tyres, RockShox 30 front forks with 100mm travel. The brakes are Tektro HD-M275, 2 piston hydraulic disc brakes. Realistically speaking this would've done better with Shimano disc brakes.
Its steep head angle isn't brilliant but it is a well-balanced bike so manoeuvrability and braking are manageable. The 29″ tyres are fast rolling are a great addition they could do with some more grip.
X6 alloy 750mm handlebar is a nice touch with an alloy 60mm stem which is relatively short. What to love about the Norco Charger 2?
Simple and affordable XC bike
Could upgrade the brakes and tyres and have a better bike at a small price
Room for fatter (higher volume) tyres
Decent set up for a first time XC mountain biker
Comfortable uphill riding
Conclusion
There are now a good number of high-quality mountain bikes to choose from with a range of sizing and style options that will suit more or less anyone. The bikes that are listed in this article are affordable but agile and sturdy. These bikes will function best at trail centres and as 'general bikes' that will get you around. They can be relied upon to keep you safe through slippery conditions – with the option to use them for trail riding or to introduce yourself to Enduro Mountain biking at any point (which we would certainly recommend).