Originally the bikes made for standing beating and abuse that hardtails would be too rigid to handle, the full suspension mountain bike has evolved to become the overarching standard at every Pro subdivision in the sport, including cross country. The confidence inspired by having suspension at both the front and rear can be seen in the ever-increasing number of riders prepared to pay the ever-shrinking premium for this speed inducing comfort.
The Full Suspension Mountain Bike Simplified
Full Suspension mountain bikes are separated from hardtails through the fact that they not only have suspension on the front of the bike (the forks), but they also have suspension on the rear (the shock or coil). Full sus bikes are more comfortable to ride and the suspension will save you from tiring more quickly during longer descents. While there is a clear advantage to using a full sus on more bumpy terrain, this comes at the expense of a loss of pedalling power transfer to the rear wheel (some of your pedalling energy is absorbed by the rear shock), this is most noticeable while climbing but will have a small impact on every pedal stroke regardless of gradient.
Should you buy a full suspension bike as a beginner?
The truth is probably not, unless you've got quite a bit of money to spend – a hardtail will force you to improve your technique as they are by their very nature less forgiving than full suspension bikes. Another point of consideration is that you can most likely get a 'good' hardtail which will not limit what you can ride for a very long time at a fraction of the expense of a full suspension bike.
The Types of Full Suspension Mountain Bike
Cross-country (XC): Bikes designed for XC racing are typically made for speed and longer distance riding over varied terrain, generally being more geared towards handling tough climbs than tough descents, unless you are willing to pay 2k + for your bike most statistics seem to suggest they have little advantage over a cheaper (and almost certainly lighter) hardtail equivalent. The takeover of full suspension bikes in the cross country race scene is mainly due to the pros (or their sponsors) being prepared to pay large amounts of money for marginal gains.
They are the most lightweight and efficient of the mountain biking family, at the expense of downhill performance and comfort. Expect to see 100 – 120mm of suspension travel and head angles of 70 – 71 degrees, with visibly more 'skinny' or 'flimsy' looking components than heavier duty mountain bikes. You should expect your full suspension bike cross country bike to be between 10 and 13.5 kilos.
Trail: Trail bikes are a beefier enhancement of XC bikes. Ridden typically by less 'hardcore' mountain bikers, who look primarily to have fun, as there is not yet a big race culture here (unlike with cross country, enduro and downhill), these bikes focus slightly more on the descent than the ascent and would be most in their element at trail centres. The slacker head angle (68-69 degrees) and longer 120 – 140mm travel forks with wider stanchions complement this, making them a great choice for starting jumping or more technical features. Naturally weighing more than cross country bikes at around 11-15kg, they come in as great 'all rounders'.
Enduro: Enduro bikes are the heavier and more downhill orientated than their trail bike counterparts, with the gap between the two being bridged by another noteworthy sub-genre – All Mountain (which basically means light duty enduro bikes or heavy duty trail bikes). As with the trend that can be noticed above, enduro bikes have longer travel and slacker geometry. At this point essentially making them downhill bikes that you are able to cycle uphill – albeit with significantly more difficulty than you would feel with an XC bike. You should expect an enduro bike to weigh 13 – 15.5kg and have 150-180mm of travel.
Downhill –Downhill Bikes are built to do exactly what they say on the tin, ride downhill fast. With at least 200mm of travel on the front forks and the slackest geometry, expect a weight ranging from 14 to a beefy 18.5 kilos. Easily the most specialized form of full suspension mountain bike; the hard hitting dogs of the sport are generally the easiest to appreciate (who doesn't enjoy riding downhill fast) – providing there is a suitable trail and uplift.
If you are still uncertain which of the full suspension bike types would suit you best, it is probably better to stick to the more 'light duty' side, with one of the less expensive bikes like the calibre bossnut (pictured above).
Images originally sourced from: unsplash.com and dirt.com

Top 4 Best Downhill Bikes Of 2018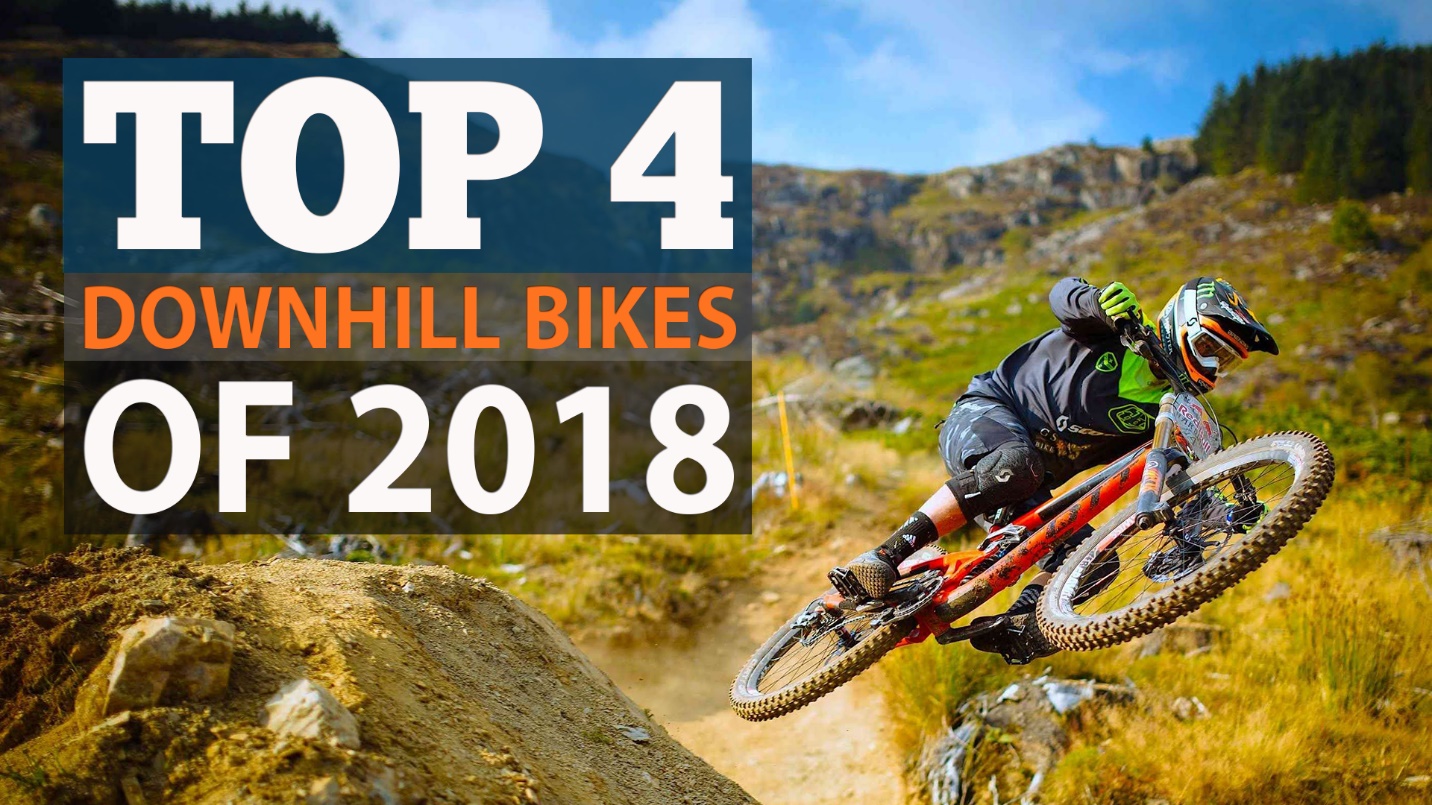 Picking the best downhill bike that suits you can be a tricky task. Suspension, brakes, different wheel sizes and frame materials. The options seem to know no bounds!
All these fantastic bikes which are built for all-out speed, aggressive riding, and hitting big jumps and gaps are the perfect option for those who love adventure.
Downhill bikes were created for off-roading and for providing lots of fun. Master of muck, king of the hills, and trail titan are just a few of the titles you can earn as a downhill biker.
If you are asking yourself which downhill bike you should buy, then this top should help you to find the best one for your needs.
YT Industries Tues CF Pro Race MOB Edition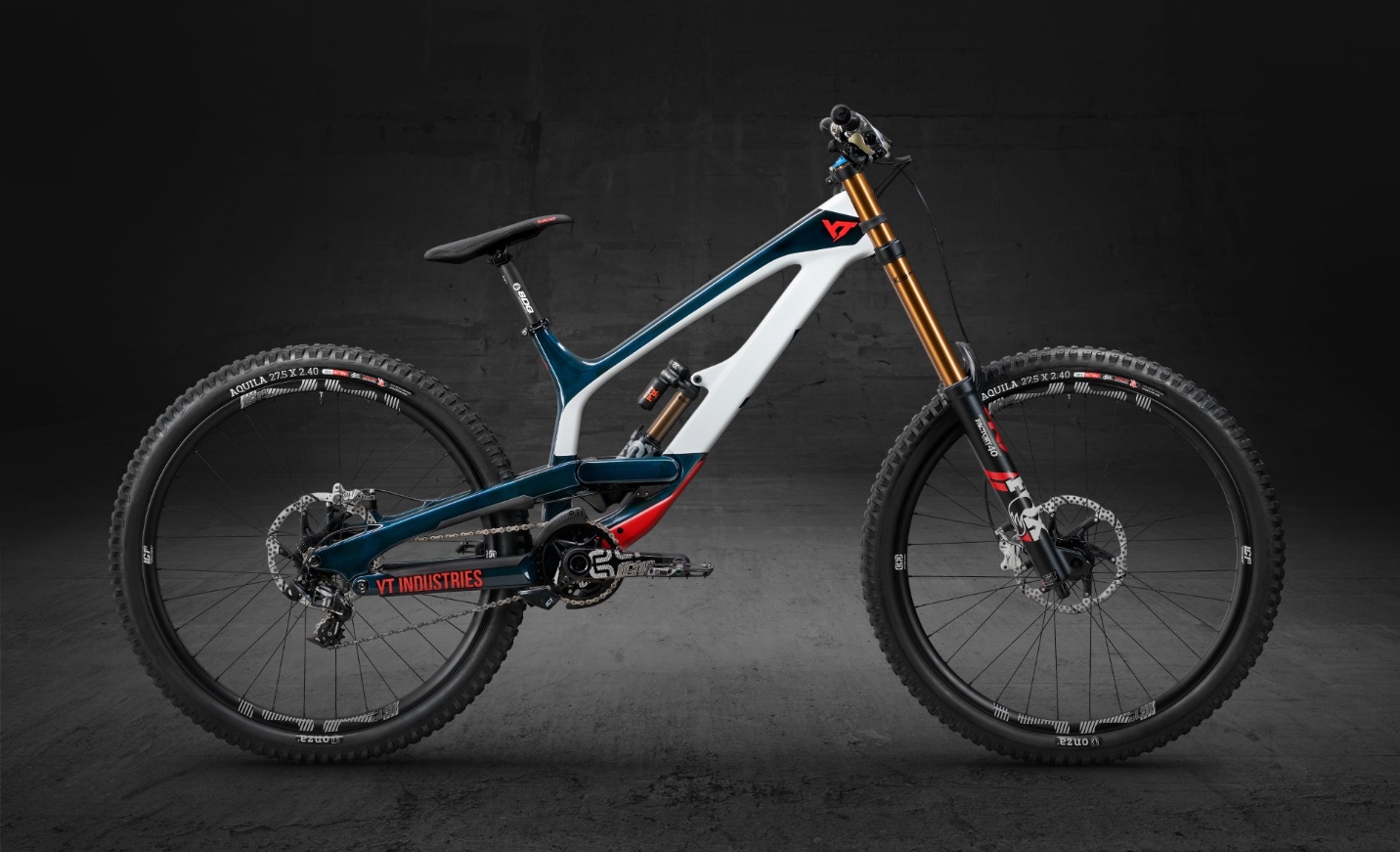 (Image from yt-industries.com)
YT Industrial Tues has had more than its fair share of success over the years, having clinched numerous accolades amongst the cycling media. The new Tues has received some evolutionary changes to the kinematic, sizing, finish and detail.
YT Tues CF Pro Race MOB Edition is designed around 650b wheels and features a carbon chainstay to complete the chassis. The carbon frame delivers ideal stiffness and ultimate reliability at an impressively low weight.
Also, one of the most important characteristics is that this model comes in five sizes, ranging from the small which offers a reach of 410mm, to the XXL with a reach of 495mm. The new frame gets a totally revised head tube that'll accept a reach adjust headset.
For the new CF Pro Race MOB Edition, YT has also altered the pivot hardware and sealing for improved durability. Cables are routed internally to help keep the bike looking clutter free.
The new model provides some integrated rubberised protection on the seat stays, on the downtube and the chain. Also, it has a neat little chainsuck protection around the mech hanger.
YT Industries Tues CF Pro Race it is so quiet, so clean, and so composed. A remarkable bike.
CANYON Sender CF 9.0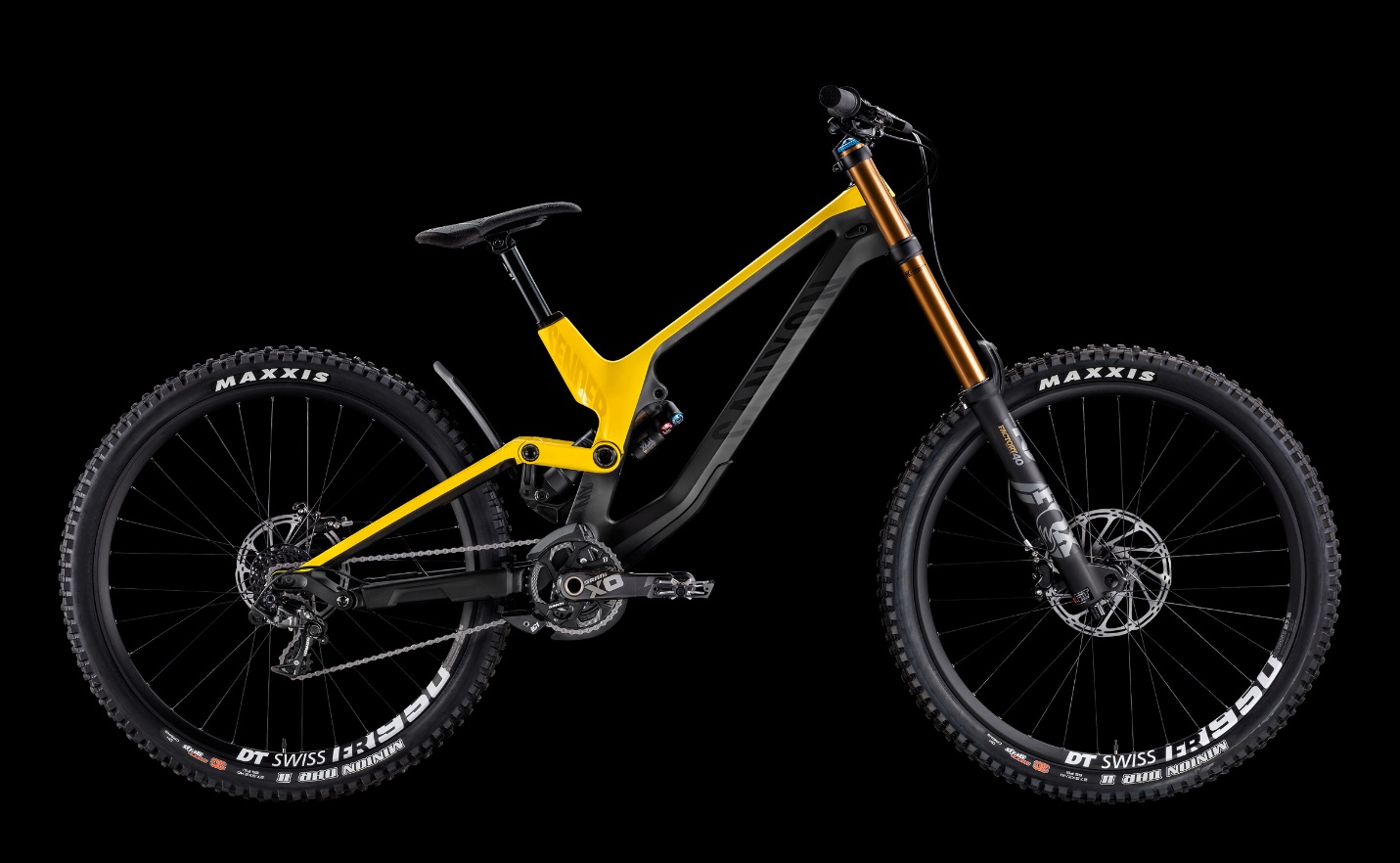 (Image from canyon.com)
If you want to test a downhill bike that can stand up to the hardest runs, then the Sender CF 9.0 is exactly what you need.
This is one of the most appreciated downhill bikes on the market, taking advantage of 650b wheels and the new Fox Factory 40 suspension fork. To guarantee a dynamic ride, it functions in conjunction with the Fox Factory Float X2 shock with a wide tuning range via HSC/LSC/HSR/LSR.
For the stem, bars and grips, this new model comes with the G5 carbon components from Canyon which are super-durable. One of the best features of this model is the ability to significantly adjust the geometry. More precisely, the bike comes with cups to take the head tube angle from 62 to 64 degrees. Also, the chainstay length can be tweaked from 16.93 to 17.56 inches.
The Sender's four-bar linkage design incorporates Canyon's proprietary MX Link. This link works hand in hand with the new highly adjustable air shocks. The MX Link isolates the shock from lateral flex in the frame, apparently reducing friction and wear.
CANYON Sender CF 9.0 is one of those charismatic bikes that delivers straightforward performance.
Specialized S-works Demo 8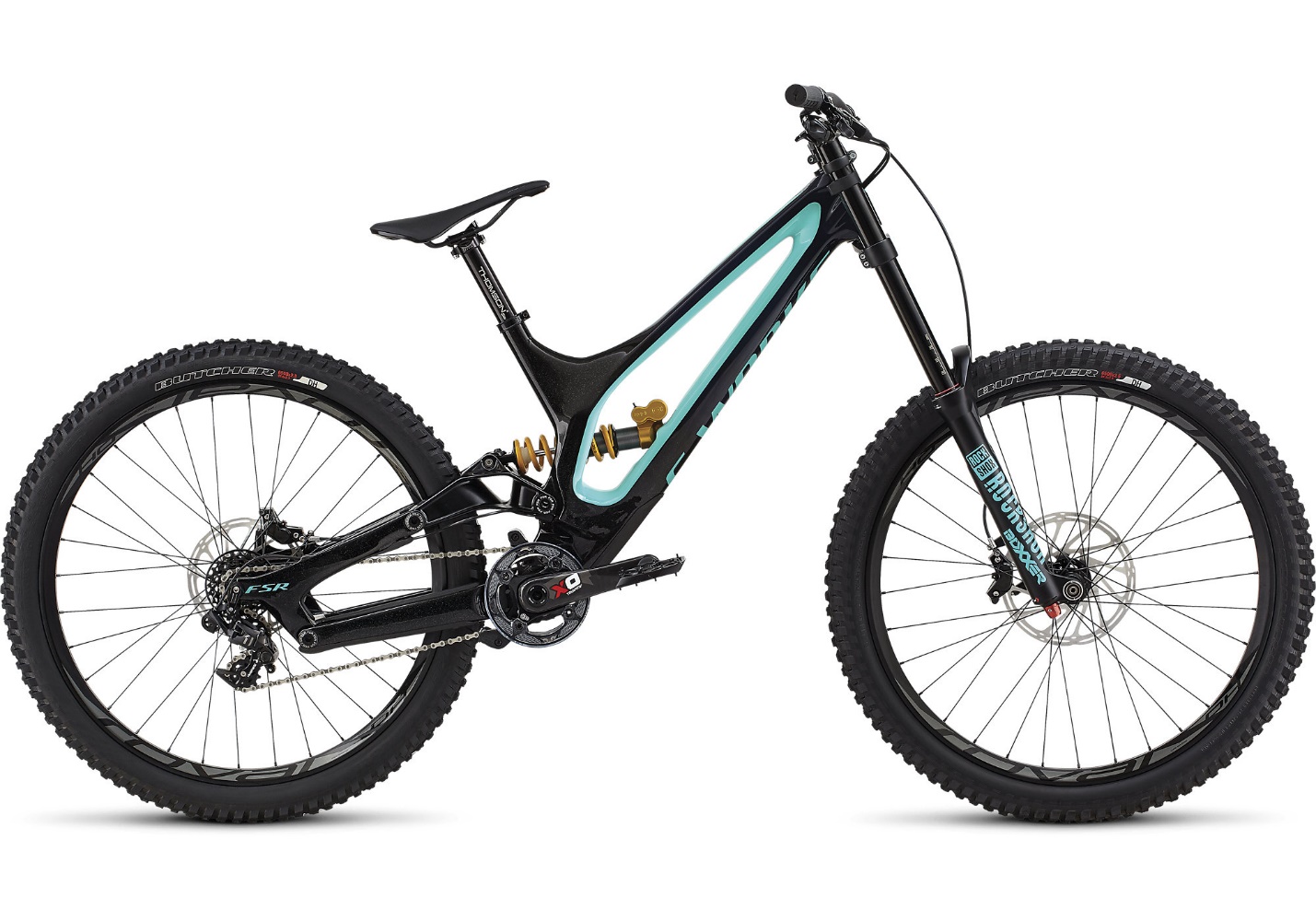 (Image from specialized.com)
Constructed from the finest carbon fiber, FACT 11m, for unparalleled stiffness and strength, Specialized S-Works Demo 8 is a silent and amazing bike. The Demo 8 also has a magnesium swing link as opposed to the aluminium link found on the lower-end models.
The main highlight of the S-Works build is the Öhlins TTX rear shock that delivers unparalleled DH performance. It comes with high/low-speed compression adjust, enabling you to fine-tune the shock for the track at hand. The Öhlins TTX shock is very helpful and provides a great pedaling platform that feels surprisingly efficient.
Also, this model has powerful SRAM Guide RS DH that provides precise and highly adjustable braking.
The asymmetrical frame, especially with the yellow Öhlins TTX shock, make the Specialized S-Works Demo 8 stand out as a unique bike. This bike is built to keep things smooth on fast, rough trails, and it does that very well.
Mondraker Summum Carbon Pro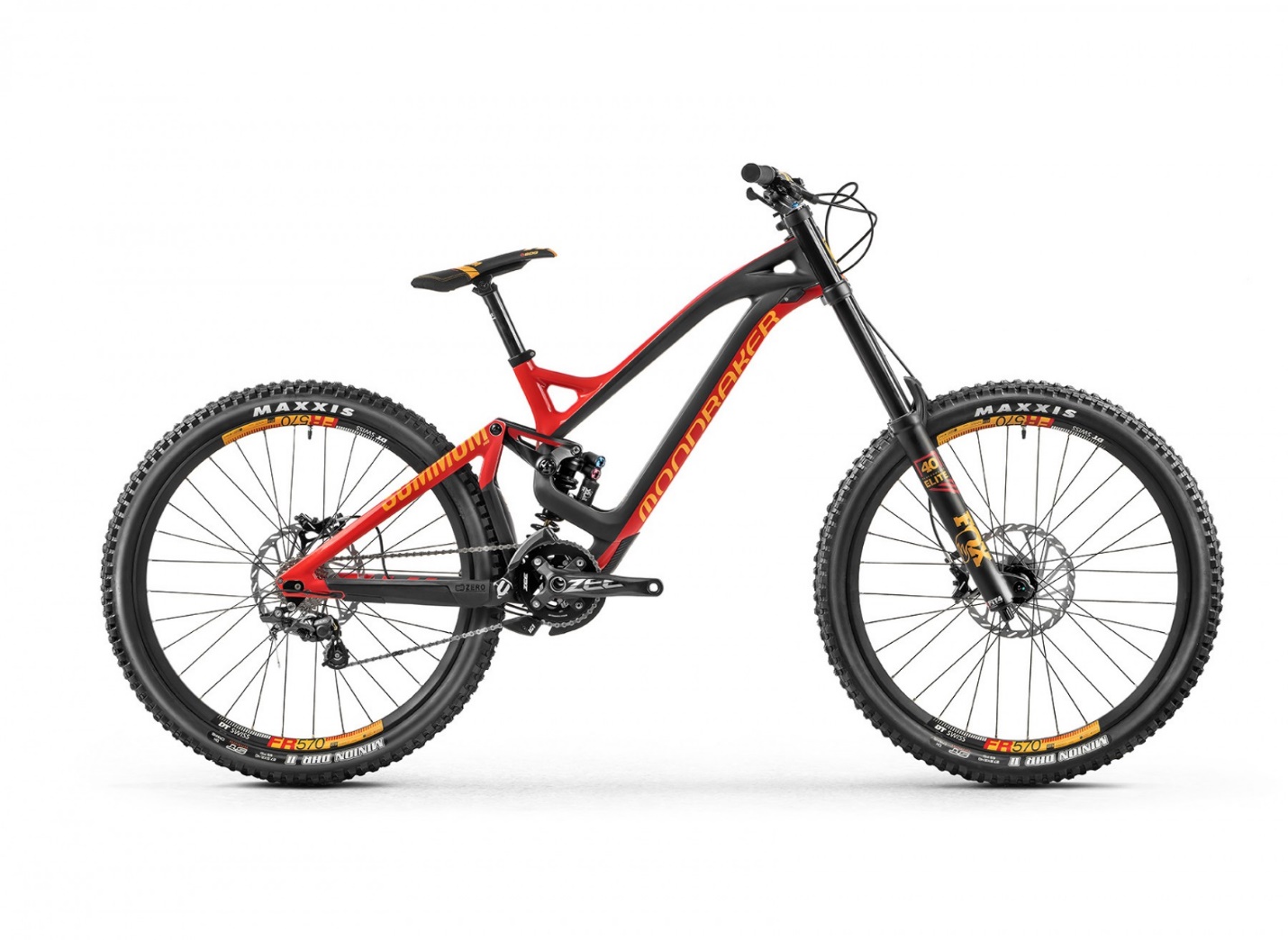 (Image from mondraker.com)
This fantastic model it's built around an EPS skeleton, carefully wrapped in strategic layers of carbon and epoxy before being formed in a mould under pressure. The Mondraker Summum Carbon Pro with 27.5 inches wheels is one of the lightest downhill bikes you can buy, weighing only 16.5 Kg.
This model features stealth carbon frame, Shimano Zee 1x10s drivetrain, Fox 40 Float Factory Kashima FIT4 LSC Performance Elite 200mm fork, SRAM Guide R brakes and Fox DHX2 Performance Elite rear shock.
Mondraker Summum Carbon Pro is built around a Forward Geometry frame with 205mm Zero Suspension System. Combining a shorter stem and a longer front center to offset the increase in reach within the frame, Forward Geometry increases stability on steeper.
Also, the Zero Suspension System features new bearings, along with oversized axles and a newly designed lower link that have both been reinforced for added rigidity. More than this, it is a very progressive suspension system that boasts highly efficient pedaling.
Mondraker Summum Carbon Pro it is very easy to handle, especially for those who are accustomed to a downhill bike.
Sportline 2018 Show: It's all gone a bit Myst'y…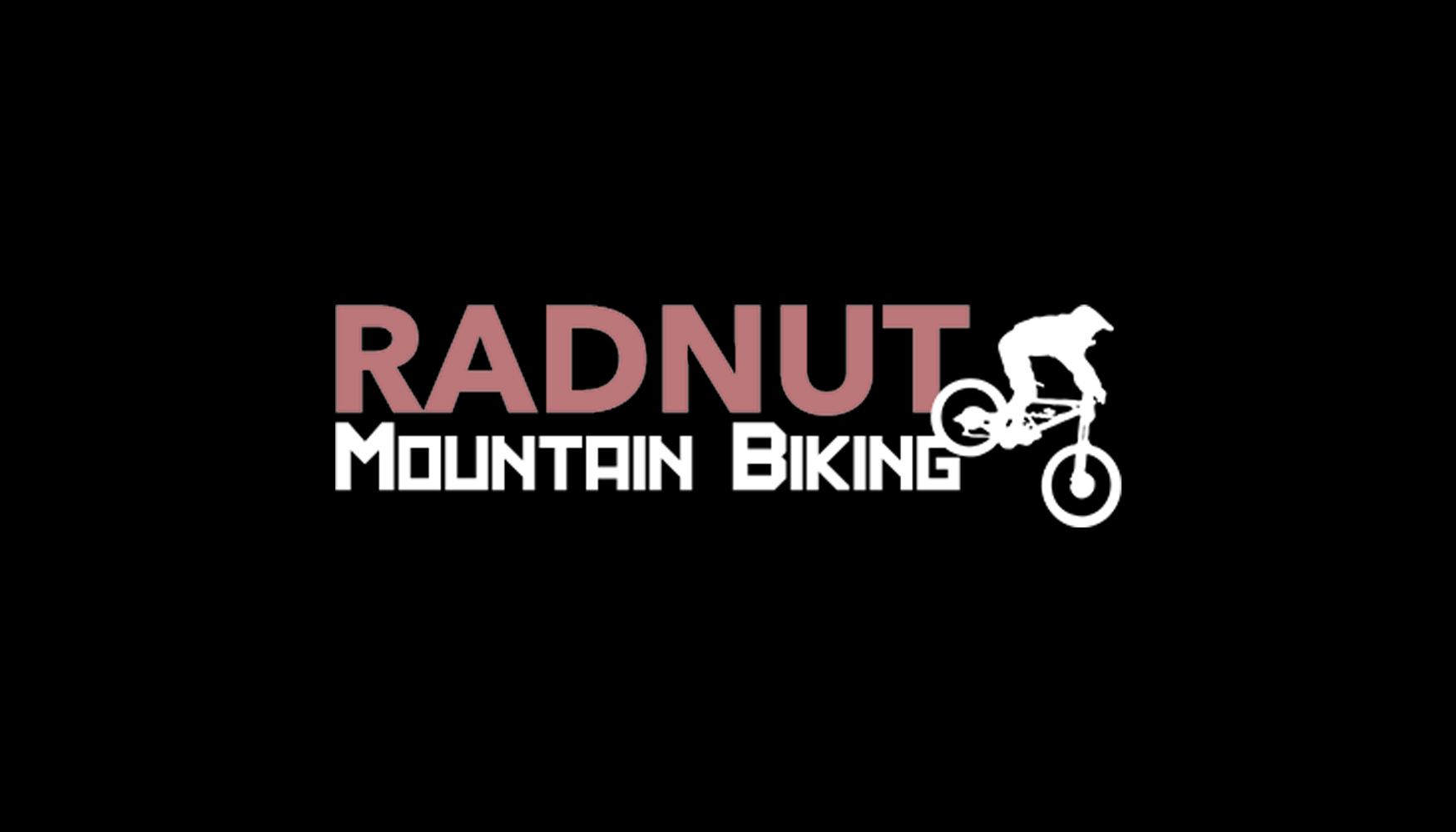 This week saw the Sportline 2018 show down in  Milton Keynes.  Sportline are the bike division of huge UK distributor Madison encompassing Saracen, Ridgeback and Genesis.  While a lot of…
https://singletrackworld.com/wp-content/blogs.dir/1/files/2018/03/cropped-wsi-imageoptim-Cog_30pc_black-32×32.jpg
Go to Source
Author: Ross Demain
Review: Simplon Cirex 120 – Slammed and svelte, but not just for suffering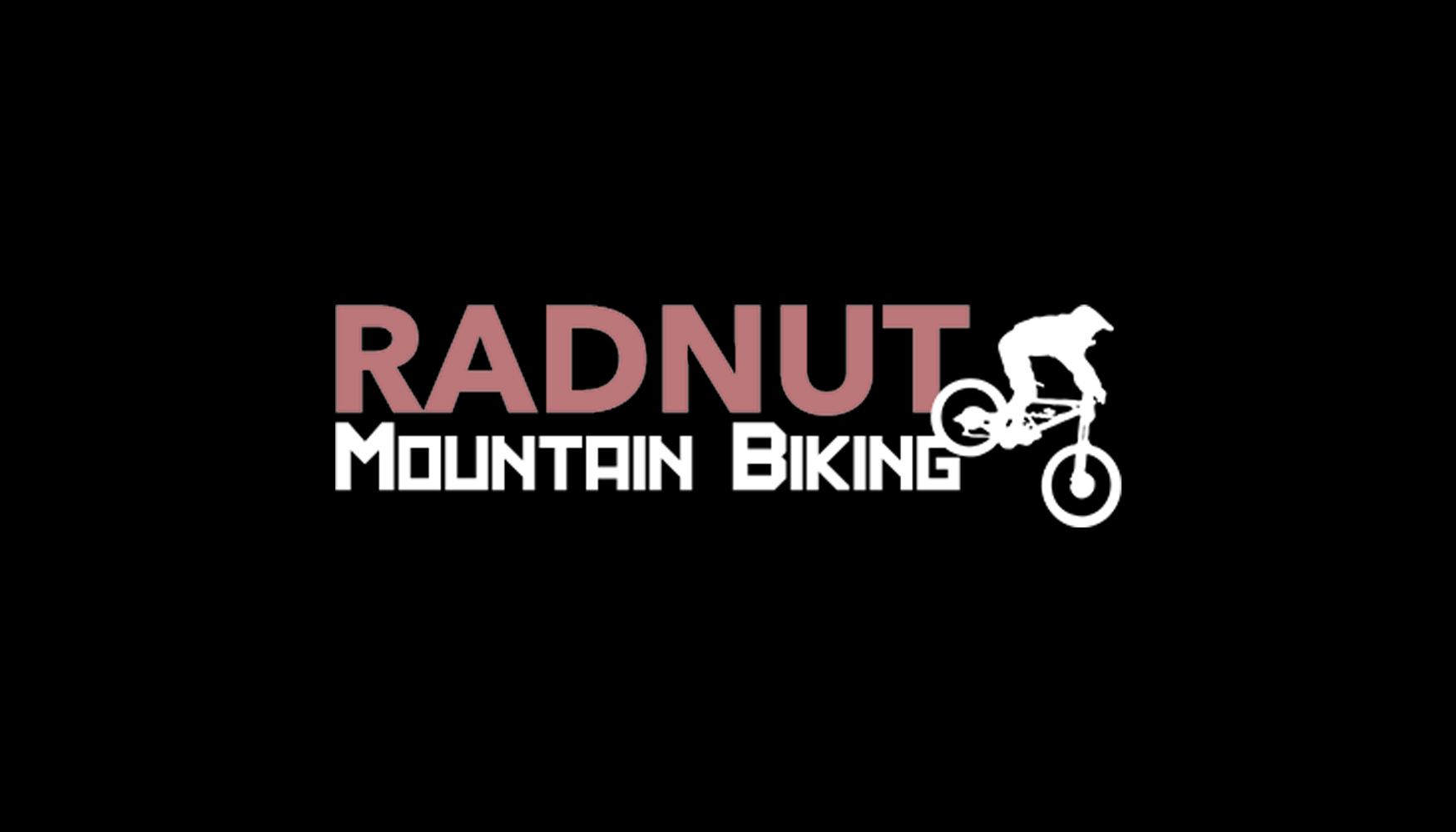 As I'm sure everyone has noticed, there's been something of a change in mountain bike geometry in the last few years. The longer-lower-slacker trend has become de rigueur, and aside…
https://singletrackworld.com/wp-content/blogs.dir/1/files/2018/03/cropped-wsi-imageoptim-Cog_30pc_black-32×32.jpg
Go to Source
Author: dazh