This post contains affiliate links. Affiliate disclosure: As an Amazon Associate, we may earn commissions from qualifying purchases from Amazon.com and other Amazon websites.
This article showcases our top picks for the
Best Cycling Sunglasses
. We reached out to industry leaders and experts who have contributed the suggestions within this article (they have been credited for their contributions below). We are keen to hear your feedback on all of our content and our comment section is a moderated space to express your thoughts and feelings related (or not) to this article 
This list is in no particular order.
This product was recommended by Fanny Surjana from Quenchlist
If you're looking for a good pair of cycling sunglasses, the X-TIGER Polarized Sports Cycling Biking Sunglasses are a great option. They come with five interchangeable lenses, so you can choose the right one for the conditions, and they provide UV protection to keep your eyes safe. They're also designed to stay put on your face even when you're moving around, so you don't have to worry about them falling off.
---
This product was recommended by Kimberly Silva from FindPeopleFirst
Queshark cycling glasses are easy to carry as they are light in weight and made of rugged TR90; hence you won't feel uncomfortable even after wearing them for long cycling periods. The sunglasses have three replaceable lenses, which are all 100% UV400 resistant to block harmful UVA and UVB rays, perfectly protecting the eyes. There are also transparent lenses for a cloudy day and daily safety use as an option. It has a soft silicone nose pad that lets your nose feel comfortable during cycling and is designed for both men and women.
---
This product was recommended by Kimberly Silva from FindPeopleFirst
Bose sports sunglasses have BlueTooth connectivity with a reliable range of 30ft to pair to your device for high-quality sound and crystal-clear calls. It has a long battery life with a playtime of up to 8 hours per charge and can fully recharge via USB-C in one hour. Its comfortable, secure fit is attained from the soft silicone nose pad and the flexible temple grips. With an open ear audio design, you can hear your music and the environment simultaneously. The speakers play loud and deep enough to hear over the wind sounds while cycling at 40km/h.
---
This product was recommended by John Tian from Mobitrix
The POC Do Blade sunglasses are an excellent middle-of-the-road option for cyclists. This is because it has lenses that help in improving the cyclist's visibility of the road surface. Cyclists who use sunglasses with a wide lens are always confident that they will be able to see the entire road ahead of them and will have few blind spots that void lenses may cause. These sunglasses have clarity because they have a protective layer to keep them clean and prevent fogging during the ride.
---
This product was recommended by John Tian from Mobitrix
The Tifosi Alliant sunglasses feature glare guard technology and fully adjustable ear and nose pieces to ensure the best fit for each cyclist. They have complete UV protection and three sets of lenses that can be changed depending on the sun's brightness. In addition to these features, the Tifosi Alliant sunglasses are made of hydrophilic rubber, which will help you increase the grip of the sunglasses as the surface becomes wetter. This will ensure that the sunglasses stay in good condition regardless of how much sweat or water they come into contact with.
---
This product was recommended by Will Tigerton from LeanBack Player
The Tifosi Alpe 2.0 Cycling Sunglasses is made of polycarbonate material making them very durable. It also features a Grilamid TR-90 Nylon frame, hence you can wear it across different weather conditions, from sunny to rainy days. The polycarbonate lens is also polarized so you don't have to worry about the sun's beams distracting or blinding you while cycling. The UV-protection coating also makes it extra-durable and can be used for a long time. Lastly, the lenses are shatterproof and scratch-resistant.
---
This product was recommended by Madilyn Hill from TruePersonFinder Inc.
This cycling sunglass is designed with the Trek-Segafredo pro teams in mind; it's no wonder that this stylish pair hits the target when it comes to performance. This cycling glass provides superior clarity while riding thanks to the Zeiss polycarbonate lens. Its 4 efficient ventilation ports can prevent fogging even on the optimum breathing rides on frosty winter days. Lastly, the best reasons to buy this sunglass are its lens versatility, clarity, and cool designs.
---
This product was recommended by Steven Walker from Spylix
The lens' complete frame doesn't hinder your vision, and the broad, highly springy arms contain a metal core that allows you to bend and mold them to your head shape, making them extremely secure even while off-roading.
---
This product was recommended by Steven Walker from Spylix
Koo's Orion sunglasses are a viable challenger to more well-known brands, with great Zeiss lenses, a durable construction quality, and a customizable fit. Our main criticism is that you only receive one pair of lenses; a clearer alternative would be preferable on darker days.
---
This product was recommended by Steven Walker from Spylix
Tifosi's Amok sunglasses are reasonably priced compared to more expensive alternatives from luxury companies, yet they still deliver excellent performance. The mid-size lens on the full-frame design performs well in various situations.
---
This product was recommended by Steven Walker from Spylix
The huge lens of the Spinshield is fashionable, but it's also incredibly functional, with superb optical clarity and no obstructions to your field of view. Although there are no vents, the lens is placed far enough away from your face that you will not see them.
---
This product was recommended by Chloe Choe from Off Hour Hustle
The Rudy Project sunglasses block glare from the sun and let in plenty of light after dark. They are lightweight and comfortable and don't get foggy to be perfect for everyday cycling wear.
---
This product was recommended by Camille from BackBiker
If you are on a tight budget and looking for the best cheap cycling glasses, the crush is on these X-TIGERs which are worth trying, they have great reviews all over the web.The X-TIGER sports glasses are ultra light, with a frame that weighs only 19.2 grams and can be used to mount lenses for nearsightedness. The sun protection is UV400 and the lenses are made of high quality polycarbonate, which gives back the glow of the real world, helps reduce eye strain and ensures safety for all types of outdoor activities.Depending on the model chosen, the product is sold with 3 or 5 different lenses that can be exchanged depending on the light conditions. Other items included are an EVA case, eyeglass cases, a lens cleaning cloth, a polarization test card and a myopic frame.To conclude, these glasses are very affordable and offer absolutely everything you're looking for in bicycle sunglasses, so you can go with your eyes closed!
---
This product was recommended by Shiv Gupta from Incrementors
The photochromic lenses of these Rudy Project Fotonyk cycling sunglasses change from clear to dark in response to light levels, making them ideal for riding at any time of year. They're a delight to wear thanks to their excellent optics, comfort, and lack of fogging. We did the majority of our testing in the winter, which is maybe the most difficult time of year to decide which glasses to wear for the journey since you're leaving and arriving in the dark but with the entire sunrise/daylight/sunset thing going on in between. This is where the Fotonyks' potential to become all-rounders comes into play; they can handle nearly any situation.
---
This product was recommended by Michelle Walker from My Spiritual Guidance
The collection, Kokoro – a Japanese word meaning "heart; mind; spirit", was launched to bring humanity together through sport. They have all the quality and specifications you have come to expect from Oakley. Their prism lenses enhance contrast, color, and details making them ideal for cycling. They come in a range of colors to suit everyone. These are the most comfortable riding sunglasses I have tried.
---
This product was recommended by KARIM from Dehumidifier Depot
The elegant Shifter sunglasses from Bollé have an angular style that is both fully current and a bit nostalgic. The single-piece, impact-resistant lens provides excellent clarity. It's also well ventilated and treated with an anti-fogging agent, so they don't steam up as quickly in humid circumstances.
---
This product was recommended by KARIM from Dehumidifier Depot
Rudy Project's Keyblade sunglasses are a terrific alternative for anyone seeking a single pair of sunglasses that can be used for a variety of purposes. They have superb photochromic lenses with styling that looks just as well off the bike as it does on. The lenses are also guaranteed to be indestructible, implying that they should last a long time.
---
This product was recommended by Rohan Kadam from BikingKnowHow
I am a mountain biker and Tifosi has multiple options in sunglasses, but I choose this since this is most apt for mountain bike riding. With Grilamid- TR90 frames and Enliven polycarbonate lenses, the Tifosi Crit is a high performer in terms of comfort, functionality, and durability. The frames offer a custom fit, with adjustable arm ends covered in hydrophilic rubber (earpads). These remarkable pairs of glasses which incorporate scratch-resistant, shatterproof polycarbonate lenses, give great clarity to the rider while riding in different light conditions; these biking glasses perform exceptionally well in winter.
---
This product was recommended by Shiv Gupta from Incrementors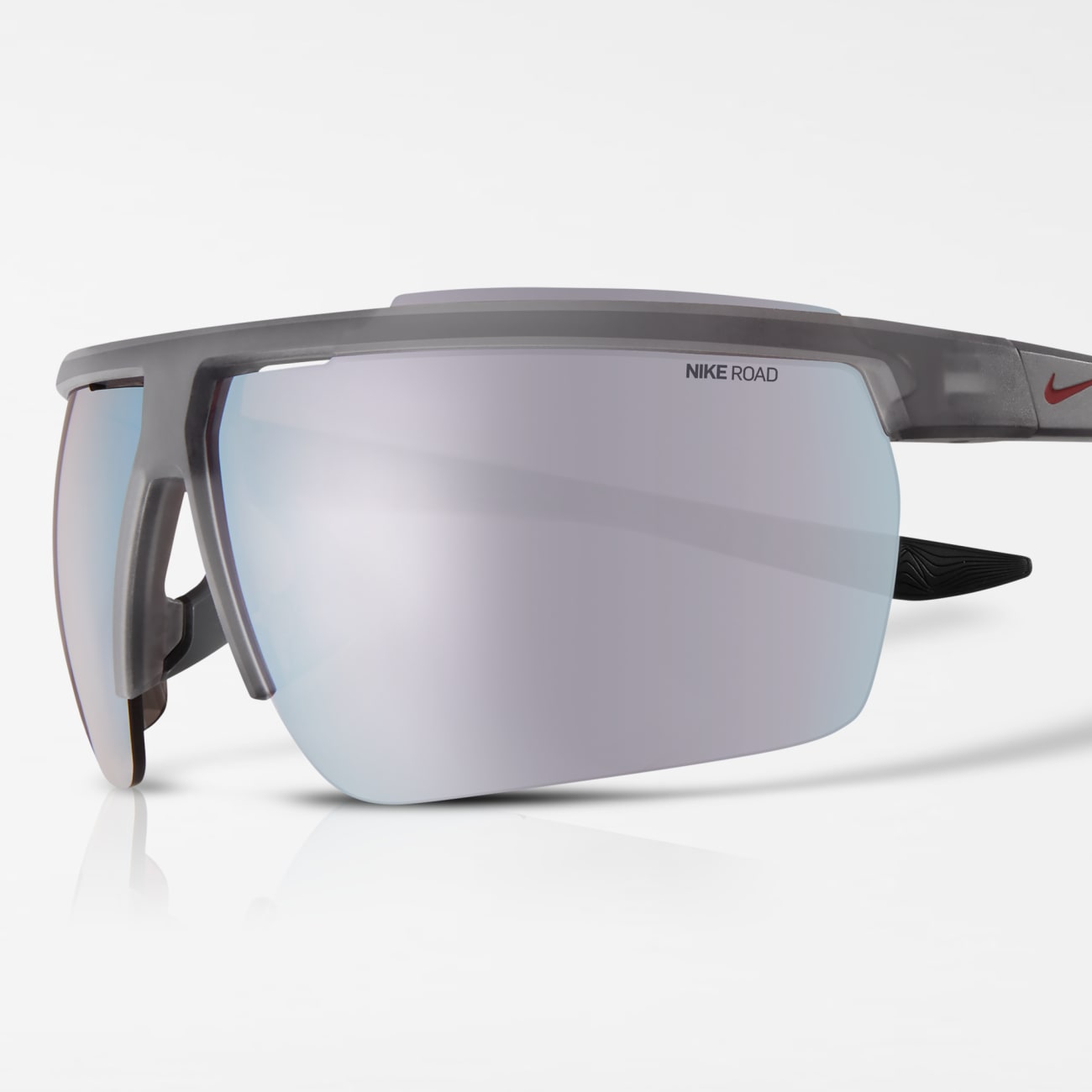 These Nike cycling sunglasses are light and comfortable, the kind you'll forget you're wearing on lengthy rides. The temple arms have enough soft and sticky rubber to keep the glasses in place, and they didn't slip down when our tester hung his sweaty head at the summit of a difficult climb. The floating nose pad is equally comfortable and functional, albeit it can break loose from its mounts if the top of your helmet collides with your glasses. Our test model had grey lenses with amber mirroring, which did a good job of reducing eye strain in bright light but appeared a little too dark in a sudden patch of shadow.
---
This product was recommended by Phillip Villegas from Three Pedal Mafia
These photochromic cycling sunglasses include adjustable temples and soft rubber nose clips to accommodate a variety of facial shapes. Myopia frame is built-in, making it easy to put your glasses on. The UV400 protection, can block dangerous UVA and UVB rays, safe, sturdy, and impact-resistant, protect your eyes from sand, heavy wind, and bright sunlight. In reaction to the intensity of the UV, the lens automatically transforms from clear to dark grey, efficiently maintaining a sufficient brightness to protect your eyes in bright sunlight.
---
This product was recommended by Jennifer Denehy from PeopleSearchFaster
While the Alba Optics Delta sunglasses appear to have been plucked straight from a mid-eighties Tour de France, they were really the brand's first pair to hit the market. However, do not be fooled by the retro look; these are completely modern sunglasses. While the big 58mm lens provides excellent coverage and clarity, it may be a little too large for tiny faces. The curving arms perfectly embrace your face but may make it more difficult to stow your sunglasses in your helmet, if that's your thing. Alba Optics does offer 11 lens variations (as well as eight frame colors), so you should be able to find something to suit your needs.
---
This product was recommended by Jennifer Denehy from PeopleSearchFaster
The Oakley Jawbreakers gives an excellent fit and have stood the test of time in terms of appearance and performance. While the broad frames may not be ideal for folks with petite faces, the arms are adjustable. There are numerous frame and photochromatic HDO optic lens color options. Each pair includes a protective lens cleaning bag and a hard case for storage when not in use.
---