In this article we address finding a new mountain bike for your kid(s) without breaking the bank (keeping it under $500). In our search we found there are a surprising number of great options around for under $500, with a range of considerations for child – specific design. The bikes listed below balance solid modern design with low prices, making them perfect for parents who are on a budget but want their kids to have a good introduction to mountain biking. We've looked at products with quite a wide range of prices, so if your budget is a little less than 500$ then there should still be something here for you.
Sizing Guide
We are aware that children grow with time – and so shelling out on a smaller bike (which they may quickly grow out of) might not be something that you want to do.
With this in mind we've included some adult's bikes that work well in size small.
If your child is quite large / likely to be too big for most of the bikes on this list then buying one of these bikes for them to grow into would be a good idea.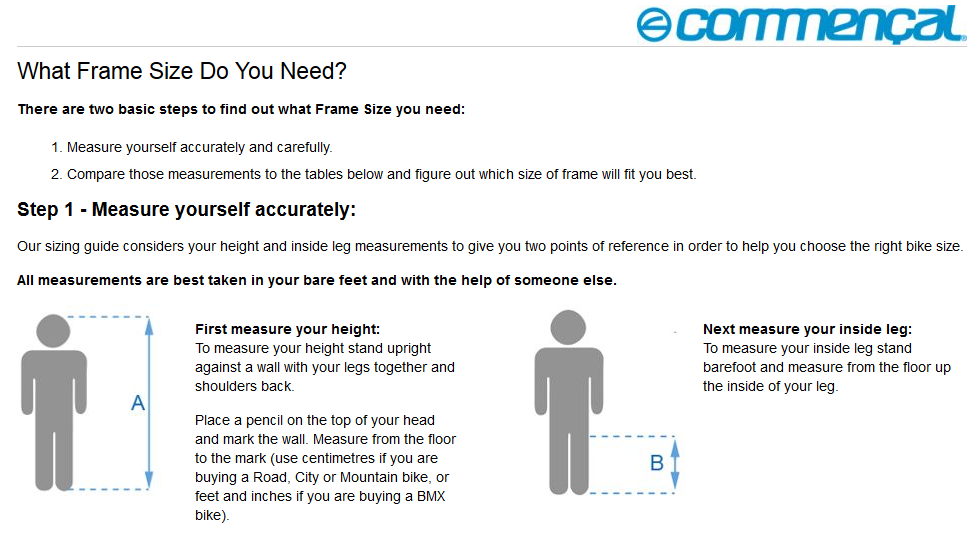 For each of the bikes linked here to chainreaction cycles, there is a very detailled 'Sizing Chart' on each page which can be examined. We've also included a section of the Commencal sizing guide above – from the measurements taken in that image you should be able to accurately size a bike to your child based on the table in the specification sheet.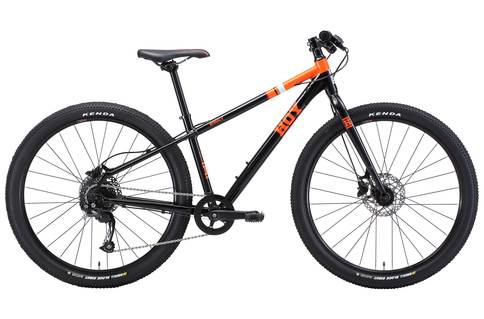 The Bonaly 26 Disc offers nine different gears to choose from.
This bike's frame is made from the HOY 6066-T6 aluminium heat-treated alloy, making it extremely durable and lightweight. The slightly lower bottom bracket contributes greatly to more secure handling. The bike is designed to be reliable, and long-lasting.
The gear shifting is extremely smooth making this bike a good choice for parents who want to build up their children's confidence. The straight blade aluminium fork on the front maximises power transfer to the drivetrain – the lack of suspension making the bike faster uphill and on flat terrain.
EvansCycles made the understandable decision to opt for a more rigid, efficient design both here and in the tyres – which are geared towards lightweight efficiency more than cushioning and grip. While the tyres that come with this bike aren't great for handling more rough terrain, you can easily switch them out with better ones from eBay for cheap. The reality is that most kids in 'general' riding won't need anything more.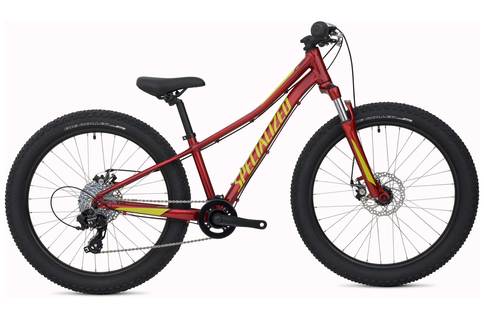 The Riprock 24's large 24 inch tires provide superior grip and control while riding. With the highest grade of aluminium frame on this list you should expect years of regular use with minimal wear and tear while riding this bike. The single chain ring on the front makes the bike far quieter (as there is increased chain tension) over rough terrain. This bike's extra-large tyres are far superior to the ones on the HOY Bonaly 26" Disc bike, as they are much larger and sturdier. The mechanical disc brakes are very effective and will always allow your child to stop the bike quickly and safely.
The overall geometry of the bike is built for comfort and confidence – the lowered top tube allows for a longer lifespan on the bike – as smaller children will be able to get on it while keeping the frontend very high for maximum stability. In terms of aesthetics the seat is a little large, though if this matters another could easily be acquired online. The customer reviews for this bike are overwhelmingly positive. People who review this bike tend to comment on amazing durability and sleek design.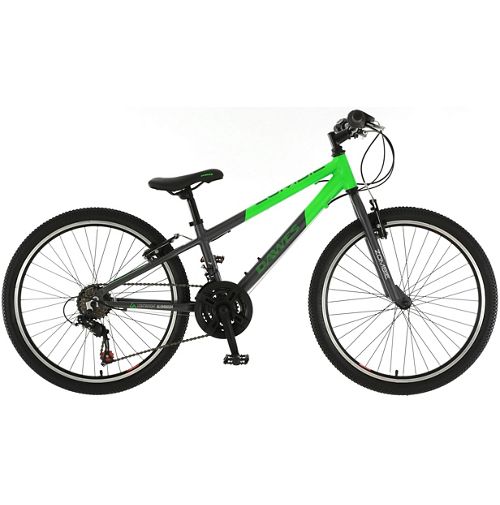 The Dawes Zombie is an entry-level bike for kids from 9 to 12. It delivers reliable performance with a tough aluminum alloy frame, Shimano drivetrain, and steel fork.
This junior bike is lighter than the other bikes that use steel alloy. As such, kids can maneuver it easily. They will feel less fatigued after biking for long distances. Moreover, because the frame is lightweight, kids will find it easy to increase their biking speed.
The bike weighs 11 kilos.
The Dawes Zombie uses high-tensile steel that is both durable and lightweight. It is perfect for off-road exploring. Take note, however, that although steel is durable, it may rust over time, especially if the paint is stripped off and it is exposed to the elements.
The 1.95-inch tires make the bike suitable for woodland trails while maintaining a relatively low weight and rolling resistance.
The drivetrain is Shimano 3x6 speed, and the brakes are V-brakes. The drivetrain offers a larger gear range than its counterparts, while the V-brakes provide excellent stopping power.
Most users say that the Dawes Zombie is an excellent choice as a starting bike for their child. However, many complain about the handle grips coming off, and the V-breaks can break after some time. Neither of these issues is serious however and can be fixed if or when they occur.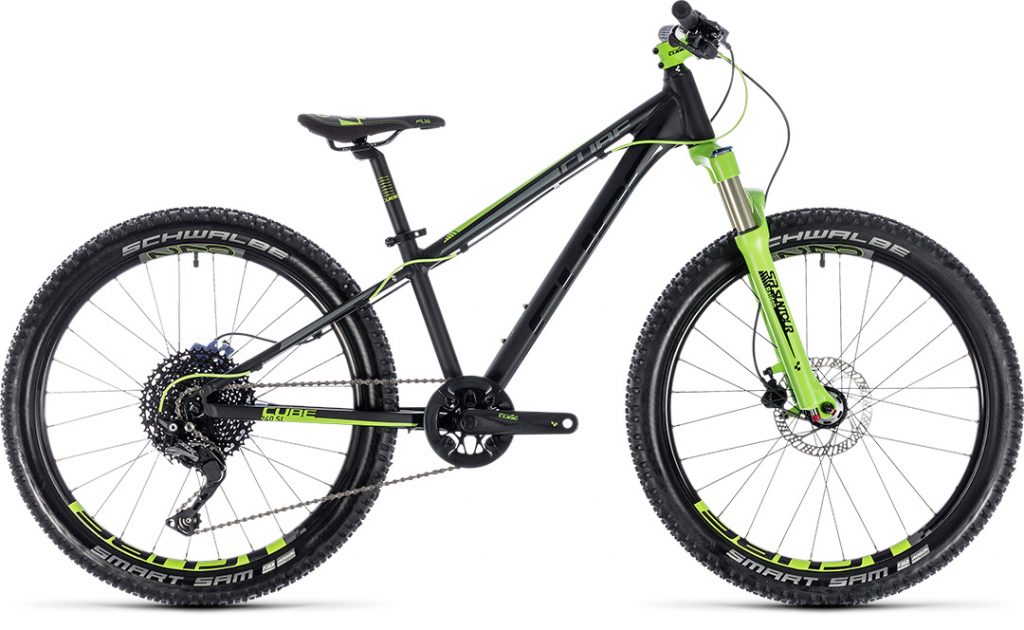 The Cube Kid is an excellent choice for a starting bike for growing kids, aged 7 to 10 years old. It is midway between a child's bike and an adult's mountain bike.
The frame is 6061 aluminum, which is a durable frame material for mountain bikes. It features a low top tube that allows kids to get on and off the bike faster. Kids are known to always to test their limits when it comes to their performance on the bike. As such, the derailleur can take a hit during their rides. The derailleur hanger absorbs the impact and can get bent or damaged. Fortunately, the derailleur hanger can easily be replaced.
This bike weighs 11.1 kilos.
The Cube Kid 240 uses a Suntour suspension fork. Suntour is a trusted brand by bicycle manufacturers. Any kid who uses this bike will feel comfortable because the suspension for absorbs the impact of rough terrain.
The Cube features Impac Smartpac tires. Its low profile tread pattern provides low resistance and fast rolling.
The brake levers suit small hands, so your kid has better control of the V-brakes, which provide plenty of power for stopping. The Cube Kid has a power modulator to avoid over-enthusiastic braking in front.
Most users feel satisfied in buying the Cube Kid for their child. However, some users complained about the unsealed bottom bracket and the cheap pedals. These can be easily replaced though with a sealed BB and better pedals. The low-end air fork is adjustable. You can replace it with a high-quality one down the line.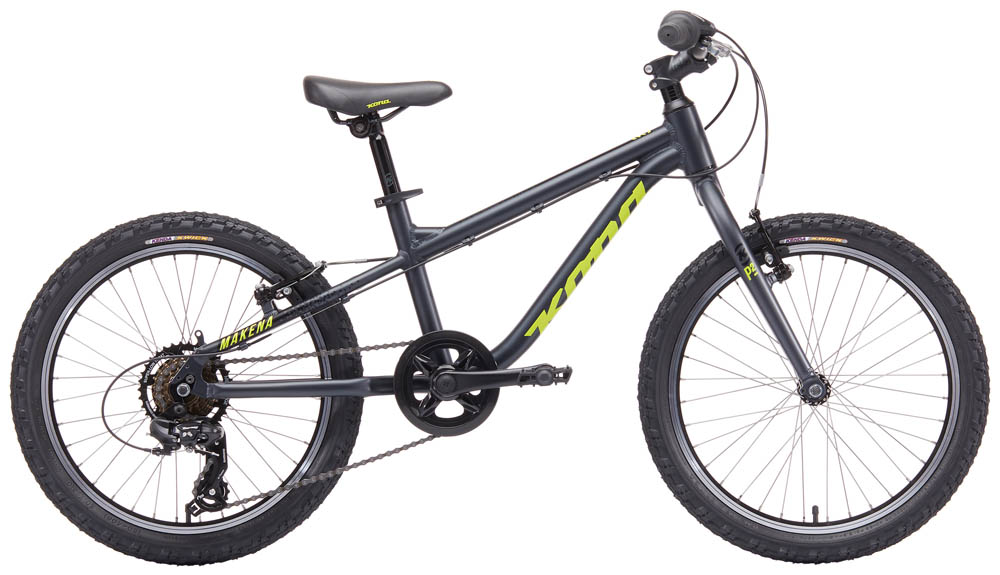 If you are looking for a safe and reliable entry-level bike for your child, you can buy the Kona Makena bike.
For the Kona Makena, it features a butted frame made out of 6061 aluminum alloy. This means that the lightweight frame, with reinforced aluminum at the joints, ensures a comfortable, yet safe ride, even on rough terrains.
The Kona kids' bike has a Chromoly steel fork. Chromoly, which is chromium-molybdenum, is more robust than ordinary steel; thus, manufacturers use it for high-end bicycle frames. Most manufacturers generally prefer Chromoly steel because it uses less steel for the same tensile strength, leading to a lighter product.
The tires are Kenda Kwick 2.0 x 2.0". These streamlined tires wear out quickly but are extremely inexpensive, so replacing the tires won't cost much.
This bike uses V-brakes, Shimano Tourney at its rear end, and a 7-speed cassette for smooth gear shifting.
Most users like the Kona Makena for their kids. Some of them replaced the pedals because they notice that their kid's feet slip off from the original plastic ones.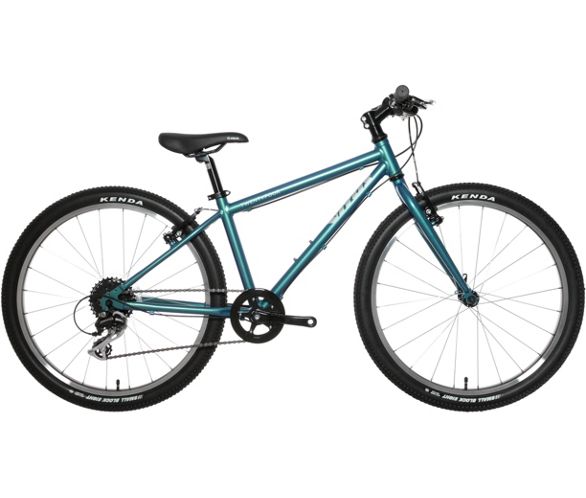 The Vitus Twentyfour is lightweight so your little kid can maneuver it with confidence.
This bike has a 6061 lightweight aluminum alloy frame. Aside from aluminum, it contains magnesium and silicon, which is superior to the 7005 aluminum alloy.
This Vitus bike weighs 10.2 kilos only. While it was built for kids aged 5 to 8 years of age, it may be lightweight for kids aged 7 and above, but a bit heavy for kids aged below 8 years old.
The rigid fork is traditional and uncomplicated. It does not require maintenance and repairs, unlike many suspension forks would. Also, it is lighter than using a suspension fork and allows for a more efficient transfer of power to the drivetrain.
This bike also uses Kenda tires, which are inexpensive. So, if you want more durable tires than the Kenda tires, you can replace them as soon as they wear out.
The Shimano 8-speed drivetrain makes it easy to change gears. The Vitus bike has the Acera rear derailleur and Tektro V-brakes for easy to maintain reliable braking.
Most users state that this is a great starter bike for kids, but it would be great if it were made lighter. Some also added that the matte-finish scratches off easily.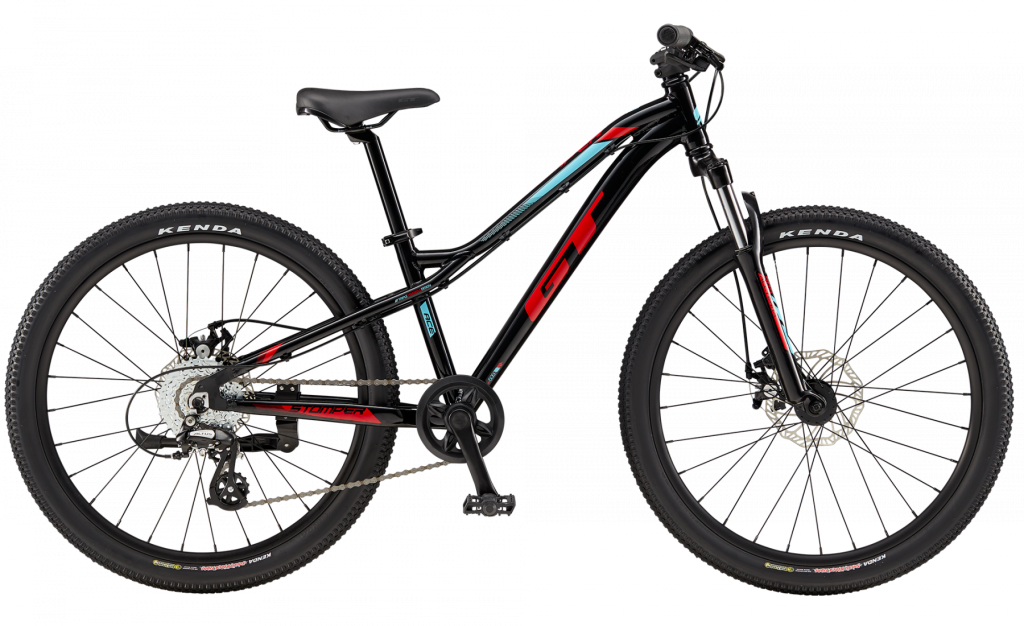 GT's Stomper Ace 24" is perfect as an entry-level bike for your child. It has the LegFit system that ensures an ideal fit for smaller bodies. Meaning, that it is not just a tweak of the adult model.
The Stomper Ace has its pedals slightly further forward and its crankset marginally narrower to better suit the physical dimensions of young children. Your child will pedal more naturally because of these changes. Plus, the alloy frame is lightweight.
The Stomper Ace weighs 11.8 kilos.
The fork is an All Terra, 1-1/8" Threadless Steerer with 50mm Travel. There is not much difference between the threaded and threadless for the user. However, for manufacturers, threadless steerer tubes are less expensive to produce and install, meaning that the choice made by GT is a durability-oriented one.
Stomper Ace tires are Kenda Small Block Eight 24 by 2.10". The 24" tires roll on various trails smoothly and easily, which make it perfect for mountain biking.
The bike has Promax cable actuated disc, which provides incredible stopping power. The kid does not need to apply a massive force to the lever to make the bike stop. Thus, he does not experience muscle fatigue because he exerts less hand pressure, especially during a long descent.
Most buyers report that their kids are happy with this bike and are also pleased because this bike is inexpensive. Still, some buyers upgraded some parts such as replacing the pedals for a better grip and swapping out the front tire for another brand.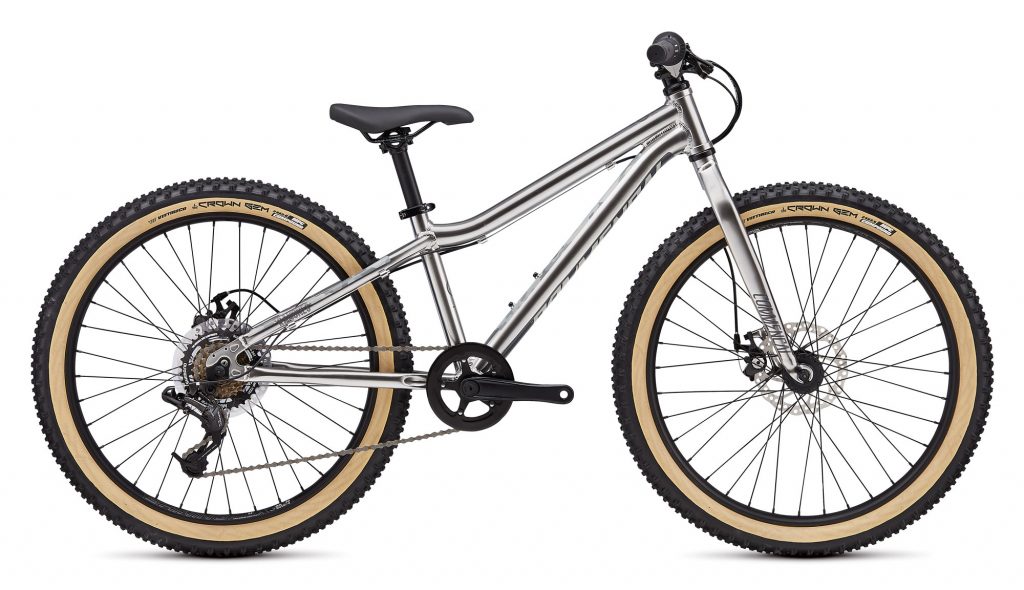 The Commencal Ramones 24 features all the design considerations of an adult bike, built and styled for kids. The frame is constructed from the same 6061 aluminum alloy that can be seen on many of the bikes on this list (a popular choice for good reason), but with the highest quality finish that we've seen. The bike itself comes in quite light at 10.5kg, with a traditional rigid fork, which is popular as it does not need maintenance and repair.
The tires are Kenda Slant 6 24 x 2.6". The plus size acting as an effective form of suspension and are excellent for rough, dry terrain. The tread is quite shallow, giving a fast rolling speed but lesser performance for wet roots and damp ground – if you live in an area where this is likely to be an issue we would recommend you change out the front tyre for something a little more aggressive.
The Ramones 24 features mechanical disc brakes that have kids' specific Jagwire cables and Tektro levers that can easily tackle small descents. These brakes have small rotors, so they are not very powerful.
The Ramones 24 is a fantastic entry-level bike for kids and one of the best kids – specific bikes on this list.
Bikes for kids to grow in to – Well Adapted Size Small Mountain Bikes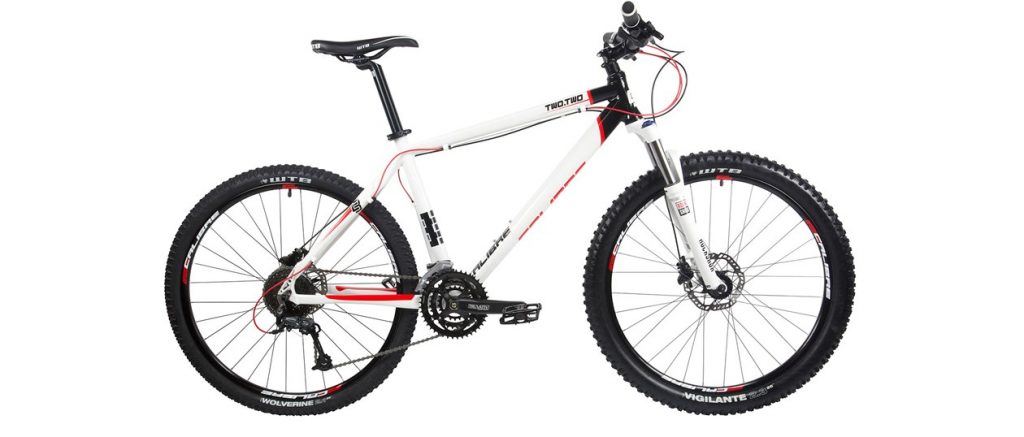 Caliber is a new brand of bikes, so you may not be aware of it. This lightweight mountain bike features sturdy components found in high-end mountain bikes. You may even decide to upgrade some parts so that your child can use it during his adult life.
The hydroforming technology enables manufacturing to fine tune the tube shapes to achieve the appropriate stiffness, weight, and strength. Its multi-faceted outline stays shape-shift on the journey from the sculpted dropouts to the seat tube, providing a lot of tire space for messy rides. The head tube's diameter is increased to prevent the chassis from twisting. Calibre Two.Two only has two frame sizes: 18 inches and 20 inches. For those of shorter stature, you may need to search for other bikes.
The bike weighs 13.9 kilos.
The Two.Two uses the pukka RockShox XC 28 coil-sprung fork. It has a lockout dial and an adjustable rebound damping.
This Calibre bike features the Vigilante 2.3" in front and the Bronson 2.1" in the rear, which is a bit sketchy on wet terrain. It would be best to swap it out for Schwalbe tires.
The Shimano hydraulic disc brakes need maintenance like other hydraulic brakes. So, if your kid will use this bike, you need to check on the brakes from time to time.
Most users love the Calibre Two.Two, but some complain that the chain breaks a few months after moderate use. The bottom head bearing may need replacement because it is not corrosion-resistant. Water can seep into damage the bearing. In essence, you need to maintain this bike properly if you intend to use this bike in the long term.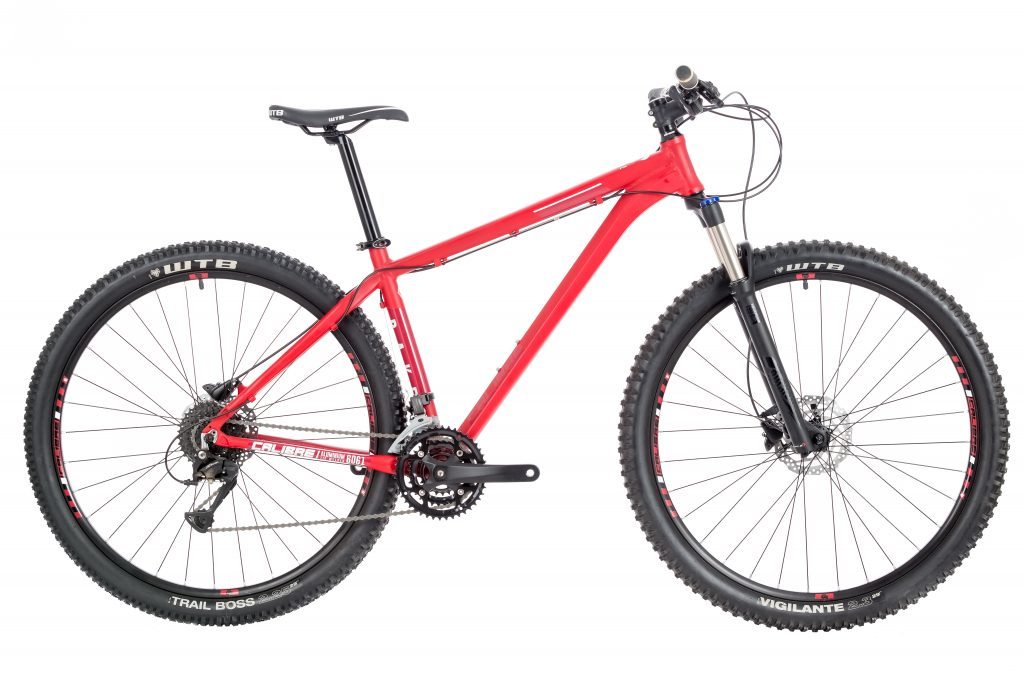 Calibre Rake is an affordable and durable 29-inch mountain bike with lightweight, robust aircraft-grade aluminum.
This bike comes in a 6061 hydroformed alloy frame with a 69-degree head angle that's not slack but fares better compared to 29er bikes in the same price range. Plus, the seat angle is at 74-degree that provides a lot of room for maneuvering downhill. Actually, the 74-degree angle is within the standard range of 70 to 75 degrees. Since your child will not be racing, this angle is perfect as it will not transfer the weight on his hands that can cause aches and pains. Steep angles, which keep hip angle open, are for racers who need more breathing power.
The bike weighs 14.74 kilos.
There are limits to upgrade potential on the fork since the head tube isn't tapered. However, its fork has rebound damping and adjustable preload sensitivity. Although the fork's stanchions can bend and twist if pushed too hard, your kid can still navigate through rocks, roots, and steps with confidence and speed.
The front tire is a WTB Vigilante 29 x 2.3" while the rear tire is a WTB Trail Boss 29 x 2.25". Moreover, the 29in wheels offer a speed-sustaining ride that keeps the bike rolling smoothly over whatever surface.
The brakes are Shimano Hydraulic Disc and offer incredible stopping power, which will inspire much-needed confidence when getting started in mountain biking.O
Some users report that the wheels are heavy, so the bike does not roll or accelerate on smooth pavements as well as they would expect. However, the descents prove to be lots of fun because the weight of the wheel contributes to a sense of stability and security.
Budget Options – Best Kids Mountain Bikes under $250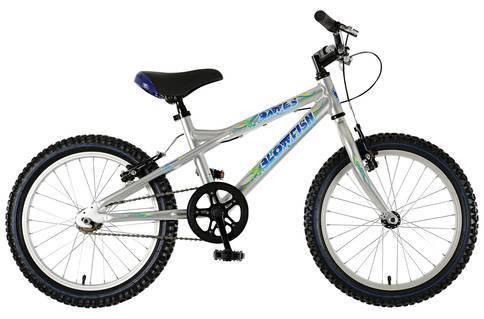 The frame of this bike is made from the 6061 alloy, making the sturdiness of the frame no question, while at the same time being light and easy to manoeuvre. While the large saddle isn't exactly streamlined the thick cushioning acts as a form of shock absorber. Parents who want to get their child a bike they can grow into will find that this Dawes Blowfish model is a wonderful option. One of the big differences between this bike and the others in this article is that it has a single speed design.
This might be a drawback for some, but it means less maintenance and upkeep over time, along with a bike that doesn't constantly rattle (which is quite refreshing) due to increased tyre volume. The tyres are high enough volume and thick enough to ride over muddy or uneven terrain without any major issues, the frame and saddle compensate surprisingly well for the lack of a sprung front suspension fork. You will find that this bike has mostly positive reviews from parents who are very happy with how solid and dependable it is, with many commenting in the surprisingly light weight.
References:
https://en.wikipedia.org/wiki/Bicycle_frame#Aluminum_alloys https://www.arc-zone.com/blog/joewelder/2009/01/08/metal-of-the-month-chromoly/ http://www.roadbikereview.com/product/wheels/tires-clincher/kenda/kwick.html http://www.mtbr.com/product/bikes/kids/kona/makena.html http://www.chainreactioncycles.com/ph/en/gt-stomper-ace-24-bike-2019/rp-prod176138 https://en.wikipedia.org/wiki/Headset_(bicycle_part)#Comparing_threaded_and_threadless_headsets https://en.wikipedia.org/wiki/Headset_(bicycle_part)#Comparing_threaded_and_threadless_headsets https://www.bikeradar.com/road/gear/article/ditch-cable-disc-brakes-48260/ http://forums.mtbr.com/families-riding-kids/gt-stomper-ace-24-a-1068709.html https://www.singletracks.com/bike-reviews/Tires/Kenda-Slant-Six_3194 https://janheine.wordpress.com/2017/01/10/disc-brake-pros-and-cons/ http://www.chainreactioncycles.com/ph/en/commencal-ramones-24-kids-bike-2018/rp-prod160343?utm_source=affiliate-window&utm_medium=affiliates&utm_campaign=The%2520Bike%2520List&utm_term=The%2520Bike%2520List&utm_content=Editorial%2520Content&awc=2698_1540028715_5fc04fbd6310ceb126ed476ee025a536 https://www.bicycling.com/bikes-gear/a20023166/the-beginners-guide-to-disc-brakes/ https://www.gooutdoors.co.uk/calibre-two-two-v2-mountain-bike-p383858 https://www.bikeradar.com/road/gear/category/bikes/mountain-bikes/hardtail/product/review-calibre-two-two-13-47865/ http://calibrebicycles.com/bike/rake/ https://www.bikeradar.com/gear/article/best-mountain-bikes-under-500-29451/ https://talesofamountainmama.com/2015/04/kona-makena-20-kids-bike.html http://forums.mtbr.com/families-riding-kids/gt-stomper-ace-24-a-1068709.html https://www.commencal-store.co.uk/ramones-24-silver-2019-c2x26307516 https://www.twowheelingtots.com/commencal-ramones-16/ https://www.bikeradar.com/mtb/gear/category/bikes/mountain-bikes/hardtail/product/calibre-rake-review-51867/ http://www.cyclesprog.co.uk/reviews/kids-bike-reviews/cube-kid-240-sl-review/ https://forums.mtbr.com/shocks-suspension/confused-about-low-end-suntour-suspension-forks-640272.html https://www.slowtwitch.com/Tech/What_science_says_of_seat_angles_222.html

Mountain Biking Discount Codes and Vouchers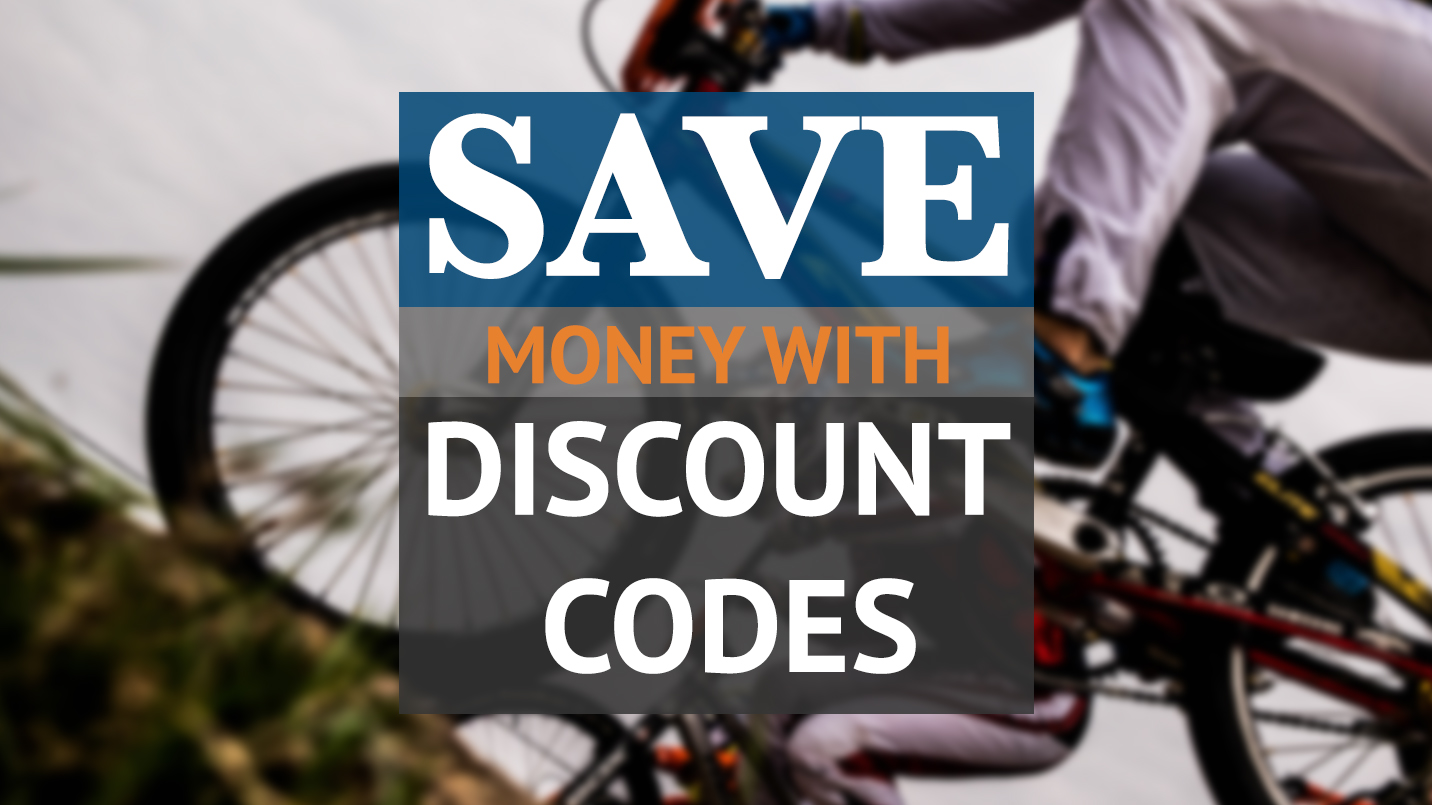 Directory For Mountain Biking Discount Codes
Here we bring together the discount codes for all the biggest mountain biking sites selling products all over the world. The aim is to allow the most mountain bikers to get the best prices possible on their gear. The table below will be updated whenever a new code is created. If you are aware of a discount code and you want it to be included then email: admin@radnut.com
We will be including discount codes for mountain biking products on Amazon in this spreadsheet in the near future.
Current relevant Amazon discount codes:
Padded Cycling Shorts undergarment – 50% OFF.
Code: 504FJUOL
| | | | |
| --- | --- | --- | --- |
| Store | Code | Description | Link to Page |
| ProBikeKit US & Canada | TYREMB | Buy 2 Get 5% off or Buy 4 Get 10% off – use the code TIREMB | |
| Wiggle US | TRIATHLON42 | Save $160 Off $800 Spend | |
| Wiggle US | TRIATHLON41 | Save $100 Off $500 Spend | |
| Wiggle US | TRIATHLON40 | Save $40 Off $200 Spend | |
| Wiggle US | CYCLE06 | Save off $80 Off $400 Spend | |
| Wiggle US | CYCLE05 | Save $40 Off $200 Spend | |
| Wiggle US | CYCLE28 | Save off $80 Off $400 Spend | |
| Wiggle US | CYCLE27 | Save $40 Off $200 Spend | |
| Wiggle US | BIKE08 | Save $400 Off $4000 Spend | |
| Wiggle US | BIKE07 | Save $200 Off $2000 Spend | |
| Wiggle US | BIKE41 | Save $400 Off $4000 Spend | |
| Wiggle US | BIKE40 | Save $200 Off $2000 Spend | |
| Chain Reaction Cycles (US & Canada) | SSCLOFEB | Save $40 Off $200 Spend; Save $80 Off $400 Spend | |
| Chain Reaction Cycles (US & Canada) | SSBIKEFEB | Save $200 Off $2000 Spend | |
| Chain Reaction Cycles (US & Canada) | CLEAR2019 | 10% off on clearance products | |
| Probikekit International | CLOTH15 | 15% off clothes | |
| Probikekit International | TOP10 | 10% off on 'selected items' | |
| ProBikeKit US & Canada | CLOTH15 | Use the code CLOTH15 – max discount $35 | |
| ProBikeKit US & Canada | TOP10 | Enjoy an EXTRA 10% OFF when you use the code TOP10 *max discount $35 | |
| Chain Reaction Cycles (US & Canada) | NCV2019 | New Customers ONLY up to 40% off on clearance products. | |
| Wiggle US | NEWUS | Save $10 when you spend $100. NEW CUSTOMERS only. Use code: NEWUS | |
| Wiggle US | NEWCA | Save $10 when you spend $100. NEW CUSTOMERS only. Use code: NEWCA | |
| Tweeks Cycles | No Code, will be automatically applied at checkout. | FREE UK mainland delivery on orders over $14.99 at Tweeks Cycles | |
The Best Cheap Mountain Bikes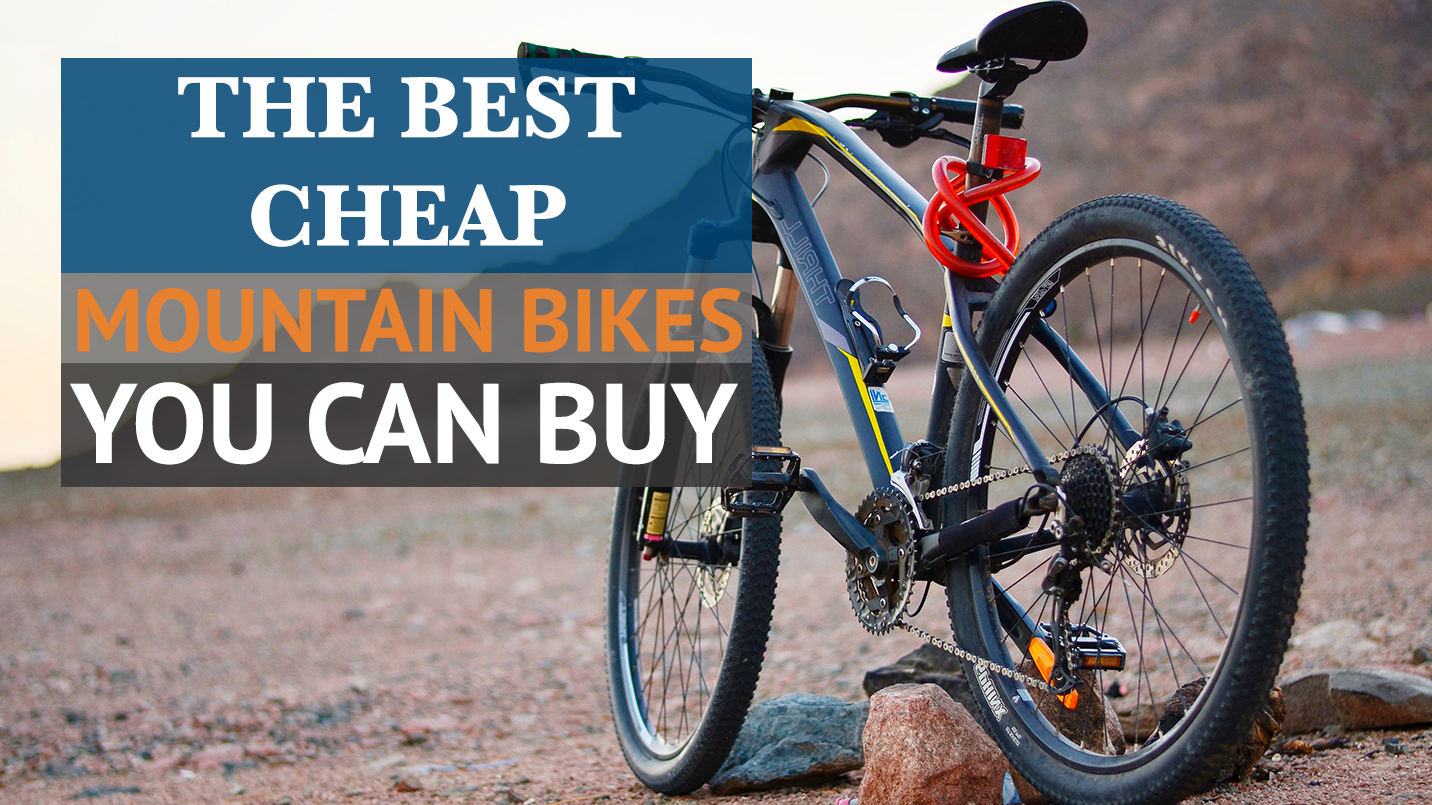 The Best Cheap Mountain Bikes You Can Buy
In this article we will provide a comprehensive guide to the best cheap mountain bikes that you can buy, along with our advice for how to improve them while saving money at every turn. There is no denying that mountain biking is an expensive hobby, and that most riders would prefer to enjoy the thrills of it without breaking the bank. Luckily, the work that has been done in the bike industry in recent times is incredible. There are some fantastic bikes out there at affordable prices.
If you're looking for something to suit a younger person or child, we've put together a list specifically for this here.
We will begin by outlining the key points of what you should look for when buying a budget mountain bike. We have tried to keep it as concise as possible without excluding anything important. At the end of this article we will round off with our views on second hand bikes in this price range.
Buying a Cheap Mountain Bike | Considerations
Frame Considerations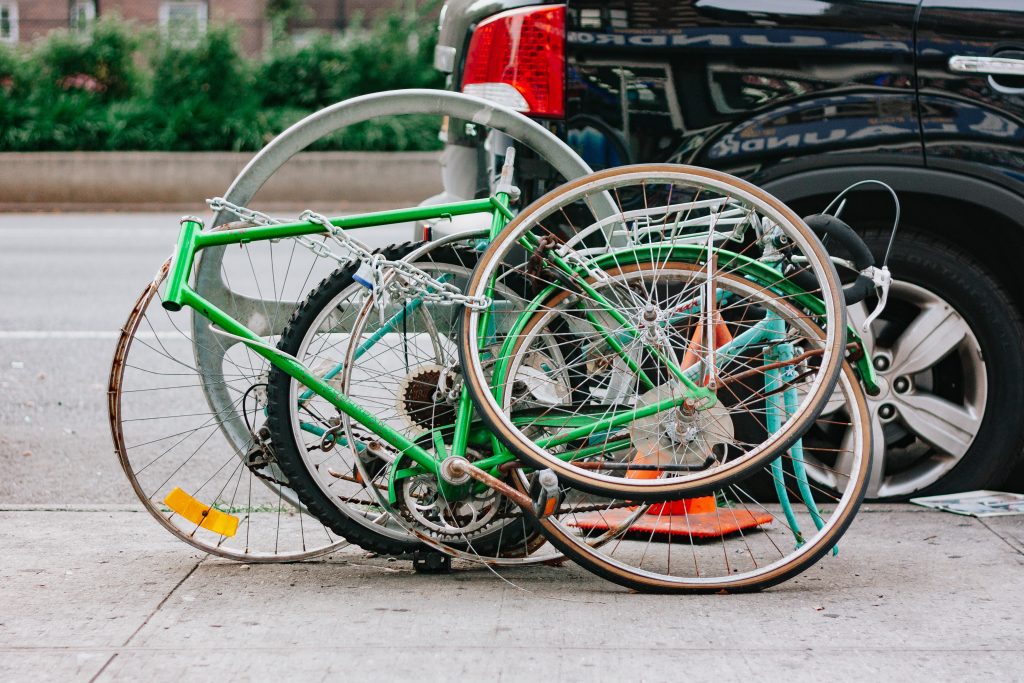 In terms of frame geometry, there isn't much worth considering – stick to reputable brands and if in doubt check with your local bike store. We'd strongly recommend avoiding steel and going with an aluminium alloy frame to reduce the weight as far as possible. Usually, cheaper full suspension bikes consist of inferior quality parts. So, we'd recommend buying a hardtail bike that comes with no suspension or only front suspension respectively – you'll enjoy a far better bike for the same money.
Summary – Avoid steel, go with a hardtail.
Gearing Considerations
Next comes the number of gears the bike should have. While having a large number of cogs used to be the dream 20 or so years ago, this should not be used as a measure of quality and bikes with a lesser amount of sprockets that are within the affordable price range may well be of higher quality. Some of the most expensive and sought after drivetrains today consist of only 1 cog on the front and 10 or 11 on the back. While a wide range of cogs may make a slight difference in very mountainous regions, as the mountain bike community has discovered as a whole, with 11 you can cover more or less everything.
Summary – Focus on the condition and the shifting, not the number of gears.
Brakes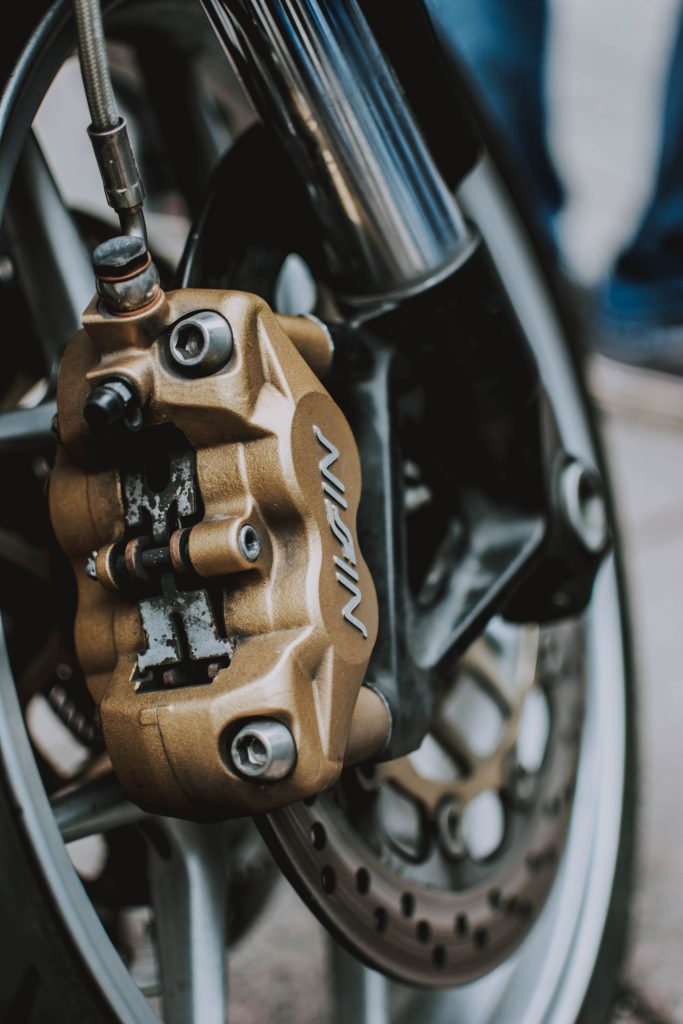 Brake are a crucial piece of safety equipment, unlike the saddle, gears and grips – the brakes could be the difference between life and death. Thankfully due to the miracles of mass production, at this price point you can expect hydraulic disk brakes on any quality mountain bike build. These are preferable to rim brakes and mechanical disk brakes due to improved resistance to the weather conditions and a far sharper braking curve – you should easily be able to stop the bike with one finger (even at speed).
Summary – Go with hydraulic disk brakes.
Suspension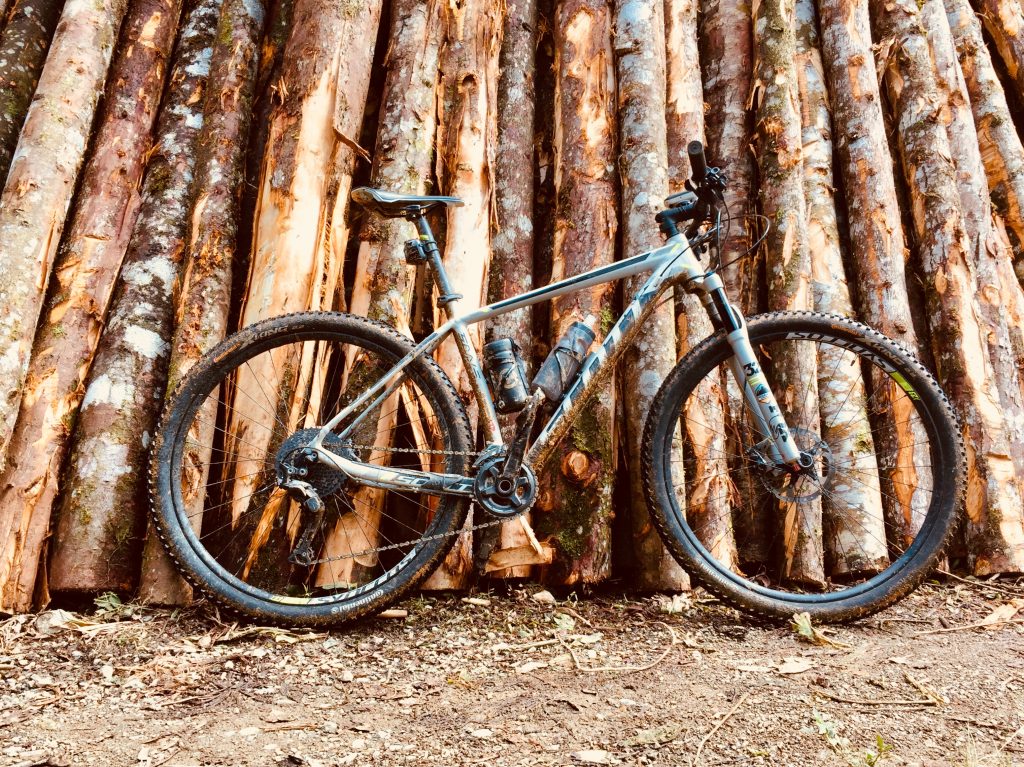 Suspension (or the lack thereof) influences every rider's experience in a huge way and dictates the level of comfort and control the rider has during any form of off-road riding. While individually buying a suspension fork unit can cost a small fortune, this shouldn't be necessary as for the most part the forks on the bikes listed below are very effective for the money. The quality, control, and performance of the forks that come with bikes does drastically differ between models, if you want to upgrade one of the bikes below in the future we'd suggest that a second hand suspension fork would be a great way to do this.
Summary – Don't worry too much about this, give it a try in the shop and it should feel fine.  
Weight of the bike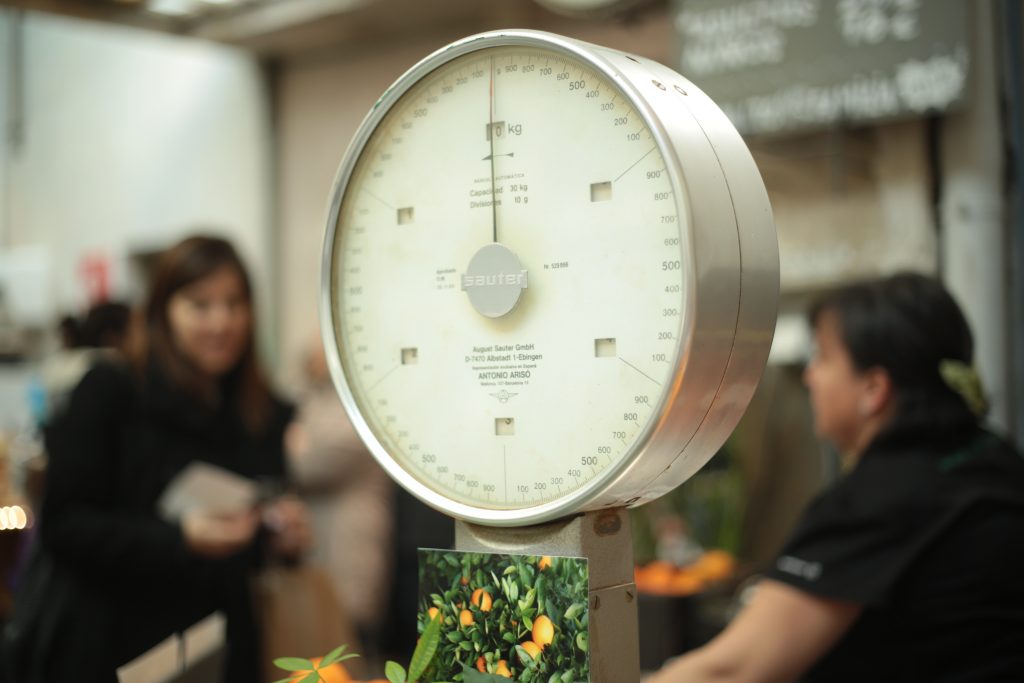 It is a common misconception that the weight of a bike is in direct proportion to how fast you are able to ride it, and that to see the biggest increase in speed you should buy a lighter bike. This simply is not true. While most bikes available at this price points tend to be heavier than expensive bikes, this does not make anything like as much difference as many bike stores let on. The biggest factor by far will be the fitness of the rider and we'd suggest anything under 15 kilos is an acceptable weight. The best way to think of it is as a percentage of the weight of the rider and the bike added together. If you have an 80kg rider with a 15kg bike and you take a substantial amount of weight off the bike, (say, 3kg) to make it 12kg instead, this would result in having to do 3% less work to accelerate (not very much difference at all).
Summary – If it's under/around 15kg, don't worry.
Tyre Considerations
To choose the right set of tires, you first need to think about how much time you might spend off-road and what type of trail you might be riding on. If your most frequently ridden trails consist of large rocks and roots along with steep slopes and climbs, you might need tyres with a more aggressive tread + larger volume. If you are riding on milder paths that consist of smaller obstacles, you can go for a narrower set of tires. Pretty much logic really, makes perfect sense if you think about it. We did a far more detailed guide about some great tyres to buy here.
Summary – Tyres are pretty important, use your head and choose something suitable for what you do, as this will have a far bigger impact on the feel of the bike than adding weight to the frame.
Where to Buy From?
New Mountain Bikes
Gone are the days of only being able to get quality bikes from bike shops and branded online stores – you can now have a quality bike delivered tomorrow with amazon. Bucking the trend of garbage bikes sold by large 'general goods' brands e.g walmart, amazon now work with some of the higher quality brands in mountain biking. Our recommended diamondback from amazon can be found here.
That said, the range is still pretty limited and if you want to assess the full spectrum of what is on offer you'll need to check a combination of chainreaction, wiggle and local bike stores.
Second Hand Mountain Bikes
If you know what you're doing or are prepared to try and figure it out as you go along (if the latter we'd recommend this book) then look no further than the old classics – ebay and pinkbike.
There are quite a few things to watch out for in terms of second hand bikes – we won't elaborate here but if you're uncertain then spend less and do more research before buying.
The Best Cheap Mountain Bikes | Our List
If your budget doesn't allow for expensive mountain bikes, these options are your best bet. Combining quality and affordability, here are some of the best cheap mountain bikes that you buy.
The best cheap mountain bikes – Amazon's Choice
The next step on from the Heist series by DiamondBack, the Overdrive series is the more popular twin, at around 100$ less expensive, with 20mm less travel and bigger 29″ wheels. We'd suggest that a more efficient alternative to buying one of the heist series bikes would be to take one of these and upgrade whichever parts you need.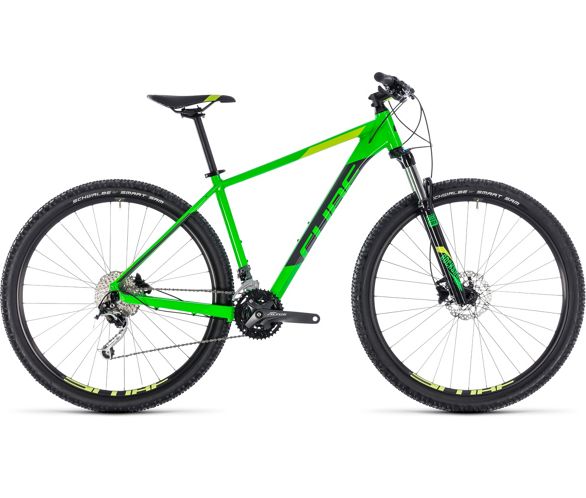 The Cube Analog 29 boasts an impressively strong aluminium frame and slick design. The cables are internally routed for a far cleaner look. The hydraulic disk brakes provide all the stopping power that could be asked for in a bike of this price – more than enough to handle any downhill trail you are likely to come across and ride. The 100mm RockShox XC 30 fork up front reliably and predictably soaks up bumps while improving both the braking power and handling.
There are three different frame sizes to choose from—43.5cm, 48cm, and 53cm. The Shimano Deore rear derailleur makes for reliable shifting and efficient power conservation. The pedals that come with this bike aren't especially well reviewed, but it's not that big of a deal. A new set of pedals won't cost you very much, especially if you get them on eBay – we'd recommend a set of Nukeproof Evo's.
If you have this bike delivered to you, it should be noted that it is very well reviewed for being easy to put together – the same being said for Cube bikes in general.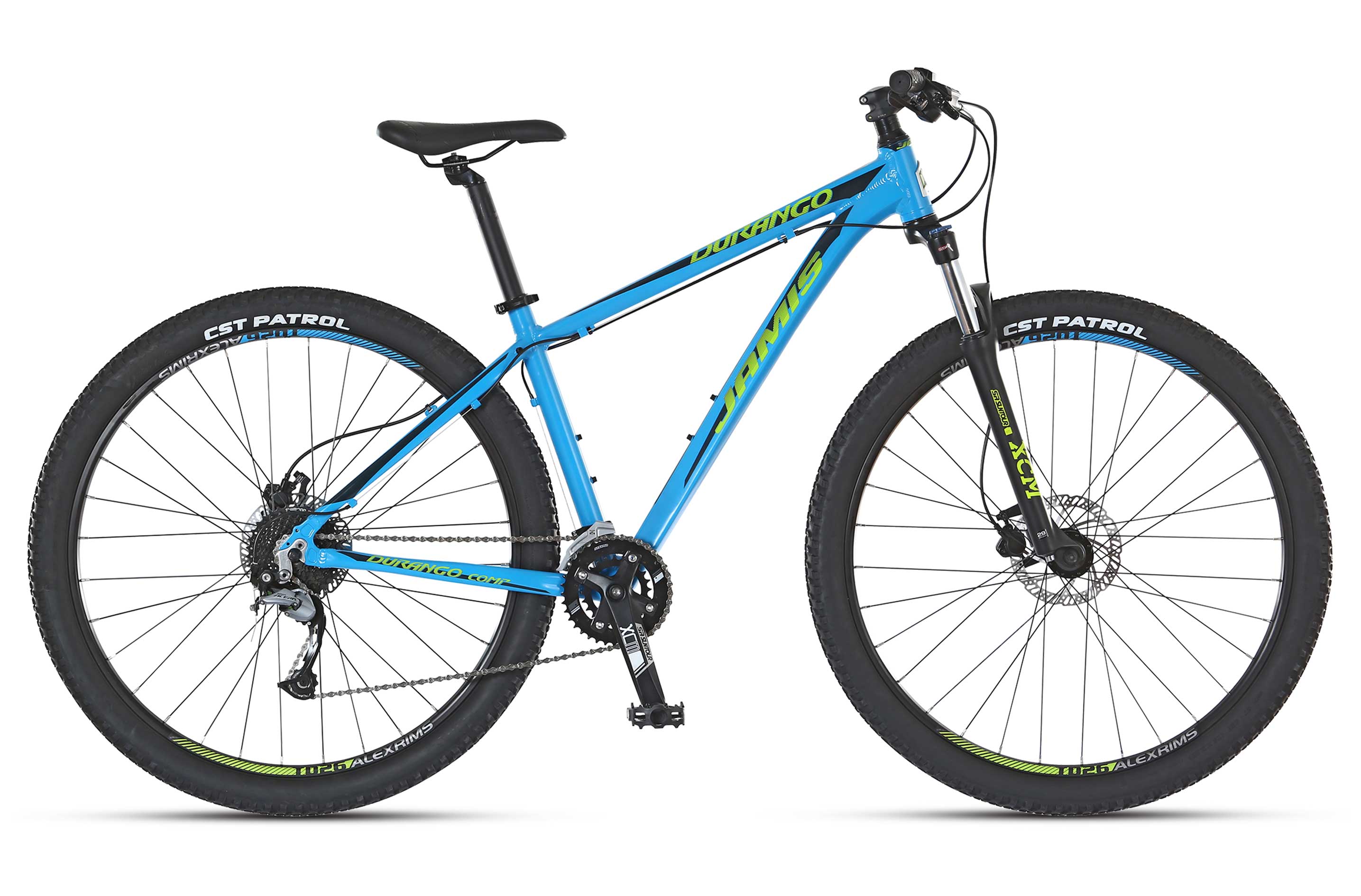 The Durango 29 has a strong aluminium frame and offers a whopping 18 gears to choose from. It comes in 17" and 19", which may be a little disappointing for those who would otherwise need a 21" frame size. The CST Patrol tyres on this bike are 690g. They offer a lightweight, fast rolling grip – at the expense of pinch flats when pushed hard on extremely rugged terrain. If you need something more grippy for winter, we would recommend the Maxxis High Roller II (900g) At 14.74kg this bike is in the weight range you would expect for hardtail mountain bikes in this price category.
As with all the bikes we have tested under £699, the pedals aren't the most grippy – but can easily be changed out for a better pair if you take to more aggressive riding, and will perform just fine for as long as you stick to 'regular' cross country riding.
The Ghost Kato 1.6 is a solid choice for an entry level mountain bike – especially if you can get it on sale for less than 300. The 100m RST suspension forks perform well for most lightweight riders downhill and the Shimano hydraulic disc brakes offer strong, reliable braking. The seat position is ideal for most people, and the brake levers can be operated with one finger on each hand to bring the bike to a complete stop.
This bike has received mostly positive customer reviews, though some people complain about the performance of the front fork being only adequate,  (too spongy for heavier riders, and has no lockout). This is something that could be resolved by buying a stiffer spring (approx. £20) or changing out the fork entirely. Most reviews mention how comfortable this bike is and how impressive the gear shifting is.
The use of 26" wheels is a bold and surprising choice in an industry where 29" is the norm. The smaller wheels make for better handling in tight, winding turns, increased strength and more agility – something which is complemented by the slightly shorter chainstays, decreasing the wheelbase. Another benefit of having 26″ wheels is that they are far cheaper to replace and upgrade, so you won't have to worry so much about throwing this bike around.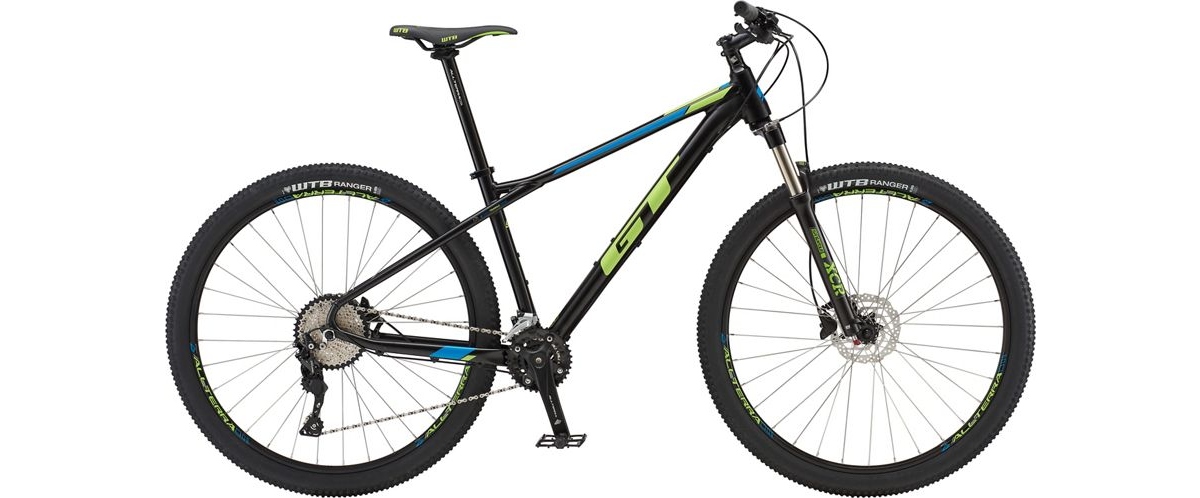 Offering superb climbing control and descending precision, GT have put a good set of parts on a rock solid frame. Value for money wise we'd recommend buying this in a sale if you can. Some would also benefit from a more beefy front tyre to handle wet and or slippy conditions.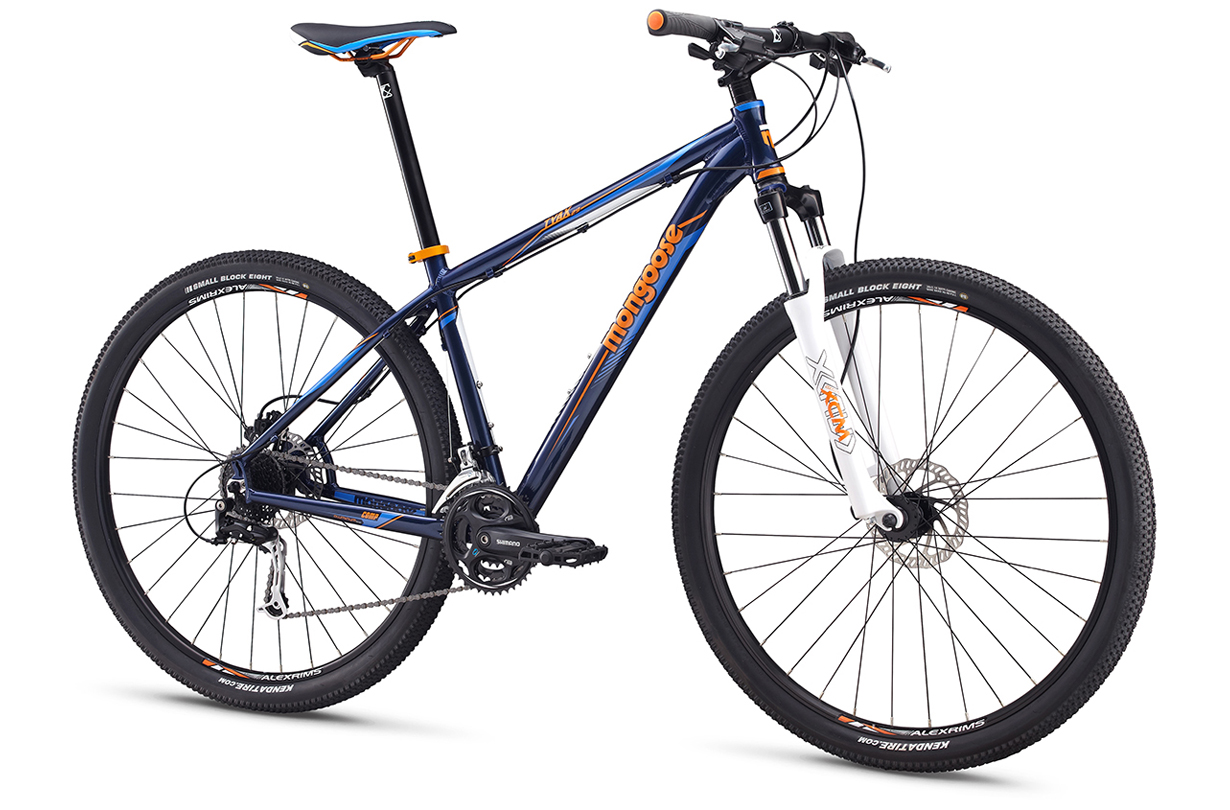 The aluminum alloy frame features hydroformed tubes that can be very stiff in rough situations. Luckily, the SR Suntour XCT V3 suspension fork stands out in this list for its 100mm travel and hydraulic lockout option. The level of control it offers during every dive and rebound enhances rider confidence and ride experience.
The frame provides additional steering stiffness due to the tapered head tube. Especially during steep climbs and hard drops, the hardtail frame gives the rider firm control while the suspension fork effectively softens the blows.
The drivetrain is average for this price range, but it is not as smooth as one would expect. It comes with 24-speed Shimano gears which help achieve faster cadence. The "26 wheels support the rider well, but it could be swapped for the thicker "29 tires when the need arises.
The TYAX Comp weighs 14.2 kgs, which is about the same as the other three bikes. The Tektro Draco hydraulic disc brakes provide the right amount of grip in both dry and wet conditions while the Kenda Small Block tires feel sturdy and durable.
The reviews for the TYAX Comp are generally positive, with many praising the excellent quality of the frame, suspension, and brakes. However, one repeated complaint is that the seats are too hard and uncomfortable during long rides. This can be easily mitigated by purchasing softer padded seats from Amazon and fitting them in.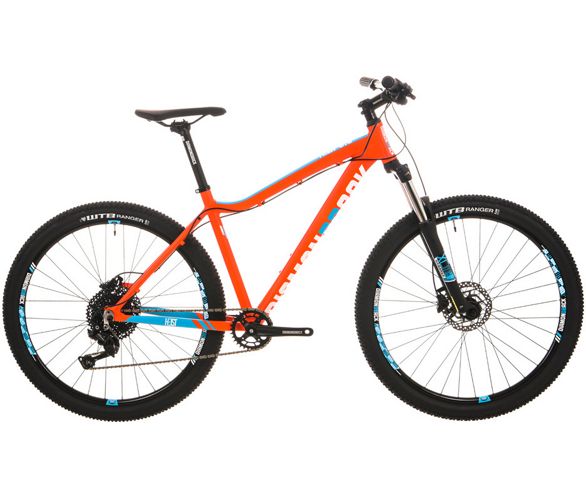 The frame is built with lightweight hydroformed butted aluminum alloy, making it durable for the rougher tracks. Also, the relaxed geometry of the frame makes it suitable for longer endurance trails. The Suntour XCM suspension fork is powerful and impressive as it features 120mm of travel and a hydraulic lockout. The bike is around what you'd expect at this price at 14kgs.
Reviews generally promote the bike for its quality suspension fork and hydraulic brakes. However, there were some complaints about clunkier gear changes.
The Nevada 1.5 is an all-rounder bike that is most suited for beginner and intermediate riders. It comes with a custom-butted aluminum alloy frame that responds well and a Power Curve down tube that provides additional support. The rear triangle feature S-bend chain stays that minimizes frame vibration and increase pedaling efficiency while decreasing muscle fatigue.
You can choose between two different wheel sizes, the Vera Eos 29″ or the Vera Eos 27.5″, to allow for the best fit regarding personal preference and difficulty of the trail. This bike comes equipped with the Shimano 3×7-speed Tourney drivetrain that provides a reliable and efficient gear change. At around 14 kgs, the bike is a bit heavy and can tend to drag when riding uphill.
The SR Suntour suspension fork has a 75mm of travel on it, which is lesser than some of the other bikes on this list. The Tektro mechanical disc brakes hold up well in drier conditions but perform less efficiently in wet conditions. While the mechanical disc brakes tend to drop off power during damp or colder conditions, you can easily upgrade the disc brakes to hydraulic disc brakes for better performance.
The bike has received some criticism from customers for its unimpressive suspension fork travel. While it does affect the riding experience in harsher tracks, the 75mm of travel is enough to gobble up the miles in milder trails. Of course, if unsatisfied, you can always upgrade the fork to something that suits your needs.
Second Hand Mountain Bikes | Our Take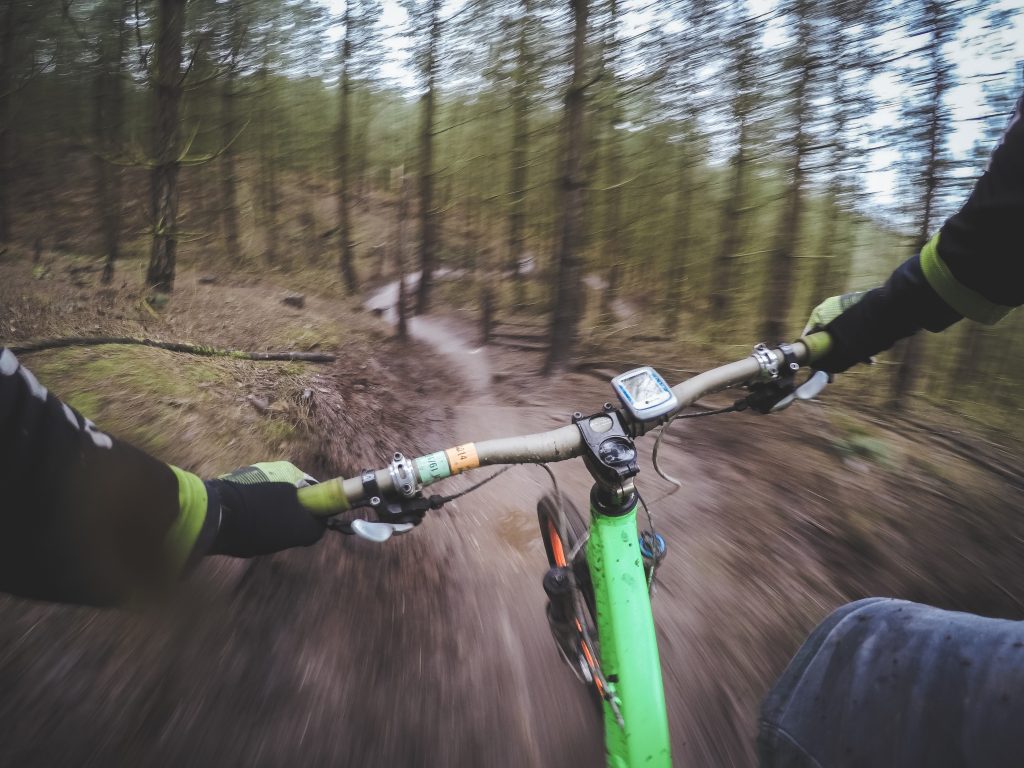 As a general rule, if you research the hell out of something – you're more likely to get something good at the end of it. If you can acquire the bikes listed here second hand and know what to look for in terms of the condition, before replacing worn parts from amazon (CRC or Wiggle) then we would recommend this as the best way to get good value for money. If you want a good value bike and don't feel like getting your hands a bit greasy, then buying these bikes new (with their warranty) is an equally valid option.
For second hand we'd recommend pinkbike, ebay and facebook groups.
In terms of fit – You should able to stand over the top bar with around 50mm or more if clearance on a mountain bike (less if it's more cross country, more if it's more DH).
In terms of condition, look for:
Dents or cracks
Bad bearings on the wheels and headset
Bad bearings in bottom bracket (crank shaft) or steering
Chain and gear condition
Brakes
Wheel damage and buckles
Cable wear
Polished cranks
For parts that can be easily and cheaply replaced with amazon (and no bike knowledge whatsoever), look at pedals, tyres and grips.
Best Cheap Mountain Bikes | Mountain Bikes Under 1000
As a part of our contribution to the second hand section, we thought we'd add some bikes that we'd recommend if you can get them second hand. These are some of the best entry level mountain bikes under 1000 in our view.
As if the name didn't sound amazing enough, Nukeproof bikes are tested and ridden by some of the greatest competition mountain biking greats of this generations. Sam Hill, Australian enduro champion and world champion avid lover and obviously user of Nukeproof bikes.
Not only are Nukeproof bikes used by world champions but Nukeproof has their own team of quality testers who regularly feedback and guide on what can be done to improve the bikes.
What appeals to us most about the Scout Pro 290? Raw animalistic talent and pure minimalism. That's right, Nukeproof have kept the Scout Pro simple yet deadly. It quite simply is a do all and be all bike.
The hardtail Scout is capable of attacking trails, endless single tracks and provides great comfort for long distance XC rides. Fancy hitting some downhill? No problem, the Scout Pro offers amazing handling at top speeds.
It features a low bottom bracket, slack head angle and a stiff frame, meaning – great handling.
With the 2019 edition, you will find that Nukeproof have improved the geometry a little. This bike is suitable for taller rides too! They have managed to soften the ride a little with a profiled seat stay assembly.
It now features a 'Boost 148′ rear axle spacing which provides more strength and stiffness which in turn has increased the acceleration speed. The 2019 Scout Pro can also be fitted with 29″x 2.5″.
The breaks are Shimano MT500 Resin pads.
If you're looking for a mountain bike which is more than capable, perfect for XC and can handle its own on any type of track then the Nukeproof Scout Pro 290 is a perfect choice. At less than $1000 is it any wonder why this is not only our number one choice, but one of Redbulls favourite picks for 2019?
What to love about the Nukeproof Scout Sport?
Hardcore trail bike
Improved geometry
Suitable for up to 2.8" tyres
World champion brand
All round capable bike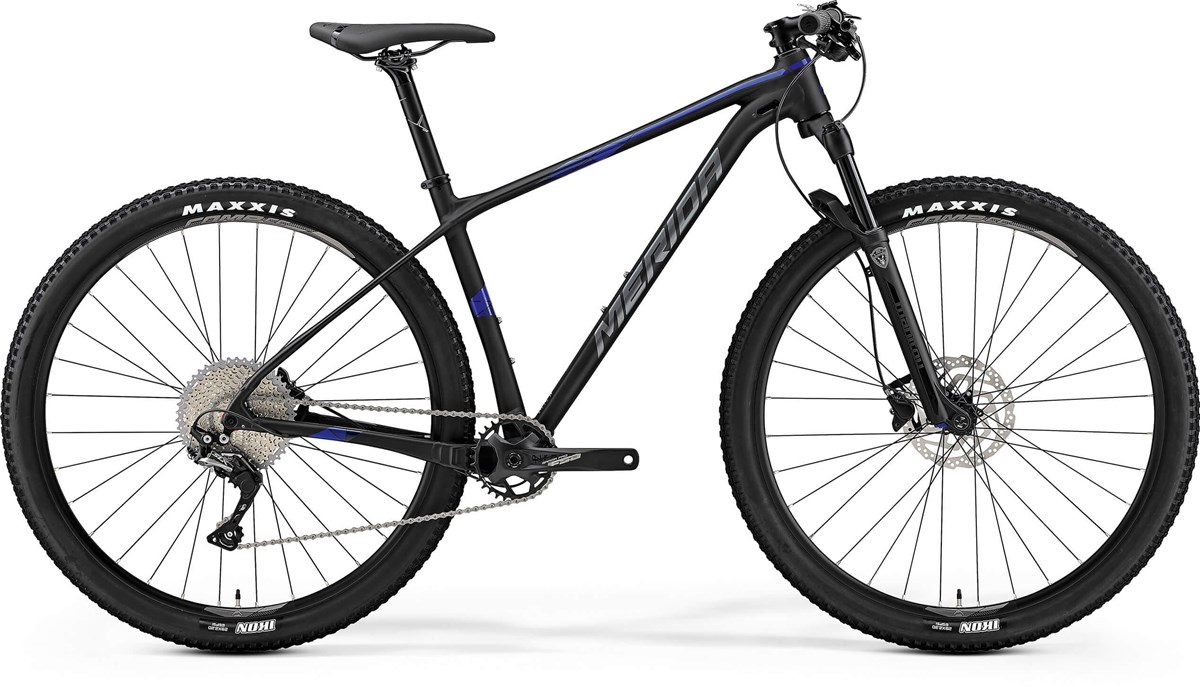 The Merida big nine is an XC focussed mountain bike. Designed to be used for cross country you can see they went the extra mile to make sure this bike is trail capable.
It is clear to see why Merida makes such fantastic bikes though. The founder, RIP Ike Tseng (1932 – 2012), was a man who lived by a core focus 'Move with passion and courage'. Merida first started in
Taiwan and it didn't take long for them to gain international recognition.
Merida celebrated their 25th anniversary in 2013 and with the combination of German R&D and Taiwanese productions they continue to build amazing bikes.
Merida also has its own champion mountain bike riders and quality testers.
The Merida isn't a flash in your face sort of XC bike. It is subtle with smooth lines, it just knows XC and isn't afraid to show off its confidence.
It features a lightweight 6066 triple-butted aluminium frame with aero profiled tubes. BB92 bottom bracket, Boost axle standard and tapered head tube for stiffness and greater steering precision.
The Merida big nine is dropper post ready and features a 30.9mm seat post. It also allows for internal cabling for the dropper post. Smart entry cable clamping allows for rattle free riding.
The big nine features Shimano MT 200-disc brakes as standard and comes in four frame sizes. The front forks allow for 100mm of travel.
The geometry of the Merida big nine limited is competition focussed with a sharp and responsive ride.
What to love about the Merida big nine limited?
Lightweight XC focussed mountain bike
High quality build with a low price
Sharp responsive ride
100mm travel suspension forks
Powerful Hydraulic Disc brakes
Named runner up in the 2018 best hardtail mountain bikes by MBR the hardtail 2 has been through an upgrade for 2019.
Norco designed this bike as part of their XC range of mountain bikes. It is quite simplistic but very capable. As an entry level or intermediate level bike with a lower price point, you can't really go wrong.
Norco is a Canadian company and has been producing amazing bikes for over 50 years. They point out on their website that their back garden is some of the toughest landscape in the world.
Overall the Norco charger does perform well on XC but if you plan to all mountain or extreme terrain you may need to upgrade the tyres at a minimum.
It features a 6061-aluminium frame, 29 x 2.25″ tyres, RockShox 30 front forks with 100mm travel. The brakes are Tektro HD-M275, 2 piston hydraulic disc brakes. Realistically speaking this would've done better with Shimano disc brakes.
Its steep head angle isn't brilliant but it is a well-balanced bike so manoeuvrability and braking are manageable. The 29″ tyres are fast rolling are a great addition they could do with some more grip.
X6 alloy 750mm handlebar is a nice touch with an alloy 60mm stem which is relatively short. What to love about the Norco Charger 2?
Simple and affordable XC bike
Could upgrade the brakes and tyres and have a better bike at a small price
Room for fatter (higher volume) tyres
Decent set up for a first time XC mountain biker
Comfortable uphill riding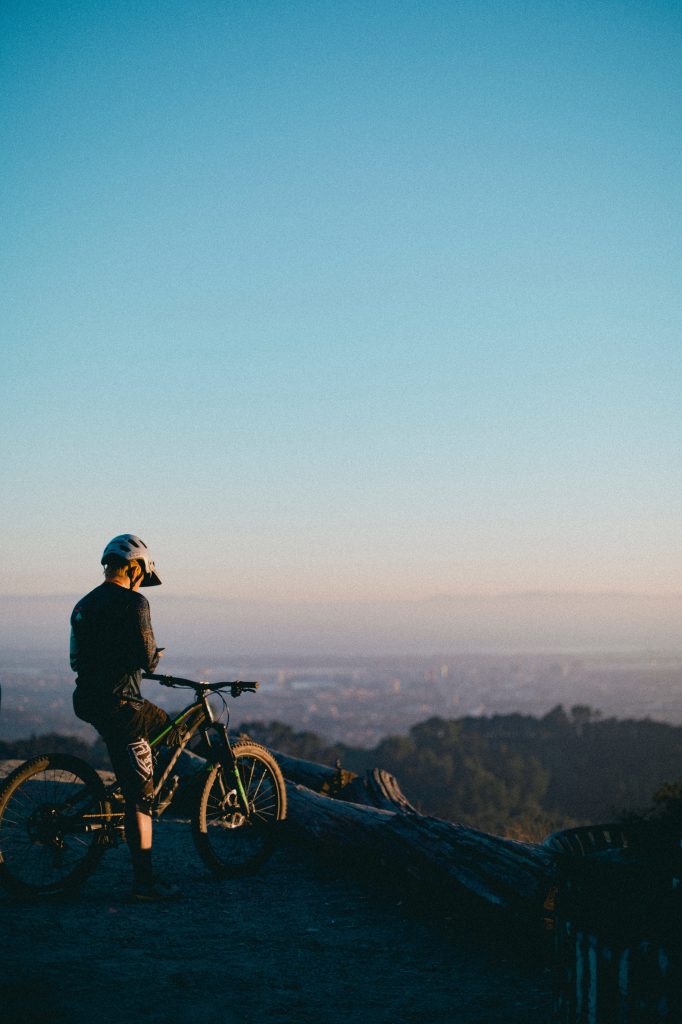 Conclusion
There are now a good number of high-quality mountain bikes to choose from with a range of sizing and style options that will suit more or less anyone. The bikes that are listed in this article are affordable but agile and sturdy. These bikes will function best at trail centres and as 'general bikes' that will get you around. They can be relied upon to keep you safe through slippery conditions – with the option to use them for trail riding or to introduce yourself to Enduro Mountain biking at any point (which we would certainly recommend).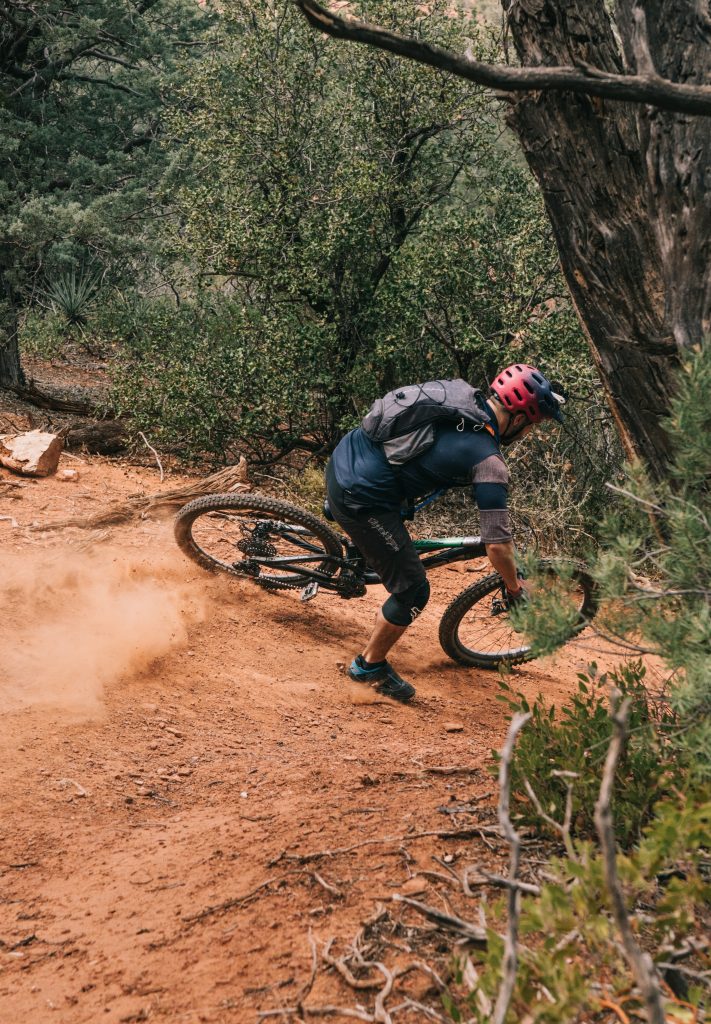 BMX Helicopter Drop and Interview [Bike Setup] – Kriss Kyle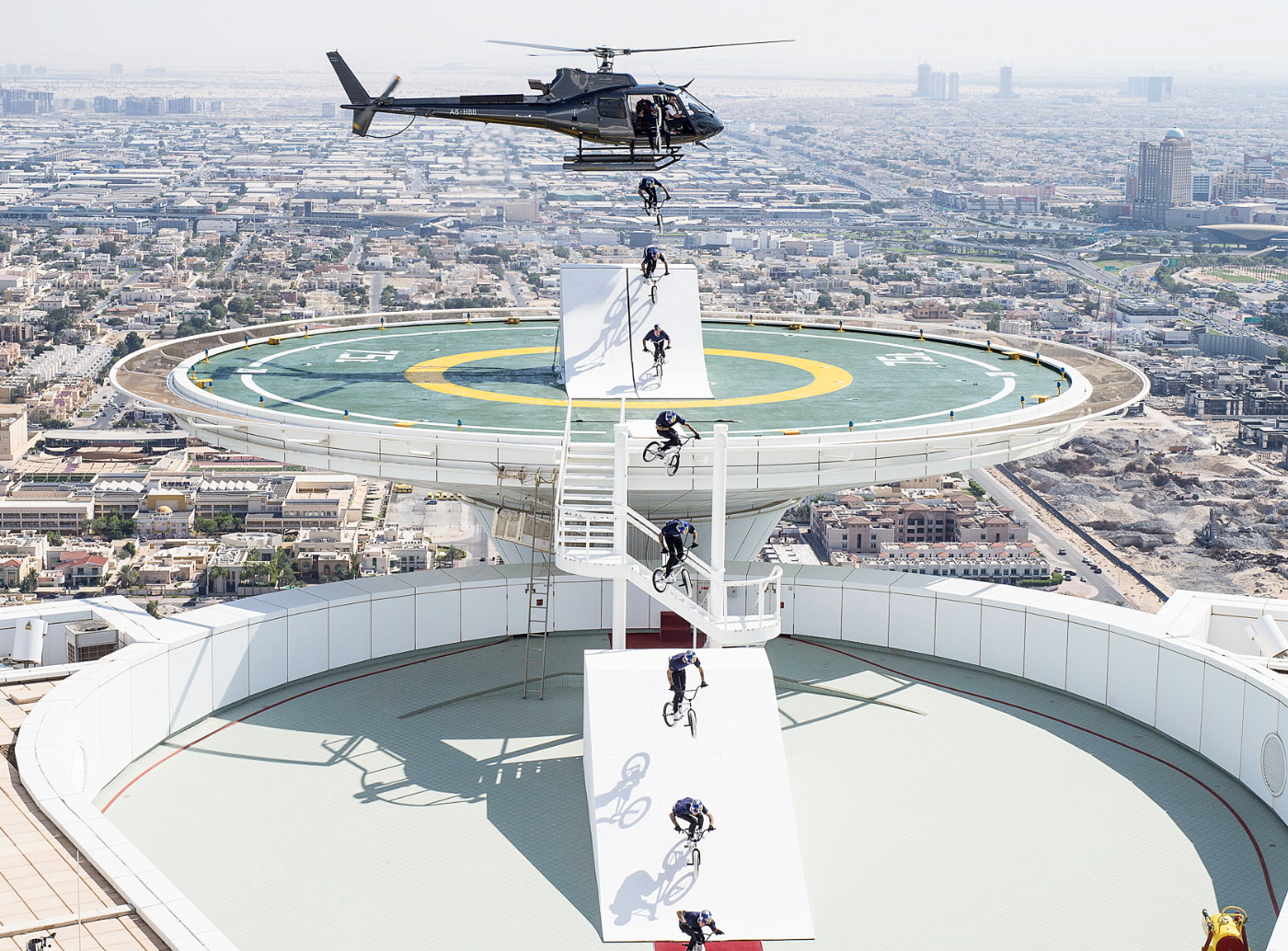 BMX HELICOPTER DROP: KRISS KYLE IN DUBAI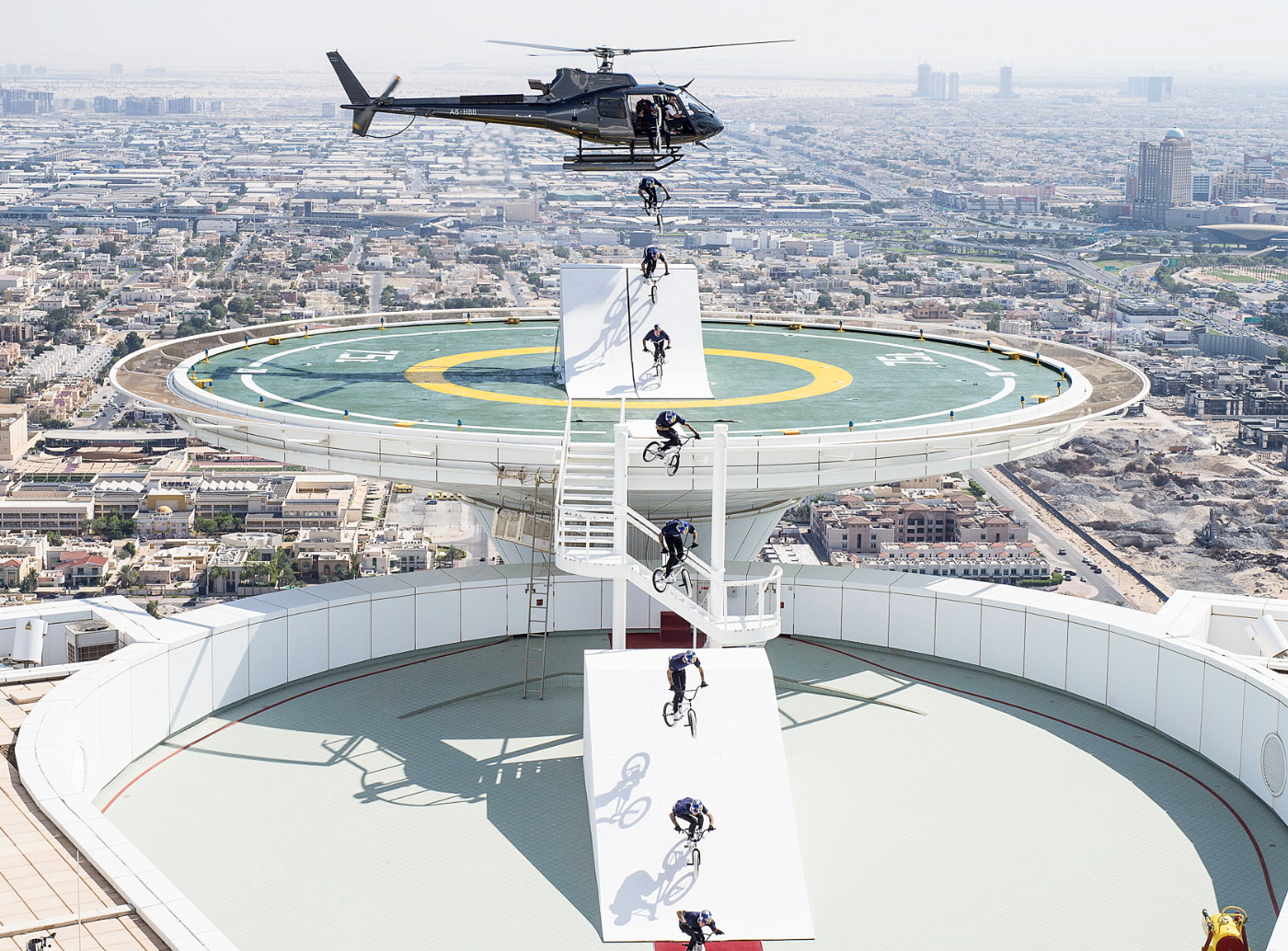 One Shot, One Opportunity – Kriss Kyle shows off his lack of fear in new video edit, starting with an incredible helicopter jump
28 January 2019 – What's the best way to conquer a lifelong fear of heights? For Scottish BMX star Kriss Kyle, throwing yourself out of a helicopter is one way of doing it. The unique attempt is the first in riders' latest edit which sees him turn the unique architecture of Dubai into a giant BMX park.
Opening with a huge cityscape shot, we see Kriss leaning out of a helicopter as he approaches the iconic Burj Al Arab Jumeirah hotel, one of the world's tallest hotels and most unique buildings. We then see him jumping 14 feet from the helicopter – 720 feet up – and onto a helipad on top of the hotel, before immediately tackling a second equally daring drop and heading into the building itself.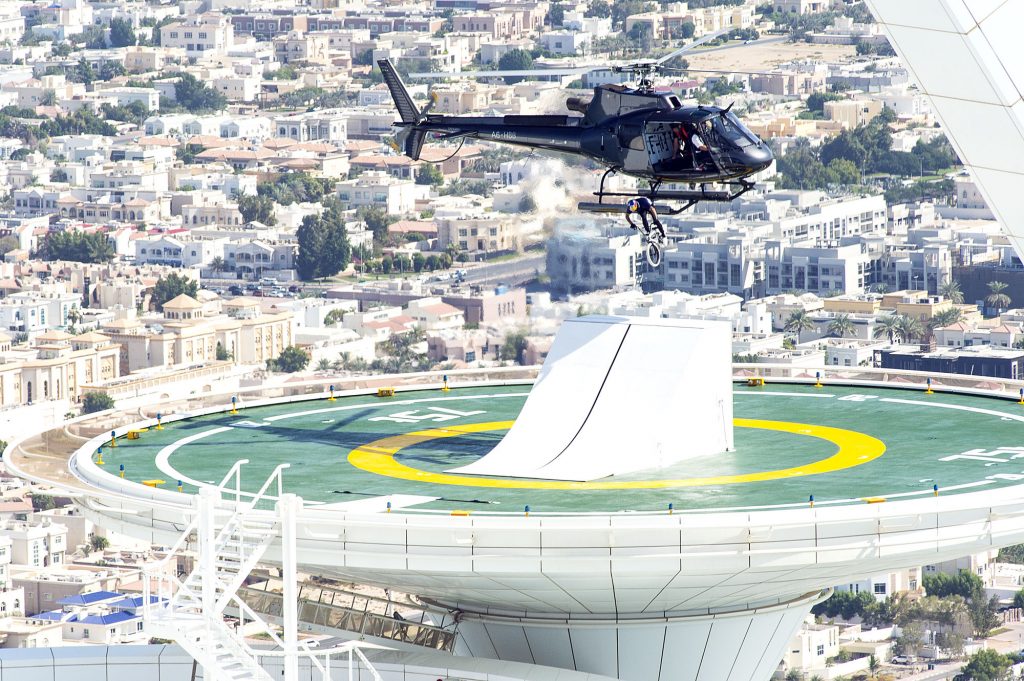 Kriss then makes his way throughout Dubai, which sees him flying down the twisting slides of the Wild Wadi Waterpark, flipping through the grounds of the Burj Khalifa before finally hopping onto a moving boat as he leaves the city behind.
Due to the extreme nature of the stunt, Kriss only had one shot at making the helicopter jump work. Despite practising for months on smaller jumps, factors including wind, thermals and Kriss' crippling fear of heights meant that it was literally down to one take to make it work.
On completing the jump, Kriss said: "We actually planned to film the jump the day before. But due a rare weather system at the time we planned the jump, we were forced to reschedule the attempt to the following day. Sadly that meant for another sleepless night for me! Working on a Red Bull edit always means you get to challenge what's possible and this was no different. I can't thank Dubai Tourism enough for opening their doors and helping us make this film possible."
Click HERE to watch Kriss' latest edit.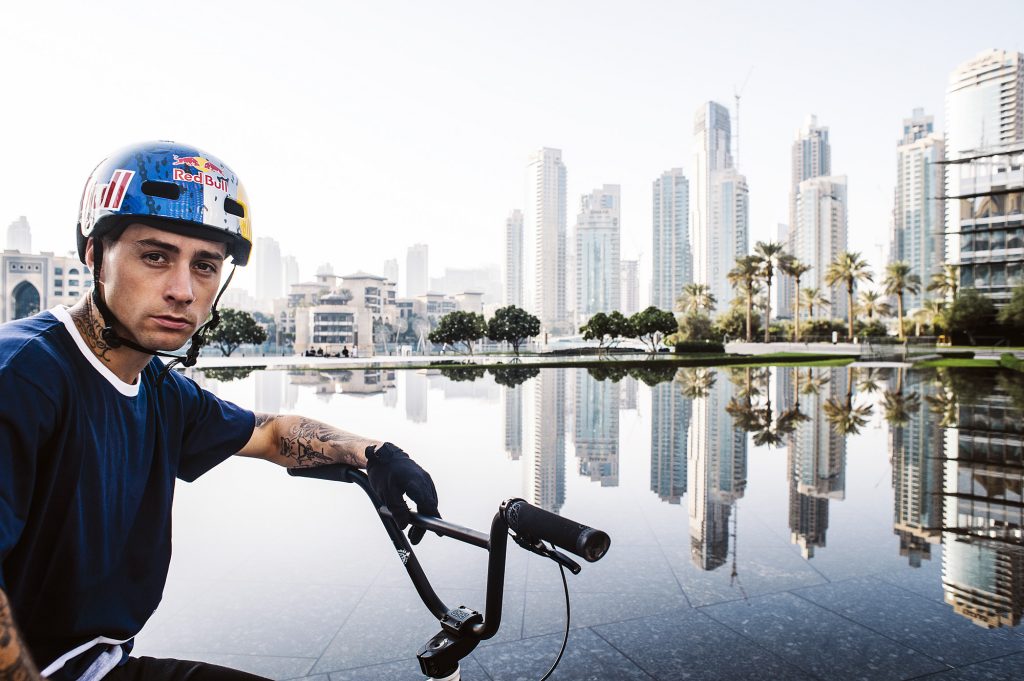 Bike Setup for Dubai Video (Interview Exerpt)
I think I've got nine, nine bikes, but they're all different bikes. A road bike, three mountain bikes, four mountain bikes actually, and then a few BMX's. But, my favorite one's obviously my BMX, and it's my new second shift frame, the freedom frame. And, it's called freedom, BSD freedom. But, I think for me the meaning behind that just means you can do anything you want, you can ride anything you want, there's no rules, there's no nothing. You can just go where you want, you have the freedom to do it.
I've always had no brakes on my bikes since I was maybe 14, because I could never fix them. I would snap the brake cables and I could never put any on it because I didn't know what I was doing. I was so heavy handed as well, so I just decided to rip them off, and I didn't have brakes from then right up until the Dubai video. When I put them on it was really weird, I was like this feels so weird on the BMX. I needed it for the heli-jump because if I mucked up the line I could have broken my legs or died. And then, also I needed it for the water park stuff as well because the speed that you get going down those flems is absolutely insane. It doesn't look steep on the video, but I was shooting down it!
The bikes are just a lot lighter and a lot stronger than what they used to be, I remember especially being a small kid trying to throw a 40 pound bike it was absolutely hellish. But, now the bikes are a lot lighter and a lot stronger. So, everything just keeps developing better and better each time. It's crazy to think where BMX will be in a couple of years, because it's mad.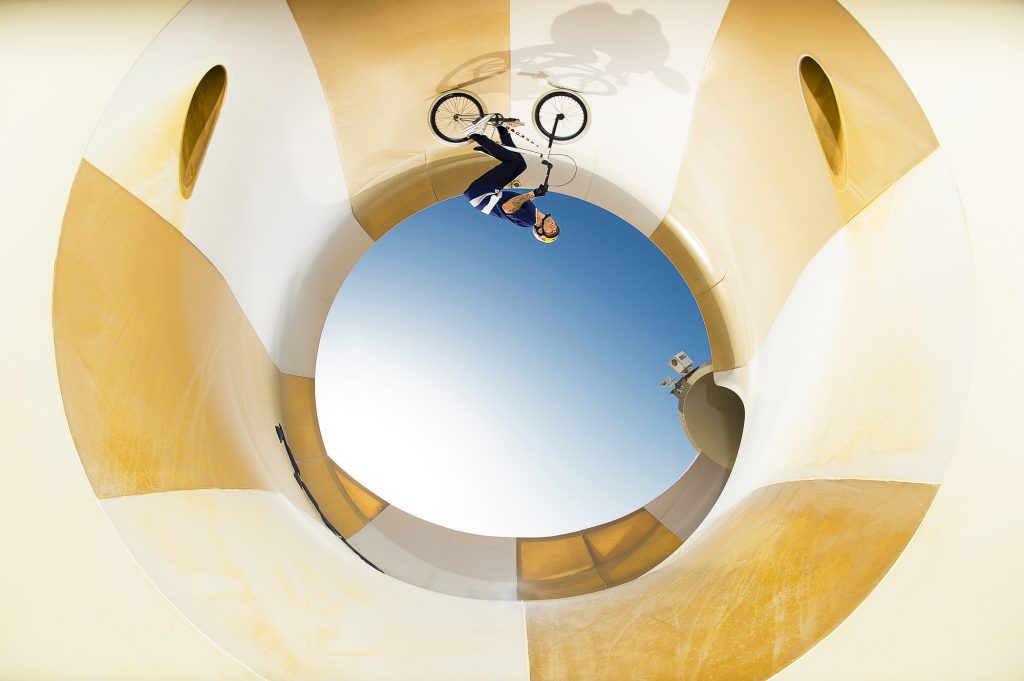 Preperation for Dubai and the Heli Drop
How do you prepare physically for events? Do you split your training between the different riding disciplines?
Not really. I just ride all types of bikes, and do quite a lot of running and stuff, and just make sure I'm pretty fit and healthy, to be honest. But, I don't have a proper training program or anything like that. I run almost every day, but I only do like 5km or something like that, or whatever. And also start doing a wee bit of weight training, and then I ride long distance road bike sometimes with my friends. But then also a lot of mountain biking. I really love mountain biking actually. And then also ride my BMX, of course, all the time.
How do you prepare mentally for tracks / features you aren't sure if you'll be able to land? How do you decide whether you're ready to attempt a trick?
Before I try anything I'll always try and visualize it in my head, like picture it in my head. This could be if I'm street riding or something, or if I'm jumping out of a helicopter, or anything, if I can't picture what I'm going to do in my head, and picture myself doing it, and how it's all going to go, then I won't try it because I'll get hurt. But, if I can picture it and see it that clearly I know for a fact I'll do it. So, it's just about getting the balls and then sending it.
In terms of nutrition do you have tightly regulated diet or something far more relaxed?
Pretty relaxed, but I eat pretty good. I'm not that strict on myself. You can take it as serious as you want it. But, I just try and eat a well balanced diet, and try to eat all the right things, really.
What music do you listen to?
Loads of stuff. Absolutely loads of stuff. 80s. Yeah, I like the 80s quite a lot. But yeah, Stone Roses. But I even like Post Malone. Everything. Literally pretty much everything.

Kriss Kyle – From Getting Started in BMX to Today
How did you first get into riding?
I first got into riding through my older brother. My mum and dad used to take me to the skate park and I'd watch my brother ride, him and all his friends. To me it just looked as if they were having so much fun. And then, I wanted to be a part of that. So, for my tenth birthday I begged my mum and dad for a small BMX, a real small one. And then I got it and I couldn't believe it. And then, I'd go out riding every day with my brother and all his friends, and I was part of his crew. And then, I just loved it, I just got hooked since then. And then, ever since then I just haven't really lost the feeling that I get from doing it.
Is there anyone who really helped you or inspired you to get where you are today?
Just a lot of riders I look up to from when I first started riding. Like Chase Hawk and Dave Mirra I always looked up to those dudes. And now it's crazy because I'm riding the same contest with them.
What changes can you see in BMX in the future?
BMX is in the Olympics for 2020, which I think is amazing because that's going to get shown to a lot more people outside of BMX that don't know really what we do, and I think when they see it along with millions of other people I think it's going to blow up. Quite a lot of the public haven't seen anyone doing a back-flip double tail whip yet, and I feel like when someone does that, or a double back-flip on a bike, I think they're going to be like oh my God, what is this sport? And I think it's just going to blow up again. So, I think for the years to come I reckon it's going to just keep growing stronger and stronger, and I think better and better.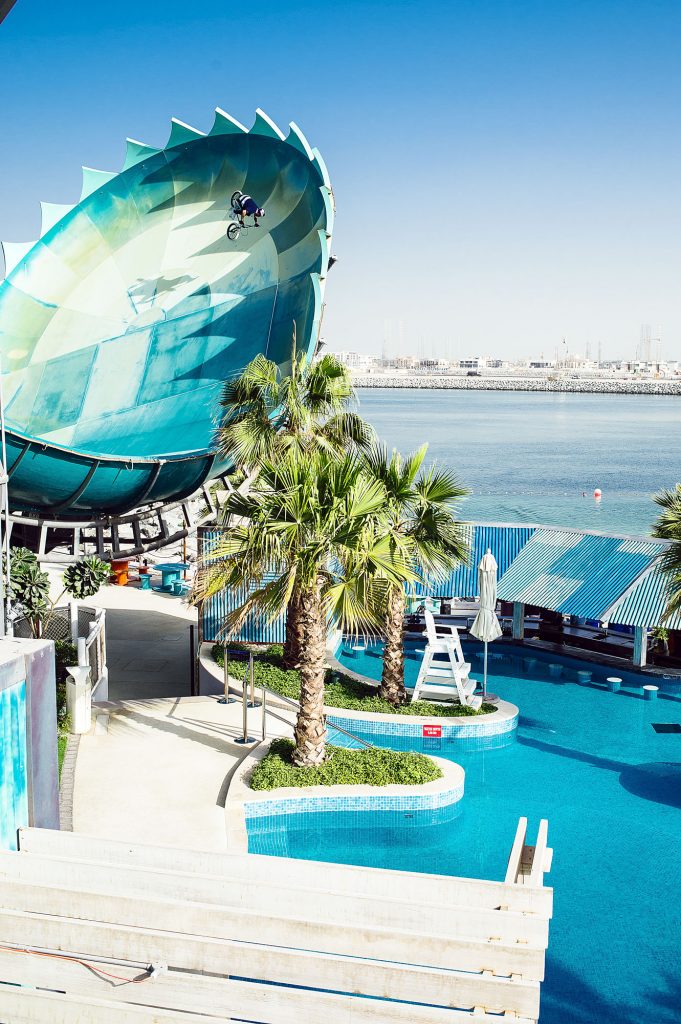 RNT Setup Commentary
With one of the best riders in the world using a 300$ bike frame, it would seem very difficult for anyone to justify getting a frame at over $500. This is a major bonus to us, as the lower the cost entry bar into biking the more people that can join and the bigger and better the community will (hopefully) become. This shift towards more being avaliable for less is something we've seen mirrored in mountain biking (though the entry cost is still higher than BMX). For mountain bikers, especially those new to the sport we think riding BMX with no brakes is hugely beneficial – as it forces complete commitment to your choice of line. For more experienced riders the manauoverability and freedom that a BMX bike brings can allow you to practice tricks and techniques you would struggle far more with on a larger, heavier bike – allowing for smaller and more manageable steps towards a goal. It's unsurprising that many of the most well known Red Bull mountain bike riders (Danny Macaskill, Fabio Wiber, Josh Bryceland) also have roots in and spend a notable amount of time on BMX bikes.