In this article we address finding a new mountain bike for your kid(s) without breaking the bank (keeping it under $500). In our search we found there are a surprising number of great options around for under $500, with a range of considerations for child – specific design. The bikes listed below balance solid modern design with low prices, making them perfect for parents who are on a budget but want their kids to have a good introduction to mountain biking. We've looked at products with quite a wide range of prices, so if your budget is a little less than 500$ then there should still be something here for you.
Sizing Guide
We are aware that children grow with time – and so shelling out on a smaller bike (which they may quickly grow out of) might not be something that you want to do.
With this in mind we've included some adult's bikes that work well in size small.
If your child is quite large / likely to be too big for most of the bikes on this list then buying one of these bikes for them to grow into would be a good idea.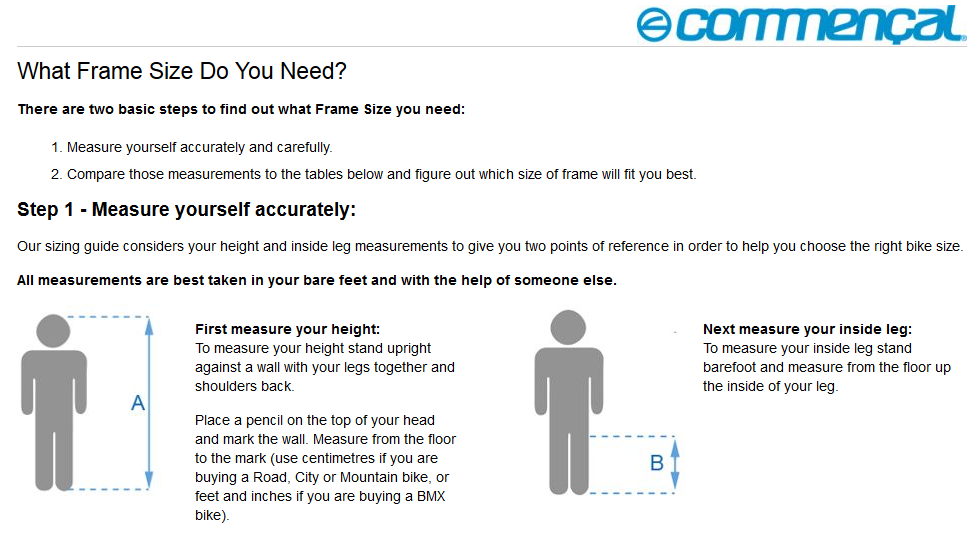 For each of the bikes linked here to chainreaction cycles, there is a very detailled 'Sizing Chart' on each page which can be examined. We've also included a section of the Commencal sizing guide above – from the measurements taken in that image you should be able to accurately size a bike to your child based on the table in the specification sheet.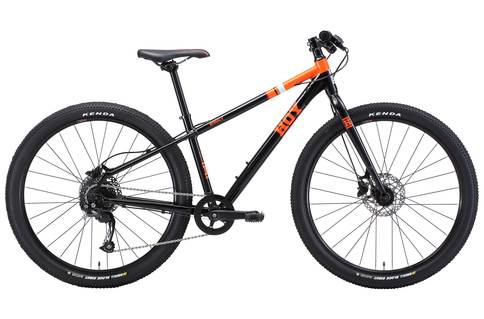 The Bonaly 26 Disc offers nine different gears to choose from.
This bike's frame is made from the HOY 6066-T6 aluminium heat-treated alloy, making it extremely durable and lightweight. The slightly lower bottom bracket contributes greatly to more secure handling. The bike is designed to be reliable, and long-lasting.
The gear shifting is extremely smooth making this bike a good choice for parents who want to build up their children's confidence. The straight blade aluminium fork on the front maximises power transfer to the drivetrain – the lack of suspension making the bike faster uphill and on flat terrain.
EvansCycles made the understandable decision to opt for a more rigid, efficient design both here and in the tyres – which are geared towards lightweight efficiency more than cushioning and grip. While the tyres that come with this bike aren't great for handling more rough terrain, you can easily switch them out with better ones from eBay for cheap. The reality is that most kids in 'general' riding won't need anything more.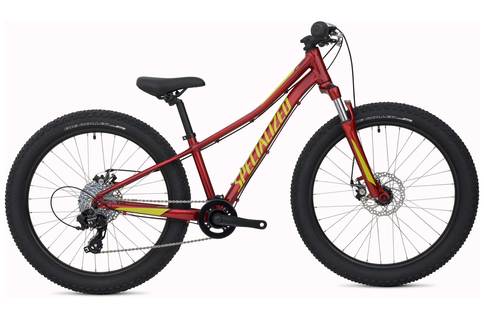 The Riprock 24's large 24 inch tires provide superior grip and control while riding. With the highest grade of aluminium frame on this list you should expect years of regular use with minimal wear and tear while riding this bike. The single chain ring on the front makes the bike far quieter (as there is increased chain tension) over rough terrain. This bike's extra-large tyres are far superior to the ones on the HOY Bonaly 26" Disc bike, as they are much larger and sturdier. The mechanical disc brakes are very effective and will always allow your child to stop the bike quickly and safely.
The overall geometry of the bike is built for comfort and confidence – the lowered top tube allows for a longer lifespan on the bike – as smaller children will be able to get on it while keeping the frontend very high for maximum stability. In terms of aesthetics the seat is a little large, though if this matters another could easily be acquired online. The customer reviews for this bike are overwhelmingly positive. People who review this bike tend to comment on amazing durability and sleek design.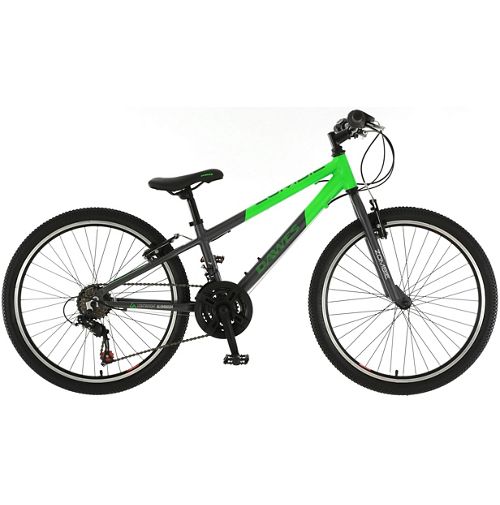 The Dawes Zombie is an entry-level bike for kids from 9 to 12. It delivers reliable performance with a tough aluminum alloy frame, Shimano drivetrain, and steel fork.
This junior bike is lighter than the other bikes that use steel alloy. As such, kids can maneuver it easily. They will feel less fatigued after biking for long distances. Moreover, because the frame is lightweight, kids will find it easy to increase their biking speed.
The bike weighs 11 kilos.
The Dawes Zombie uses high-tensile steel that is both durable and lightweight. It is perfect for off-road exploring. Take note, however, that although steel is durable, it may rust over time, especially if the paint is stripped off and it is exposed to the elements.
The 1.95-inch tires make the bike suitable for woodland trails while maintaining a relatively low weight and rolling resistance.
The drivetrain is Shimano 3x6 speed, and the brakes are V-brakes. The drivetrain offers a larger gear range than its counterparts, while the V-brakes provide excellent stopping power.
Most users say that the Dawes Zombie is an excellent choice as a starting bike for their child. However, many complain about the handle grips coming off, and the V-breaks can break after some time. Neither of these issues is serious however and can be fixed if or when they occur.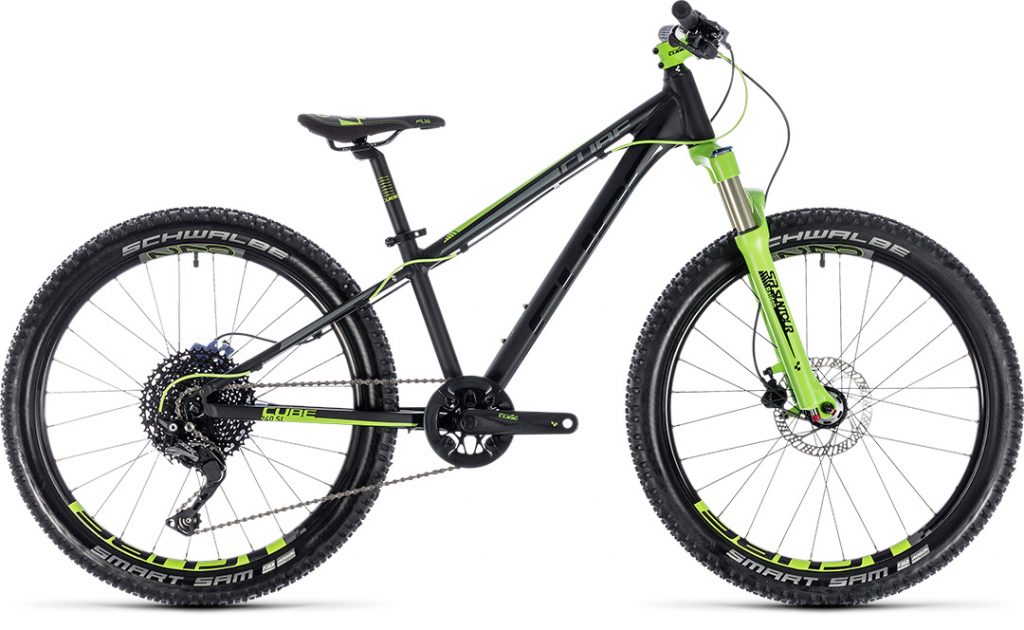 The Cube Kid is an excellent choice for a starting bike for growing kids, aged 7 to 10 years old. It is midway between a child's bike and an adult's mountain bike.
The frame is 6061 aluminum, which is a durable frame material for mountain bikes. It features a low top tube that allows kids to get on and off the bike faster. Kids are known to always to test their limits when it comes to their performance on the bike. As such, the derailleur can take a hit during their rides. The derailleur hanger absorbs the impact and can get bent or damaged. Fortunately, the derailleur hanger can easily be replaced.
This bike weighs 11.1 kilos.
The Cube Kid 240 uses a Suntour suspension fork. Suntour is a trusted brand by bicycle manufacturers. Any kid who uses this bike will feel comfortable because the suspension for absorbs the impact of rough terrain.
The Cube features Impac Smartpac tires. Its low profile tread pattern provides low resistance and fast rolling.
The brake levers suit small hands, so your kid has better control of the V-brakes, which provide plenty of power for stopping. The Cube Kid has a power modulator to avoid over-enthusiastic braking in front.
Most users feel satisfied in buying the Cube Kid for their child. However, some users complained about the unsealed bottom bracket and the cheap pedals. These can be easily replaced though with a sealed BB and better pedals. The low-end air fork is adjustable. You can replace it with a high-quality one down the line.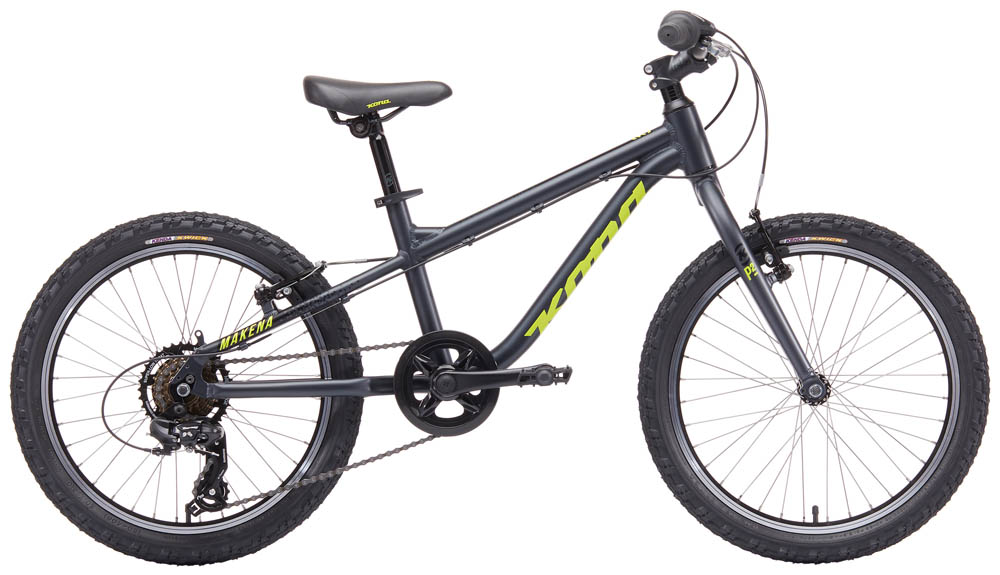 If you are looking for a safe and reliable entry-level bike for your child, you can buy the Kona Makena bike.
For the Kona Makena, it features a butted frame made out of 6061 aluminum alloy. This means that the lightweight frame, with reinforced aluminum at the joints, ensures a comfortable, yet safe ride, even on rough terrains.
The Kona kids' bike has a Chromoly steel fork. Chromoly, which is chromium-molybdenum, is more robust than ordinary steel; thus, manufacturers use it for high-end bicycle frames. Most manufacturers generally prefer Chromoly steel because it uses less steel for the same tensile strength, leading to a lighter product.
The tires are Kenda Kwick 2.0 x 2.0". These streamlined tires wear out quickly but are extremely inexpensive, so replacing the tires won't cost much.
This bike uses V-brakes, Shimano Tourney at its rear end, and a 7-speed cassette for smooth gear shifting.
Most users like the Kona Makena for their kids. Some of them replaced the pedals because they notice that their kid's feet slip off from the original plastic ones.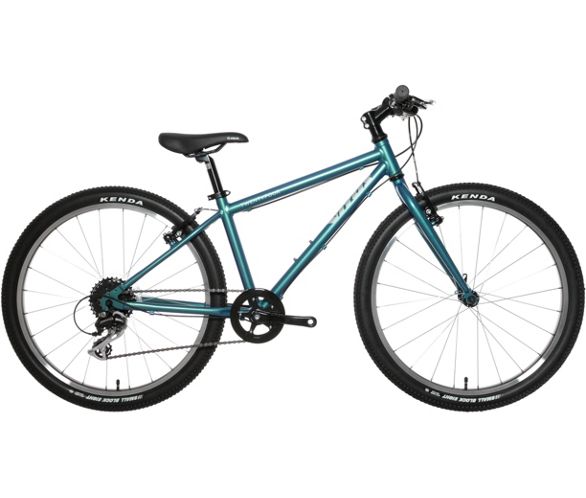 The Vitus Twentyfour is lightweight so your little kid can maneuver it with confidence.
This bike has a 6061 lightweight aluminum alloy frame. Aside from aluminum, it contains magnesium and silicon, which is superior to the 7005 aluminum alloy.
This Vitus bike weighs 10.2 kilos only. While it was built for kids aged 5 to 8 years of age, it may be lightweight for kids aged 7 and above, but a bit heavy for kids aged below 8 years old.
The rigid fork is traditional and uncomplicated. It does not require maintenance and repairs, unlike many suspension forks would. Also, it is lighter than using a suspension fork and allows for a more efficient transfer of power to the drivetrain.
This bike also uses Kenda tires, which are inexpensive. So, if you want more durable tires than the Kenda tires, you can replace them as soon as they wear out.
The Shimano 8-speed drivetrain makes it easy to change gears. The Vitus bike has the Acera rear derailleur and Tektro V-brakes for easy to maintain reliable braking.
Most users state that this is a great starter bike for kids, but it would be great if it were made lighter. Some also added that the matte-finish scratches off easily.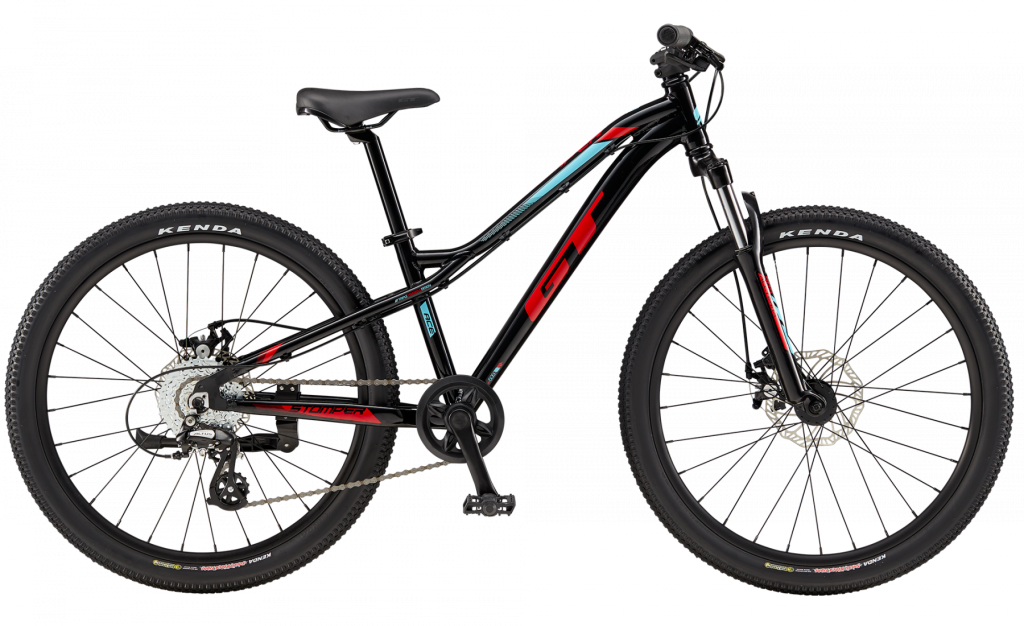 GT's Stomper Ace 24" is perfect as an entry-level bike for your child. It has the LegFit system that ensures an ideal fit for smaller bodies. Meaning, that it is not just a tweak of the adult model.
The Stomper Ace has its pedals slightly further forward and its crankset marginally narrower to better suit the physical dimensions of young children. Your child will pedal more naturally because of these changes. Plus, the alloy frame is lightweight.
The Stomper Ace weighs 11.8 kilos.
The fork is an All Terra, 1-1/8" Threadless Steerer with 50mm Travel. There is not much difference between the threaded and threadless for the user. However, for manufacturers, threadless steerer tubes are less expensive to produce and install, meaning that the choice made by GT is a durability-oriented one.
Stomper Ace tires are Kenda Small Block Eight 24 by 2.10". The 24" tires roll on various trails smoothly and easily, which make it perfect for mountain biking.
The bike has Promax cable actuated disc, which provides incredible stopping power. The kid does not need to apply a massive force to the lever to make the bike stop. Thus, he does not experience muscle fatigue because he exerts less hand pressure, especially during a long descent.
Most buyers report that their kids are happy with this bike and are also pleased because this bike is inexpensive. Still, some buyers upgraded some parts such as replacing the pedals for a better grip and swapping out the front tire for another brand.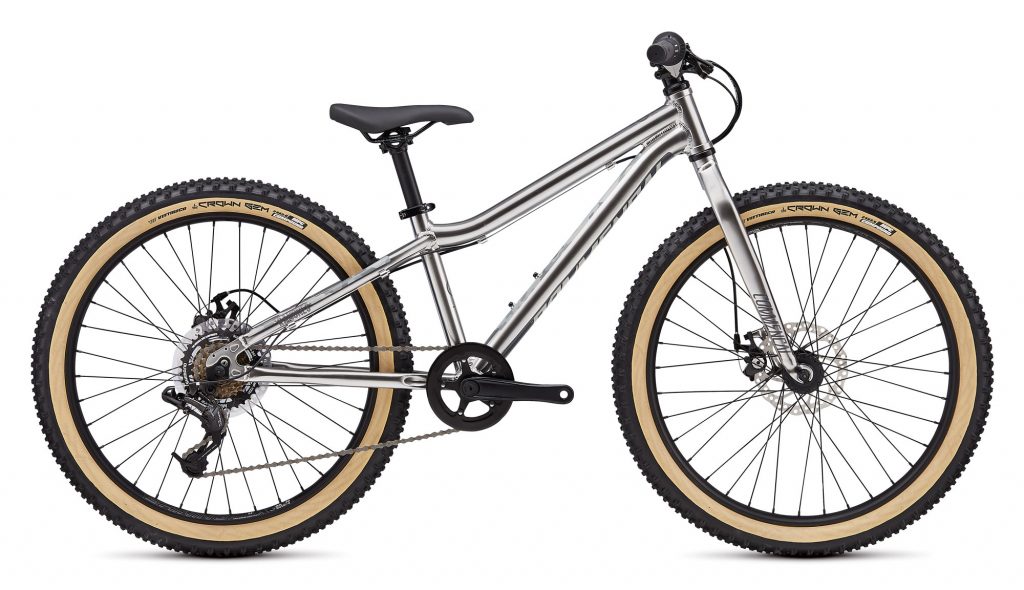 The Commencal Ramones 24 features all the design considerations of an adult bike, built and styled for kids. The frame is constructed from the same 6061 aluminum alloy that can be seen on many of the bikes on this list (a popular choice for good reason), but with the highest quality finish that we've seen. The bike itself comes in quite light at 10.5kg, with a traditional rigid fork, which is popular as it does not need maintenance and repair.
The tires are Kenda Slant 6 24 x 2.6". The plus size acting as an effective form of suspension and are excellent for rough, dry terrain. The tread is quite shallow, giving a fast rolling speed but lesser performance for wet roots and damp ground – if you live in an area where this is likely to be an issue we would recommend you change out the front tyre for something a little more aggressive.
The Ramones 24 features mechanical disc brakes that have kids' specific Jagwire cables and Tektro levers that can easily tackle small descents. These brakes have small rotors, so they are not very powerful.
The Ramones 24 is a fantastic entry-level bike for kids and one of the best kids – specific bikes on this list.
Bikes for kids to grow in to – Well Adapted Size Small Mountain Bikes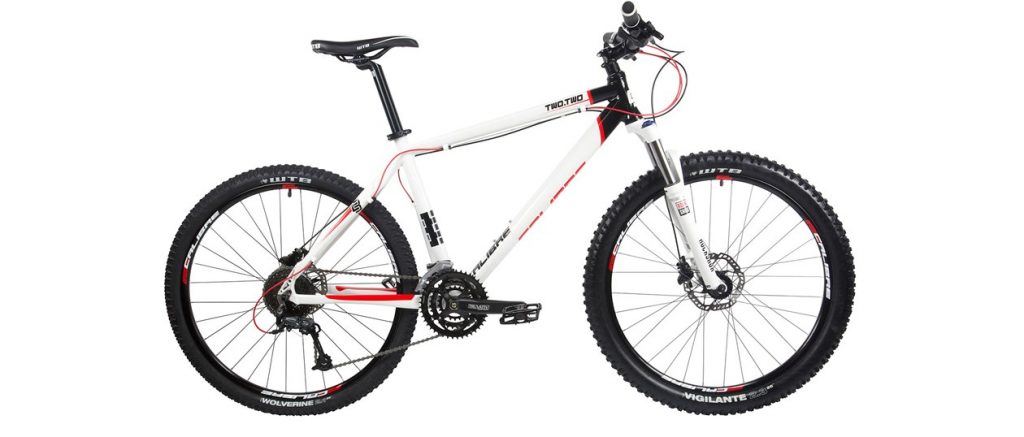 Caliber is a new brand of bikes, so you may not be aware of it. This lightweight mountain bike features sturdy components found in high-end mountain bikes. You may even decide to upgrade some parts so that your child can use it during his adult life.
The hydroforming technology enables manufacturing to fine tune the tube shapes to achieve the appropriate stiffness, weight, and strength. Its multi-faceted outline stays shape-shift on the journey from the sculpted dropouts to the seat tube, providing a lot of tire space for messy rides. The head tube's diameter is increased to prevent the chassis from twisting. Calibre Two.Two only has two frame sizes: 18 inches and 20 inches. For those of shorter stature, you may need to search for other bikes.
The bike weighs 13.9 kilos.
The Two.Two uses the pukka RockShox XC 28 coil-sprung fork. It has a lockout dial and an adjustable rebound damping.
This Calibre bike features the Vigilante 2.3" in front and the Bronson 2.1" in the rear, which is a bit sketchy on wet terrain. It would be best to swap it out for Schwalbe tires.
The Shimano hydraulic disc brakes need maintenance like other hydraulic brakes. So, if your kid will use this bike, you need to check on the brakes from time to time.
Most users love the Calibre Two.Two, but some complain that the chain breaks a few months after moderate use. The bottom head bearing may need replacement because it is not corrosion-resistant. Water can seep into damage the bearing. In essence, you need to maintain this bike properly if you intend to use this bike in the long term.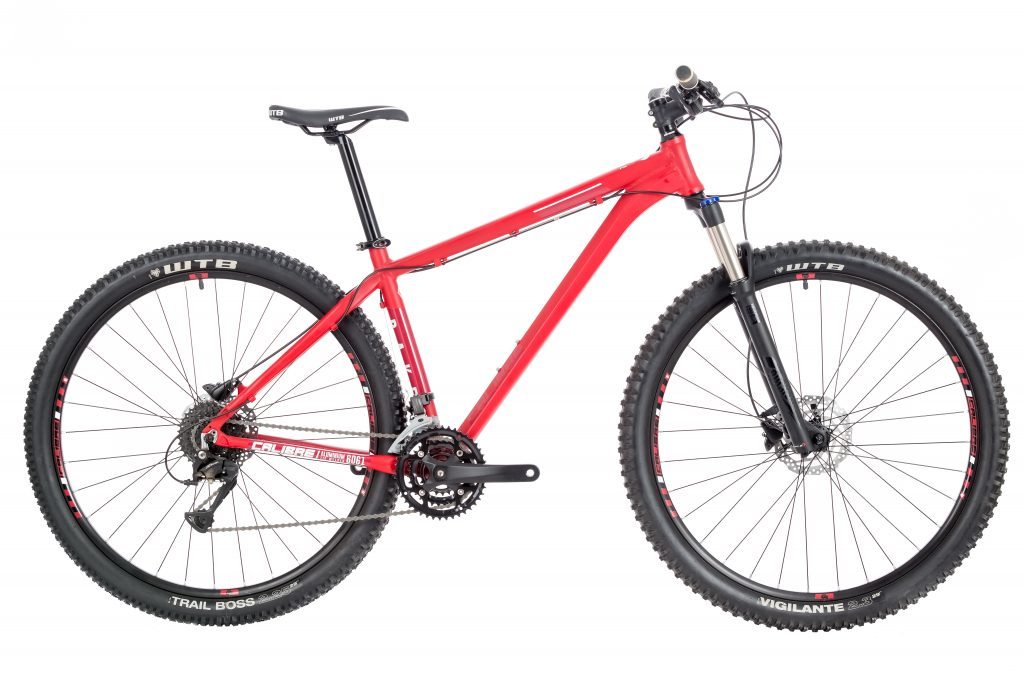 Calibre Rake is an affordable and durable 29-inch mountain bike with lightweight, robust aircraft-grade aluminum.
This bike comes in a 6061 hydroformed alloy frame with a 69-degree head angle that's not slack but fares better compared to 29er bikes in the same price range. Plus, the seat angle is at 74-degree that provides a lot of room for maneuvering downhill. Actually, the 74-degree angle is within the standard range of 70 to 75 degrees. Since your child will not be racing, this angle is perfect as it will not transfer the weight on his hands that can cause aches and pains. Steep angles, which keep hip angle open, are for racers who need more breathing power.
The bike weighs 14.74 kilos.
There are limits to upgrade potential on the fork since the head tube isn't tapered. However, its fork has rebound damping and adjustable preload sensitivity. Although the fork's stanchions can bend and twist if pushed too hard, your kid can still navigate through rocks, roots, and steps with confidence and speed.
The front tire is a WTB Vigilante 29 x 2.3" while the rear tire is a WTB Trail Boss 29 x 2.25". Moreover, the 29in wheels offer a speed-sustaining ride that keeps the bike rolling smoothly over whatever surface.
The brakes are Shimano Hydraulic Disc and offer incredible stopping power, which will inspire much-needed confidence when getting started in mountain biking.O
Some users report that the wheels are heavy, so the bike does not roll or accelerate on smooth pavements as well as they would expect. However, the descents prove to be lots of fun because the weight of the wheel contributes to a sense of stability and security.
Budget Options – Best Kids Mountain Bikes under $250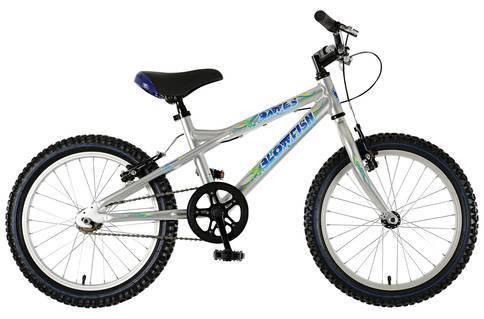 The frame of this bike is made from the 6061 alloy, making the sturdiness of the frame no question, while at the same time being light and easy to manoeuvre. While the large saddle isn't exactly streamlined the thick cushioning acts as a form of shock absorber. Parents who want to get their child a bike they can grow into will find that this Dawes Blowfish model is a wonderful option. One of the big differences between this bike and the others in this article is that it has a single speed design.
This might be a drawback for some, but it means less maintenance and upkeep over time, along with a bike that doesn't constantly rattle (which is quite refreshing) due to increased tyre volume. The tyres are high enough volume and thick enough to ride over muddy or uneven terrain without any major issues, the frame and saddle compensate surprisingly well for the lack of a sprung front suspension fork. You will find that this bike has mostly positive reviews from parents who are very happy with how solid and dependable it is, with many commenting in the surprisingly light weight.
References:
https://en.wikipedia.org/wiki/Bicycle_frame#Aluminum_alloys https://www.arc-zone.com/blog/joewelder/2009/01/08/metal-of-the-month-chromoly/ http://www.roadbikereview.com/product/wheels/tires-clincher/kenda/kwick.html http://www.mtbr.com/product/bikes/kids/kona/makena.html http://www.chainreactioncycles.com/ph/en/gt-stomper-ace-24-bike-2019/rp-prod176138 https://en.wikipedia.org/wiki/Headset_(bicycle_part)#Comparing_threaded_and_threadless_headsets https://en.wikipedia.org/wiki/Headset_(bicycle_part)#Comparing_threaded_and_threadless_headsets https://www.bikeradar.com/road/gear/article/ditch-cable-disc-brakes-48260/ http://forums.mtbr.com/families-riding-kids/gt-stomper-ace-24-a-1068709.html https://www.singletracks.com/bike-reviews/Tires/Kenda-Slant-Six_3194 https://janheine.wordpress.com/2017/01/10/disc-brake-pros-and-cons/ http://www.chainreactioncycles.com/ph/en/commencal-ramones-24-kids-bike-2018/rp-prod160343?utm_source=affiliate-window&utm_medium=affiliates&utm_campaign=The%2520Bike%2520List&utm_term=The%2520Bike%2520List&utm_content=Editorial%2520Content&awc=2698_1540028715_5fc04fbd6310ceb126ed476ee025a536 https://www.bicycling.com/bikes-gear/a20023166/the-beginners-guide-to-disc-brakes/ https://www.gooutdoors.co.uk/calibre-two-two-v2-mountain-bike-p383858 https://www.bikeradar.com/road/gear/category/bikes/mountain-bikes/hardtail/product/review-calibre-two-two-13-47865/ http://calibrebicycles.com/bike/rake/ https://www.bikeradar.com/gear/article/best-mountain-bikes-under-500-29451/ https://talesofamountainmama.com/2015/04/kona-makena-20-kids-bike.html http://forums.mtbr.com/families-riding-kids/gt-stomper-ace-24-a-1068709.html https://www.commencal-store.co.uk/ramones-24-silver-2019-c2x26307516 https://www.twowheelingtots.com/commencal-ramones-16/ https://www.bikeradar.com/mtb/gear/category/bikes/mountain-bikes/hardtail/product/calibre-rake-review-51867/ http://www.cyclesprog.co.uk/reviews/kids-bike-reviews/cube-kid-240-sl-review/ https://forums.mtbr.com/shocks-suspension/confused-about-low-end-suntour-suspension-forks-640272.html https://www.slowtwitch.com/Tech/What_science_says_of_seat_angles_222.html

BMX Helicopter Drop and Interview [Bike Setup] – Kriss Kyle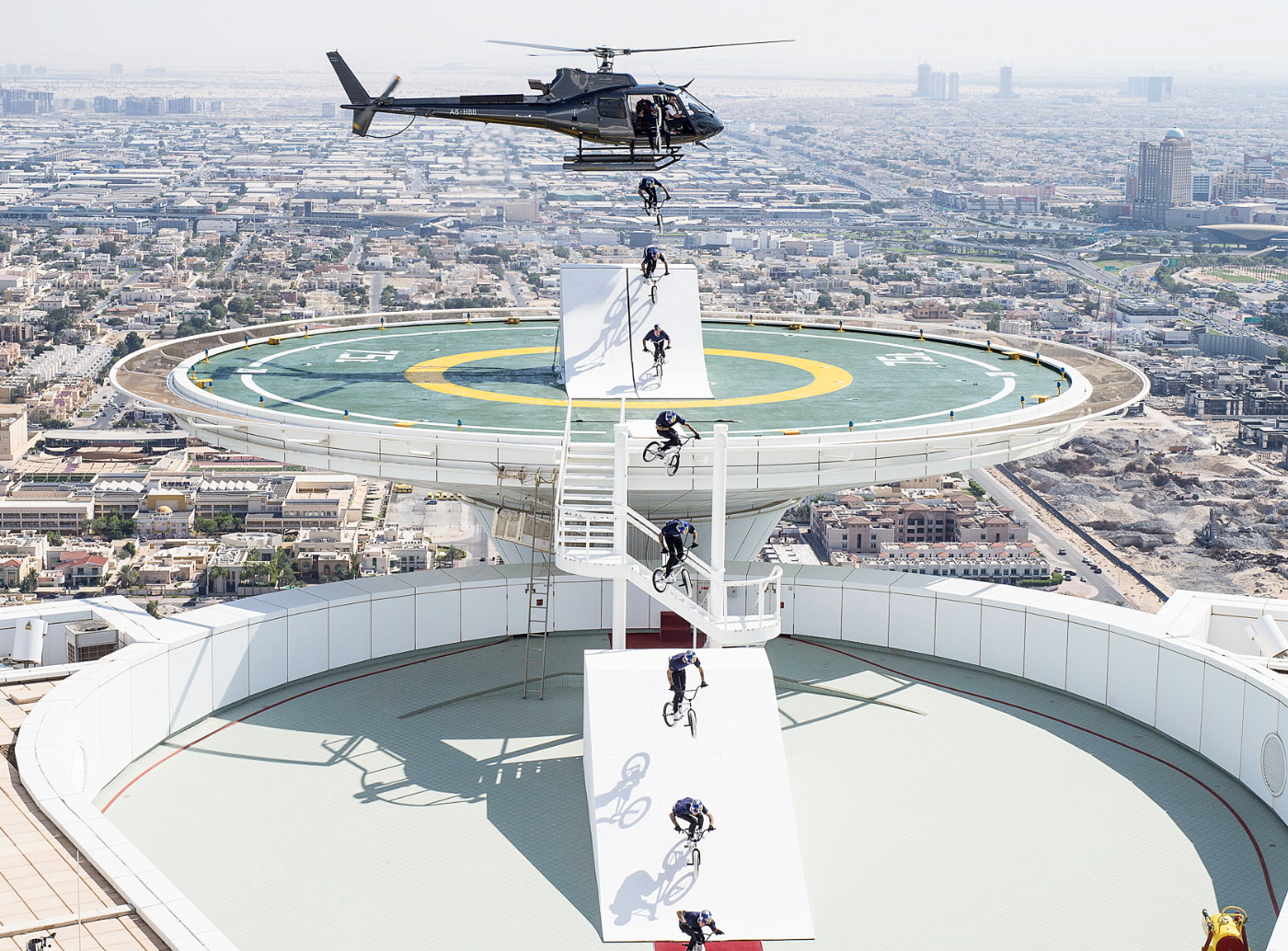 BMX HELICOPTER DROP: KRISS KYLE IN DUBAI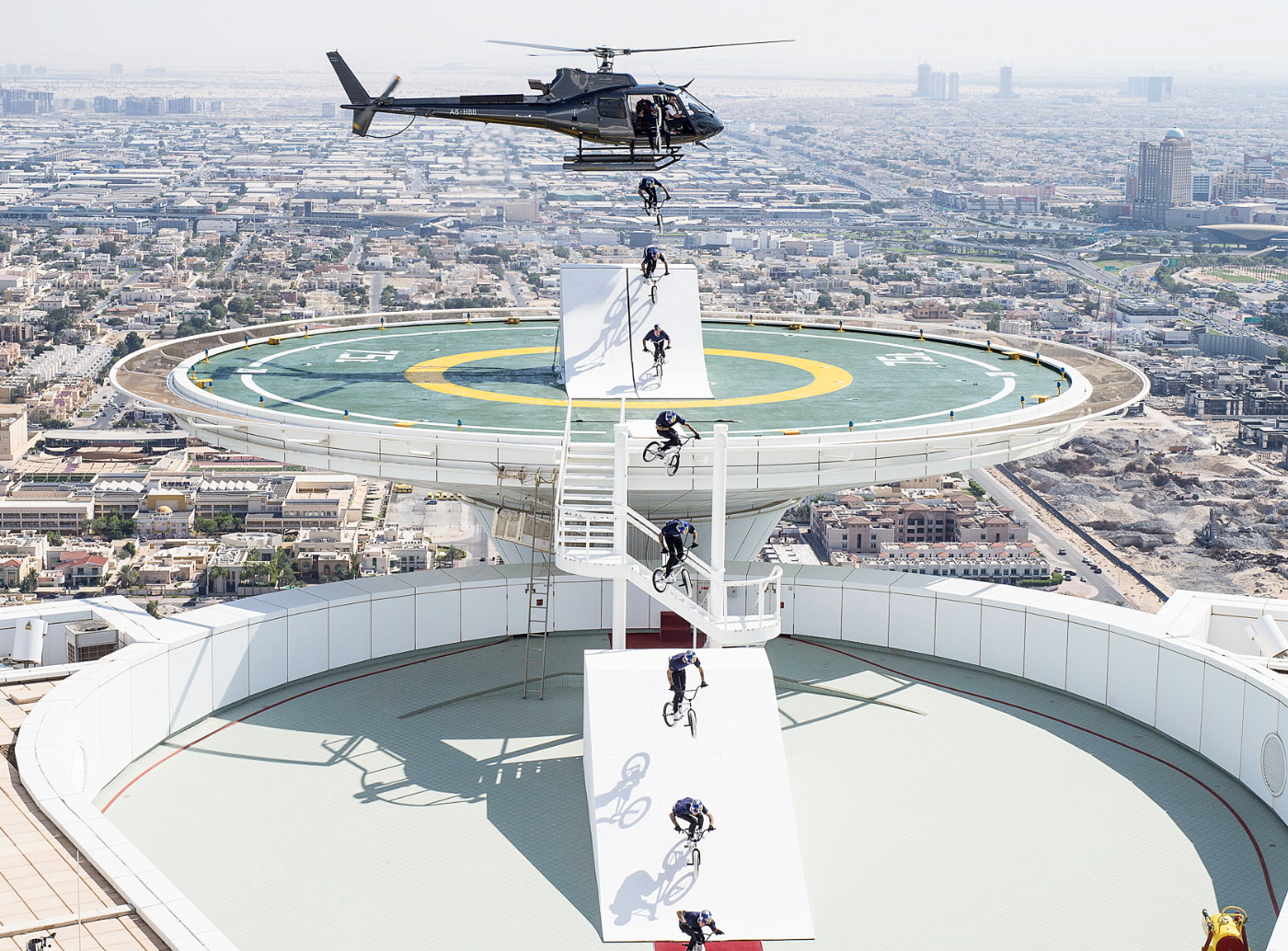 One Shot, One Opportunity – Kriss Kyle shows off his lack of fear in new video edit, starting with an incredible helicopter jump
28 January 2019 – What's the best way to conquer a lifelong fear of heights? For Scottish BMX star Kriss Kyle, throwing yourself out of a helicopter is one way of doing it. The unique attempt is the first in riders' latest edit which sees him turn the unique architecture of Dubai into a giant BMX park.
Opening with a huge cityscape shot, we see Kriss leaning out of a helicopter as he approaches the iconic Burj Al Arab Jumeirah hotel, one of the world's tallest hotels and most unique buildings. We then see him jumping 14 feet from the helicopter – 720 feet up – and onto a helipad on top of the hotel, before immediately tackling a second equally daring drop and heading into the building itself.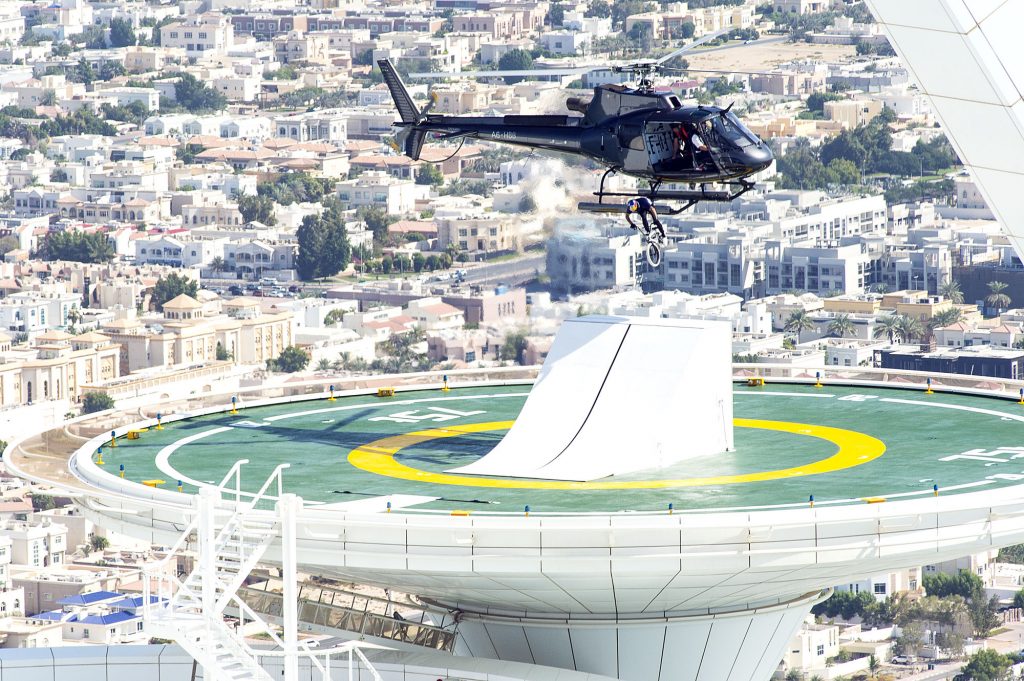 Kriss then makes his way throughout Dubai, which sees him flying down the twisting slides of the Wild Wadi Waterpark, flipping through the grounds of the Burj Khalifa before finally hopping onto a moving boat as he leaves the city behind.
Due to the extreme nature of the stunt, Kriss only had one shot at making the helicopter jump work. Despite practising for months on smaller jumps, factors including wind, thermals and Kriss' crippling fear of heights meant that it was literally down to one take to make it work.
On completing the jump, Kriss said: "We actually planned to film the jump the day before. But due a rare weather system at the time we planned the jump, we were forced to reschedule the attempt to the following day. Sadly that meant for another sleepless night for me! Working on a Red Bull edit always means you get to challenge what's possible and this was no different. I can't thank Dubai Tourism enough for opening their doors and helping us make this film possible."
Click HERE to watch Kriss' latest edit.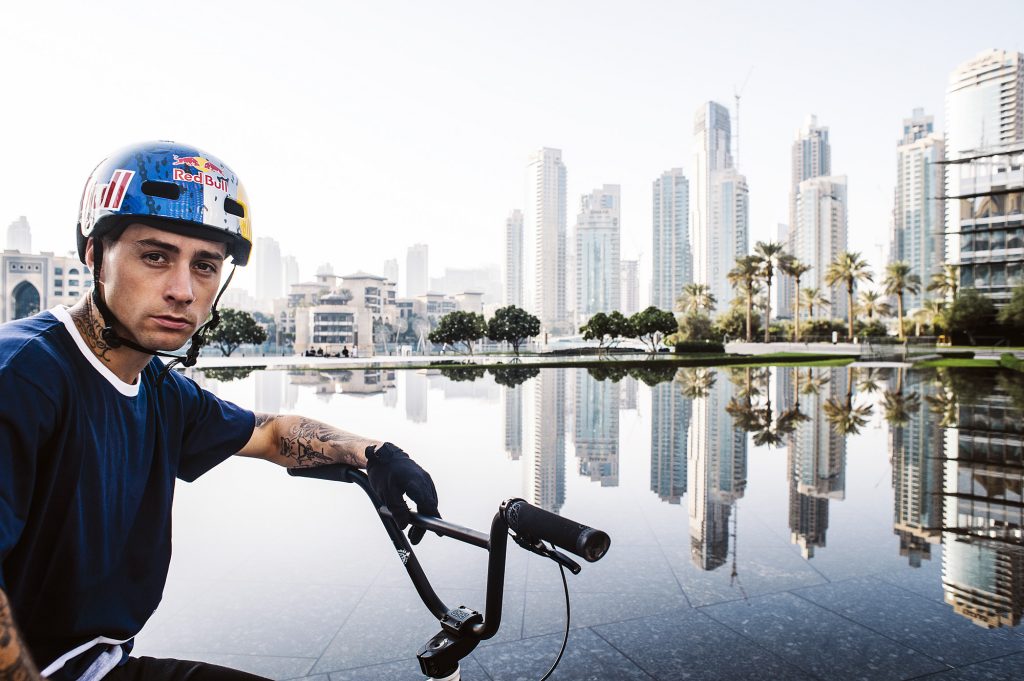 Bike Setup for Dubai Video (Interview Exerpt)
I think I've got nine, nine bikes, but they're all different bikes. A road bike, three mountain bikes, four mountain bikes actually, and then a few BMX's. But, my favorite one's obviously my BMX, and it's my new second shift frame, the freedom frame. And, it's called freedom, BSD freedom. But, I think for me the meaning behind that just means you can do anything you want, you can ride anything you want, there's no rules, there's no nothing. You can just go where you want, you have the freedom to do it.
I've always had no brakes on my bikes since I was maybe 14, because I could never fix them. I would snap the brake cables and I could never put any on it because I didn't know what I was doing. I was so heavy handed as well, so I just decided to rip them off, and I didn't have brakes from then right up until the Dubai video. When I put them on it was really weird, I was like this feels so weird on the BMX. I needed it for the heli-jump because if I mucked up the line I could have broken my legs or died. And then, also I needed it for the water park stuff as well because the speed that you get going down those flems is absolutely insane. It doesn't look steep on the video, but I was shooting down it!
The bikes are just a lot lighter and a lot stronger than what they used to be, I remember especially being a small kid trying to throw a 40 pound bike it was absolutely hellish. But, now the bikes are a lot lighter and a lot stronger. So, everything just keeps developing better and better each time. It's crazy to think where BMX will be in a couple of years, because it's mad.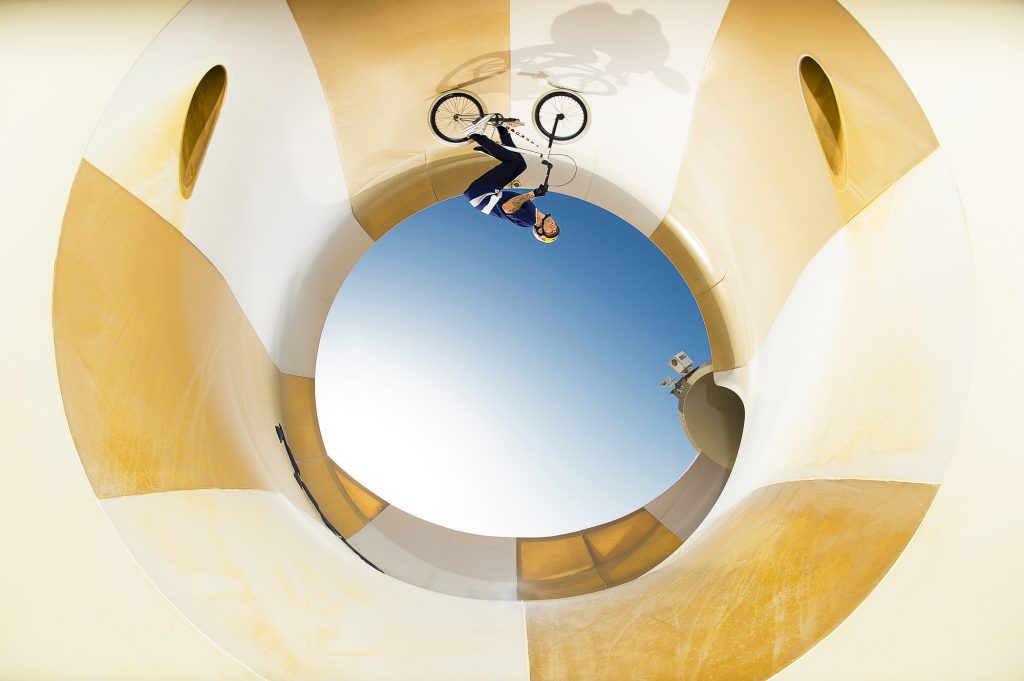 Preperation for Dubai and the Heli Drop
How do you prepare physically for events? Do you split your training between the different riding disciplines?
Not really. I just ride all types of bikes, and do quite a lot of running and stuff, and just make sure I'm pretty fit and healthy, to be honest. But, I don't have a proper training program or anything like that. I run almost every day, but I only do like 5km or something like that, or whatever. And also start doing a wee bit of weight training, and then I ride long distance road bike sometimes with my friends. But then also a lot of mountain biking. I really love mountain biking actually. And then also ride my BMX, of course, all the time.
How do you prepare mentally for tracks / features you aren't sure if you'll be able to land? How do you decide whether you're ready to attempt a trick?
Before I try anything I'll always try and visualize it in my head, like picture it in my head. This could be if I'm street riding or something, or if I'm jumping out of a helicopter, or anything, if I can't picture what I'm going to do in my head, and picture myself doing it, and how it's all going to go, then I won't try it because I'll get hurt. But, if I can picture it and see it that clearly I know for a fact I'll do it. So, it's just about getting the balls and then sending it.
In terms of nutrition do you have tightly regulated diet or something far more relaxed?
Pretty relaxed, but I eat pretty good. I'm not that strict on myself. You can take it as serious as you want it. But, I just try and eat a well balanced diet, and try to eat all the right things, really.
What music do you listen to?
Loads of stuff. Absolutely loads of stuff. 80s. Yeah, I like the 80s quite a lot. But yeah, Stone Roses. But I even like Post Malone. Everything. Literally pretty much everything.

Kriss Kyle – From Getting Started in BMX to Today
How did you first get into riding?
I first got into riding through my older brother. My mum and dad used to take me to the skate park and I'd watch my brother ride, him and all his friends. To me it just looked as if they were having so much fun. And then, I wanted to be a part of that. So, for my tenth birthday I begged my mum and dad for a small BMX, a real small one. And then I got it and I couldn't believe it. And then, I'd go out riding every day with my brother and all his friends, and I was part of his crew. And then, I just loved it, I just got hooked since then. And then, ever since then I just haven't really lost the feeling that I get from doing it.
Is there anyone who really helped you or inspired you to get where you are today?
Just a lot of riders I look up to from when I first started riding. Like Chase Hawk and Dave Mirra I always looked up to those dudes. And now it's crazy because I'm riding the same contest with them.
What changes can you see in BMX in the future?
BMX is in the Olympics for 2020, which I think is amazing because that's going to get shown to a lot more people outside of BMX that don't know really what we do, and I think when they see it along with millions of other people I think it's going to blow up. Quite a lot of the public haven't seen anyone doing a back-flip double tail whip yet, and I feel like when someone does that, or a double back-flip on a bike, I think they're going to be like oh my God, what is this sport? And I think it's just going to blow up again. So, I think for the years to come I reckon it's going to just keep growing stronger and stronger, and I think better and better.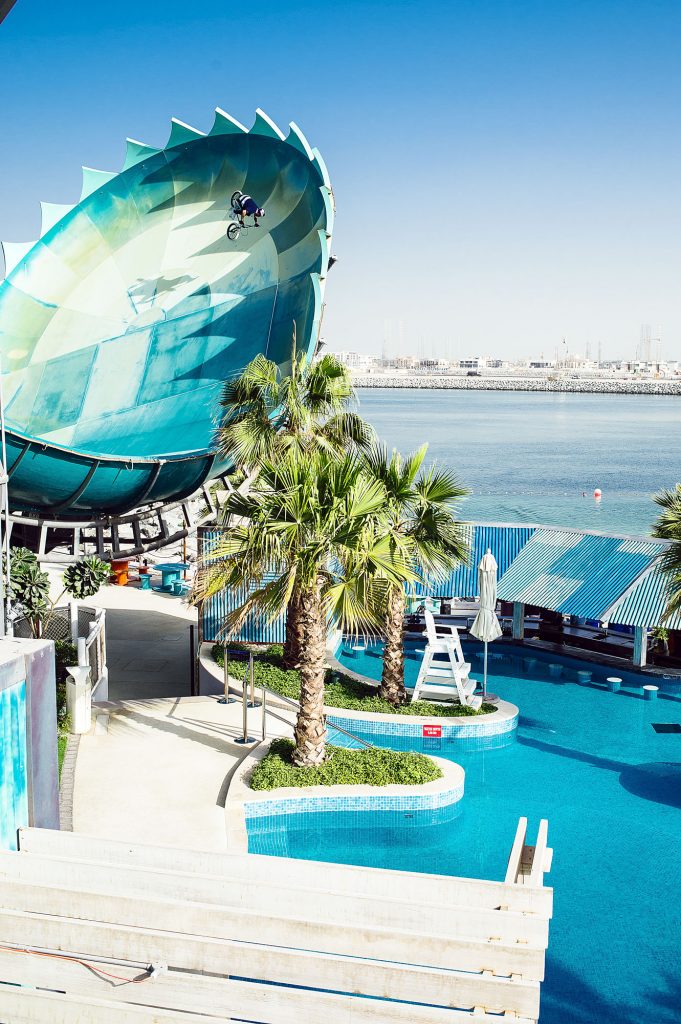 RNT Setup Commentary
With one of the best riders in the world using a 300$ bike frame, it would seem very difficult for anyone to justify getting a frame at over $500. This is a major bonus to us, as the lower the cost entry bar into biking the more people that can join and the bigger and better the community will (hopefully) become. This shift towards more being avaliable for less is something we've seen mirrored in mountain biking (though the entry cost is still higher than BMX). For mountain bikers, especially those new to the sport we think riding BMX with no brakes is hugely beneficial – as it forces complete commitment to your choice of line. For more experienced riders the manauoverability and freedom that a BMX bike brings can allow you to practice tricks and techniques you would struggle far more with on a larger, heavier bike – allowing for smaller and more manageable steps towards a goal. It's unsurprising that many of the most well known Red Bull mountain bike riders (Danny Macaskill, Fabio Wiber, Josh Bryceland) also have roots in and spend a notable amount of time on BMX bikes.
Top 4 Best Downhill Bikes Of 2018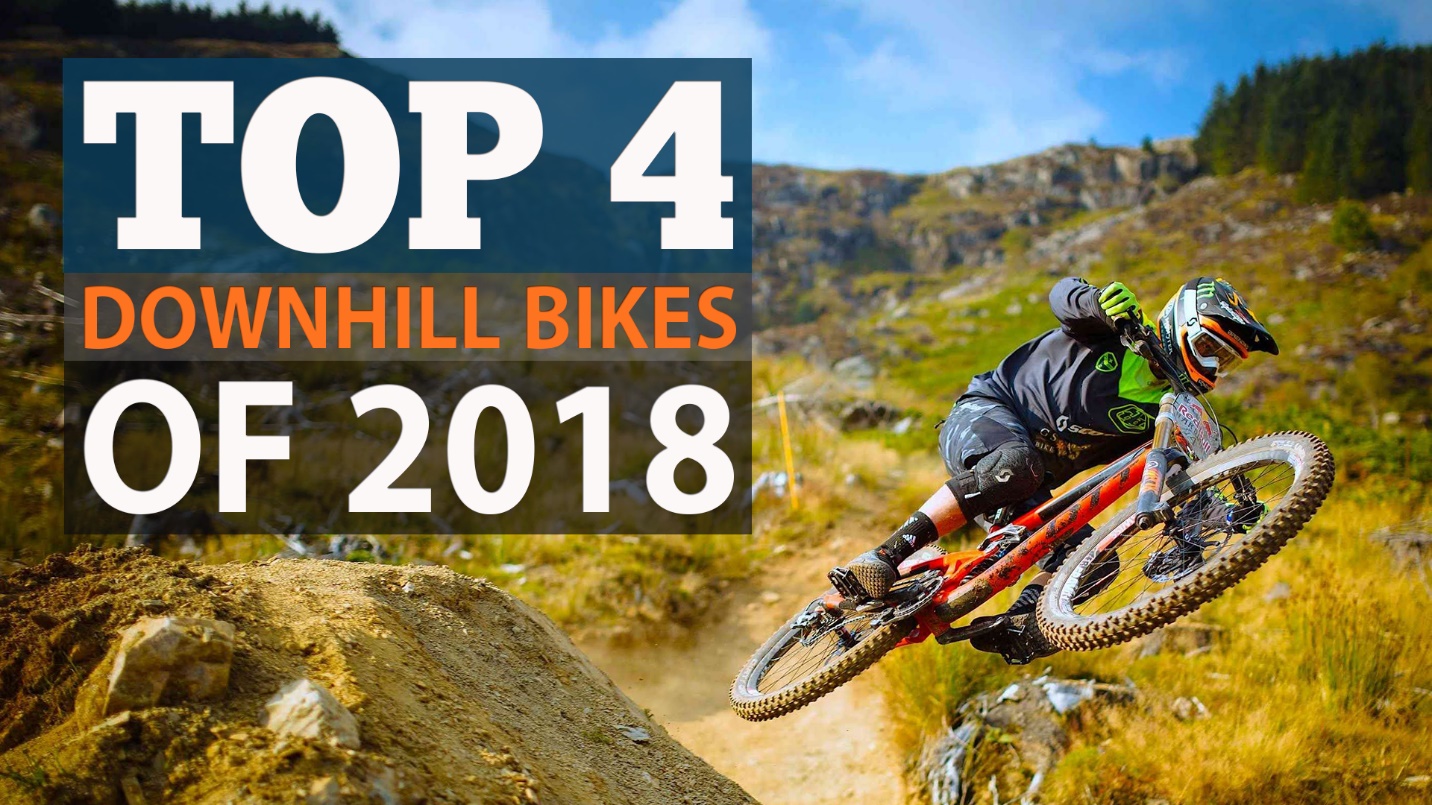 Picking the best downhill bike that suits you can be a tricky task. Suspension, brakes, different wheel sizes and frame materials. The options seem to know no bounds!
All these fantastic bikes which are built for all-out speed, aggressive riding, and hitting big jumps and gaps are the perfect option for those who love adventure.
Downhill bikes were created for off-roading and for providing lots of fun. Master of muck, king of the hills, and trail titan are just a few of the titles you can earn as a downhill biker.
If you are asking yourself which downhill bike you should buy, then this top should help you to find the best one for your needs.
YT Industries Tues CF Pro Race MOB Edition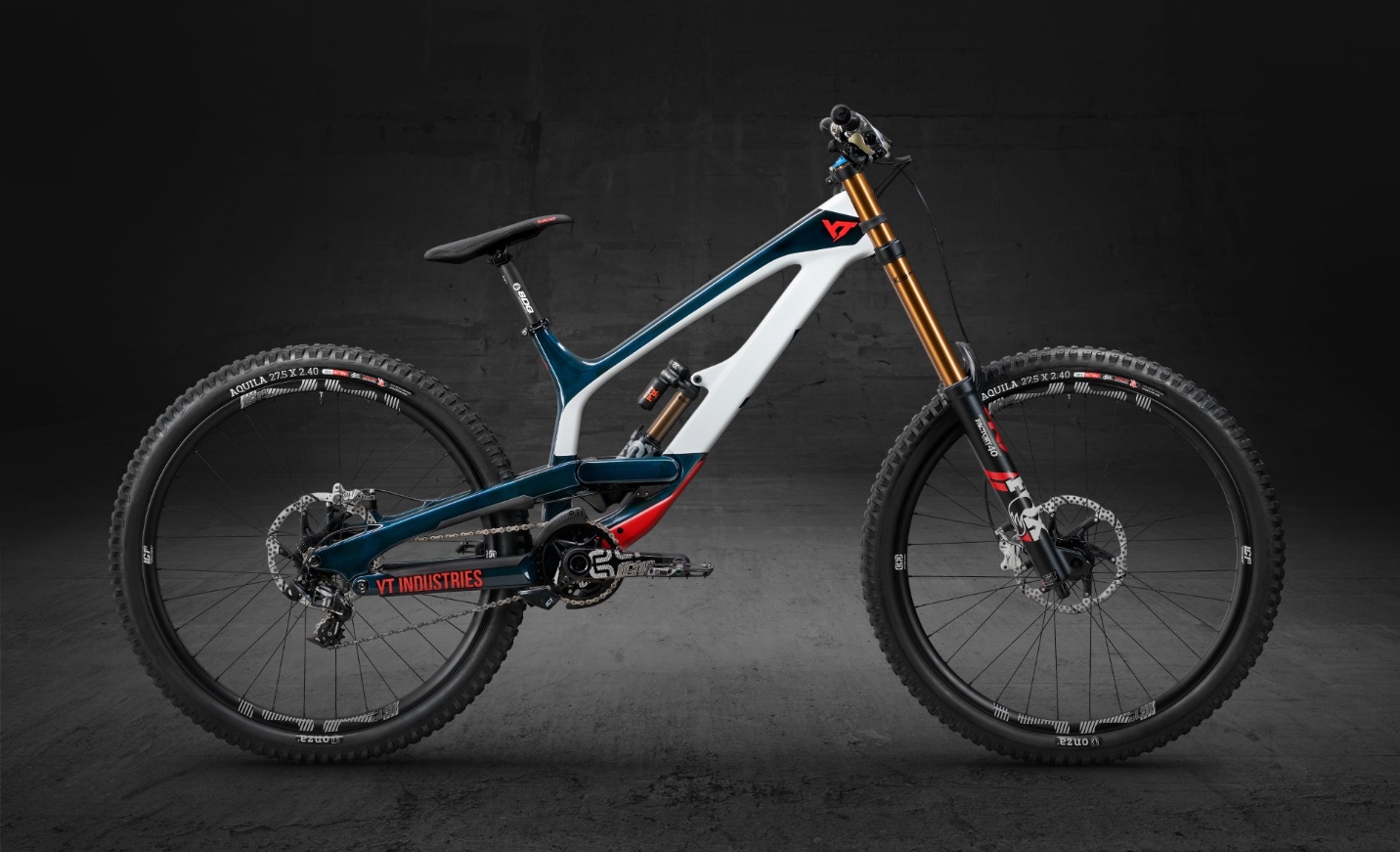 (Image from yt-industries.com)
YT Industrial Tues has had more than its fair share of success over the years, having clinched numerous accolades amongst the cycling media. The new Tues has received some evolutionary changes to the kinematic, sizing, finish and detail.
YT Tues CF Pro Race MOB Edition is designed around 650b wheels and features a carbon chainstay to complete the chassis. The carbon frame delivers ideal stiffness and ultimate reliability at an impressively low weight.
Also, one of the most important characteristics is that this model comes in five sizes, ranging from the small which offers a reach of 410mm, to the XXL with a reach of 495mm. The new frame gets a totally revised head tube that'll accept a reach adjust headset.
For the new CF Pro Race MOB Edition, YT has also altered the pivot hardware and sealing for improved durability. Cables are routed internally to help keep the bike looking clutter free.
The new model provides some integrated rubberised protection on the seat stays, on the downtube and the chain. Also, it has a neat little chainsuck protection around the mech hanger.
YT Industries Tues CF Pro Race it is so quiet, so clean, and so composed. A remarkable bike.
CANYON Sender CF 9.0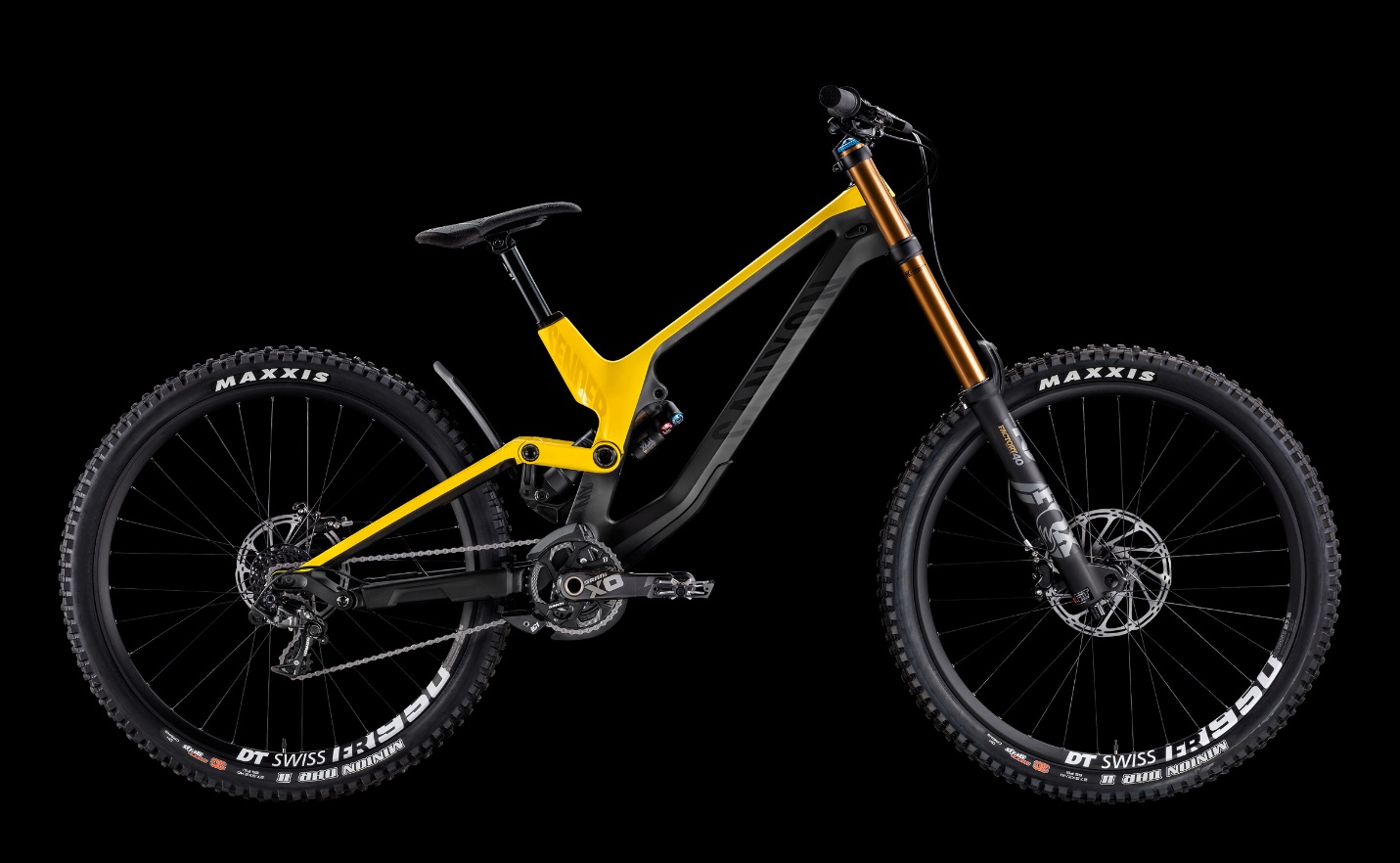 (Image from canyon.com)
If you want to test a downhill bike that can stand up to the hardest runs, then the Sender CF 9.0 is exactly what you need.
This is one of the most appreciated downhill bikes on the market, taking advantage of 650b wheels and the new Fox Factory 40 suspension fork. To guarantee a dynamic ride, it functions in conjunction with the Fox Factory Float X2 shock with a wide tuning range via HSC/LSC/HSR/LSR.
For the stem, bars and grips, this new model comes with the G5 carbon components from Canyon which are super-durable. One of the best features of this model is the ability to significantly adjust the geometry. More precisely, the bike comes with cups to take the head tube angle from 62 to 64 degrees. Also, the chainstay length can be tweaked from 16.93 to 17.56 inches.
The Sender's four-bar linkage design incorporates Canyon's proprietary MX Link. This link works hand in hand with the new highly adjustable air shocks. The MX Link isolates the shock from lateral flex in the frame, apparently reducing friction and wear.
CANYON Sender CF 9.0 is one of those charismatic bikes that delivers straightforward performance.
Specialized S-works Demo 8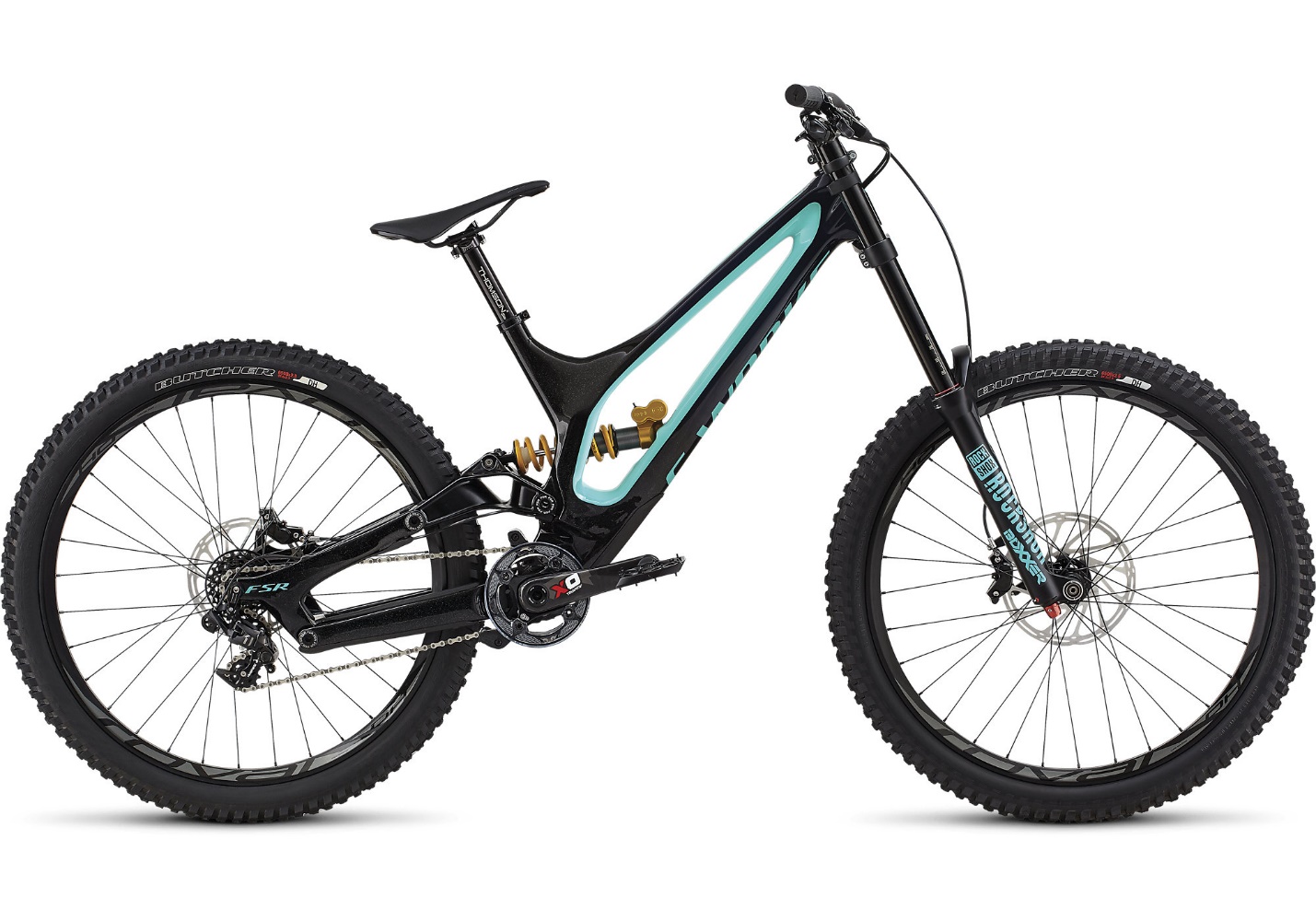 (Image from specialized.com)
Constructed from the finest carbon fiber, FACT 11m, for unparalleled stiffness and strength, Specialized S-Works Demo 8 is a silent and amazing bike. The Demo 8 also has a magnesium swing link as opposed to the aluminium link found on the lower-end models.
The main highlight of the S-Works build is the Öhlins TTX rear shock that delivers unparalleled DH performance. It comes with high/low-speed compression adjust, enabling you to fine-tune the shock for the track at hand. The Öhlins TTX shock is very helpful and provides a great pedaling platform that feels surprisingly efficient.
Also, this model has powerful SRAM Guide RS DH that provides precise and highly adjustable braking.
The asymmetrical frame, especially with the yellow Öhlins TTX shock, make the Specialized S-Works Demo 8 stand out as a unique bike. This bike is built to keep things smooth on fast, rough trails, and it does that very well.
Mondraker Summum Carbon Pro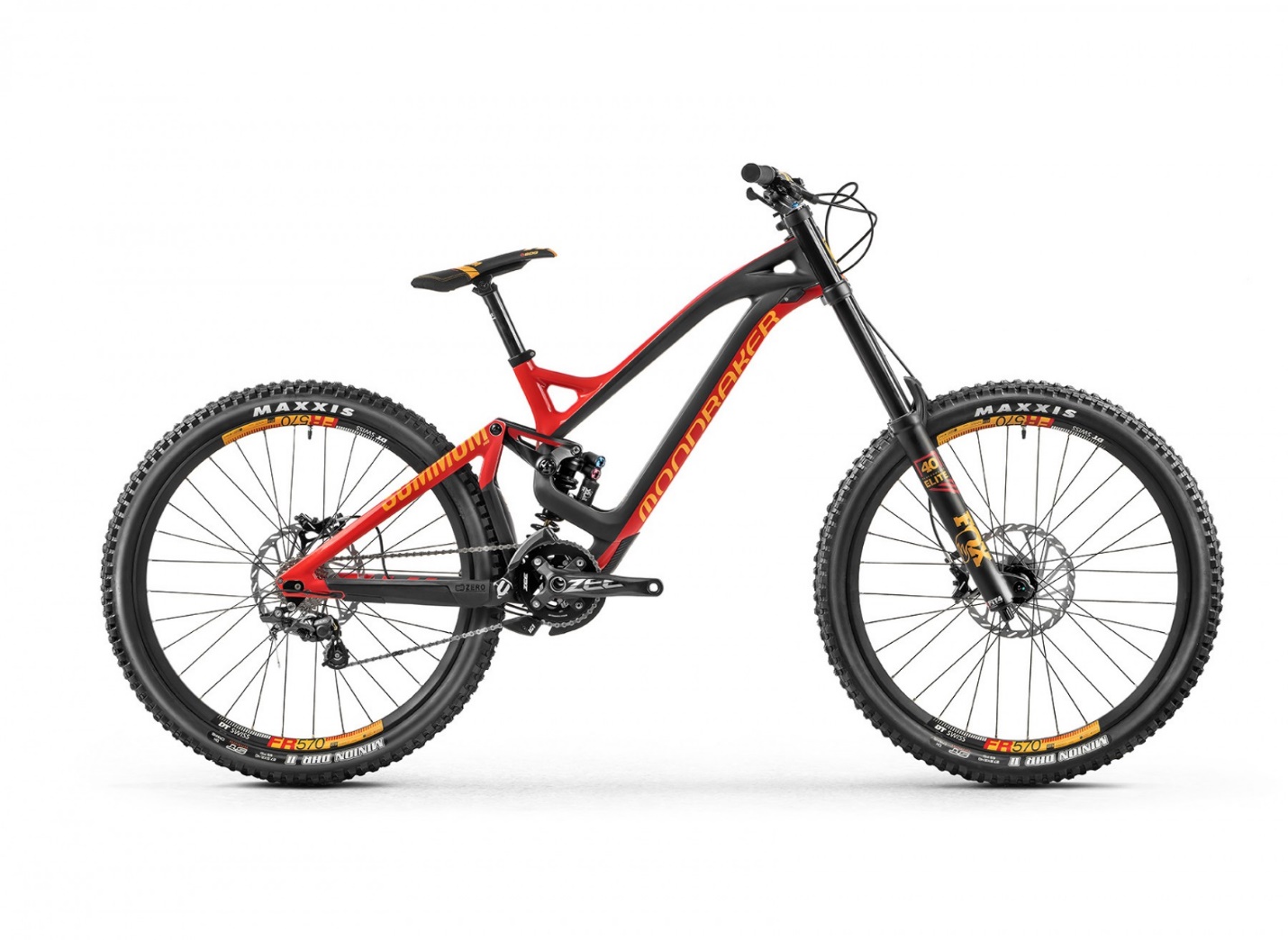 (Image from mondraker.com)
This fantastic model it's built around an EPS skeleton, carefully wrapped in strategic layers of carbon and epoxy before being formed in a mould under pressure. The Mondraker Summum Carbon Pro with 27.5 inches wheels is one of the lightest downhill bikes you can buy, weighing only 16.5 Kg.
This model features stealth carbon frame, Shimano Zee 1x10s drivetrain, Fox 40 Float Factory Kashima FIT4 LSC Performance Elite 200mm fork, SRAM Guide R brakes and Fox DHX2 Performance Elite rear shock.
Mondraker Summum Carbon Pro is built around a Forward Geometry frame with 205mm Zero Suspension System. Combining a shorter stem and a longer front center to offset the increase in reach within the frame, Forward Geometry increases stability on steeper.
Also, the Zero Suspension System features new bearings, along with oversized axles and a newly designed lower link that have both been reinforced for added rigidity. More than this, it is a very progressive suspension system that boasts highly efficient pedaling.
Mondraker Summum Carbon Pro it is very easy to handle, especially for those who are accustomed to a downhill bike.
A Guide To Modern Full Suspension Mountain Bikes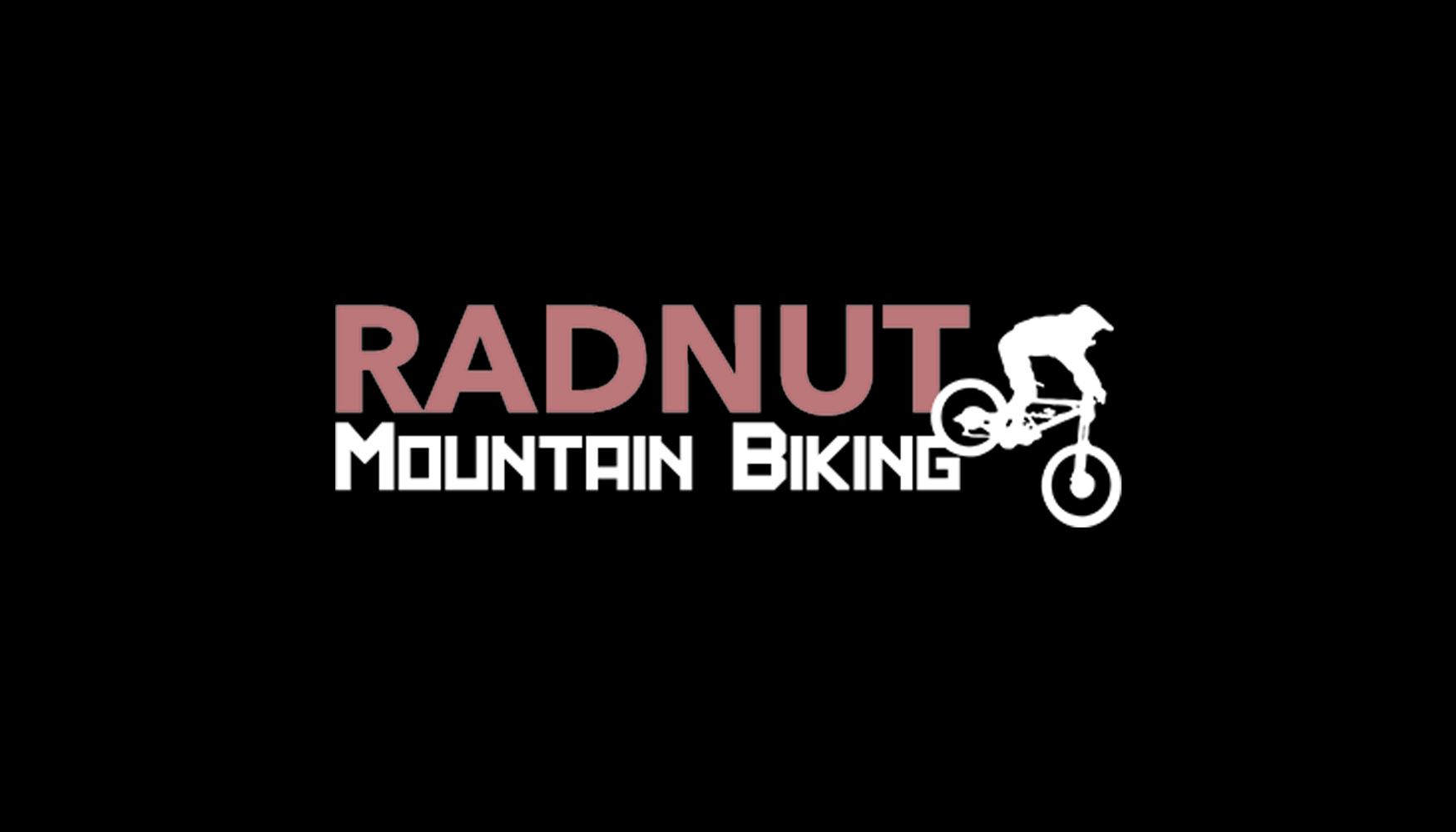 Originally the bikes made for standing beating and abuse that hardtails would be too rigid to handle, the full suspension mountain bike has evolved to become the overarching standard at every Pro subdivision in the sport, including cross country. The confidence inspired by having suspension at both the front and rear can be seen in the ever-increasing number of riders prepared to pay the ever-shrinking premium for this speed inducing comfort.
The Full Suspension Mountain Bike Simplified
Full Suspension mountain bikes are separated from hardtails through the fact that they not only have suspension on the front of the bike (the forks), but they also have suspension on the rear (the shock or coil). Full sus bikes are more comfortable to ride and the suspension will save you from tiring more quickly during longer descents. While there is a clear advantage to using a full sus on more bumpy terrain, this comes at the expense of a loss of pedalling power transfer to the rear wheel (some of your pedalling energy is absorbed by the rear shock), this is most noticeable while climbing but will have a small impact on every pedal stroke regardless of gradient.
Should you buy a full suspension bike as a beginner?
The truth is probably not, unless you've got quite a bit of money to spend – a hardtail will force you to improve your technique as they are by their very nature less forgiving than full suspension bikes. Another point of consideration is that you can most likely get a 'good' hardtail which will not limit what you can ride for a very long time at a fraction of the expense of a full suspension bike.
The Types of Full Suspension Mountain Bike
Cross-country (XC): Bikes designed for XC racing are typically made for speed and longer distance riding over varied terrain, generally being more geared towards handling tough climbs than tough descents, unless you are willing to pay 2k + for your bike most statistics seem to suggest they have little advantage over a cheaper (and almost certainly lighter) hardtail equivalent. The takeover of full suspension bikes in the cross country race scene is mainly due to the pros (or their sponsors) being prepared to pay large amounts of money for marginal gains.
They are the most lightweight and efficient of the mountain biking family, at the expense of downhill performance and comfort. Expect to see 100 – 120mm of suspension travel and head angles of 70 – 71 degrees, with visibly more 'skinny' or 'flimsy' looking components than heavier duty mountain bikes. You should expect your full suspension bike cross country bike to be between 10 and 13.5 kilos.
Trail: Trail bikes are a beefier enhancement of XC bikes. Ridden typically by less 'hardcore' mountain bikers, who look primarily to have fun, as there is not yet a big race culture here (unlike with cross country, enduro and downhill), these bikes focus slightly more on the descent than the ascent and would be most in their element at trail centres. The slacker head angle (68-69 degrees) and longer 120 – 140mm travel forks with wider stanchions complement this, making them a great choice for starting jumping or more technical features. Naturally weighing more than cross country bikes at around 11-15kg, they come in as great 'all rounders'.
Enduro: Enduro bikes are the heavier and more downhill orientated than their trail bike counterparts, with the gap between the two being bridged by another noteworthy sub-genre – All Mountain (which basically means light duty enduro bikes or heavy duty trail bikes). As with the trend that can be noticed above, enduro bikes have longer travel and slacker geometry. At this point essentially making them downhill bikes that you are able to cycle uphill – albeit with significantly more difficulty than you would feel with an XC bike. You should expect an enduro bike to weigh 13 – 15.5kg and have 150-180mm of travel.
Downhill –Downhill Bikes are built to do exactly what they say on the tin, ride downhill fast. With at least 200mm of travel on the front forks and the slackest geometry, expect a weight ranging from 14 to a beefy 18.5 kilos. Easily the most specialized form of full suspension mountain bike; the hard hitting dogs of the sport are generally the easiest to appreciate (who doesn't enjoy riding downhill fast) – providing there is a suitable trail and uplift.
If you are still uncertain which of the full suspension bike types would suit you best, it is probably better to stick to the more 'light duty' side, with one of the less expensive bikes like the calibre bossnut (pictured above).
Images originally sourced from: unsplash.com and dirt.com