How to Choose a Mountain Biking Drone?
You've got your mountain bike equipped specifically for your needs. You have your route planned. You have your action camera mounted on your bike or yourself. How do you take it to the next level?
One way is to capture some drone footage.
Drone footage can add an entirely different perspective to your footage and give you a film-grade footage of your ride if done right.
Don't worry – we will help you with that!
The Best Mountain Biking Drone
The best drone for nature that features a standard RGB visual light camera is the Mavic 2 Pro. This aircraft includes:
A 20-megapixel sensor that creates a still image size of 5472 x 3648. It can also shoot video in 4K, which makes it one of the best cameras on the drone market.

 

Temperature operation is between 14deg F to 104deg F.
But what makes this an ideal mountain biking drone?
It has an Omnidirectional Obstacle Sensing system, which allows it to swiftly avoid the many obstacles along the trail. Whether it is forward, backward, up, down, left or right, this system makes the Mavic 2 Pro perfect for forests.
Currently, no other drone on the market avoids obstacles in every direction while taking stills with a 20-megapixel sensor.
It is lightweight, just under 2lbs, and foldable so that it can fit in your cargo pocket or a small hard case.
TIP: Add the DJI Goggles to get a first person view of what your drone sees, and you will have a solid system for filming nature. What ties it all together is that having these features don't bump up the price considerably.
Contributor: Army Lt. Col. Jeremy Latchaw from Macatawa Unmanned Systems 
The Best Cheap Mountain Biking Drone

The DJI Mavic Air aims to give you a similar, high quality experience found on the Mavic Pro 2, with a more affordable pricetag.
So what can it offer in terms of video?
Like the Pro 2, the drone:

Shoots in 4K,

capturing detailed, smooth video thanks to its 3-Axis Gimbal Stabilization.
Has additional features like slow motion at 120 fps 1080p, to give a dramatic effect that will remind your audience of an intense, high-speed chase film.
Very important for mountain biking is that this drone retains the tracking feature and the Omnidirectional Obstacle Sensing system, which allows you to ride and film at the same time, allowing you to ditch your camera-man.
The sacrifices you make for choosing this lower price option are few such as the slower flying speeds;

18 mph in auto mode 

42 mph in sport mode,

Lower transmission range

Less sturdy but lighter frame.

It is also controlled with a smartphone, through an app, instead of a dedicated controller.

But you might prefer that.
Other benefits over the Mavic Pro 2 are that it is smaller and lighter, allowing it to be transported easily in a case, which is a must when you don't have extra space to spare on your bike or in your pack.
I have used this compact drone for many videos of walks and rides. All in all, the imagery is stunning, the operation is simple, and the drone and remote control can fit into a large pocket.
For those who understand you don't necessarily need a flagship product, and Mavic Air is a perfect example of a drone that hits the sweet-spot between value and quality.
Contributor: Ron Humes from Post Modern Marketing
The Best Mountain Biking Cameras
If you're after a high-quality first person video capturing your trail, look no further.
The Best Mountain Biking Action Camera

GoPro's latest camera takes hyperstabilization to the next level. When you're riding rough tough trails, getting airbourne or  this feature will smooth out the shot without the hassle of using gimbal.
This action camera offers:

4K/60. Previous cameras only had 4K/30 which is fine for the average GoPro user but if you're into action sports, you're going to appreciate this new feature.

Includes TimeWarp, also known as Hyperlapse, but this camera takes time-lapse video instead of photographs, ultimately creating smoother footage.
The pain point of all previous GoPro cameras has been the user experience and GoPro has finally taken care of that with their new screen design. They have simplified the options, menus, and modes which now display clearly, letting you know exactly what setting you're on.
The Best Value GoPro for Mountain Biking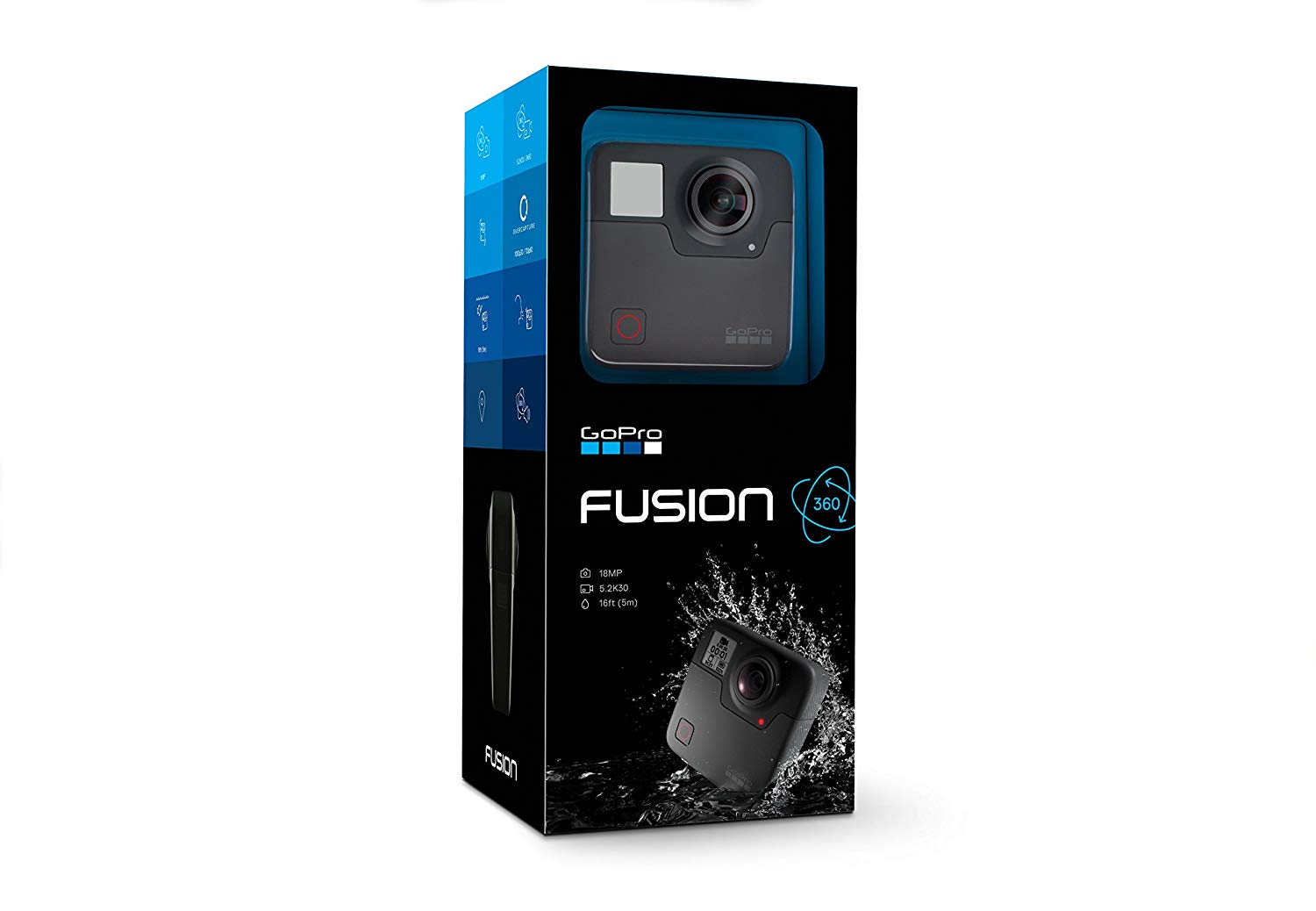 When the GoPro Fusion was released the initial reviews were less than stellar and users felt that its release was premature because the software had some catching up to do. But after a few updates and tweaks, we feel that it's fair to give this 360-degree action camera a review.
One of our favorite features of this palm-sized camera is the rubbery finish to the exterior. This finish is very durable and it will survive even the bumpiest bike rides.
Other interesting features include:
You can also change the mode settings manually and the camera face will let you know exactly what mode you're shooting in.

This camera does include time-lapse features like the Hero7 but they are not as advanced and refined.

This camera is also compatible with GoPro's accessories and you can mount it on everything from a bike to a surfboard.
The best accessory to use with this camera is the mono/tri-pod/selfie-stick and it comes with the Fusion for FREE! Lucky you!
Contributor: Ryan Tolbert from Boutique Film Lab
The Best Budget Action Cameras for Mountain Biking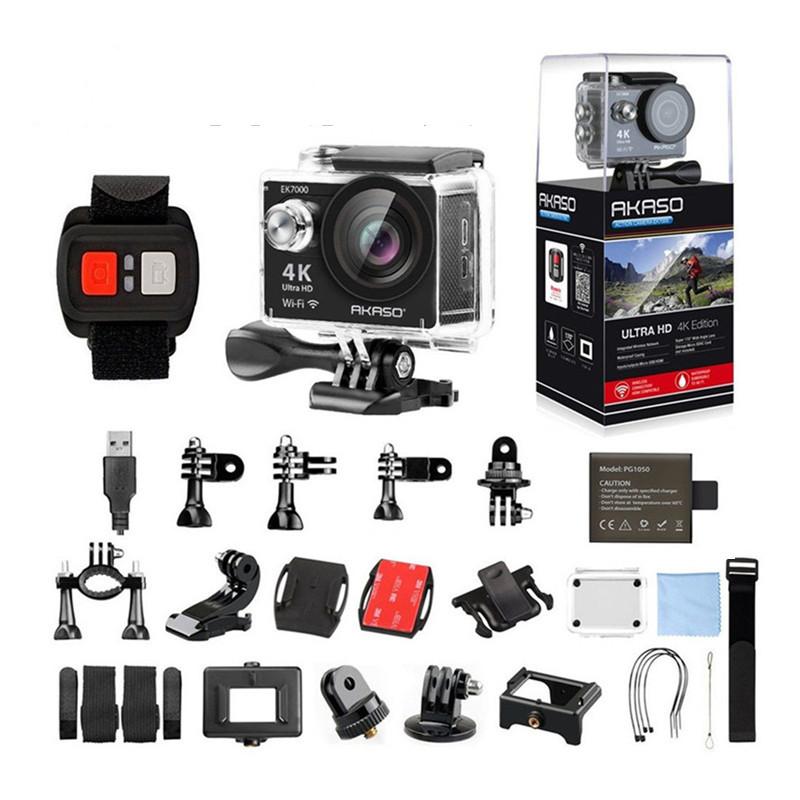 When it comes to action cameras, most like to stick with big names like GoPro. But you should know there are plenty of other more affordable options which easily give GoPro a run for their money.
The Akaso Action Sports Camera is one such example that offers the following:
Remote control operation

Built-in WIFI and HDMI

170-degree wide angle shots.

It records 30 frames per second and takes 12MP photos to give you professional quality footage every time.
Finally the 90-minute battery life and solid waterproof durable construction ensure that it can handle even your most extreme adventures.
Contributor: Sam Maizlech from Glacier Wellness

The Best E-Bikes | The Best Electric Mountain Bikes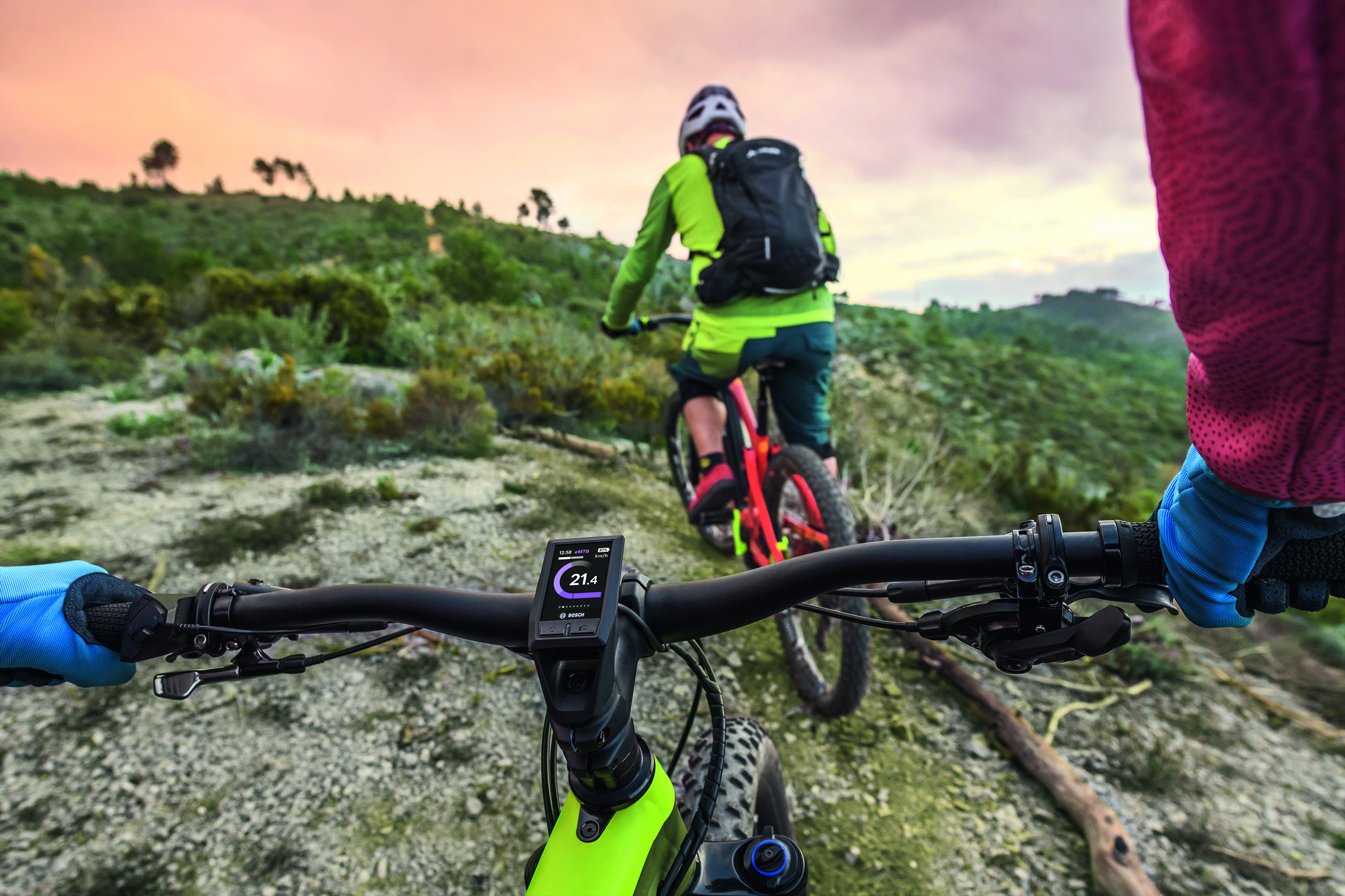 E-Bikes and Mountain E-Bikes | Introduction

This piece has been compiled in response to demand from our users and a notable absence of E-Bike information online, especially with respect to mountain E-Bikes. This page should continue to evolve with time as more contributors add to it. If you're looking for something very specific, the contents menu above should point you in the right direction. This article contains specific E-Bike reviews for both mountain E-Bikes and 'general purpose' E-Bikes, a guide for how to build an E-bike, and a review of industry contributors.
Top Contributors:
Gee Atherton
Raleigh Bikes USA
Bosch E-Bike Engineering
RetroWheels USA
RadNut Team
Gee Atherton – E-Bike Interview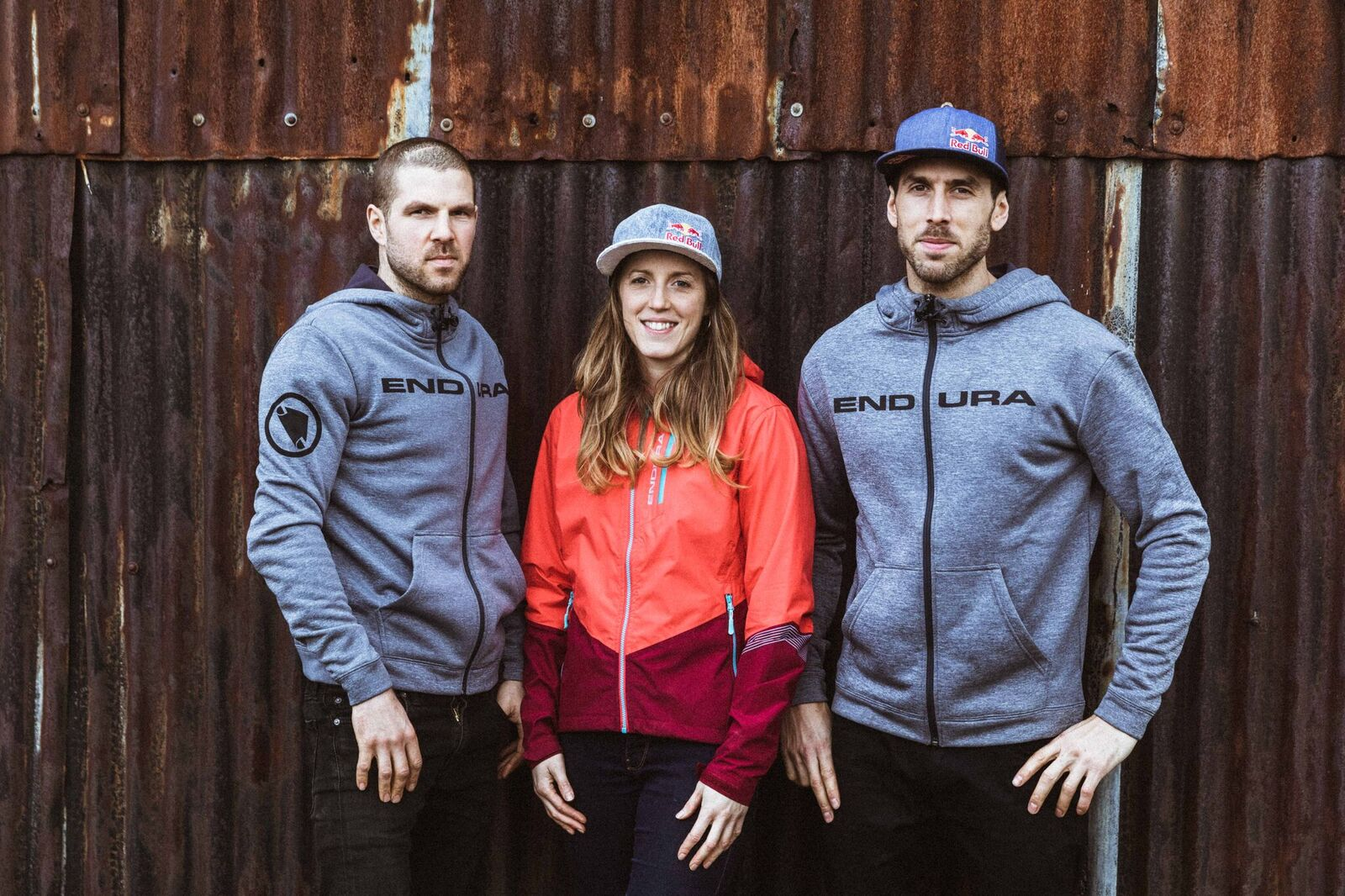 Image By Moonheadmedia
Do you own an electric bike or use electric parts on your bikes?
Not yet! But again it's in the plan for Atherton Bikes. Our mum has an electric bike and she loves it – I think it's awesome that everybody can get out more and put in more laps.
Do you think electric parts (for example drivetrains) are something we will see in 'regular' mainstream Mountain Biking in the near future?
Yes, gears, seatposts, drivetrains (SRAM's Eagle AXS) who knows what next! We (Atherton Bikes) are bringing new technologies into the sport ourselves through additive manufacturing so we are especially open to considering these new advances and we're keen to embrace the new technologies that give the rider a clear benefit.
Do you see mountain e-bikes becoming big in mountain bike racing in the future?
Definitely – it's already a thing! The UCI have announced that there will be an ebike category in this year's World Champs at Mont St Anne.
Why E-Bikes? | Bosch Engineering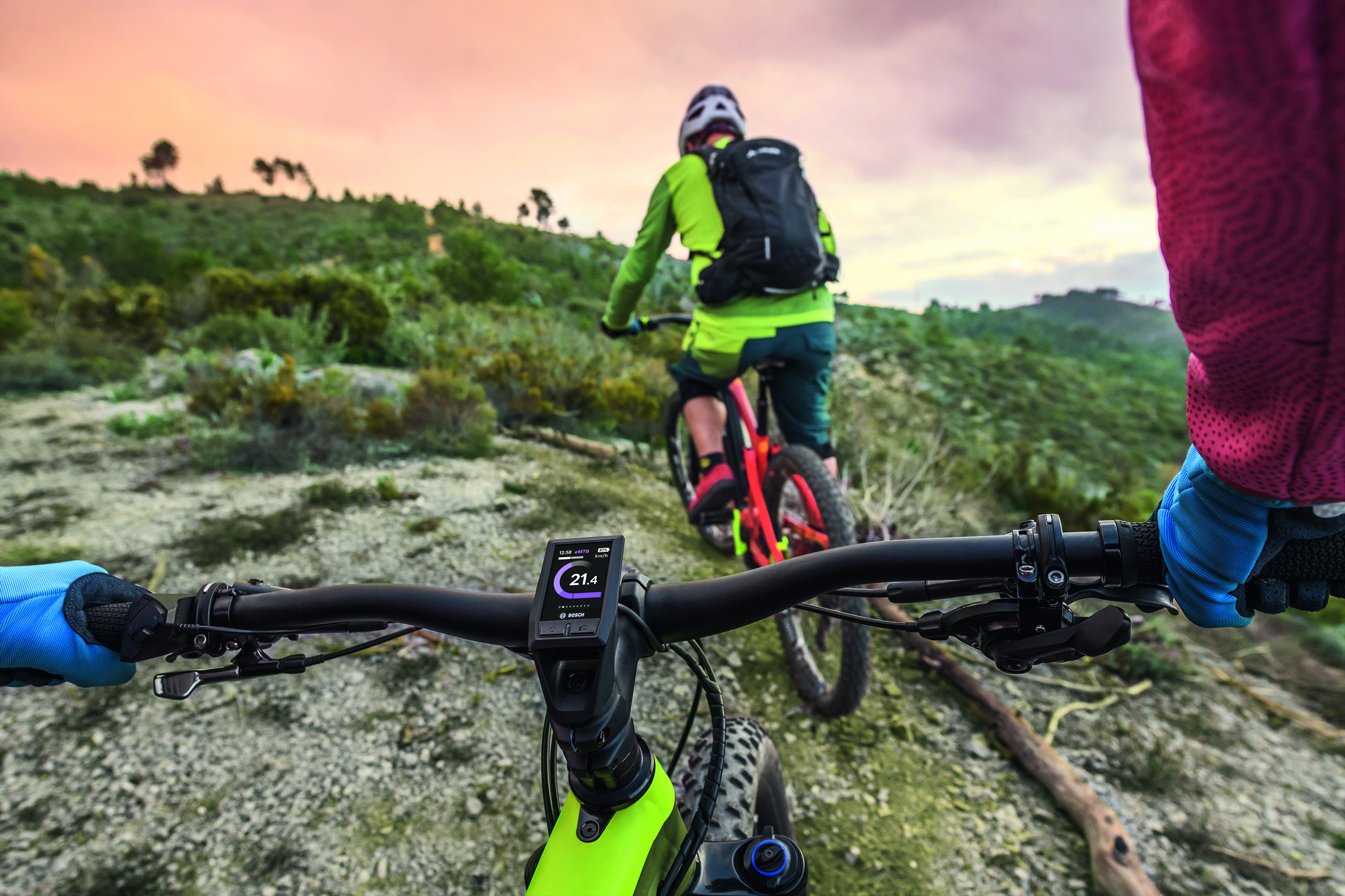 E-Bikes are the fastest growing segment in the entire American cycling industry. The pedal-assist motor helps riders tackle hills, and you don't have to break a sweat commuting to work. In fact, a recent Portland University study found that people with eBikes actually doubled their usage every week compared to those with regular bikes.
From a riding perspective, an eBike flattens hills and shrinks distances by providing a boost to the rider's human effort. From a design perspective, an eBike has a motor integrated in between the pedals along with a battery and controls that adjust how much assistance the rider receives.
Bosch eBike Manufacturing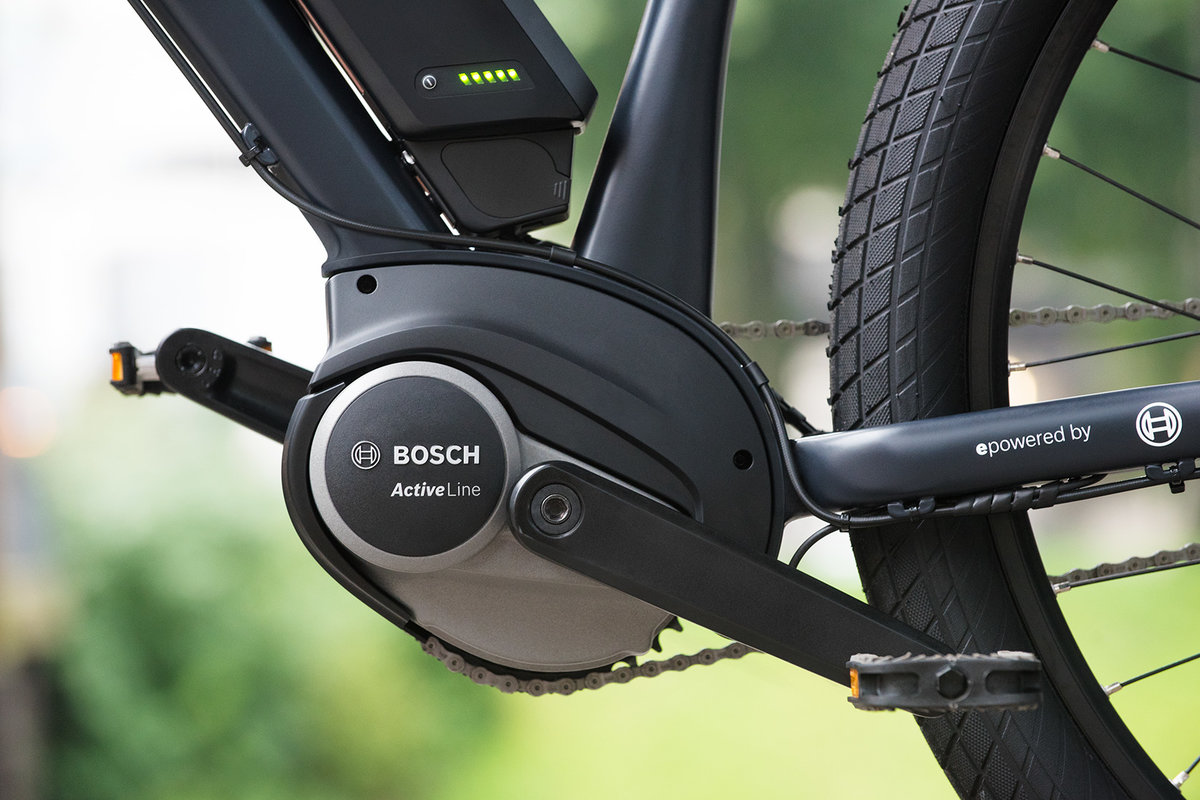 Bosch eBike Systems sells the drive unit, battery, display and charger to the manufacturer. The eBikes are assembled in Europe or Asia. The drive unit is bolted on to the frame along with a special mount for the batteries, whether it's inserted inside the frame ( PowerTube 500 ) or if it's bolted onto the frame ( PowerPack ). The display is put onto the handlebars and the cabling is routed through the frame. Once the bike is built, it's tested and shipped overseas to North America.
E-Bike products are getting more compact. The energy density is improving for batteries and motors are becoming lighter, quieter, and more seamlessly integrated into the bike frame. Display systems are getting smarter and more connected with new technology. For example, the Kiox display can connect to wearable sensors to track your heart rate.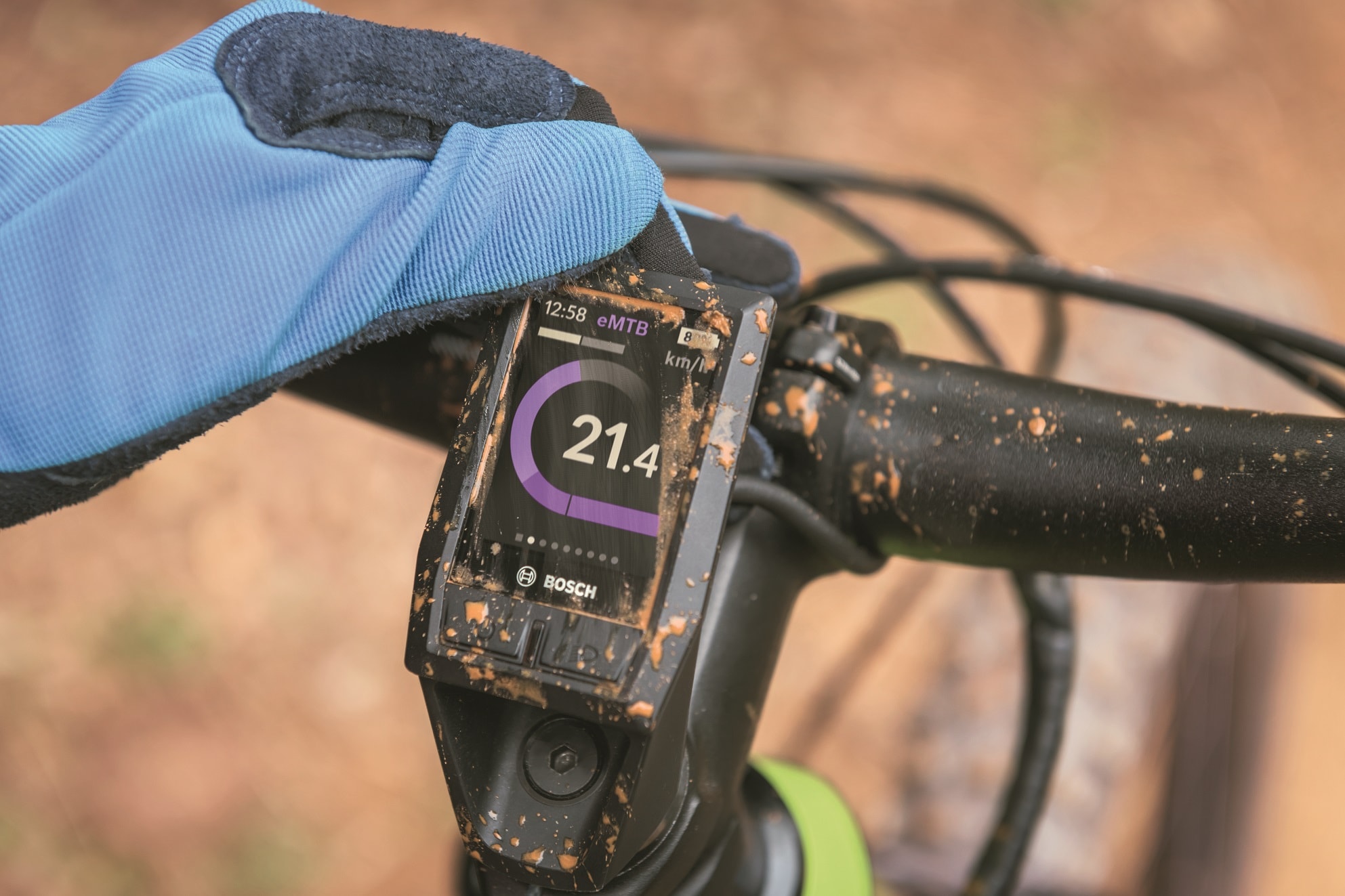 We've seen an uptick in eBikes as a transportation tool. Five years ago, the predominant user used eBikes as a recreational device, and now we're seeing more dedicated commuters using eBikes. This has been helped by the movement of electric bike share.
Bike share companies are introducing eBikes in their fleets and they're seeing an increase in ridership. Along, with more bike dealers catering to commuters, eBikes are a new form of transportation that is here to stay.
Jonathan Weinert – Bosch eBike Systems
The Best Mountain E-Bikes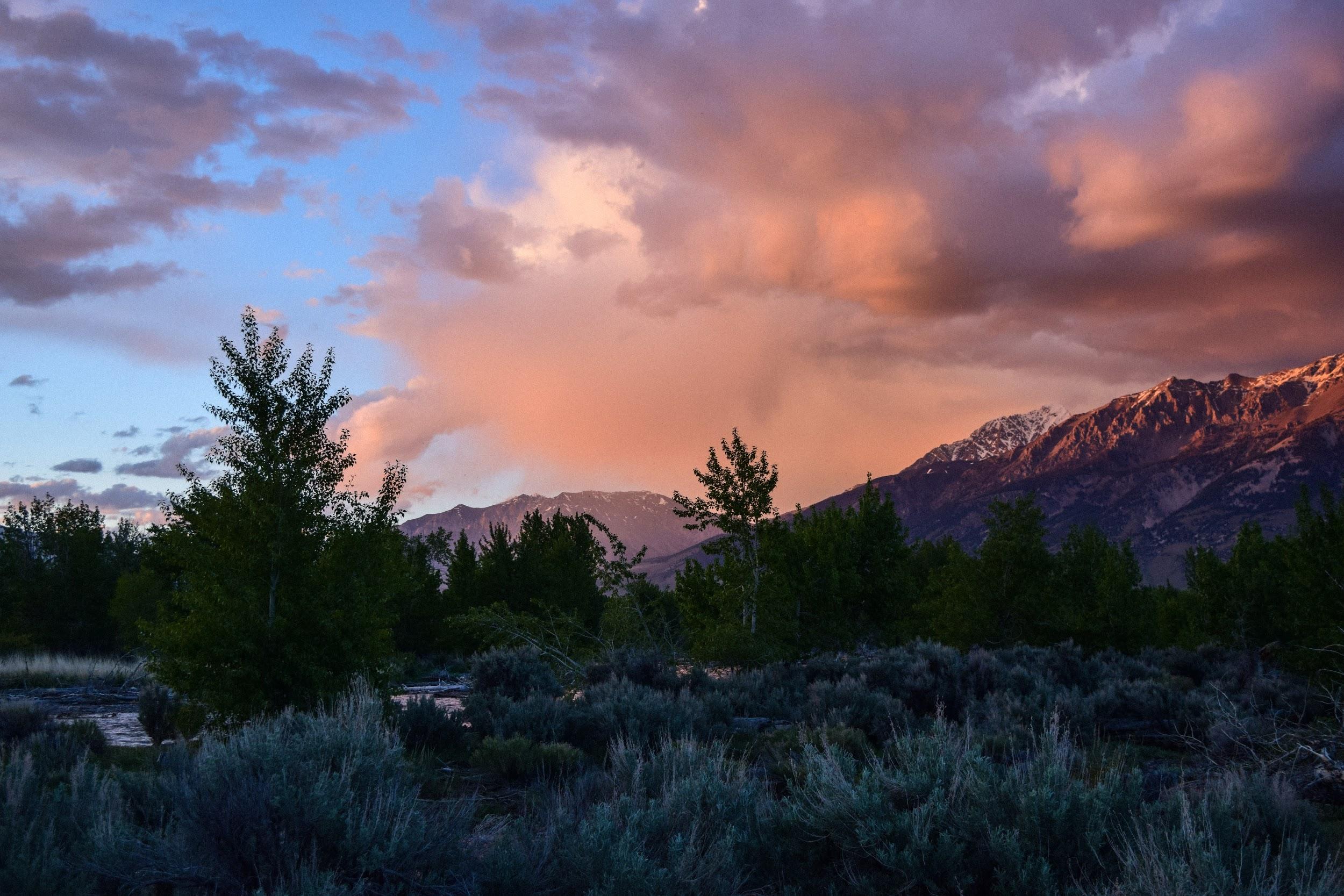 There is nothing worse, after flying down a hillside at hair raising speeds, than having to drag yourself and your bike all the way back up to the top again. We can all agree that the best part about mountain biking is going downhill, or across a trail, fast.
Tiredness and fatigue kick in, but you really aren't ready to call it a day and head home. So, what do you do? Let the battery kick in and fire you right back up to the top.
Mountain E-Bikes are the greatest thing to hit the track. They allow you to milk every last second of fun while being in the great outdoors and we think they are worth every penny.
They help you go faster, further and help you when you're fatigued. They can do everything a regular mountain bike can, just a little bit better.
I know what you are thinking though, E-bikes are generally a bit on the larger side, a bit dopey and are hardly agile enough to use for mountain biking.
You would be wrong though, very very wrong. Mountain e-bikes have come a long way in their development. The frames are stronger and lighter, the motors go quicker, and they are more durable now than ever.
Electric Mountain Bikes | Motors and Frames
Mountain E-Bike motors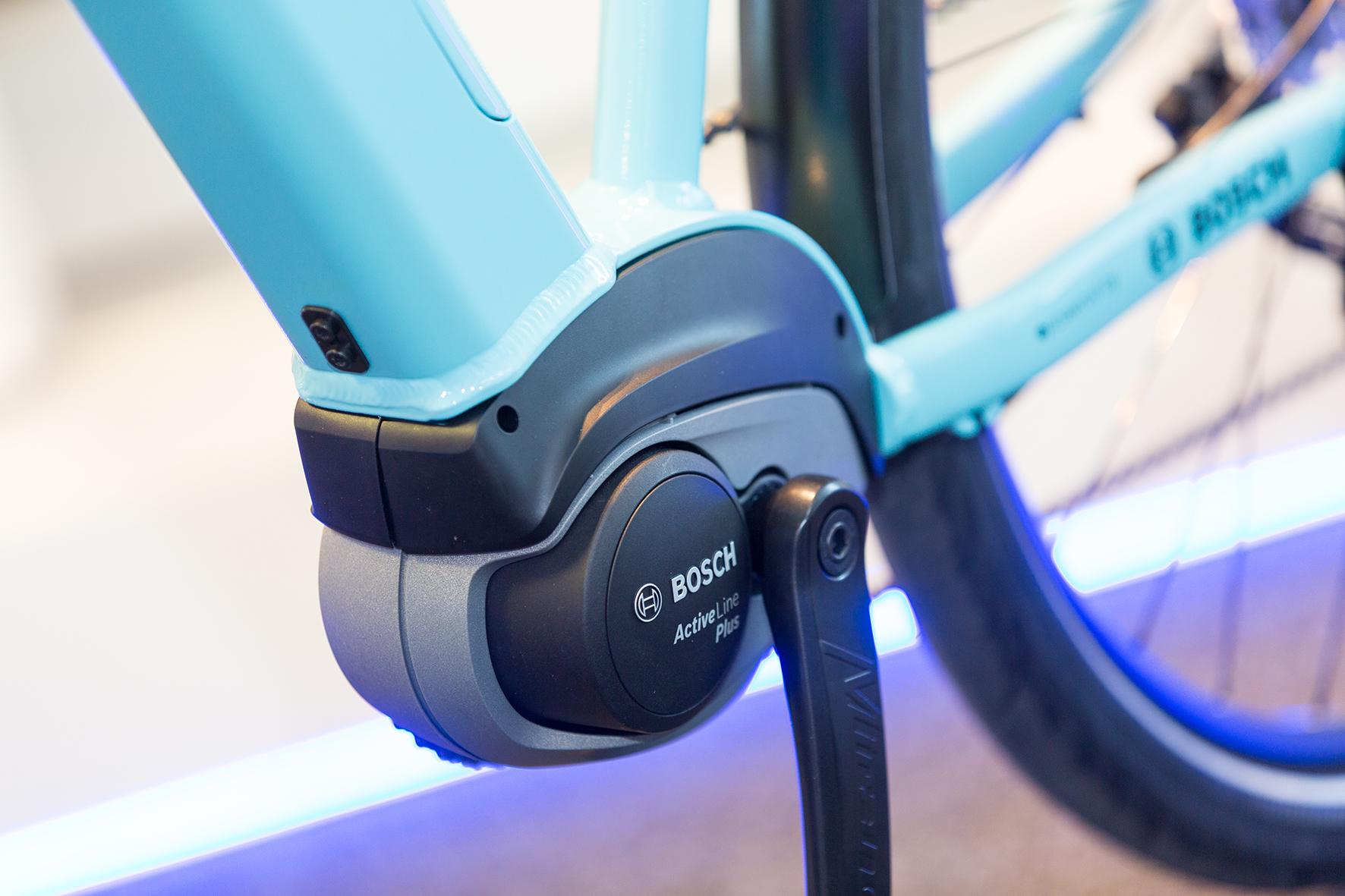 E-MTB motors pack a punch, they can assist you up to and over 25KPH. Trailing has never been more fun because now you can do twice the riding in half the time. Your favourite tracks will never be the same again.
Traveling across the country, or uphill becomes a lot easier and takes less toll on you. Less achy muscles mean more fun, for longer.
There are three leading players making motors for mountain E-Bikes.
• Bosch
• Giant
• Shimano
All three are from significant players in and across different industries so you can rest your mind knowing you are investing in a solid and durable piece of equipment.
But, as more and more companies are getting involved, we are now seeing manufacturers producing their own motors with interchangeable batteries.
Mountain E-Bike Frames
When e-bikes first appeared on the scene, they were bigger and had a considerable amount of weight to them. What we love about where we are now is how much more agile and durable they have become.
As we know geometry plays a massive role in the handling, speed, and durability of a mountain bike. Mountain E-Bikes are now almost interchangeable with standard mountain bikes in this respect. In terms of weight, if you take off the battery pack there isn't too much of a difference (about 2-3kg). The battery itself sits inside or on top of an oversized downtube which keeps it safe from damage and places it in a position which has minimal impact on the handling and agility.
Looking to the future, we'll be seeing EMTBs gradually getting closer to weighing in at "normal bike" weight.
Best Electric Mountain Bike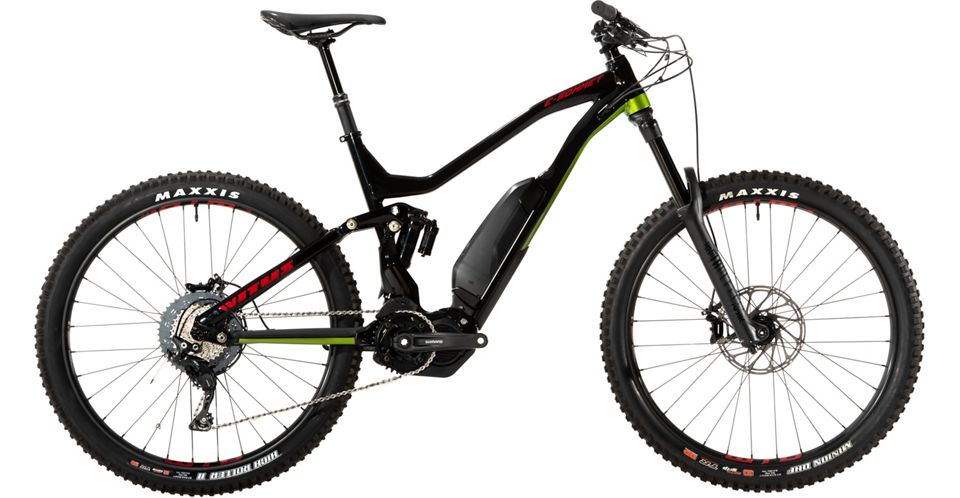 Vitus has been around since the early 1970's building and supplying bikes. What we love about Vitus as a company is their unassuming drive to keep the best possible ratio of cost to quality, in buying a Vitus you pay for the bike not the brand.
It shouldn't come as a surprise then that they have produced an outstanding E-MTB. Built upon the base of the ever popular Sommet enduro bikes the E-Sommet has proven to be just as capable as the motor less-range and just as much fun.
Vitus have created this bike with optimal geometry in mind, which means they designed it to work to its maximum potential while being suitable for everyday use by amateurs and pros alike.
It harnesses a Shimano Steps 8000 MTB pedal assisted motor and uses the suspension from the hugely successful Sommet enduro range.
The Shimano Steps motor system has three modes; eco, trail or boost and can charge to 80% in under two hours.
It sits on 27.5" x 2.5" wheels and has clearance to allow for up to 2.8" plus sized tires. The rear suspension is excellent and packs 160mm of travel.
This bike has a really commanding and domineering feel to it, eating up the descents with confidence. The extra weight added by the battery and motor has a surprisingly small effect on the nimbleness of the bike. It looks great, and we certainly think at this price point it would take something truly spectacular to beat it.
Most Powerful Mountain E-Bike
Longest Battery Mountain E-Bike
Rocky mountain was founded in Vancouver, Canada. Home to some of the most amazing and diverse trail terrain in the world. It doesn't surprise us then they not only produce hardcore mountain bikes, but they now have an electric mountain bike range which is even more hardcore!
The PowerPlay range of bikes is their range of electric mountain bikes, they have a few different models, and we are looking at the Altitude PowerPlay 70. They claim this bike has been designed for aggressive trail riding, we believe it.
The whole bike set up is based on the layout of the non-electric altitude which is a fantastic bike in itself. They set out to achieve the same suspension and geometry design but with added electric power.
This means you have an Electric mountain bike which closely replicates the ride of an amazing aggressive trail bike but with more power!
It has a PowerPlay drive 250W/48V motor which is powered by a Li-Ion 632Wh. This is one of the largest and most powerful batteries on the market. The motor is extremely quiet, and It also features an inline torque sensor to deliver power when needed most, there is currently no other system which has a sensor like this.
Rear travel is 150mm thanks to the the Fox Float DPS shock, the front forks are Fox 36 E- MTB float which gives us 160mm travel.
The brakes are powered by Shimano – who obviously needs no introduction.
The Rocky mountain swallows up trails for fun, the setup and aggressive riding nature of the bike is great for downhill trail riding. What we love about this is the powerful motor makes getting up any hill a piece of cake.
If you're looking for an E-MTB which has tonnes of power but closely mimics the ride of a standard MTB, then this is a strong contender. The whole PowerPlay range by Rocky mountain is a cut above.
They aren't the cheapest bikes around, far from it. But when you take into consideration the build quality, the ride and power then you can understand why it is priced at the top end of the market.
Most Durable Electric Mountain Bike
Trek is hardly a company that needs an introduction. This is an excellent piece of kit. It is strong and durable has some cool modern features which offer it some recognition.
It features a Bosch performance CX motor which is powered by a 500Wh battery. The great thing about this is the RIB (removable integrated battery) which has a protective cover on the side. Less dirt gets into it, and it is super simple to plug into.
In E-MTB mode the battery will switch between three modes, Turbo, Sport and Tour. It will automatically adjust depending on the level of effort you are putting in. Uphill it will get the job done, but downhill this thing really comes alive.
It has the same geometrical set up as Treks high performing trail bikes, and this is great for riding, but when it goes against the other mountain E-Bikes we have here it is a little dated in riding position design.
It sits on Fox Performance 36 forks [US Link] with 160mm front and rear travel, the rear RockShox Super Deluxe [US Link] smoothly eating up rocks and bumps. It comes standard with 27.5" x 2.8" plus sized tires.
The Trek Powerfly 9 LT is a superb bike for someone new to E-Bikes but not necessarily mountain biking on the whole. We feel for more advanced riders though there are better options about (either getting a cheaper model and modifying or a higher end base spec would be more economical). With the price in mind you do get value for money, but with mountain E-Bikes and the whole E-Bike scene evolving so quick it likely won't seem that way for long.
Best Cheap E-bikes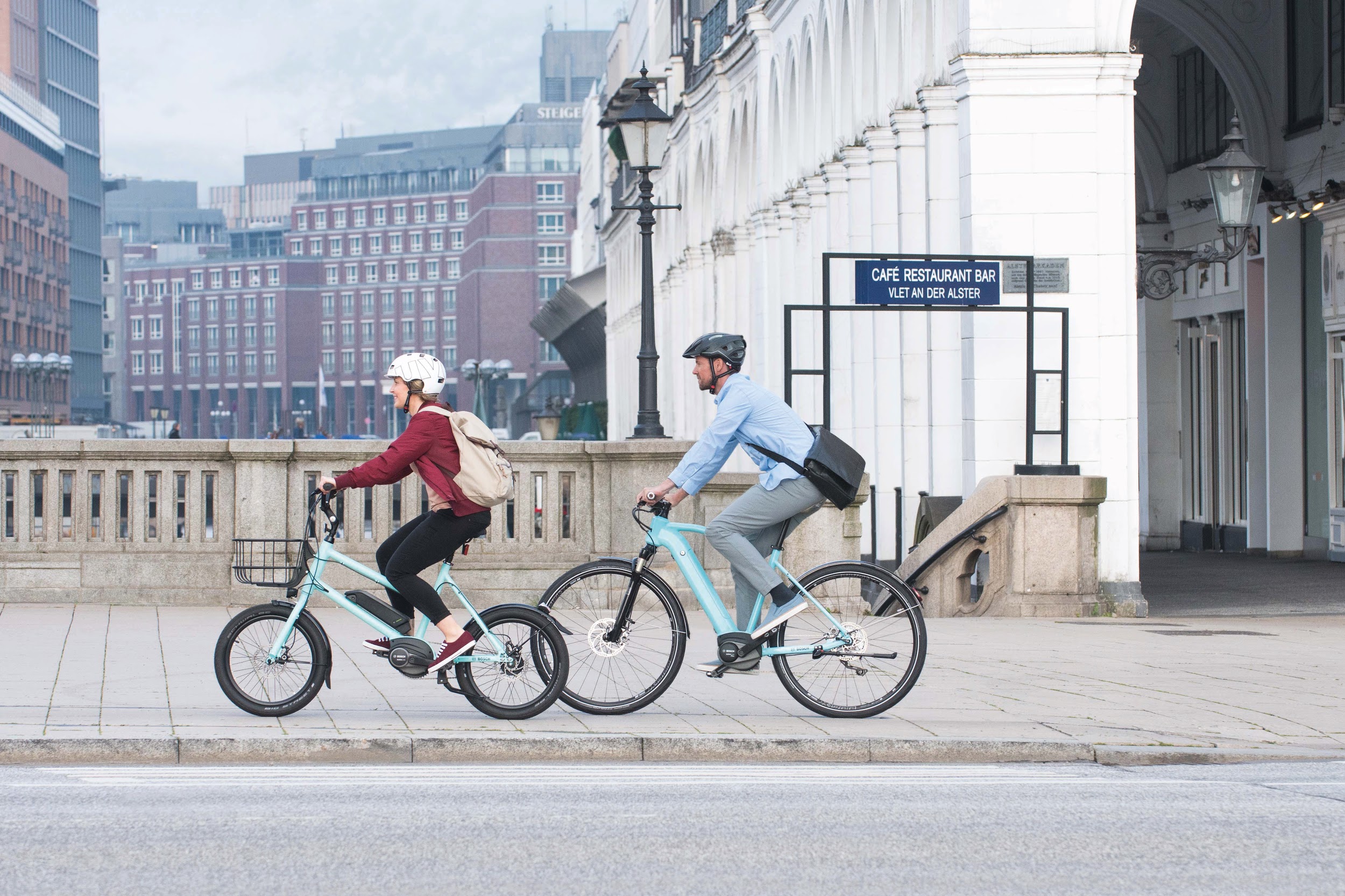 We have dived into the world of mountain E-Bikes and as much fun as they are, they are also costly. Not everyone wants a high-end electric mountain bike, so for the average rider or the city commuter what are your options?
When you're shopping in the sub $800 range of electric bikes, your choices are a little more limited. You won't get a lightweight frame and neither will you get brand named parts. Not too worry though, you will be able to upgrade these as your needs require higher-end equipment.
E-Bikes, on the whole, are great for getting around towns and cities, they don't pollute, save valuable time, and you won't get caught in any traffic jams what isn't there to love?
The only downfall when it comes to most e-bikes is the price. We all know with tech and gadgets the more you pay, the better the quality you usually get. Well, this is pretty much the same with electric bikes.
Although, there are some gems out there for under $800 which are well worth investing in. Just remember when buying an e-bike think safety first. Always check the batteries and wiring conforms to standards.
You want to make sure your ebike will last the test of time and that the manufacturer offers a warranty on the motor and battery. Most commuter style ebikes are meant for local riding around towns and cities.
Keep this in mind when looking for an ebike as if you want to take it off-road you will have to increase your budget a little.
Best Cheap Commuter Electric Bike
This is one of the most popular affordable e-bikes around. It is designed for the average commuter and works perfectly around towns or cities.
Ancheer is an American brand with head offices in Los Angeles, and most of the bikes are manufactured in Taiwan and China.
The Ancheer Power Plus bike has a foldable frame for secure storage, if you don't want to leave your bike outside the office, you can stick it in the store cupboard quite easily.
The bike itself is strong and sturdy although we wouldn't recommend you take it off-road.
It is powered by a 250w brushless motor which delivers smooth and consistent power. The battery is a 36v 8Ah Lithium-ion which offers a range between 15 – 30 miles.
It reaches a top speed of around 15MPH, but obviously, you would need to take into account terrain and weight.
As far as commuter style electric bikes go this is one of the better ones on the market. It will allow you to travel to town or your office and with it being foldable it is quite unique in its storage capabilities.
The charging time is between 4-6 hours, and the battery isn't removable which we found to be a little bit of a pain, but they do offer a one-year warranty on the motor and battery.
Overall the Ancheer is a great little bike and perfect for commuting, the foldable aspect of the bike is a great touch for a full-size bike and makes it easy to get on a busy train or bus.
Commuter Runner – Up
The Merax aluminum electric mountain bike is an amazing e-bike. It is quick, smart and looks like a regular town bike.
As with most e-bikes, it is manufactured in the far east, they do have their own website, but it is more based around troubleshooting than anything.
The Merax electric mountain bike is made from standard parts, which keeps the prices down for e-bikes, we do like the Shimano 7 speed shifter which is a nice touch.
It comes with a 350w high-speed motor powered by a 36.8V 8.8Ah Lithium Ion Battery. Battery charge time is around 5 – 6 hours.
On average you should get around 18 – 20 miles travel distance with a top speed of 32KMh from the Merax, but as with most smaller batteries, when the weather is cold, this will reduce its ability to hold a charge to a lesser degree.
It comes with five levels of PAS (Pedal Assist) which helps if you're going up a hill or are running late for a meeting and you need some more power. The thumb throttle for pure electric mode is fun, and the bike does have a little spark to it.
The great thing about this electric bike is the battery is removable so you can lock your bike away in the garage overnight and charge the battery safely in your home or office during the day.
Overall the Merax is a great commuter bike and does what it says on the tin. For the price point, you are getting a decent level commuter e-bike, and you can always upgrade smaller parts to make it a little more to your taste, e.g. seat, handlebar, brakes, etc.
Best power and terrain e-bike
Most of the e-bikes you will come across in the under $1000 bracket will likely be worth the money, but aren't made for more adventurous use. Which is why we have chosen to add the Ecotric Fat Tire Bike to the list.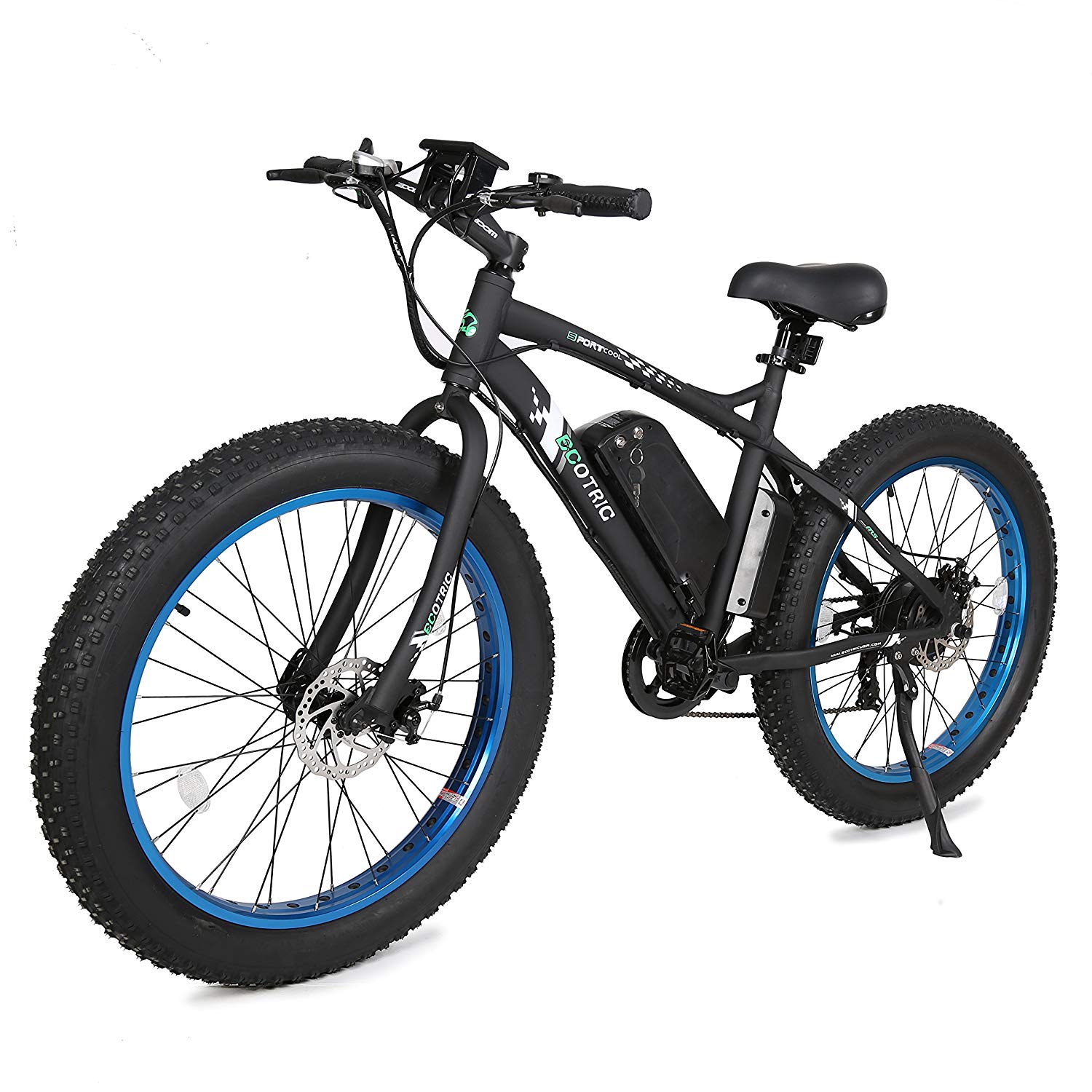 It gives you the comfort and reliability of an electric commuter bike but also the ability to add a little more adventure to your ride. If your daily commute takes you a little off-road or you want a little more stability in the winter or the beach, then this is a strong contender.
It is powered by a 500W brushless gear motor which is fed from a 36V 12Ah removable lithium battery. The bike can hit speeds of 23MPH and cover around 19 miles on a full charge.
Charge time is around 4-6 hours, and the battery does come off so you can charge it without needing to drag your bike through the office!
It has a throttle control and has a full electric mode or pedal assist so you can decide if you want to get a little workout or just cruise into the office without breaking a sweat.
It rides on 26" x 4" Fat tires. These are great for control and at higher speeds offer greater durability. They also give you the freedom to get a little more adventurous which our other e-bikes don't. This bike can take on the beach and snow.
Overall this is a great all-rounder if you live in a town with more hills or If you have some cross country in your commute. It is a little on the heavier side at 58LBS, but for the size and weight, it does move really well. The fat tires and mountain design also give this bike much more scope for a battery upgrade in future without making it dangerous.
Two Seater E-Bikes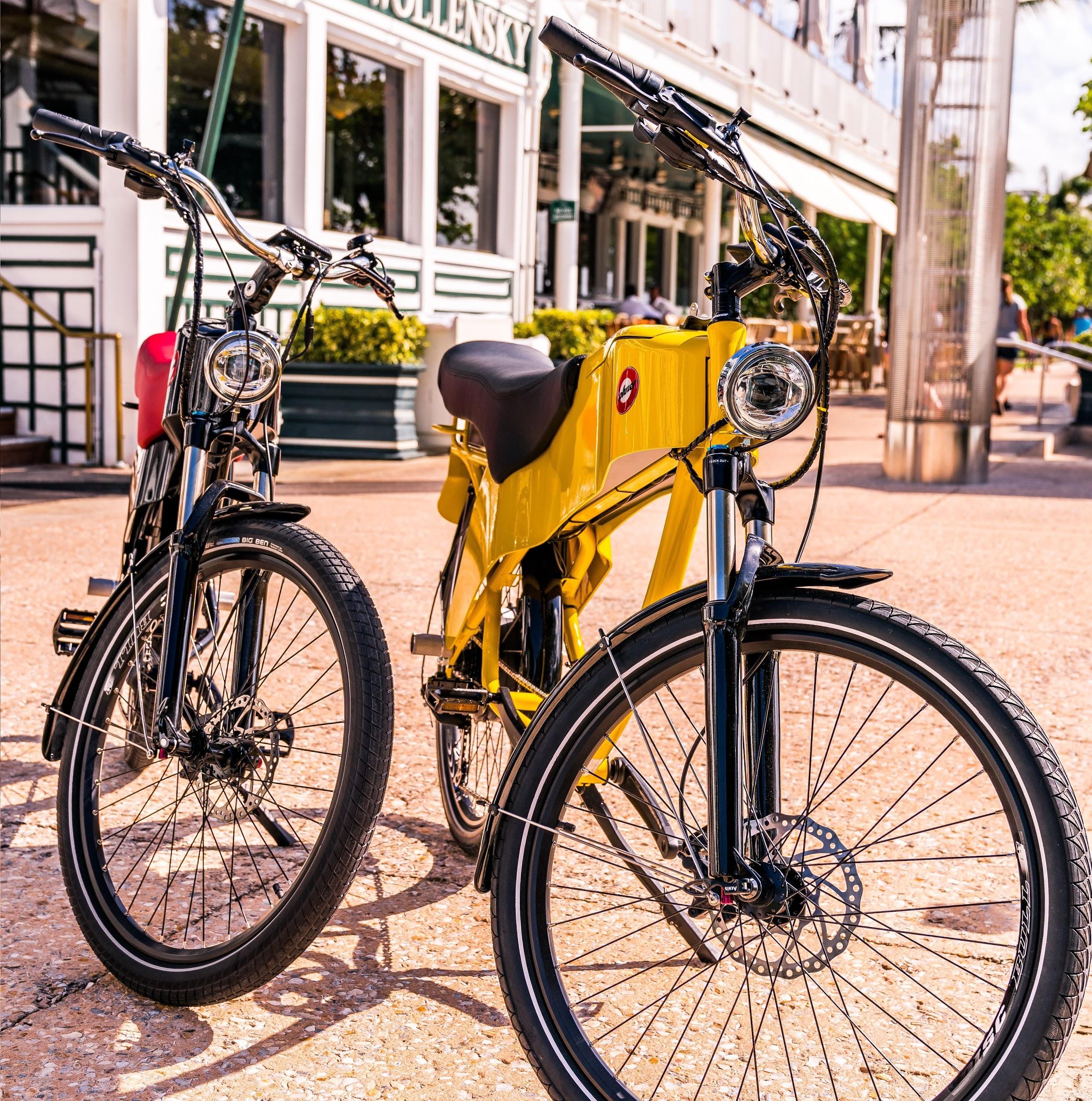 Blurring the lines with E-Bikes
RetroWheels USA has announced pre-sales on the Lohner Falkon electric bike. Borne of an Austrian lineage dating back to 1821, the Lohner Falkon is sleek and striking. The Lohner Falkon is the world's only design-forward, two-seater electric bike.
It features graceful body contours and precise angles with a handsome, circular headlamp, functional front suspension, passenger foot pegs, and a large, two-seater leather saddle.
The Lohner Falkon's comes equipped with a 2-gallon front glove compartment, perfect for storing extra batteries and water bottles. It's motor is powered by a 48V Lithium Ion Battery with 14 AMP hours.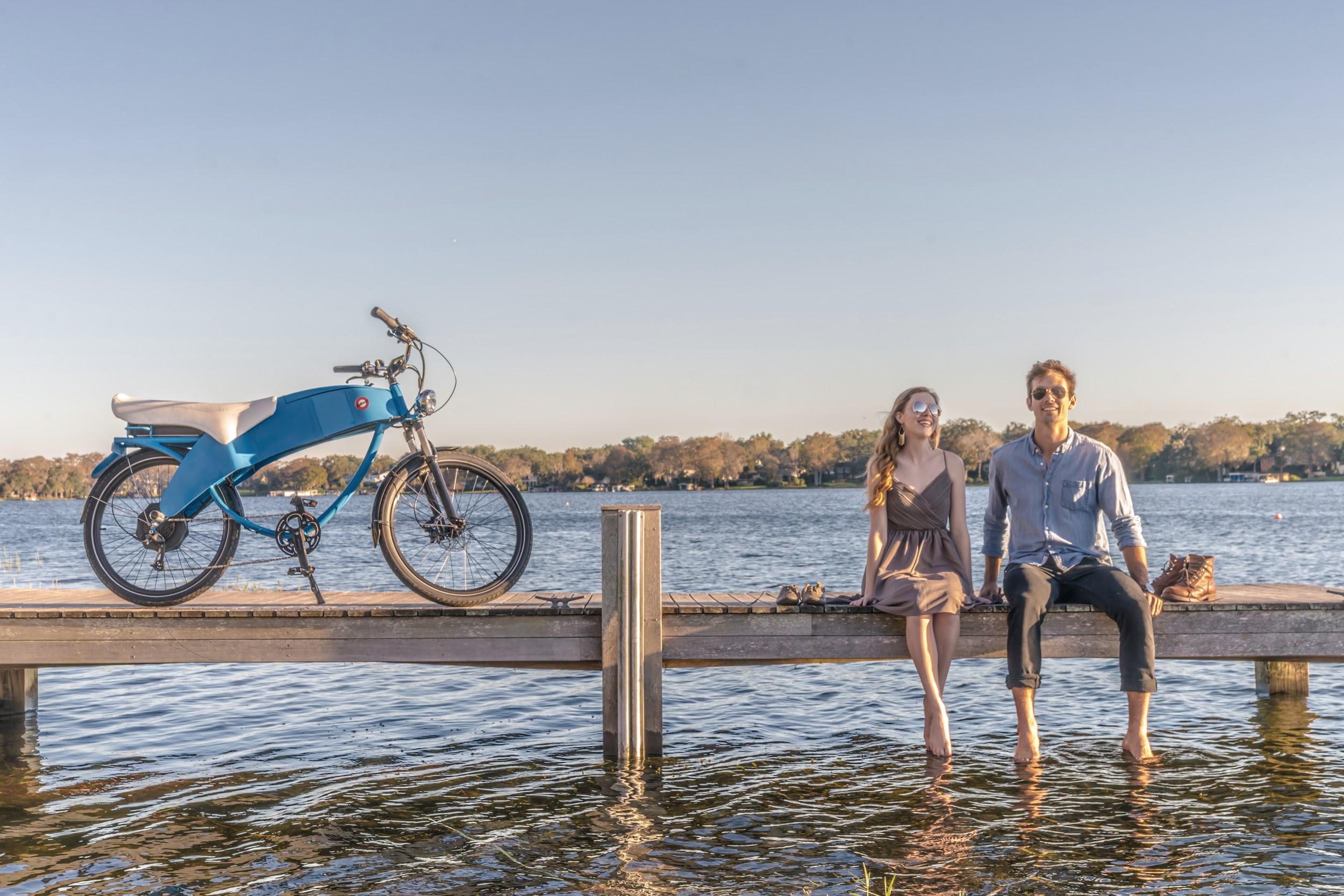 Contributor: Alex Tiedtke, CEO
Organization: RetroWheels USA
Website: https://www.retrowheelsusa.com
Contributor: Phoebe Conner

I've recently purchased a pinnacle lithium ion e-bike for commuting to work. It's a hybrid electric bike so it's definitely sturdy enough to take on the (many) potholes I encounter on my ride to work. It's got 3 power assist modes (Eco, Normal and High) as well as 10 Shimano gears which means you can constantly adapt it to the conditions of your commute.
The battery has a 60km charge, although this very much depends on the mode you ride it in. There is a helpful little display on the handlebars to give you an idea of how much charge you've got left (as well as your speed and which assist mode you're in).
The battery itself detaches from the bike which I think is really handy as, if you're short on space, you only have to bring the battery in to charge rather than try and get the whole bike near a socket.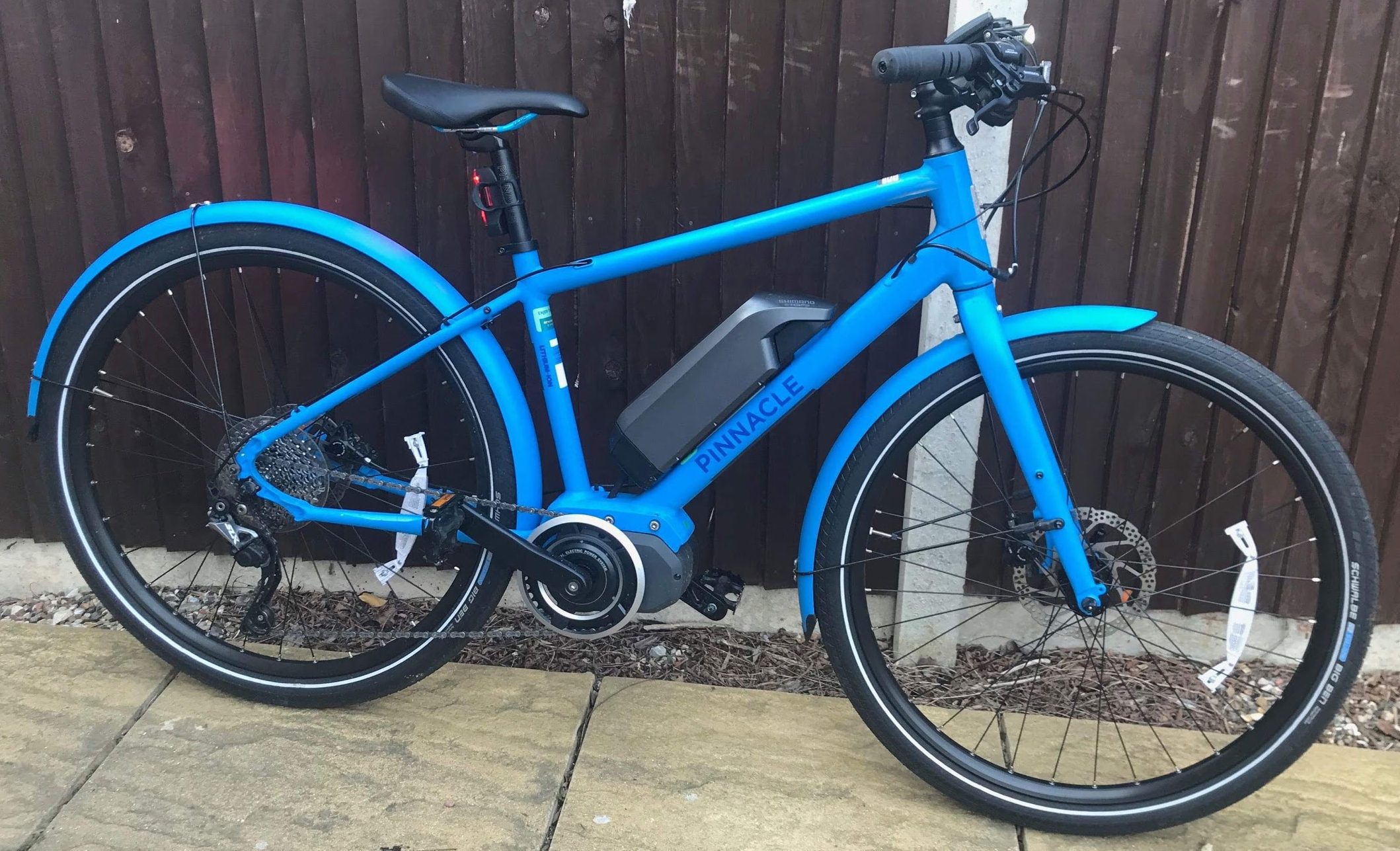 Contributor Website: www.yesihaveablog.com/category/outdoor-wellness
How to Build An E-Bike
Maximising E-Bike Battery Life for Touring
Contributor: Mark Prior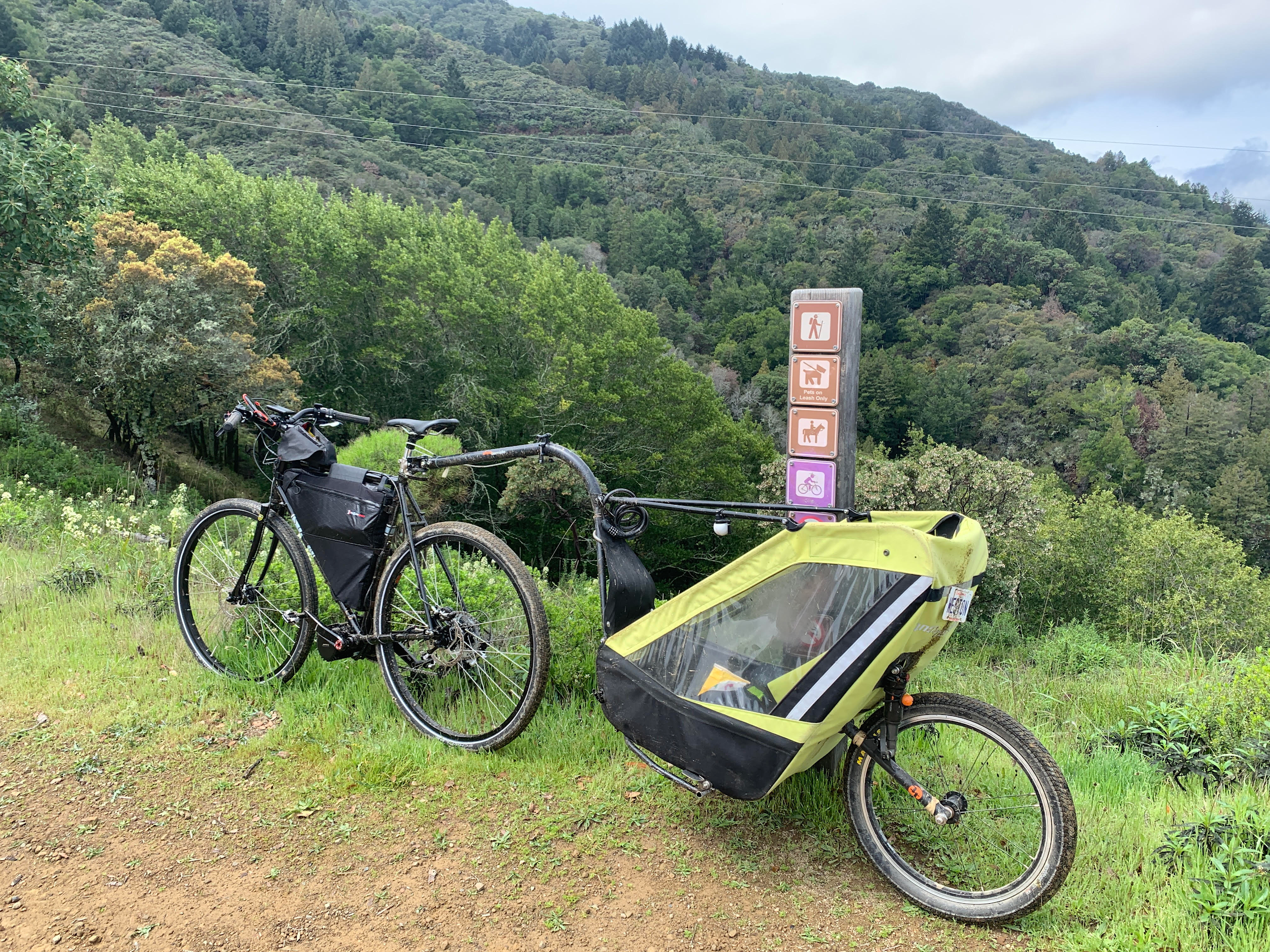 Website: prioradventures.com
I have traditionally used a non-ebike to tow my 3 year-old son on multi-day bike touring adventures.
I am an experienced and fit cyclist, but find the effort drains me of capacity to parent well and enjoy the adventure together. With that in mind, I set out to build a custom sport-oriented ebike with the capability to power us over great distances with minimal charging.
Some key design elements:
Carry 2 (or more) batteries for greater flexibility and a safety buffer. You can charge quickly in parallel, use one while the other charges, and if something goes haywire on a remote mountain, you have a backup.
Buy an aftermarket controller (like the EggRider), which will allow you to set custom pedal-assist levels. This way you can fine tune your PAS levels to find the perfect "power drip" that will get you over the mountain without draining the battery depending on how much power you are putting out. You can also setup two PAS modes – one for touring (with the above settings) and regular one for normal life.
Remove the throttle (if you have one) – too much of a temptation! Just use the PAS levels.
Purchase batteries with a low weight to power ratio. This is not just about spending more on better cells, but picking the right-size. Generally, the largest and smallest batteries are slightly less weight efficient.
Run all accessories off the main battery. Silly to carry a bunch of little other batteries (in the form of rechargeable lights, etc….) when you already have a huge, efficient power system. This will require some voltage changing usually, but that's not too complicated.
Like any bike setup, carry extra small parts for your motor/battery that could come in handy. Example: many setups use magnets to detect brake engagement. If you lose it, your toast. Bring extra.
This is obvious, but weight matters on ebikes too. There are a lot of after market ebike components that save weight and resist the urge to save money by purchasing cheap alloy parts that will weigh you and your motor down.
I use two batteries in combination – one triangle pack and one square. Specs in the batteries section below.
Together they last about 110 miles at standard power, which is about 20 mph on flats using midrange PAS. In my testing, pouring more power into it barely increases speed and eats battery.
To assist with anyone trying to build something similar to a bike like this, we've included a specification sheet kindly given by Mark below.
| | | | | | |
| --- | --- | --- | --- | --- | --- |
| Item | No. | Price | Total | Description | Retailer |
| Frame | 1 | $480.00 | $480.00 | Soma Wolverine 3.0 60cm | Soma |
| Fork | 1 | $190.00 | $190.00 | Soma Wolverine | Soma |
| Battery | 1 | $569.00 | $569.00 | 52V 20.4Ah (14S6P-35E) High-Energy Hardcase Pack, 40A Smart BMS | EM3EV |
| Battery 2 | 1 | $469.00 | $469.00 | 52V 17Ah High Energy Pack With 40A Max Smart BMS (14S5P-35E) | EM3EV |
| Charger | 1 | $100.00 | $100.00 | To suit battery | Luna |
| BBSHD | 1 | $559.00 | $559.00 | Unknown | EM3EV |
| Chainring | 1 | $90.00 | $90.00 | Bling Ring | EM3EV |
| Throttle Upgrade | 1 | $10.00 | $10.00 | Unknown | EM3EV |
| Crank Upgrade | 1 | $90.00 | $90.00 | Unknown | EM3EV |
| Seat Post | 1 | $26.00 | $26.00 | 27.2mm | Jensen |
| Seat Post Clamp | 1 | $6.00 | $6.00 | To fit seat post | Ebay |
| Seat | 1 | $24.00 | $24.00 | Pick one your comfortable on! | Ebay |
| Headset | 1 | $37.80 | $37.80 | Cane Creek EC34/28.6|EC34/30 | Ebay |
| Stem | 1 | $18.00 | $18.00 | TOSEEK Aluminum Alloy Bike Stem 31.8 70mm 6 Degree Mountain Bike Stem for Bicycle, Road Bike, MTB Matt Black 70mm | Amazon |
| Handlebar | 1 | $24.00 | $24.00 | UpanBike Urban Road | Amazon |
| Grips | 1 | $20.39 | $20.39 | Race Face Half Nelson | Amazon |
| Front Wheel | 1 | $112.00 | $112.00 | Sunlyte, Deoro Hub, Qr 9×100 | REI |
| Rear Wheel | 1 | $30.00 | $30.00 | Sunlyte Rhino | Performance sale |
| Tire | 2 | $61.10 | $122.20 | Schwalbe Marathon Almotion HS 453 Cross/Hybrid Bicycle Tire 29 x 2.00 | Amazon |
| Valves | 1 | $10.00 | $10.00 | Any standard valves | Jensen |
| Rotors | 2 | $14.00 | $28.00 | 160mm | Jensen |
| Rear Der | 1 | $20.00 | $20.00 | Personal Preference | Jensen |
| Cassette | 1 | $20.00 | $20.00 | Personal Preference | Jensen |
| Rear shifter | 1 | $30.00 | $30.00 | Personal Preference | Jensen |
| Chain | 1 | $15.00 | $15.00 | Personal Preference | Jensen |
| Brake Mount Front | 1 | $7.00 | $7.00 | Personal Preference | Jensen |
| Brake Mount Rear | 1 | $10.00 | $10.00 | Personal Preference | Jensen |
| Brakes | 2 | $90.00 | $180.00 | XT | Jensen |
| Rotor | 1 | $55.00 | $55.00 | Personal Preference | Jensen |
| Clutch | 1 | $1.00 | $1.00 | Personal Preference | Green Bike Kit |
| Extra Display | 1 | $58.00 | $58.00 | DPC 18 | Green Bike Kit |
| Lock Nut | 1 | $7.00 | $7.00 | Personal Preference | Green Bike Kit |
| Throttle Upgrade | 1 | $8.00 | $8.00 | Personal Preference | Green Bike Kit |
| Nylon Gear | 1 | $20.00 | $20.00 | Personal Preference | Luna |
| Adapter Bolts | 1 | $1.00 | $1.00 | Personal Preference | Green Bike Kit |
| Frame Bag | 1 | $165.00 | $165.00 | Relevate Ripio XL | REI |
| Buck Converter | 1 | $23.59 | $23.59 | | Amazon |
| Front light | 1 | $13.00 | $13.00 | Personal Preference | |
| Horn | | | $0.00 | Personal Preference | |
| Rear light | | | $0.00 | 4 watt | |
| Pedals | 1 | $36.00 | $36.00 | Personal Preference | |
| TOTAL | | $3,519.88 | $3,684.98 | | |
| | | Tax | $294.80 | | |
| | | Total | $3,979.78 | | |
Best E-Bike Batteries | Cost to Power Output
Arguably the most important component of any E-Bike, the battery is both the heaviest component and the one that controls how fast the bike can accelerate. On account of an abscence of much meaningful battery comparison being done online, the table below should be helpful for anyone looking to buy a battery that improves the performance of their bike.
Before reading however, there are some points that should be understood such that you can choose a battery with the right attributes to suit the performance gains you are after.
Amp Hours = How long the battery will last.
Volts = The 'horsepower' of the battery
Watts and Kilowatts (W and KW) = Amps * Volts
Watts and Kilowatts can also be represented as the total energy of the battery divided by time.
| | | | | | | | | | |
| --- | --- | --- | --- | --- | --- | --- | --- | --- | --- |
| Config | Cell | Ah | KWh | Kg | Price | $/KWh | Kg/KWh | $/Ah | Link to Product |
| 14s4p | 30q | 14.8 | 0.743 | 4.9 | 399 | $537.01 | 6.59 | $26.96 | Link |
| 14s4p | 35e | 17 | 0.857 | 4.9 | 479 | $558.93 | 5.72 | $28.18 | Link |
| 14s5p | 33g | 15.5 | 0.781 | 4.3 | 375 | $480.15 | 5.51 | $24.19 | Link |
| 14s5p | 35e | 16.8 | 0.844 | 4.3 | 469 | $555.69 | 5.09 | $27.92 | Link |
| 14s6p | 33g | 18.6 | 0.937 | 4.5 | 449 | $479.19 | 4.80 | $24.14 | Link |
| 14s6p | 35e | 20.4 | 1.028 | 4.5 | 569 | $553.50 | 4.38 | $27.89 | Link |
| 14s7p | 30q | 20.65 | 1.041 | 5.7 | 669 | $642.65 | 5.48 | $32.40 | Link |
| 14s7p | PF | 20 | 1.008 | 5.7 | 499 | $495.04 | 5.65 | $24.95 | Link |
| 14s7p | 35e | 23.8 | 1.2 | 5.7 | 629 | $524.17 | 4.75 | $26.43 | Link |
| 14S9P | PF | 25.7 | 1.295 | 6.8 | 649 | $501.16 | 5.25 | $25.25 | Link |
| 14S9P | 35e | 30.6 | 1.542 | 6.8 | 799 | $518.16 | 4.41 | $26.11 | Link |
E-Bike Research | The Future of E-Bikes
To conclude, we have performed a brief patent study based on data from the EPO and produced some statistics showing E-Bike development and research has increased in pace as the cycling industry has grown, with the trend being more inventions in this area, year after year.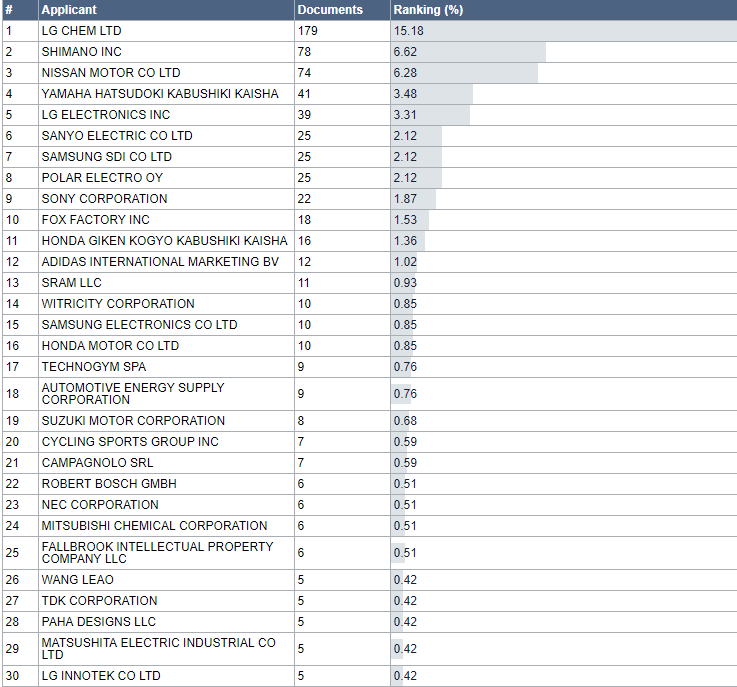 The top 30 all time biggest contributors to electric bike technology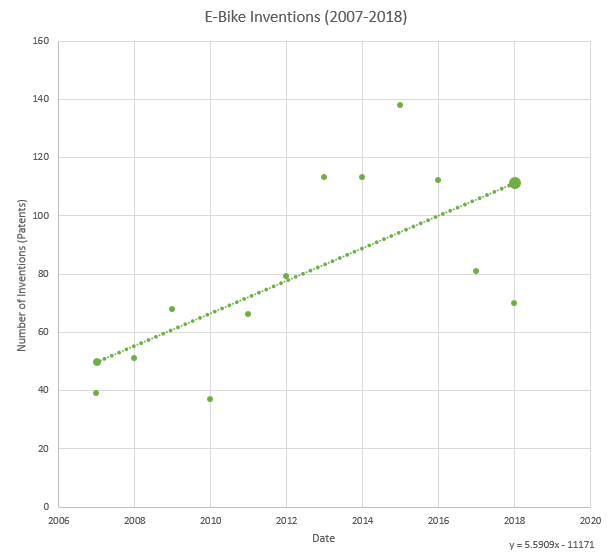 The number of E-Bike related Patents since 2007
Mountain Biking Discount Codes and Vouchers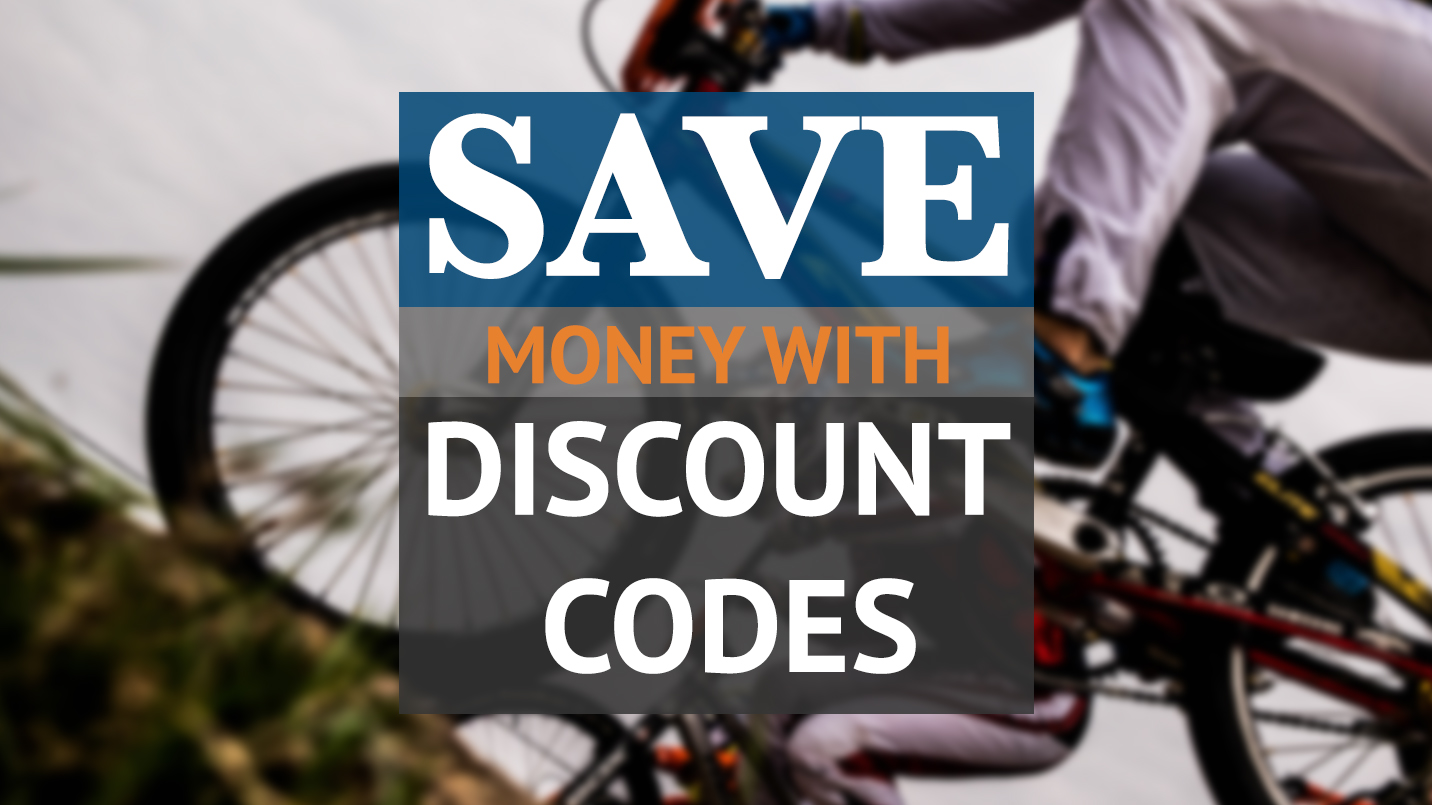 Directory For Mountain Biking Discount Codes
Here we bring together the discount codes for all the biggest mountain biking sites selling products all over the world. The aim is to allow the most mountain bikers to get the best prices possible on their gear. The table below will be updated whenever a new code is created. If you are aware of a discount code and you want it to be included then email: admin@radnut.com
We will be including discount codes for mountain biking products on Amazon in this spreadsheet in the near future.
Current relevant Amazon discount codes:
Padded Cycling Shorts undergarment – 50% OFF.
Code: 504FJUOL
| | | | |
| --- | --- | --- | --- |
| Store | Code | Description | Link to Page |
| ProBikeKit US & Canada | TYREMB | Buy 2 Get 5% off or Buy 4 Get 10% off – use the code TIREMB | |
| Wiggle US | TRIATHLON42 | Save $160 Off $800 Spend | |
| Wiggle US | TRIATHLON41 | Save $100 Off $500 Spend | |
| Wiggle US | TRIATHLON40 | Save $40 Off $200 Spend | |
| Wiggle US | CYCLE06 | Save off $80 Off $400 Spend | |
| Wiggle US | CYCLE05 | Save $40 Off $200 Spend | |
| Wiggle US | CYCLE28 | Save off $80 Off $400 Spend | |
| Wiggle US | CYCLE27 | Save $40 Off $200 Spend | |
| Wiggle US | BIKE08 | Save $400 Off $4000 Spend | |
| Wiggle US | BIKE07 | Save $200 Off $2000 Spend | |
| Wiggle US | BIKE41 | Save $400 Off $4000 Spend | |
| Wiggle US | BIKE40 | Save $200 Off $2000 Spend | |
| Chain Reaction Cycles (US & Canada) | SSCLOFEB | Save $40 Off $200 Spend; Save $80 Off $400 Spend | |
| Chain Reaction Cycles (US & Canada) | SSBIKEFEB | Save $200 Off $2000 Spend | |
| Chain Reaction Cycles (US & Canada) | CLEAR2019 | 10% off on clearance products | |
| Probikekit International | CLOTH15 | 15% off clothes | |
| Probikekit International | TOP10 | 10% off on 'selected items' | |
| ProBikeKit US & Canada | CLOTH15 | Use the code CLOTH15 – max discount $35 | |
| ProBikeKit US & Canada | TOP10 | Enjoy an EXTRA 10% OFF when you use the code TOP10 *max discount $35 | |
| Chain Reaction Cycles (US & Canada) | NCV2019 | New Customers ONLY up to 40% off on clearance products. | |
| Wiggle US | NEWUS | Save $10 when you spend $100. NEW CUSTOMERS only. Use code: NEWUS | |
| Wiggle US | NEWCA | Save $10 when you spend $100. NEW CUSTOMERS only. Use code: NEWCA | |
| Tweeks Cycles | No Code, will be automatically applied at checkout. | FREE UK mainland delivery on orders over $14.99 at Tweeks Cycles | |
The Best Cheap Mountain Bikes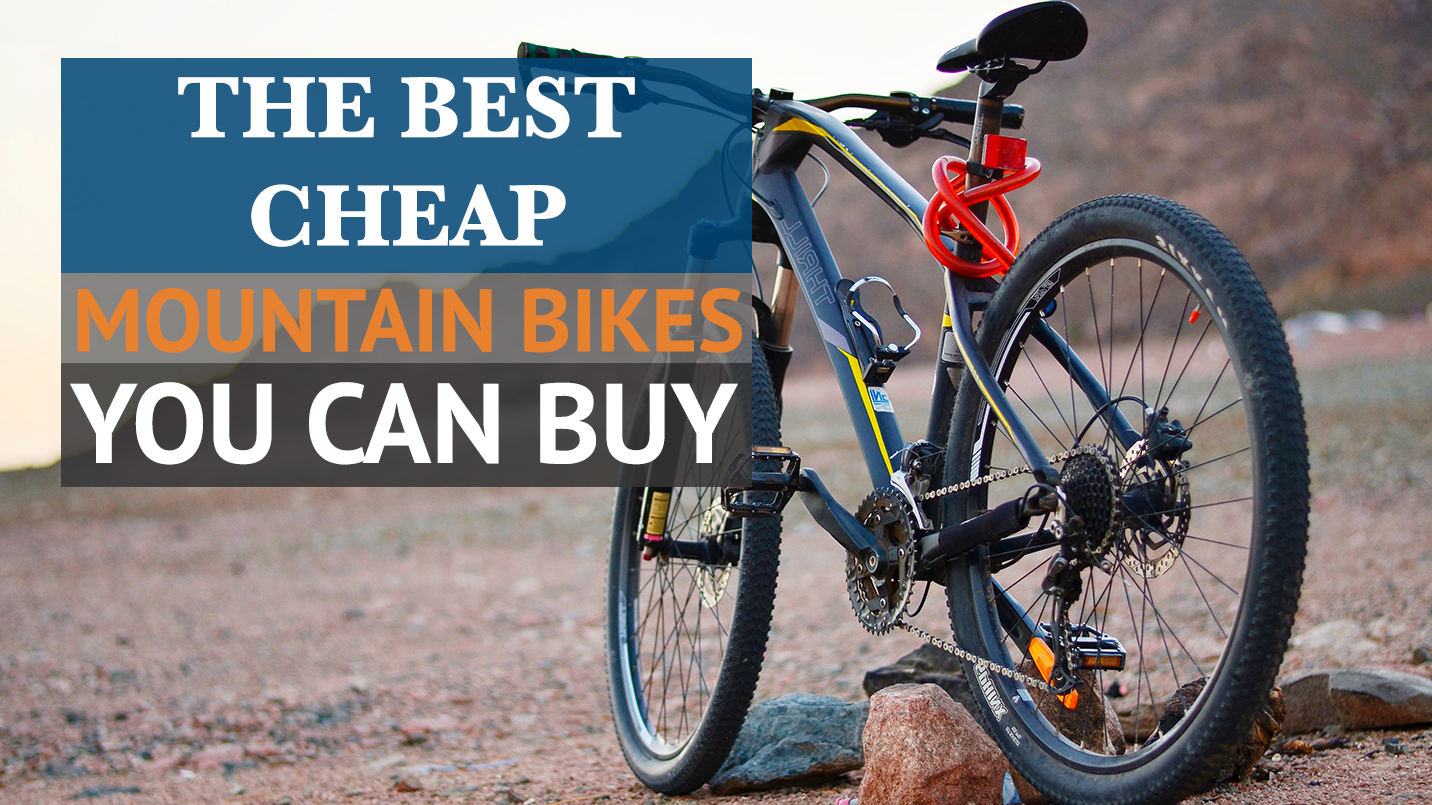 The Best Cheap Mountain Bikes You Can Buy
In this article we will provide a comprehensive guide to the best cheap mountain bikes that you can buy, along with our advice for how to improve them while saving money at every turn. There is no denying that mountain biking is an expensive hobby, and that most riders would prefer to enjoy the thrills of it without breaking the bank. Luckily, the work that has been done in the bike industry in recent times is incredible. There are some fantastic bikes out there at affordable prices.
If you're looking for something to suit a younger person or child, we've put together a list specifically for this here.
We will begin by outlining the key points of what you should look for when buying a budget mountain bike. We have tried to keep it as concise as possible without excluding anything important. At the end of this article we will round off with our views on second hand bikes in this price range.
Buying a Cheap Mountain Bike | Considerations
Frame Considerations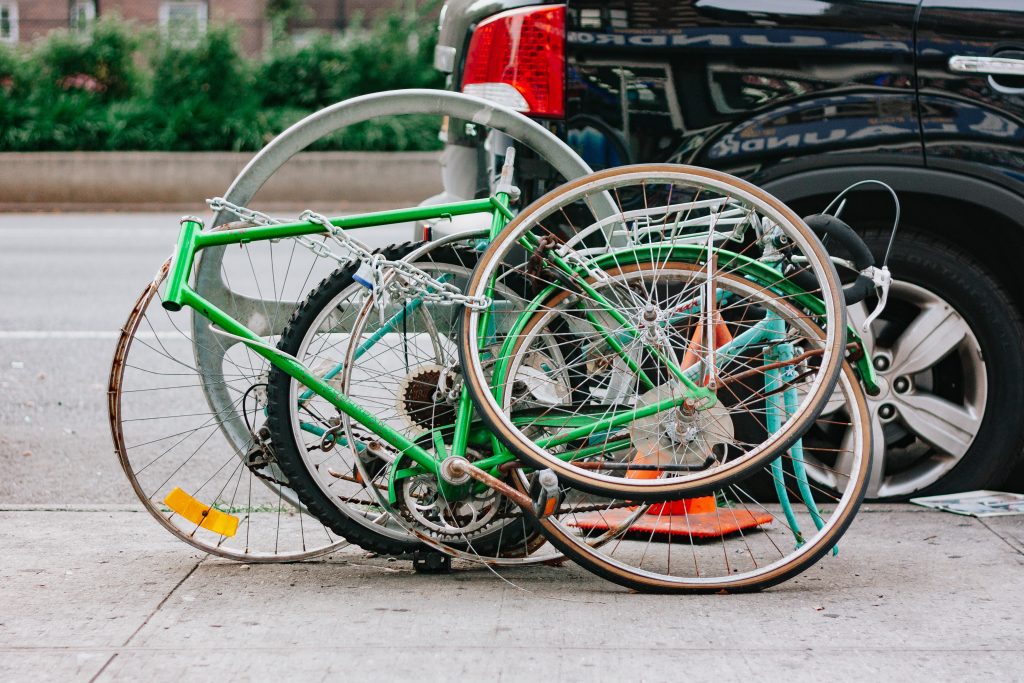 In terms of frame geometry, there isn't much worth considering – stick to reputable brands and if in doubt check with your local bike store. We'd strongly recommend avoiding steel and going with an aluminium alloy frame to reduce the weight as far as possible. Usually, cheaper full suspension bikes consist of inferior quality parts. So, we'd recommend buying a hardtail bike that comes with no suspension or only front suspension respectively – you'll enjoy a far better bike for the same money.
Summary – Avoid steel, go with a hardtail.
Gearing Considerations
Next comes the number of gears the bike should have. While having a large number of cogs used to be the dream 20 or so years ago, this should not be used as a measure of quality and bikes with a lesser amount of sprockets that are within the affordable price range may well be of higher quality. Some of the most expensive and sought after drivetrains today consist of only 1 cog on the front and 10 or 11 on the back. While a wide range of cogs may make a slight difference in very mountainous regions, as the mountain bike community has discovered as a whole, with 11 you can cover more or less everything.
Summary – Focus on the condition and the shifting, not the number of gears.
Brakes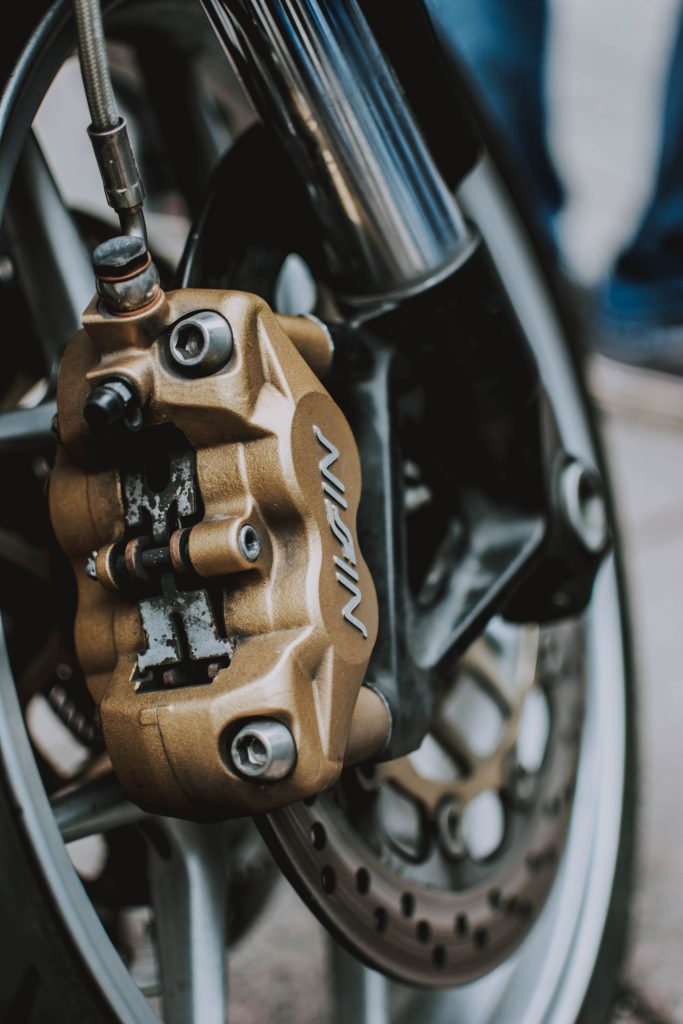 Brake are a crucial piece of safety equipment, unlike the saddle, gears and grips – the brakes could be the difference between life and death. Thankfully due to the miracles of mass production, at this price point you can expect hydraulic disk brakes on any quality mountain bike build. These are preferable to rim brakes and mechanical disk brakes due to improved resistance to the weather conditions and a far sharper braking curve – you should easily be able to stop the bike with one finger (even at speed).
Summary – Go with hydraulic disk brakes.
Suspension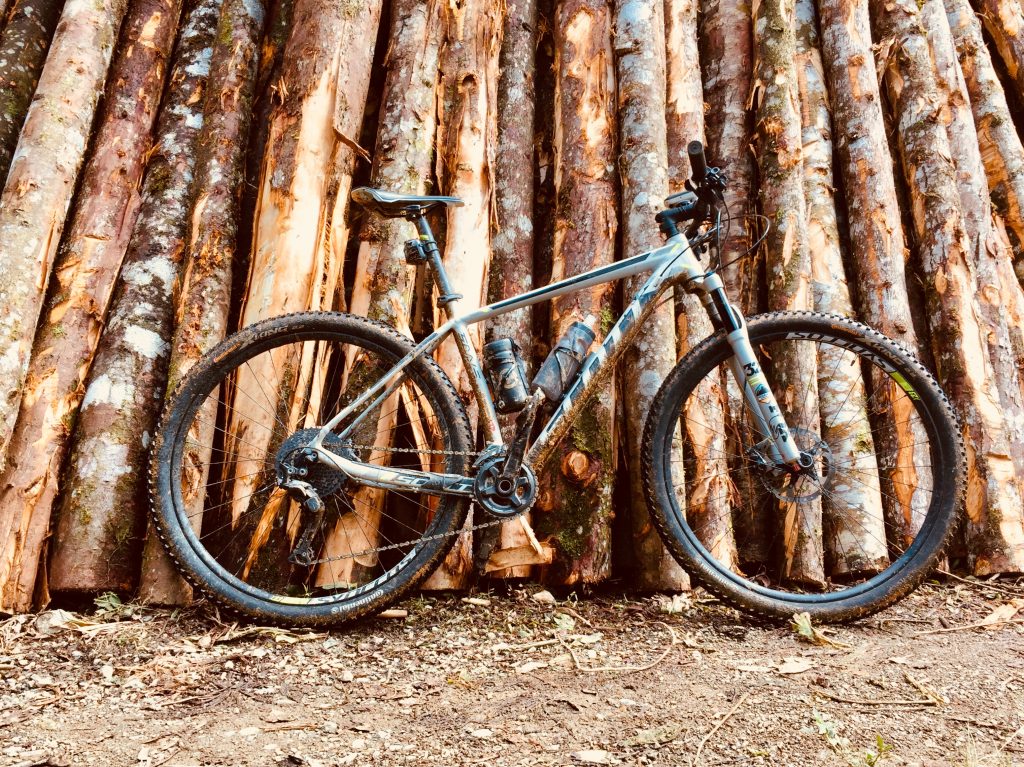 Suspension (or the lack thereof) influences every rider's experience in a huge way and dictates the level of comfort and control the rider has during any form of off-road riding. While individually buying a suspension fork unit can cost a small fortune, this shouldn't be necessary as for the most part the forks on the bikes listed below are very effective for the money. The quality, control, and performance of the forks that come with bikes does drastically differ between models, if you want to upgrade one of the bikes below in the future we'd suggest that a second hand suspension fork would be a great way to do this.
Summary – Don't worry too much about this, give it a try in the shop and it should feel fine.  
Weight of the bike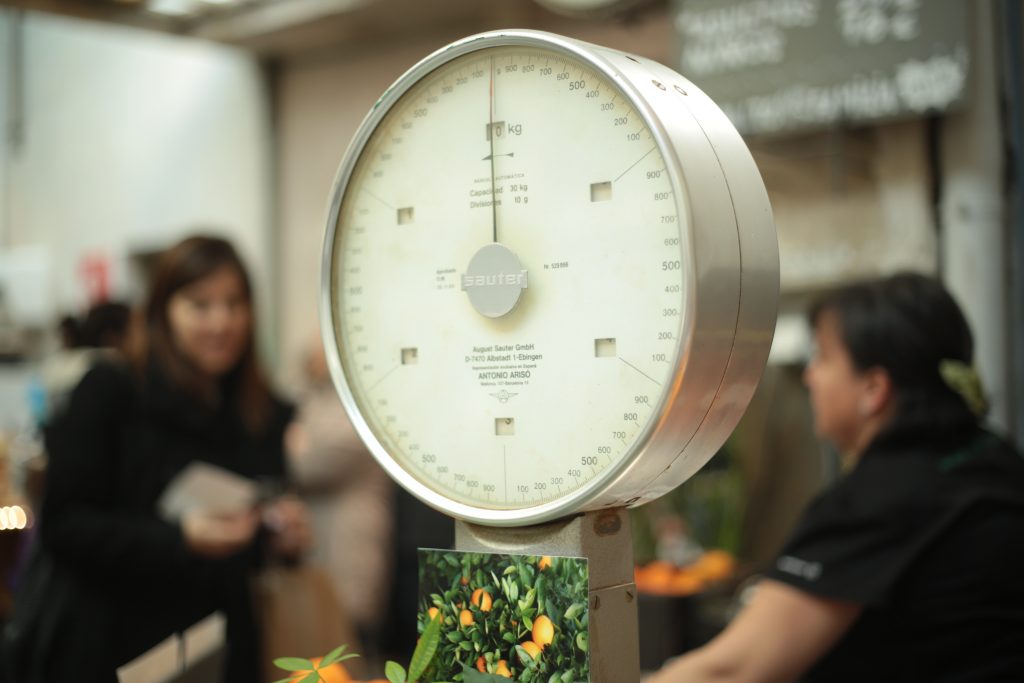 It is a common misconception that the weight of a bike is in direct proportion to how fast you are able to ride it, and that to see the biggest increase in speed you should buy a lighter bike. This simply is not true. While most bikes available at this price points tend to be heavier than expensive bikes, this does not make anything like as much difference as many bike stores let on. The biggest factor by far will be the fitness of the rider and we'd suggest anything under 15 kilos is an acceptable weight. The best way to think of it is as a percentage of the weight of the rider and the bike added together. If you have an 80kg rider with a 15kg bike and you take a substantial amount of weight off the bike, (say, 3kg) to make it 12kg instead, this would result in having to do 3% less work to accelerate (not very much difference at all).
Summary – If it's under/around 15kg, don't worry.
Tyre Considerations
To choose the right set of tires, you first need to think about how much time you might spend off-road and what type of trail you might be riding on. If your most frequently ridden trails consist of large rocks and roots along with steep slopes and climbs, you might need tyres with a more aggressive tread + larger volume. If you are riding on milder paths that consist of smaller obstacles, you can go for a narrower set of tires. Pretty much logic really, makes perfect sense if you think about it. We did a far more detailed guide about some great tyres to buy here.
Summary – Tyres are pretty important, use your head and choose something suitable for what you do, as this will have a far bigger impact on the feel of the bike than adding weight to the frame.
Where to Buy From?
New Mountain Bikes
Gone are the days of only being able to get quality bikes from bike shops and branded online stores – you can now have a quality bike delivered tomorrow with amazon. Bucking the trend of garbage bikes sold by large 'general goods' brands e.g walmart, amazon now work with some of the higher quality brands in mountain biking. Our recommended diamondback from amazon can be found here.
That said, the range is still pretty limited and if you want to assess the full spectrum of what is on offer you'll need to check a combination of chainreaction, wiggle and local bike stores.
Second Hand Mountain Bikes
If you know what you're doing or are prepared to try and figure it out as you go along (if the latter we'd recommend this book) then look no further than the old classics – ebay and pinkbike.
There are quite a few things to watch out for in terms of second hand bikes – we won't elaborate here but if you're uncertain then spend less and do more research before buying.
The Best Cheap Mountain Bikes | Our List
If your budget doesn't allow for expensive mountain bikes, these options are your best bet. Combining quality and affordability, here are some of the best cheap mountain bikes that you buy.
The best cheap mountain bikes – Amazon's Choice
The next step on from the Heist series by DiamondBack, the Overdrive series is the more popular twin, at around 100$ less expensive, with 20mm less travel and bigger 29″ wheels. We'd suggest that a more efficient alternative to buying one of the heist series bikes would be to take one of these and upgrade whichever parts you need.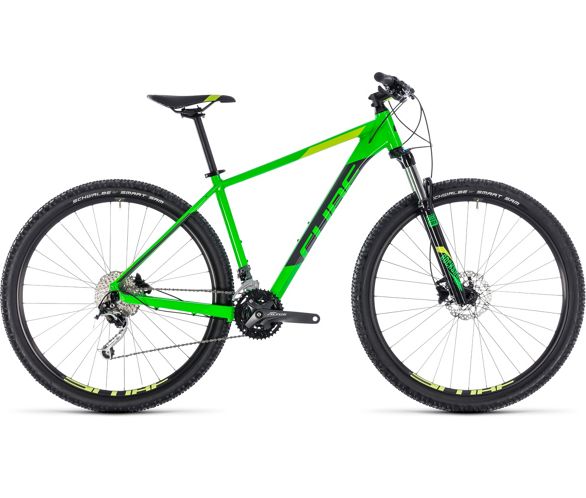 The Cube Analog 29 boasts an impressively strong aluminium frame and slick design. The cables are internally routed for a far cleaner look. The hydraulic disk brakes provide all the stopping power that could be asked for in a bike of this price – more than enough to handle any downhill trail you are likely to come across and ride. The 100mm RockShox XC 30 fork up front reliably and predictably soaks up bumps while improving both the braking power and handling.
There are three different frame sizes to choose from—43.5cm, 48cm, and 53cm. The Shimano Deore rear derailleur makes for reliable shifting and efficient power conservation. The pedals that come with this bike aren't especially well reviewed, but it's not that big of a deal. A new set of pedals won't cost you very much, especially if you get them on eBay – we'd recommend a set of Nukeproof Evo's.
If you have this bike delivered to you, it should be noted that it is very well reviewed for being easy to put together – the same being said for Cube bikes in general.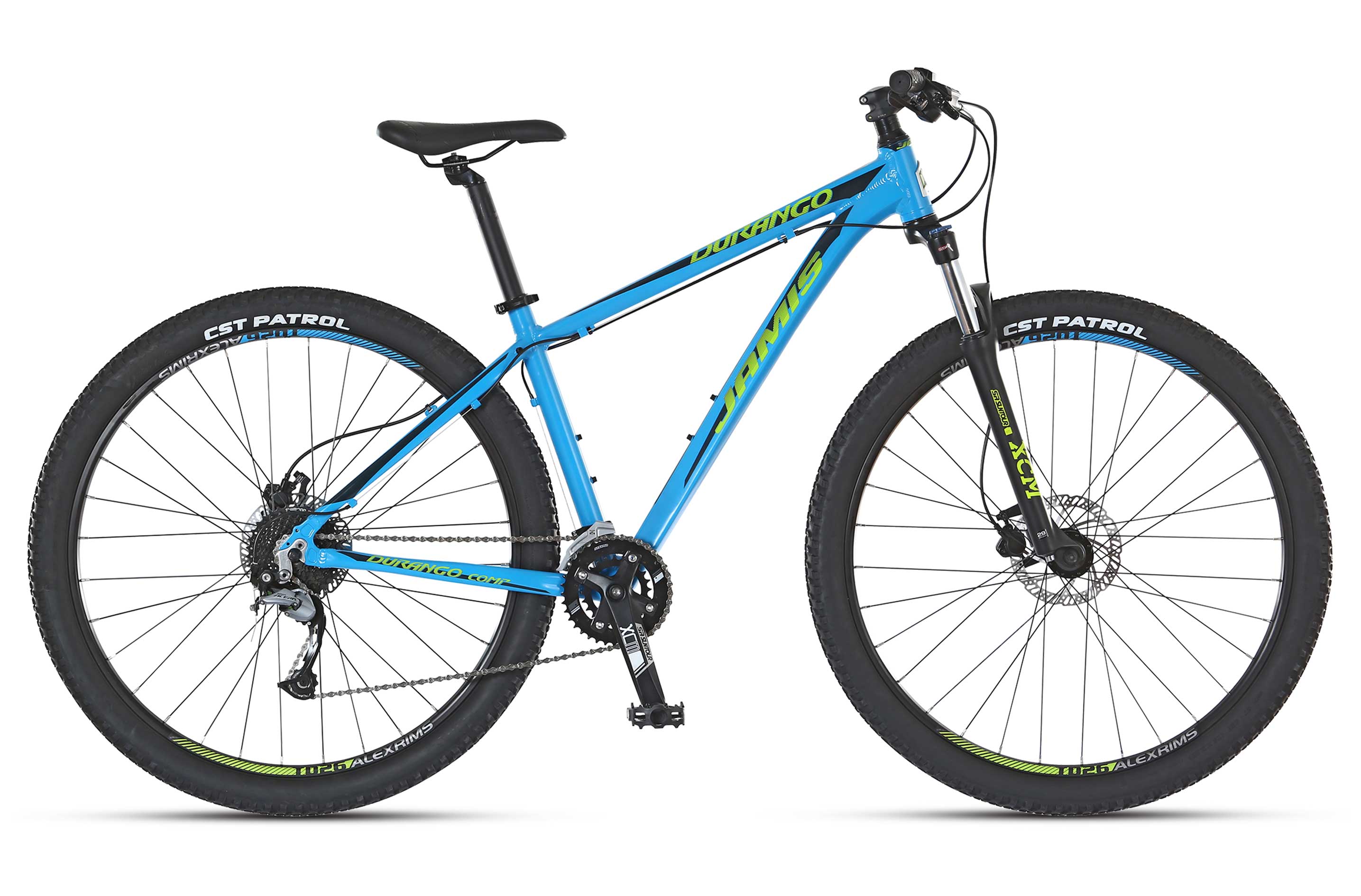 The Durango 29 has a strong aluminium frame and offers a whopping 18 gears to choose from. It comes in 17" and 19", which may be a little disappointing for those who would otherwise need a 21" frame size. The CST Patrol tyres on this bike are 690g. They offer a lightweight, fast rolling grip – at the expense of pinch flats when pushed hard on extremely rugged terrain. If you need something more grippy for winter, we would recommend the Maxxis High Roller II (900g) At 14.74kg this bike is in the weight range you would expect for hardtail mountain bikes in this price category.
As with all the bikes we have tested under £699, the pedals aren't the most grippy – but can easily be changed out for a better pair if you take to more aggressive riding, and will perform just fine for as long as you stick to 'regular' cross country riding.
The Ghost Kato 1.6 is a solid choice for an entry level mountain bike – especially if you can get it on sale for less than 300. The 100m RST suspension forks perform well for most lightweight riders downhill and the Shimano hydraulic disc brakes offer strong, reliable braking. The seat position is ideal for most people, and the brake levers can be operated with one finger on each hand to bring the bike to a complete stop.
This bike has received mostly positive customer reviews, though some people complain about the performance of the front fork being only adequate,  (too spongy for heavier riders, and has no lockout). This is something that could be resolved by buying a stiffer spring (approx. £20) or changing out the fork entirely. Most reviews mention how comfortable this bike is and how impressive the gear shifting is.
The use of 26" wheels is a bold and surprising choice in an industry where 29" is the norm. The smaller wheels make for better handling in tight, winding turns, increased strength and more agility – something which is complemented by the slightly shorter chainstays, decreasing the wheelbase. Another benefit of having 26″ wheels is that they are far cheaper to replace and upgrade, so you won't have to worry so much about throwing this bike around.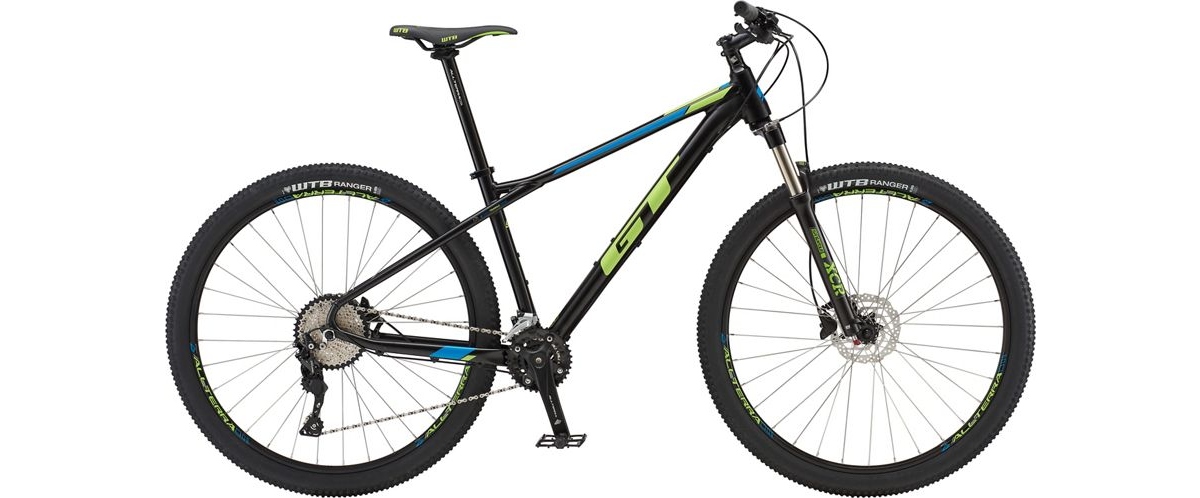 Offering superb climbing control and descending precision, GT have put a good set of parts on a rock solid frame. Value for money wise we'd recommend buying this in a sale if you can. Some would also benefit from a more beefy front tyre to handle wet and or slippy conditions.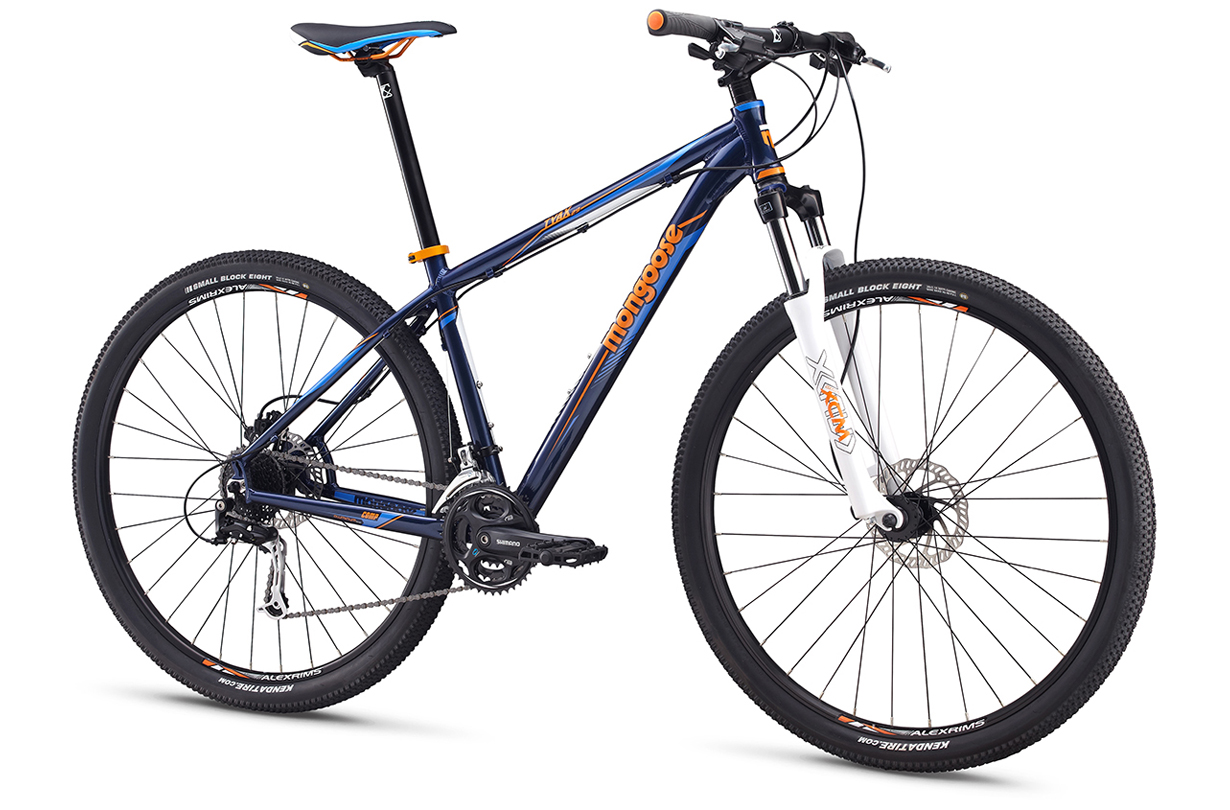 The aluminum alloy frame features hydroformed tubes that can be very stiff in rough situations. Luckily, the SR Suntour XCT V3 suspension fork stands out in this list for its 100mm travel and hydraulic lockout option. The level of control it offers during every dive and rebound enhances rider confidence and ride experience.
The frame provides additional steering stiffness due to the tapered head tube. Especially during steep climbs and hard drops, the hardtail frame gives the rider firm control while the suspension fork effectively softens the blows.
The drivetrain is average for this price range, but it is not as smooth as one would expect. It comes with 24-speed Shimano gears which help achieve faster cadence. The "26 wheels support the rider well, but it could be swapped for the thicker "29 tires when the need arises.
The TYAX Comp weighs 14.2 kgs, which is about the same as the other three bikes. The Tektro Draco hydraulic disc brakes provide the right amount of grip in both dry and wet conditions while the Kenda Small Block tires feel sturdy and durable.
The reviews for the TYAX Comp are generally positive, with many praising the excellent quality of the frame, suspension, and brakes. However, one repeated complaint is that the seats are too hard and uncomfortable during long rides. This can be easily mitigated by purchasing softer padded seats from Amazon and fitting them in.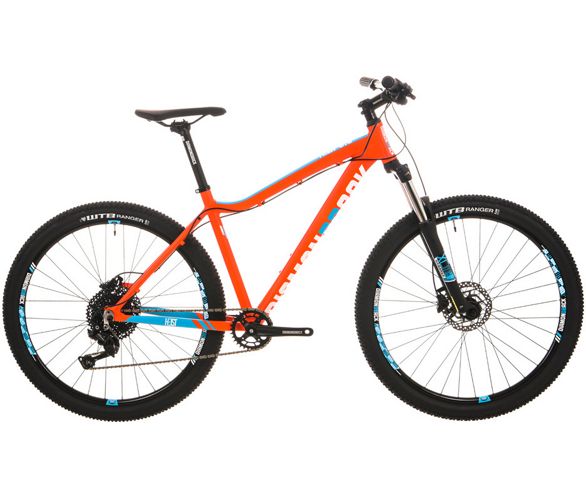 The frame is built with lightweight hydroformed butted aluminum alloy, making it durable for the rougher tracks. Also, the relaxed geometry of the frame makes it suitable for longer endurance trails. The Suntour XCM suspension fork is powerful and impressive as it features 120mm of travel and a hydraulic lockout. The bike is around what you'd expect at this price at 14kgs.
Reviews generally promote the bike for its quality suspension fork and hydraulic brakes. However, there were some complaints about clunkier gear changes.
The Nevada 1.5 is an all-rounder bike that is most suited for beginner and intermediate riders. It comes with a custom-butted aluminum alloy frame that responds well and a Power Curve down tube that provides additional support. The rear triangle feature S-bend chain stays that minimizes frame vibration and increase pedaling efficiency while decreasing muscle fatigue.
You can choose between two different wheel sizes, the Vera Eos 29″ or the Vera Eos 27.5″, to allow for the best fit regarding personal preference and difficulty of the trail. This bike comes equipped with the Shimano 3×7-speed Tourney drivetrain that provides a reliable and efficient gear change. At around 14 kgs, the bike is a bit heavy and can tend to drag when riding uphill.
The SR Suntour suspension fork has a 75mm of travel on it, which is lesser than some of the other bikes on this list. The Tektro mechanical disc brakes hold up well in drier conditions but perform less efficiently in wet conditions. While the mechanical disc brakes tend to drop off power during damp or colder conditions, you can easily upgrade the disc brakes to hydraulic disc brakes for better performance.
The bike has received some criticism from customers for its unimpressive suspension fork travel. While it does affect the riding experience in harsher tracks, the 75mm of travel is enough to gobble up the miles in milder trails. Of course, if unsatisfied, you can always upgrade the fork to something that suits your needs.
Second Hand Mountain Bikes | Our Take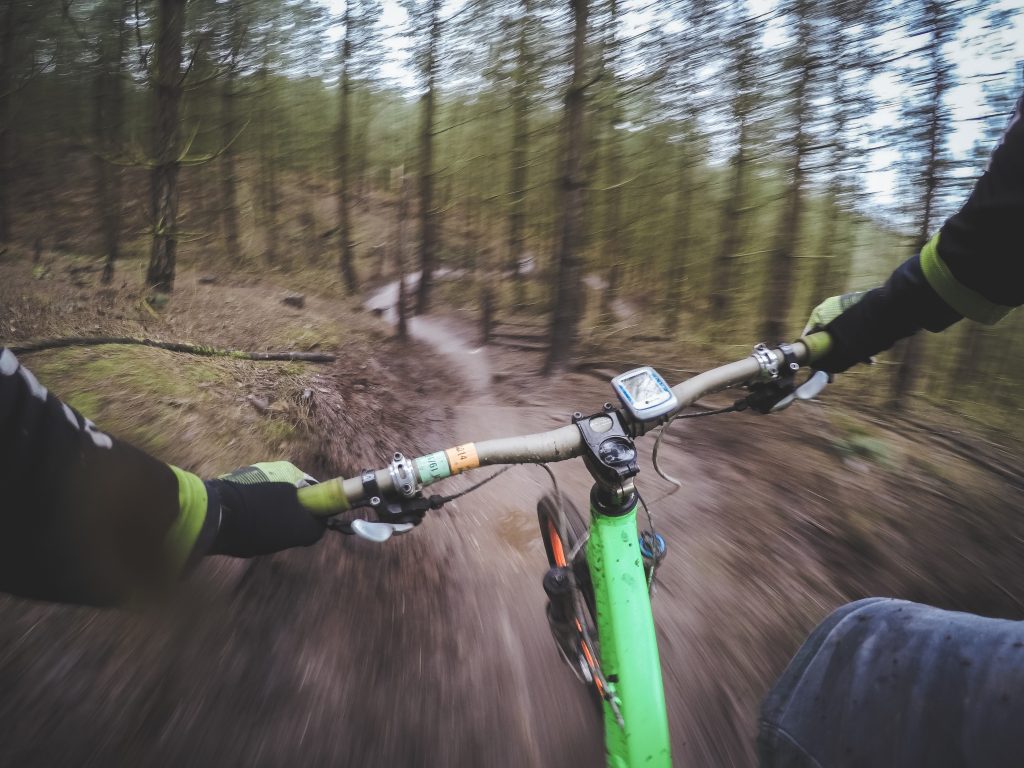 As a general rule, if you research the hell out of something – you're more likely to get something good at the end of it. If you can acquire the bikes listed here second hand and know what to look for in terms of the condition, before replacing worn parts from amazon (CRC or Wiggle) then we would recommend this as the best way to get good value for money. If you want a good value bike and don't feel like getting your hands a bit greasy, then buying these bikes new (with their warranty) is an equally valid option.
For second hand we'd recommend pinkbike, ebay and facebook groups.
In terms of fit – You should able to stand over the top bar with around 50mm or more if clearance on a mountain bike (less if it's more cross country, more if it's more DH).
In terms of condition, look for:
Dents or cracks
Bad bearings on the wheels and headset
Bad bearings in bottom bracket (crank shaft) or steering
Chain and gear condition
Brakes
Wheel damage and buckles
Cable wear
Polished cranks
For parts that can be easily and cheaply replaced with amazon (and no bike knowledge whatsoever), look at pedals, tyres and grips.
Best Cheap Mountain Bikes | Mountain Bikes Under 1000
As a part of our contribution to the second hand section, we thought we'd add some bikes that we'd recommend if you can get them second hand. These are some of the best entry level mountain bikes under 1000 in our view.
As if the name didn't sound amazing enough, Nukeproof bikes are tested and ridden by some of the greatest competition mountain biking greats of this generations. Sam Hill, Australian enduro champion and world champion avid lover and obviously user of Nukeproof bikes.
Not only are Nukeproof bikes used by world champions but Nukeproof has their own team of quality testers who regularly feedback and guide on what can be done to improve the bikes.
What appeals to us most about the Scout Pro 290? Raw animalistic talent and pure minimalism. That's right, Nukeproof have kept the Scout Pro simple yet deadly. It quite simply is a do all and be all bike.
The hardtail Scout is capable of attacking trails, endless single tracks and provides great comfort for long distance XC rides. Fancy hitting some downhill? No problem, the Scout Pro offers amazing handling at top speeds.
It features a low bottom bracket, slack head angle and a stiff frame, meaning – great handling.
With the 2019 edition, you will find that Nukeproof have improved the geometry a little. This bike is suitable for taller rides too! They have managed to soften the ride a little with a profiled seat stay assembly.
It now features a 'Boost 148′ rear axle spacing which provides more strength and stiffness which in turn has increased the acceleration speed. The 2019 Scout Pro can also be fitted with 29″x 2.5″.
The breaks are Shimano MT500 Resin pads.
If you're looking for a mountain bike which is more than capable, perfect for XC and can handle its own on any type of track then the Nukeproof Scout Pro 290 is a perfect choice. At less than $1000 is it any wonder why this is not only our number one choice, but one of Redbulls favourite picks for 2019?
What to love about the Nukeproof Scout Sport?
Hardcore trail bike
Improved geometry
Suitable for up to 2.8" tyres
World champion brand
All round capable bike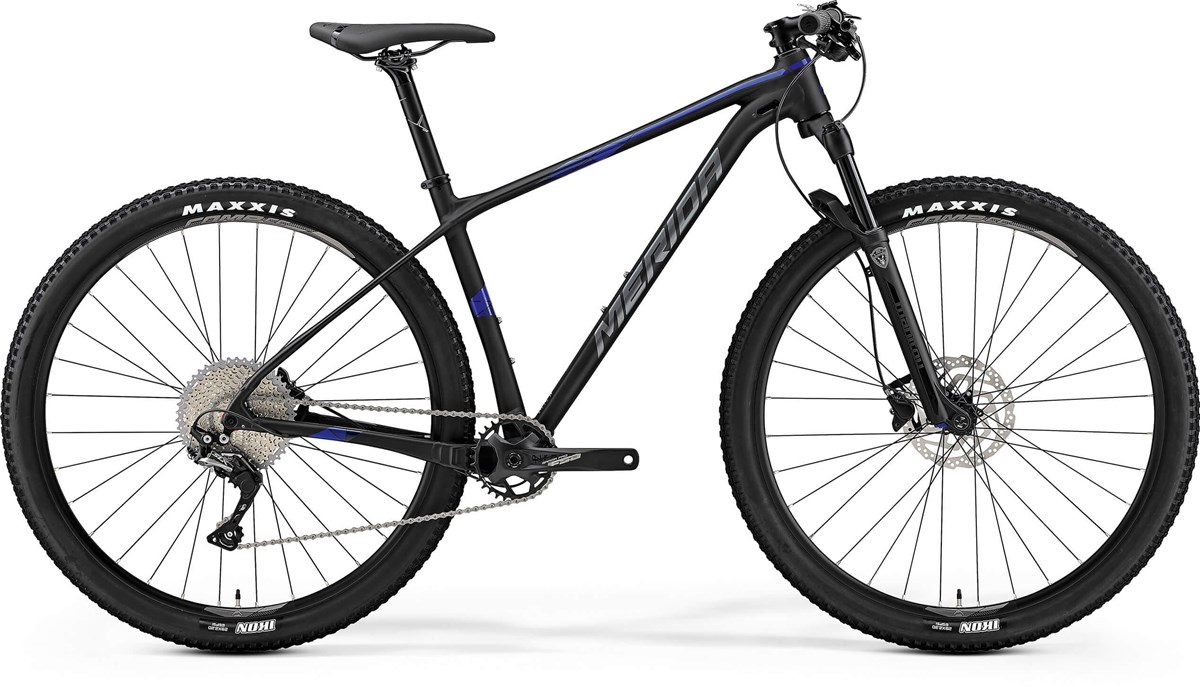 The Merida big nine is an XC focussed mountain bike. Designed to be used for cross country you can see they went the extra mile to make sure this bike is trail capable.
It is clear to see why Merida makes such fantastic bikes though. The founder, RIP Ike Tseng (1932 – 2012), was a man who lived by a core focus 'Move with passion and courage'. Merida first started in
Taiwan and it didn't take long for them to gain international recognition.
Merida celebrated their 25th anniversary in 2013 and with the combination of German R&D and Taiwanese productions they continue to build amazing bikes.
Merida also has its own champion mountain bike riders and quality testers.
The Merida isn't a flash in your face sort of XC bike. It is subtle with smooth lines, it just knows XC and isn't afraid to show off its confidence.
It features a lightweight 6066 triple-butted aluminium frame with aero profiled tubes. BB92 bottom bracket, Boost axle standard and tapered head tube for stiffness and greater steering precision.
The Merida big nine is dropper post ready and features a 30.9mm seat post. It also allows for internal cabling for the dropper post. Smart entry cable clamping allows for rattle free riding.
The big nine features Shimano MT 200-disc brakes as standard and comes in four frame sizes. The front forks allow for 100mm of travel.
The geometry of the Merida big nine limited is competition focussed with a sharp and responsive ride.
What to love about the Merida big nine limited?
Lightweight XC focussed mountain bike
High quality build with a low price
Sharp responsive ride
100mm travel suspension forks
Powerful Hydraulic Disc brakes
Named runner up in the 2018 best hardtail mountain bikes by MBR the hardtail 2 has been through an upgrade for 2019.
Norco designed this bike as part of their XC range of mountain bikes. It is quite simplistic but very capable. As an entry level or intermediate level bike with a lower price point, you can't really go wrong.
Norco is a Canadian company and has been producing amazing bikes for over 50 years. They point out on their website that their back garden is some of the toughest landscape in the world.
Overall the Norco charger does perform well on XC but if you plan to all mountain or extreme terrain you may need to upgrade the tyres at a minimum.
It features a 6061-aluminium frame, 29 x 2.25″ tyres, RockShox 30 front forks with 100mm travel. The brakes are Tektro HD-M275, 2 piston hydraulic disc brakes. Realistically speaking this would've done better with Shimano disc brakes.
Its steep head angle isn't brilliant but it is a well-balanced bike so manoeuvrability and braking are manageable. The 29″ tyres are fast rolling are a great addition they could do with some more grip.
X6 alloy 750mm handlebar is a nice touch with an alloy 60mm stem which is relatively short. What to love about the Norco Charger 2?
Simple and affordable XC bike
Could upgrade the brakes and tyres and have a better bike at a small price
Room for fatter (higher volume) tyres
Decent set up for a first time XC mountain biker
Comfortable uphill riding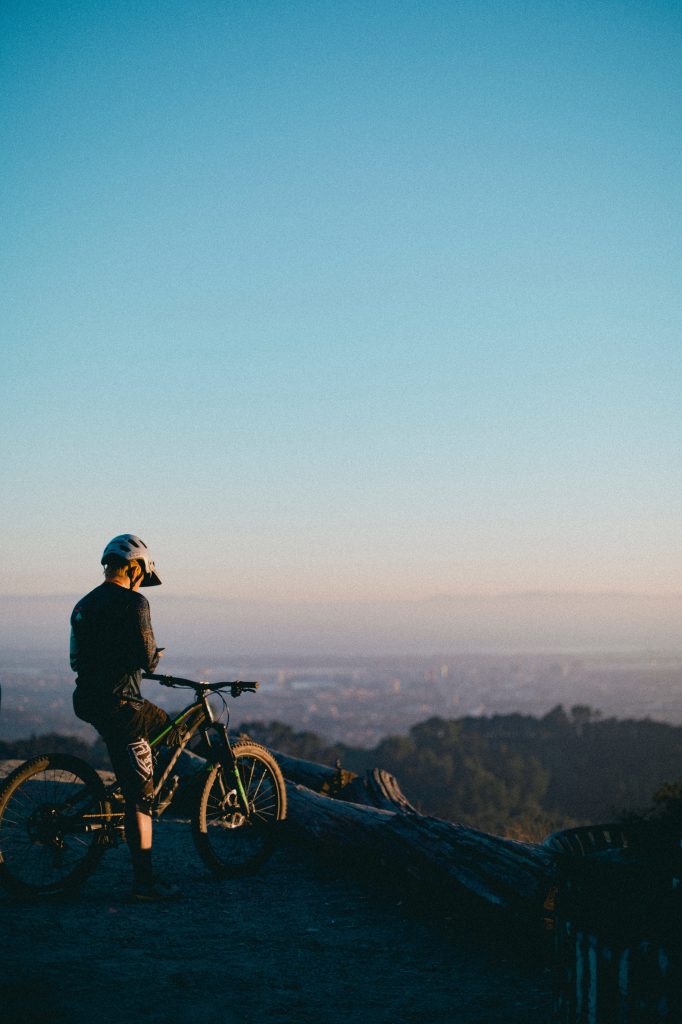 Conclusion
There are now a good number of high-quality mountain bikes to choose from with a range of sizing and style options that will suit more or less anyone. The bikes that are listed in this article are affordable but agile and sturdy. These bikes will function best at trail centres and as 'general bikes' that will get you around. They can be relied upon to keep you safe through slippery conditions – with the option to use them for trail riding or to introduce yourself to Enduro Mountain biking at any point (which we would certainly recommend).