This post contains affiliate links. Affiliate disclosure: As an Amazon Associate, we may earn commissions from qualifying purchases from Amazon.com and other Amazon websites.
This article showcases our top picks for the
Best Cycling Jeans
. We reached out to industry leaders and experts who have contributed the suggestions within this article (they have been credited for their contributions below). We are keen to hear your feedback on all of our content and our comment section is a moderated space to express your thoughts and feelings related (or not) to this article 
This list is in no particular order.
This product was recommended by Robert Gibbson from Decline Magazine
The name gives away the most exciting aspect of these jeans, but DUER All-Weather Denim jeans are THE jeans to buy if you want to cycle in all kinds of weather. These jeans are both breathable and waterproof, so they'll keep you cool in the heat and dry in the rain. They're also really comfortable, and here are a few of their best features: – 70% cotton denim, 28% Coolmax all-season polyester, and 2% lycra spandex — waterproof, breathable, and stretchy for all-day comfort. – Deep pockets for securing valuables and preventing them from falling out while riding. – Inside is a polyester membrane that makes riding even more pleasant. – Reflective logos – in the back and on the trouser leg – are small enough not to obstruct your style while yet being visible.
---
This product was recommended by Marc Bromhall from Surf's Up Magazine
They are made from power-stretch fibers which enables ease-of-movement when cycling. They've also got a narrow calf meaning that the lower leg won't catch on your chainring.
---
This product was recommended by Shane Paarman from Awesome Stuff 365
I told myself I'd never cycle in jeans, as that seemed like a terrible idea. But I've had to commute a few times using my bike, and it's not always practical to carry a change of clothes so that you can cycle in sports clothes. Most Levi's jeans are ideal for commuting, as they are reinforced and I find that they are comfortable enough for the cycling journey. These in particular are ones I recommend if you need to commute on a bike.
---
This product was recommended by Kevin from NANBF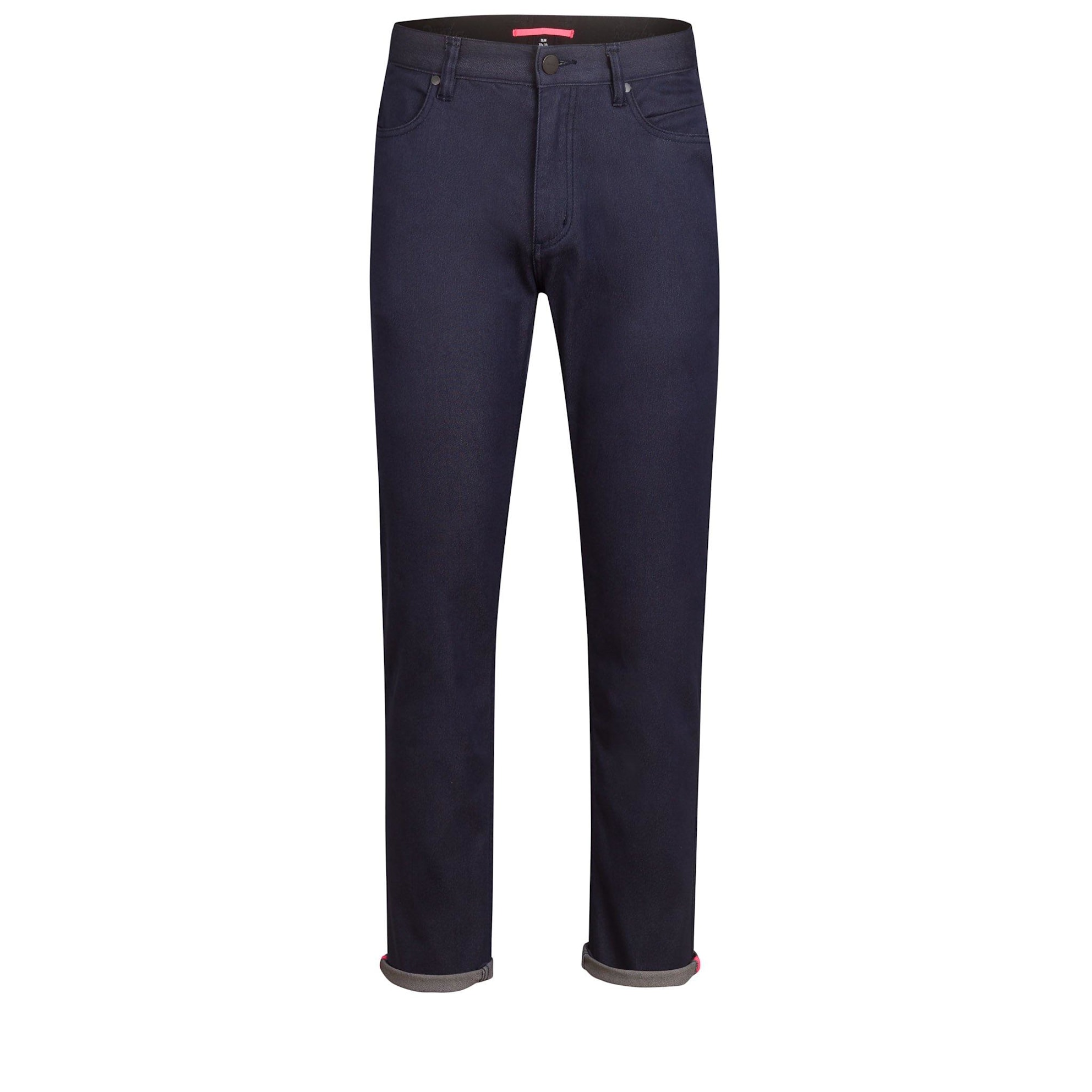 These cyclist specific jeans are great for all riders – being really tough and durable, whilst remaining stretchy and comfortable during movement. They can withstand all kinds of fiction, without hindering movement, as they are made from tough, high stretch cotton denim. They are perfect for city riding, as the fabric, and the construction of the jeans themselves, has been designed with cycling in mind. Not only that, but they are quick drying, stain resistant, and have hi vis reflective piping for safety.
---
This product was recommended by Steve R. from SSW Board House
FORBEMK Men's Bike Pants Quick-Dry are the perfect cycling jeans because they are made of quick-dry and lightweight fabric. This makes them comfortable to wear and prevents you from feeling weighed down when you're on your bike. They also have a breathable design, so you won't have to worry about your legs getting too sweaty while riding. In addition, these jeans are water-resistant, so you'll be protected from the elements if you get caught in the rain shower. And finally, they have a reflective strip down the side of each leg, which will help keep you visible to other cyclists and motorists when you're out on the road.
---
This product was recommended by Sharon Dylan from Management Help LLC
These cycling pants are made of 80% nylon and 20% spandex. The material used can quickly wick moisture so you feel comfortable all throughout. It is also abrasion-resistant. It features a 5D ergonomic design to have a better fit to your body and give better protection to your hip and genital area. You can even use this in the winter season as it is wind-proof and cold-resistance as it can provide long-lasting warmth that other brands cannot. The leg part has a reflective material so you are more visible even when riding at night.
---
This product was recommended by Michael Jan Baldicana from bidetsPLUS
This is a high-quality and comfortable cycling gear for men. It is designed with the best materials to provide comfort and durability in the most demanding conditions with a stretch fabric that provides superior comfort, protection and breathability.
---
This product was recommended by Phillip Villegas from Three Pedal Mafia
It is constructed of premium materials that are strong enough to wear every day. They're not just incredibly comfortable; they're also ideal for any season. Appropriate for cycling, climbing, sports, outdoor activities, daily wear, casual attire, training, combat, and hiking.
---
This product was recommended by Joe Flanagan from 90s Fashion World
This particular pair of riding jeans are super smooth, especially the black one because you can't tell it's padded but it offers both knee and hip protection complying with EN standards. The fabric itself is very smooth and they can easily pass for streetwear jeans if you are in a pinch and want to use them without the pads. They are also very accessible compared with other options on the market.
---
This product was recommended by Stella Cooper from PaydayLoansUK
HUNGSON men's bike jeans are perfect for the cycling enthusiast. These slim-fit, stretchable jeans contain strong stitches, sturdy bottom, and a zipper. It is made of high-quality elastic fiber to provide your riding experience comfortably. These super comfy jeans are made of sweat-absorbent breathable fabric, suitable for everyday wear. These easy-match, straight-leg jeans can be worn with casual flats or boots and a relaxed tee. Hungson jeans give you a fashionable look.
---
This product was recommended by Ashley Amor from PeopleFindFast
Lee men's performance series athletic fit, tapered jeans are perfect for everyday wear. This tapered leg and fitted waist provide a comfortable cycling experience. These jeans sit at the natural waist. This classic style of jeans is designed with an authentic five-pocket style to keep your things safe. It is perfect for most occasions. Thie extreme motion athletic fit jeans feature a comfortable and flexible waistband that adapts your waistband. The innovative power stretch allows you to move in freedom.
---